Eliot Porter's Golden Isle
His ode to Great Spruce Head turns 50 this year
By Carl Little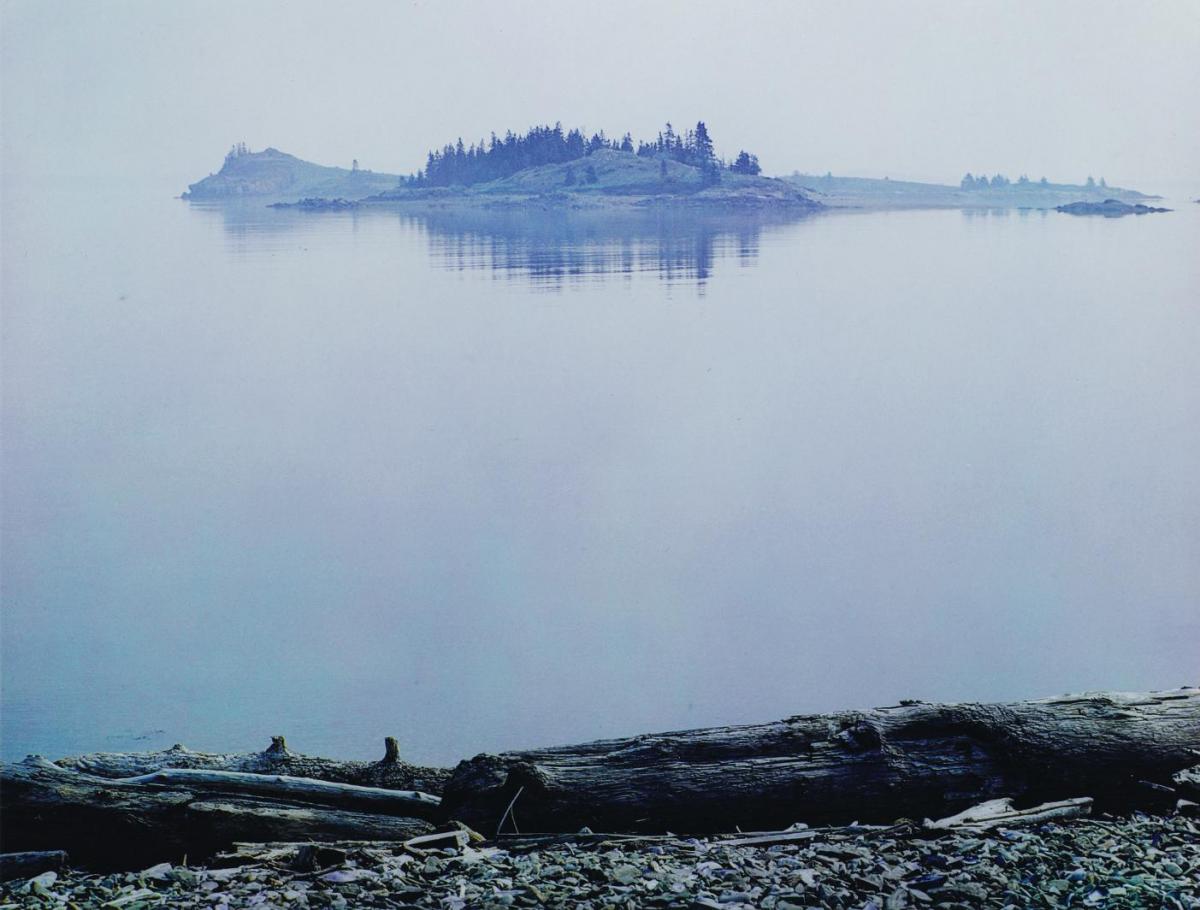 "[The fog] transformed and isolated the Island world, compressing it upon itself, leaving only near objects clear and unaltered," wrote Eliot Porter. Barred Islands from Double Beaches, Great Spruce Head Island, Maine, July 17, 1964. Image credit: Eliot Porter (1901-1990). Dye imbibition print, 1964. ©1990 Amon Carter Museum of American Art, Fort Worth, TX. P1990.51.3178.2 "To a young child reared far from the sea, as I was, our summer island was a reservoir of inexhaustible knowledge and adventure." Thus, Eliot Porter, one of the foremost camera artists of the 20th century, began his affectionate and engaging portrait of Great Spruce Head Island. Published a half century ago, Summer Island: Penobscot Country remains a remarkable homage, in word and image, to one of Maine's "golden isles." 
Summer Island opens with a simplified topographical map of a section of Penobscot Bay with the molar-tooth-shaped Great Spruce Head positioned close to its center. The orientation is fitting for the island that was in many ways the center of the Porter family's universe. 
Eliot Porter's father, James, a businessman and amateur naturalist from Winnetka, Illinois, bought the island in 1912, after visiting friends at a marine biology laboratory in Casco Bay and delighting in Maine's coast and climate. He and his wife, Ruth, and their five children (four boys and one girl) embraced the approximately 280-acre island as a kind of northern Eden—a place that offered freedom to explore and grow.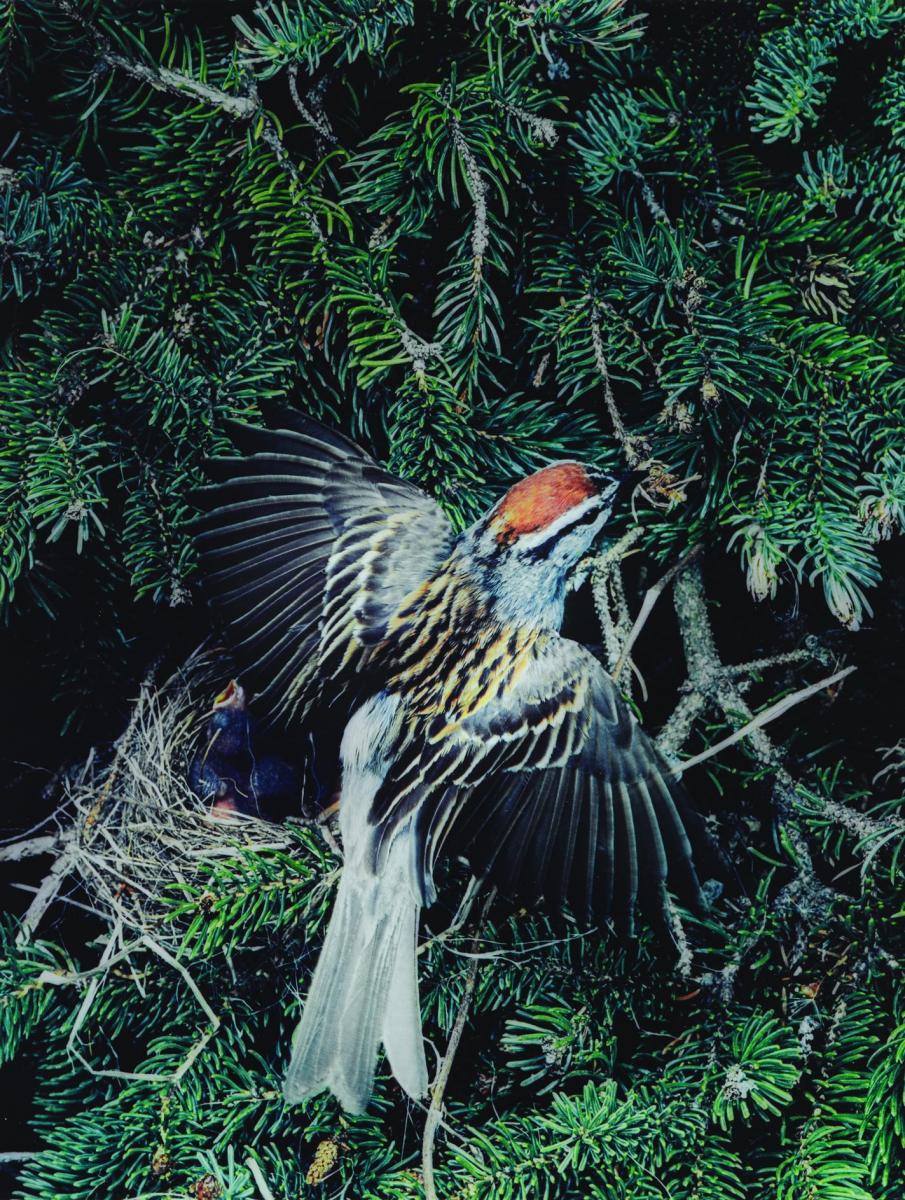 "The nest finder must go out into the fields and woods with his wits sharpened to a razor's edge, with all his senses tuned to their highest pitch, and with his mind free from the distractions and preoccupations that burden the society he has temporarily left behind." —Eliot Porter. Chipping Sparrow, Great Spruce Head Island, Maine, June 19, 1971. Image credit: Eliot Porter (1901-1990). Dye imbibition print, 1971. ©1990 Amon Carter Museum of American Art, Fort Worth, TX. P1990.52.276 Around this time Eliot, second eldest in the family, acquired his first camera, a Brownie. All of 10 or so years old, he began taking photographs of birds around his home in Winnetka and then in Maine. What began as a hobby became a passion. Indeed, after earning degrees in chemical engineering (1923) and medicine (1929) from Harvard University, and embarking on a career as a biochemical researcher at his alma mater, Porter felt called to the camera. 
Encouraged by his brother, the painter Fairfield Porter, and inspired by renowned landscape photographer Ansel Adams, Eliot developed into a formidable creator of black-and-white images. Over time he moved from the Brownie to a Leica to a Linhof large-format camera. When legendary art dealer and photographer Alfred Stieglitz gave him a solo show at his gallery An American Place in New York City in 1939, Porter's direction was confirmed: he gave himself fully to photography. A Guggenheim Fellowship in 1941 to photograph birds sealed the deal. 
Maine became a principal subject, specifically Great Spruce Head. Aside from a few photographs of Stonington and Matinicus Island, Summer Island is largely devoted to the flora and fauna of the artist's northern home (he eventually settled in New Mexico, but returned to Penobscot Bay throughout his life).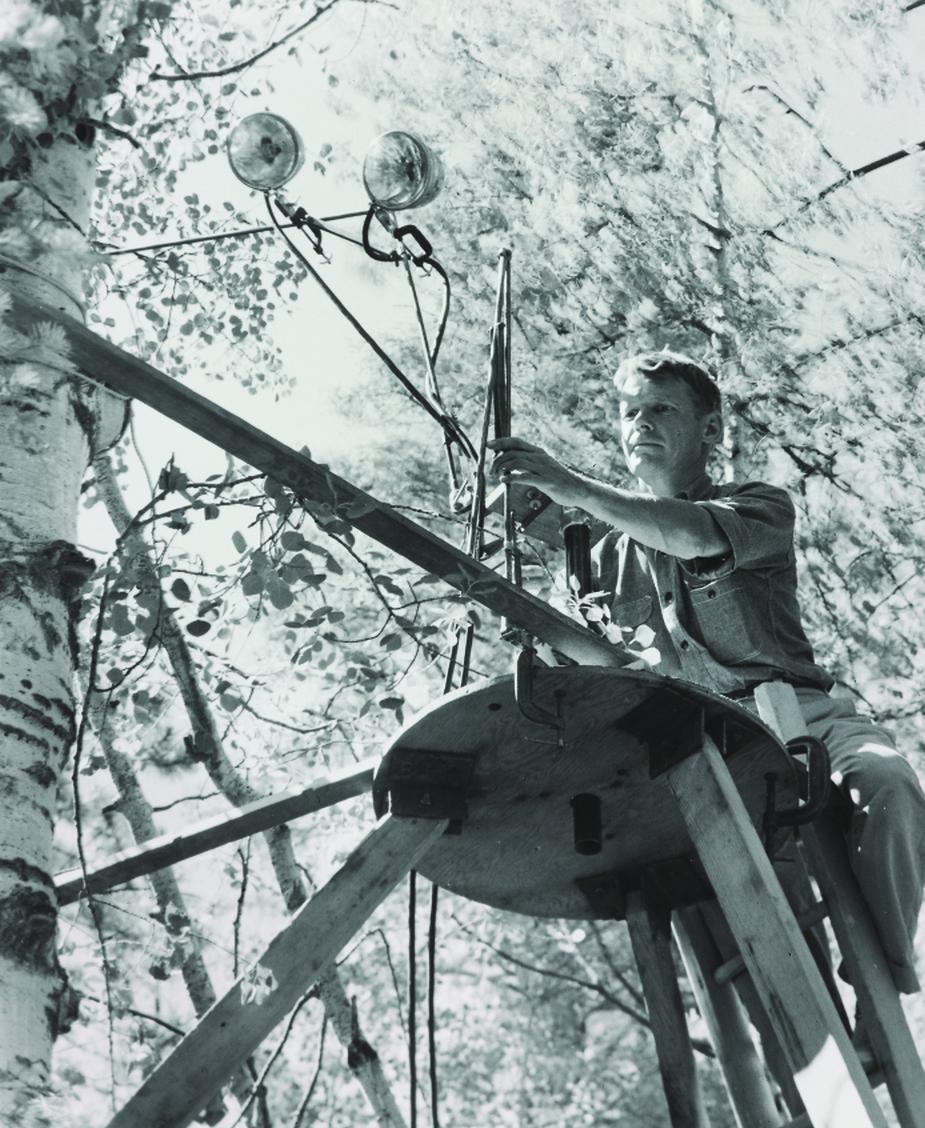 Porter often constructed elaborate blinds for photographing birds near their nests in the trees. Here he sets up equipment to photograph a Lewis's woodpecker. Image credit: Laura Gilpin (1891-1979). Gelatin silver print. ©1979, Amon Carter Museum of American Art, Fort Worth, TX. P1990.59.88. Having been introduced to natural history by his father, Porter took a special interest in birds, rigging up elaborate blinds that would allow him to take close-ups of the feathered creatures on the fly or at their nests. Summer Island features a number of these intimate portraits: a fish hawk in mid-flight, a white-throated sparrow flying over foliage. 
Porter also photographed his island environs. His parents had given names to all the island landmarks, from North Point to the Double Beaches ("a gravel bar or tombolo, littered with silver driftwood"); the photographer captured just about every indentation, in fog, in full sunlight, from various angles and heights. He also covered the interior: he had a special love for lichens and ferns, mosses and mushrooms; his images of gnarly island trees are haunting. 
In his text and photos, Porter displayed respect for native islanders. "The job of a caretaker on a Maine island is a demanding one," he wrote, requiring "a more than ordinary sense of responsibility." The portrait of Earl Brown of Eagle Island sums up that self-reliance. Porter describes him as one of a breed of men who sought from life "room to maneuver and breathe freely on the sidelines of a high-pressure civilization."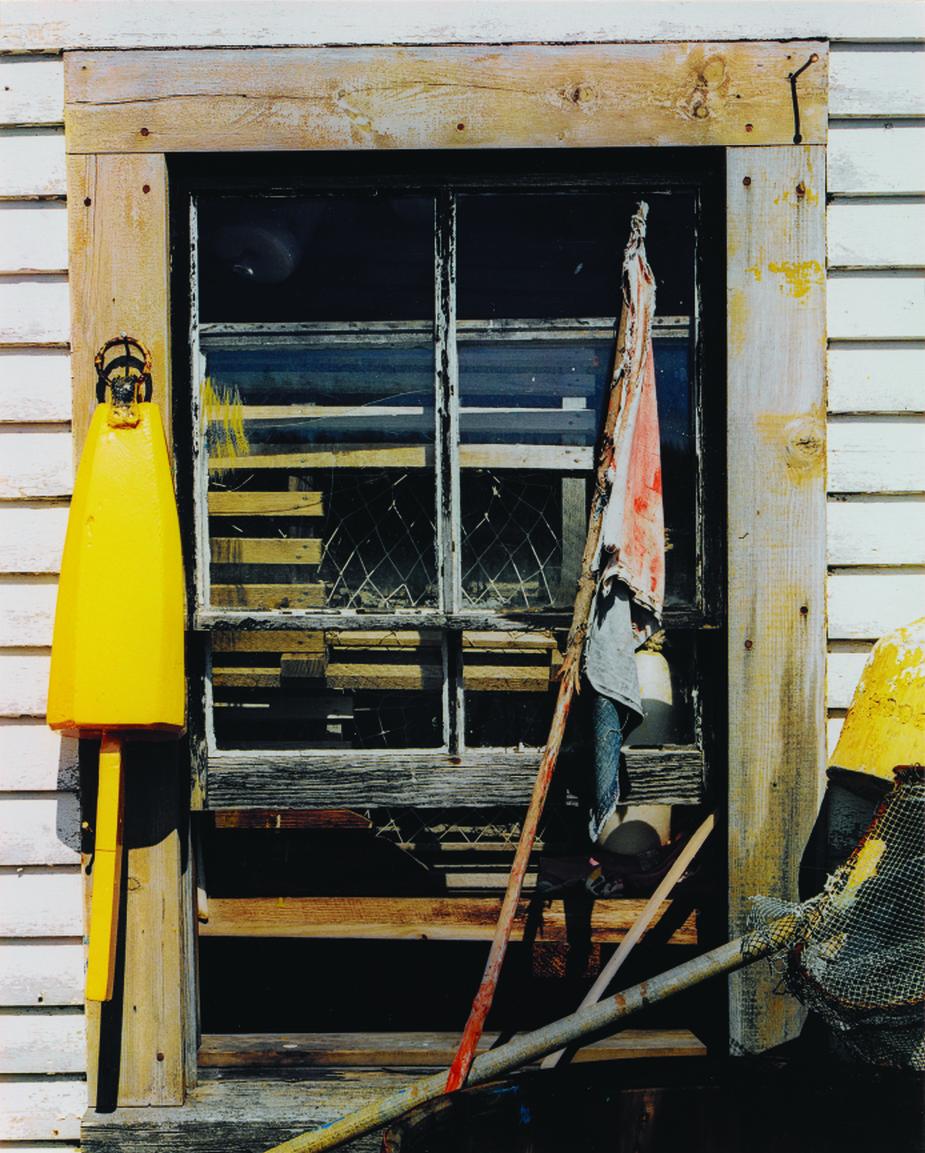 "Each [Stonington] fisherman has his own bright color combinations for his marker buoys, which, when not in use, are kept freshly painted…and hung from the walls of his paint shed." —Eliot Porter. Window, Pot Buoy, Flag, Stonington, Maine, July 31, 1963. Image credit: Eliot Porter (1901-1990). Dye imbibition print, 1963. ©1990, Amon Carter Museum of American Art, Fort Worth, TX. P1990.51.3110
When Porter took up color photography in 1939, he was nearly alone in his pursuit—and essentially had to argue for the worthiness of pursuing it (much as digital photographers are still called upon today to explain the art of their medium). Working with Kodak film, he developed a dye-transfer printing process. Photography historian Weston Naef claimed that Porter "was captivated by colors that had not yet been named." Naef curated Porter's show "Intimate Landscapes" at the Metropolitan Museum of Art in 1979—the first exhibition of color photography in that hallowed venue.  
Summer Island was one of a series of large-format, ground-breaking color photography books produced by the Sierra Club in the 1960s that made the connection between art and the environment. Titles included the hugely popular In Wildness Is the Preservation of the World (1962), which paired Porter's photographs of northern New England with quotations from Henry David Thoreau.
A signature element of many of these books was the incorporation of quotes by poets and fiction and nature writers, which added a literary dimension to the images. For Summer Island, Porter chose a variety of New England authors—Louise Dickinson Rich, Henry Beston, Sarah Orne Jewett, Rachel Carson, Charles Child—but also Shelley, Tennyson, Dylan Thomas, and H.D. (Hilda Doolittle). He included a couple of lovely poems by his mother (Great Spruce Head would also inspire Fairfield Porter, his wife Anne Porter, James Schuyler, and Frank O'Hara to write memorable island verse). 
Environmentalist David Brower, the subject of John McPhee's Encounters with the Archdruid (1971), wrote the foreword to a number of the Sierra Club books, taking the opportunity to make a point about the need for preservation. In Summer Island, he wrote, "The wild places are where we began. When they end, so do we." Carl W. Buchheister, then president of the National Audubon Society, echoed Brower's message in his introduction. Summer Island, he wrote, was "an elegant plea… to save the utter loveliness of those little microcosms of life—the golden isles of Maine." 
Porter referenced the ecological changes happening on the island, from the impact of DDT on the osprey population to the loss of fisheries. "With the death of the eel grass and the disappearance of the herring and mackerel," he noted at one point, "flounders also disappeared."  He acknowledged an "overwhelming desire to see nature remain unaltered, except by its mindless forces."
In his lifetime, Porter traveled around the world with camera in hand. His work includes photographs of painter Georgia O'Keeffe getting out of a boat on the Amazon; statues in the Confucius graveyard in Qufu, China; Galápagos tortoises mating; and the hut of the explorer Sir Ernest Shackleton on Ross Island in Antarctica. He even photographed marsh grasses at the Malheur National Wildlife Refuge in Oregon, site of the misguided militia occupation in 2015.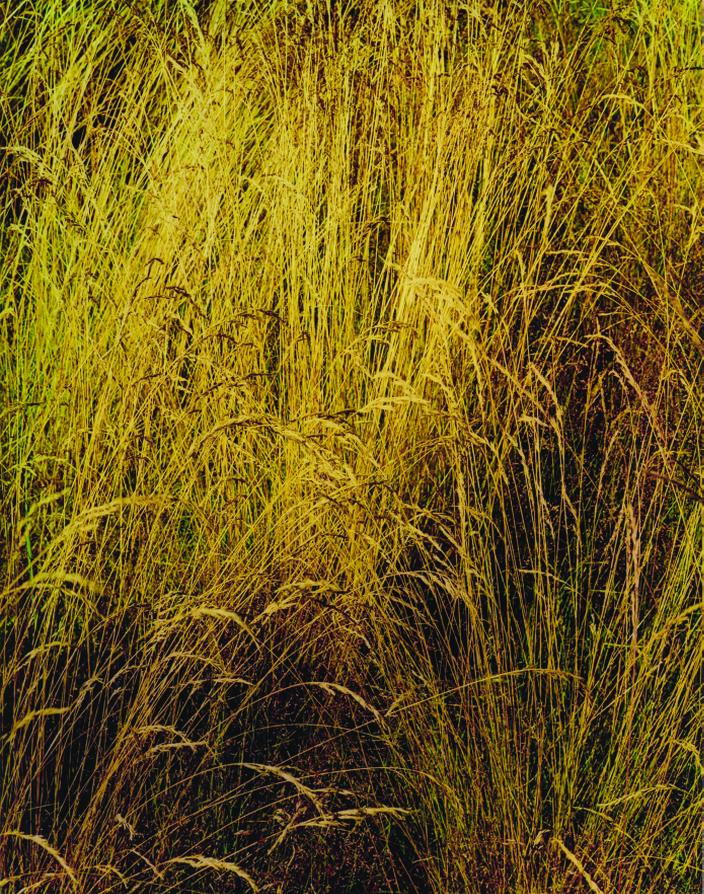 "Grass is simplicity itself," said naturalist Hal Borland, quoted in Summer Island. Yellow Grass, Great Spruce Head Island, Maine, July 20, 1964. Image credit: Eliot Porter (1901-1990). Dye imbibition print, 1964. ©1990 Amon Carter Museum of American Art, Fort Worth, TX. P1990.51.3187
Porter's influence has been wide-ranging. Peter Ralston, the long-time in-house photographer for the Island Institute, has paid tribute to him on a number of occasions. "I thought his work was reverential," Ralston once said. "I think it showed a real love for, and understanding of, the natural world."
It's not just photographers who have drawn on his example. Kittery painter Wendy Turner has recalled how her father gave her a copy of Summer Island when she was in her teens, and how Porter's close-up photographs led to her images of tide pools and beach plants.  
Summer Island is at once an ecological study and a highly personal memoir. There is family history, from outings aboard Hippocampus, a custom motorboat, to tennis games (when the concrete court was built during World War I, suspicious islanders thought it was a "secret gun emplacement"). Porter recounts the annual journey to the island and the daily routines of the Big House. And he evokes the special pleasures of his island retreat. "Who says," he asked, "that to dream away an afternoon with a foam-streaked bay spread out before your half-shut eyes and a wind stroking your face is not as purifying as gathering a small basket of bullet-hard berries for cranberry jelly?"      
---
Carl Little's most recent book is Wendy Turner—Island Light (Portsmouth Marine Society).
For More Information:
While no longer in print, Porter's Summer Island: Penobscot Country is readily available at second-hand book outlets. 
---
From Summer Island: Penobscot Country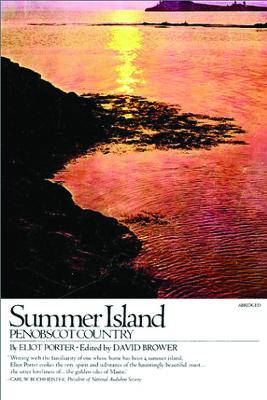 "As children do, we learned very quickly about boats, the conventions of navigation, and nautical terms. We soon knew the names of all the rigs of all the coastwise sailing vessels and ocean-going ships. We learned to row and even to scull as the native Mainers do, feathering our oars on the backstroke by dropping the wrist. We soon mastered all the pilot rules, and the kinds, colors and names of buoys. We knew what nuns, cans, and spars were, and the difference between channel and reef markers. We learned that you leave a red buoy to starboard on entering a harbor, remembered by the R rule: red, right, return. We learned to splice rope and to tie all the useful knots. And we learned the idiosyncrasies of the tides and the positions of the unmarked ledges in our vicinity."     
—Eliot Porter
Share this article:
Digital Edition Available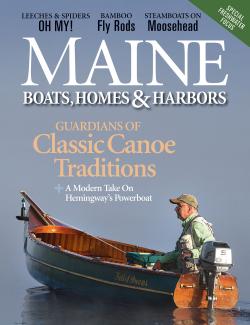 Can't get to the store to buy your magazine? We deliver the stories of Maine's coast right to your inbox. Sign up here for a digital edition.