Bruno & Diesel, Maxie Moxie
By The Editors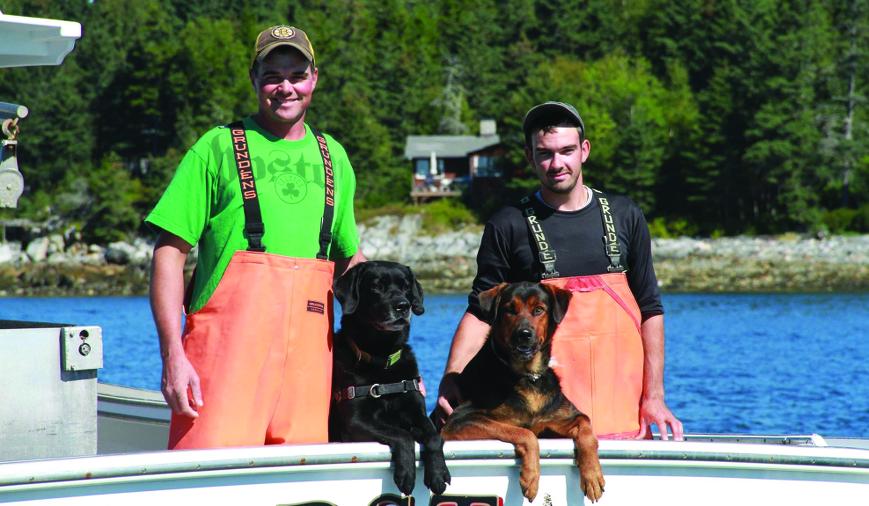 Photo by Jeff Dobbs/Courtesy Islesford Historical Museum Captain Jeremy Alley and sternman Cote Hadlock, both of Islesford, always take their dogs, Bruno and Diesel, along when they fish for lobster on the F/V Lobstar (a 42-foot Duffy). "They stay out of the way when we are working," reported Alley, "and in between they chase each other around. We have to keep them away from the bait and lobster legs, though, because they try to eat them." This photo is part of a project that documents the Cranberry Isles Fishermen's Co-op. The series will be on display this summer as part of the Islesford Historical Museum's exhibit "Boats & Buoys: Lobstering on Little Cranberry Island." 
For more information: 
www.islesfordhistoricalmuseum.info
---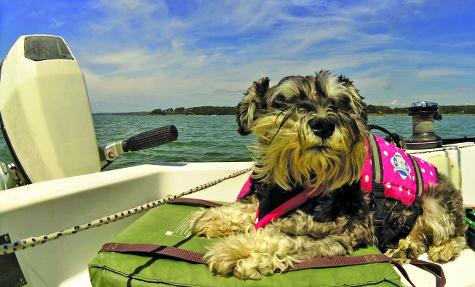 Photo by Benjamin Brierley Since puppyhood, the mini schnauzer Maxie Moxie has been a water dog. She has sailed with her person, Francis Waters, on a 25-foot Elan trimaran, kayaked in Maine and Florida, and been first mate on numerous rowing adventures in an Iain Oughtred dory. Although she's not an overly enthusiastic swimmer, she happily shows off her aquatic skills when necessary. Maxie Moxie enjoys the trimaran's many comfortable resting spots, and particularly favors stretching out on the trampolines, though a folded sail cover or a boat cushion will do as well. Here, she relaxes after an exploratory mission to Little Whaleboat Island, which she has deemed her favorite of the many in Casco Bay.      
Share this article:
Digital Edition Available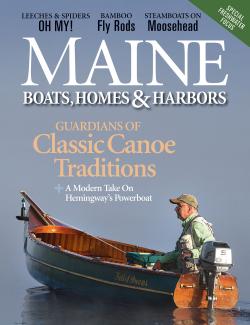 Can't get to the store to buy your magazine? We deliver the stories of Maine's coast right to your inbox. Sign up here for a digital edition.