Spiritual Vision
Photographer Joyce Tenneson gets to the heart of her subjects
By Ann Dodds Costello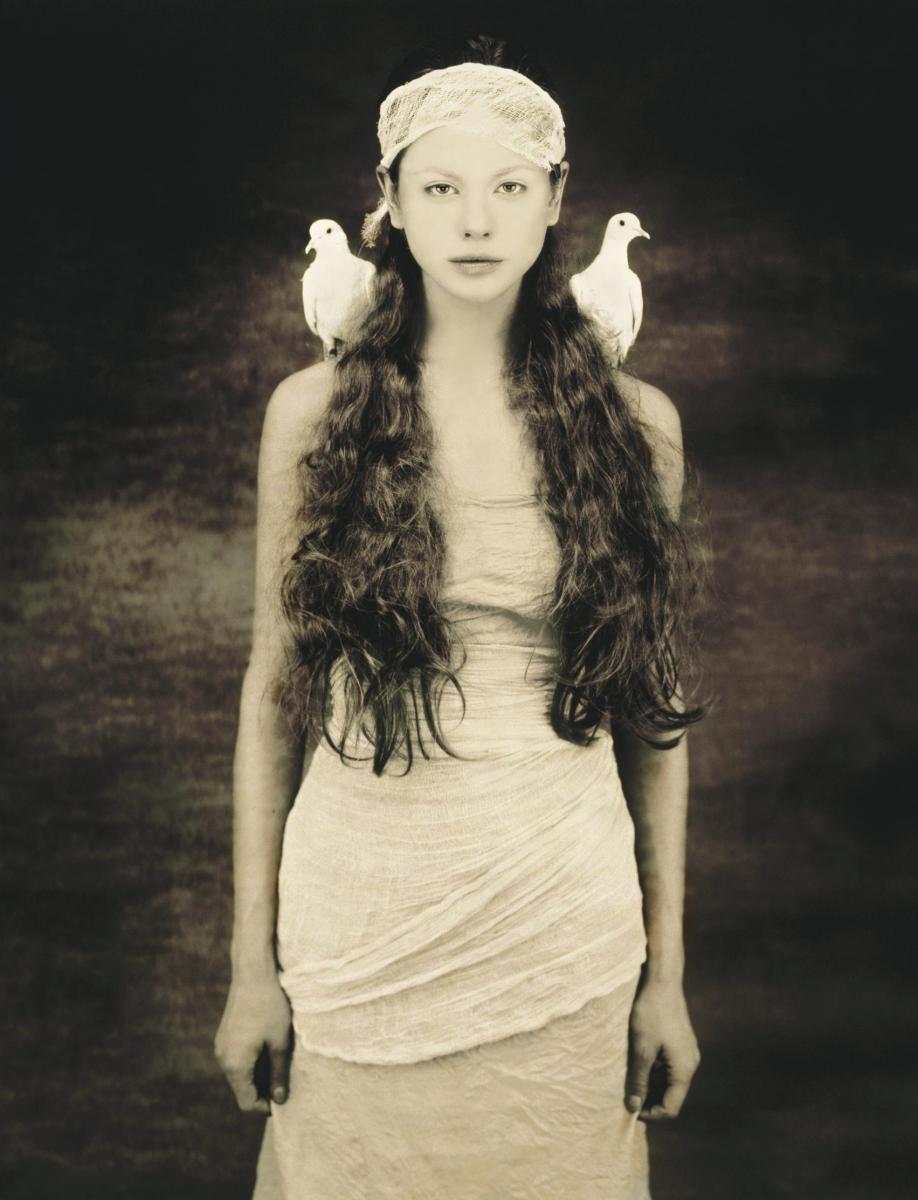 This 2002 Joyce Tenneson photograph entitled "Dasha with Doves," has been reproduced more than 50 times in books and magazines worldwide. Dasha was a Russian émigré whom Tenneson met at a New York gallery opening. "She said she had this recurring dream about two doves that somehow were emerging from her heart and trying to get to the light," Tenneson said. "We tried to recreate the scene in the studio, but it looked too contrived. Just when we stopped to take a break, the two doves landed on her shoulders. That was it. I had just once chance and got the shot. I think it's about all our fears of being vulnerable." Photo by Joyce Tenneson, courtesy Dowling Walsh Gallery
Tapping into the zeitgeist, or spirit of the times, is a tall order for any artist. Tapping into what might be called the human zeitgeist, is an even taller order. But that is exactly what Rockport, Maine-based photographer Joyce Tenneson has managed to do with her art. Her iconic and ethereal images, taken with a giant, now virtually obsolete, Polaroid camera and then improved upon by Tenneson's particular brand of technical magic, reveal the inner strength and beauty of her human subjects.
In much the same way, Tenneson's more recent series of gold-hued landscapes, taken with a Canon 35 mm camera, reveal the life force—you might say the soul—of trees.
The author of 16 books of fine art photography, including the 2002 best-seller, Wise Women, Tenneson has also worked successfully in the commercial arena, shooting covers for high-end publications including Time, Life, Newsweek, Esquire, and the New York Times Magazine. Her work has been featured in 150 public exhibitions worldwide, including recent shows in Stockholm and Beijing. She has received countless awards, including "Photographer of the Year" from Women in Photography International in 2004. The honors will continue this year in Tenneson's adopted home state of Maine, where the Farnsworth Art Museum in Rockland has chosen her for its 2016 Maine in America Award. 
The museum's chief curator, Michael K. Komanecky, cited her "well-deserved reputation as one of America's foremost photographers," and "as an outstanding teacher and mentor whose reach has extended beyond our nation's borders."
Tenneson has taught at Rockport's Maine Media Workshops and College for close to 40 years, mentoring several generations of photography students. Meg Weston, president of the workshops and college, considers her "one of the most generous and insightful teachers of photography I know." Tenneson is genuinely interested in her students, Weston said. "Her openness in sharing her own journey, and unique personal style are inspiring to those lucky enough to be guided by her light."
While Tenneson has not always lived in Maine, her connection to this state and to Rockport and its harbor are visceral. "I'd come here to teach at Maine Media Workshops for many years and, while living in New York City, I'd hold the image of the water and the harbor in my mind when times got rough," she said. "It was a balm to me. It is a life force—almost a divinity."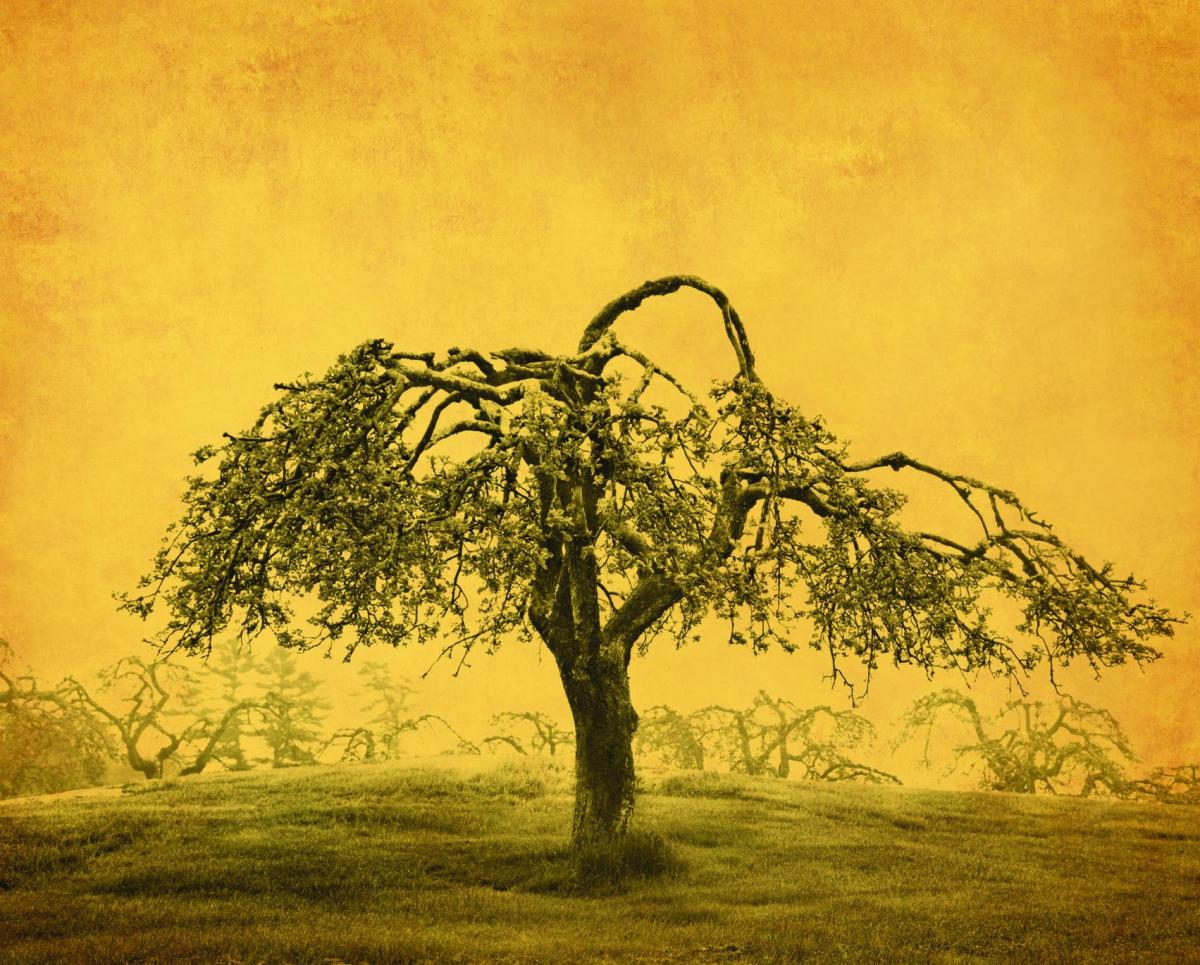 In her mixed-media print of Maine Apple Tree, 2011, Tenneson combined the photograph with a background of gold leaf, giving it a luminous effect. Photos by Joyce Tenneson. Image courtesy Dowling Walsh
Tenneson grew up on the grounds of a convent in Weston, Massachusetts, where her parents worked and where she and her three sisters were immersed in a spiritual world, surrounded by women. Small wonder that her work exudes feminine sensibility, wonder, and that ineffable component: grace.
After graduating with a BFA and a master's degree from George Washington University, Tenneson taught photography at that university's Corcoran School of Art in Washington, D.C., starting in 1969. She earned a PhD in Art and Human Development from the interdisciplinary multi-institution Union Graduate School in 1978. She was strongly influenced by her PhD advisor, who taught mythology at Georgetown University, and by the works of Joseph Campbell, who wrote about the power of myth and famously advised us all to "follow our bliss."
She continued to teach until the age of 39 when she left her marriage, and Washington D.C., and set out for an uncertain life as a full-time photographer in New York City. She worked hard and succeeded, selling a cover to American Photo magazine in 1986. At this point, she had already published two well-received books. Her collection of self-portraits by female photographers entitled In/Sights, immediately sold out after its publication in 1978. Part of her PhD thesis, it was the first photo book to focus solely on self-portraits by women.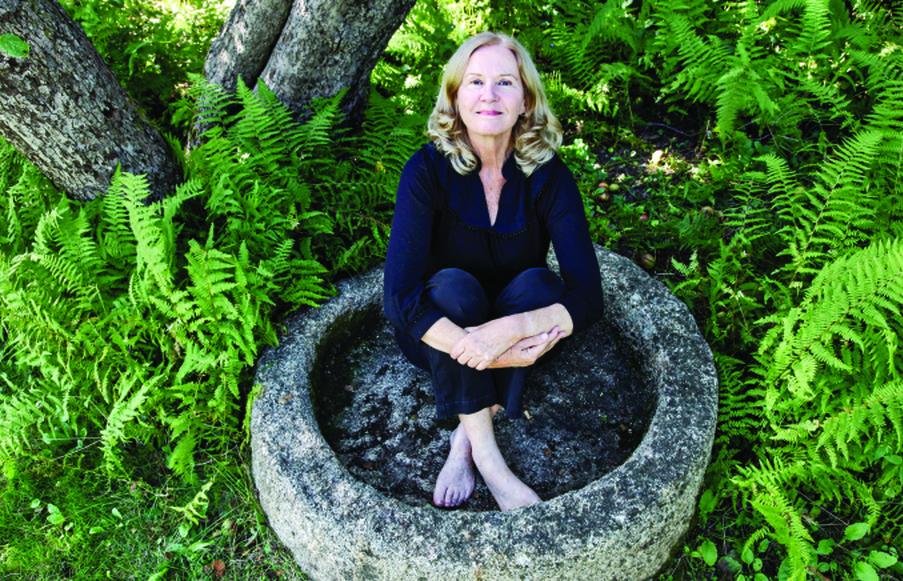 Tenneson took this self-portrait at a friend's house in 2014. Describing her creative process, Tenneson calls her camera a "witness." "It holds a light up for my subjects and allows them to reveal their own essence," she said. "Through a portrait, we can potentially see everything—the history and depth of a person's life, as well as evidence of a universal presence...At times, if I am lucky, grace descends magically. My best photographs record these special moments."
Curators and gallery owners who have exhibited her works over the years often comment on this special aura in her work.
Holden Luntz, owner of an eponymous gallery in Palm Beach, Florida, has represented Tenneson for 12 years. Her works "go beyond portraiture (and show) what it is to be a human being," he said. "Once a collection of her works is on a wall, they are a window to something," he added. "There is nothing austere in her works. They are embracing... compassionate."
Jacob Dowling, owner of Dowling Walsh Gallery in Rockland, who has represented Tenneson for five years, cited her appeal as "female in a very male industry." Tenneson was "playing with the (large) Polaroids to make them surreal with special effects before anyone else," he added. Aside from Tenneson's portraits of women taken with the oversize Polaroid, Dowling Walsh has exhibited a collection of her golden landscapes—black and white photos fused with gold leaf, which gives them a luminous, mixed-media look.
When Tenneson's partner, David Jones—a noted theatre, television, and film director—died in 2008, she moved permanently to her former summer home overlooking Rockport harbor to be close to her son, Camden realtor Alex Cohen, his wife Kate, and their four children. Currently, she is working on her seventeenth book, taking photos, and teaching master classes wherever she is—at Maine Media Workshops, in Florida in the winter, and in other spots around the globe.
Tenneson recently described a meditation group she'd just organized in her home for her Maine Media students. "It was beautiful—that kind of energy," she recalled. "I love doing that—sharing and being connected to young seekers."
And so it seems that Tenneson's many contributions to the arts include newly minted artists who are willing and able to look for inner worlds and shared connections.      
---
Ann Dodds Costello lives in Los Angeles and Owls Head. She is the author of Smart Women: The Search for America's Historic All-Women Study Clubs, 2015 published by Lulu.com.
---
Joyce Tenneson will be honored at the Farnsworth Museum's annual gala on Friday, July 15, 2016. For more information, call 207-596-6457. Tenneson's work will be on display at the Dowling Walsh Gallery in Rockland for the month of July. She also is represented by A Gallery for Fine Photography in New Orleans, Louisiana, and Holden Lutz Gallery in Palm Beach, Florida.
Share this article:
2023 Maine Boat & Home Show

Join Us for the Maine Boat & Home Show!
Art, Artisans, Food, Fun & Boats, Boats, Boats
August 11 - 13, 2023 | On the waterfront, Rockland, Maine
Click here to pre-order your tickets.
Show is produced by Maine Boats, Homes & Harbors magazine.