Lobsters, blue tape, a folding airplane, and a new owner for Robinhood
By Polly Saltonstall
Maine boatyard changes hands
A historic marina in Georgetown, Maine, has been sold to a partnership that also has deep roots in the yachting and boatyard industry.
Robinhood Marine Center was sold March 7 to Derecktor Maine, a partnership that includes Derecktor Shipyards, Paul Derecktor, and John Koenig. The facility will be renamed Derecktor/ Robinhood. 
Andy Vavolotis, who had owned the marine center for 35 years, had said that he was ready to move on. But he was picky about who would take his place. They had to be sailors and experienced boatyard people.
"There was a lot of interest in Robinhood, and I wanted to make sure the new owners would be the right choice for me, the customers, and the employees," Vavolotis said about the sale. "I believe these guys will do what's needed to make Robinhood better than ever."
Included in the sale were the Osprey restaurant; an on-site library, museum, and general store; more than 17,000 square feet of storage, and 77 slips.
Derecktor is known as one of the country's leading builders and repair yards—with facilities in Florida and New York—and has launched vessels ranging from America's Cup contenders to the largest yacht ever built in the United States, the 287-foot 2,500-ton Cakewalk. 
The company was founded in 1947 by Robert Derecktor and has been run for many years by his son Paul.
"We are tremendously enthusiastic about Derecktor/Robinhood," commented Paul Derecktor. "Our business began in the Northeast almost 70 years ago, serving cruising and racing sailboats and cruising powerboats. Now we cover the East Coast from Florida to Maine, and Robinhood lets us serve that traditional customer base, while offering all our customers seamless service, north to south."
The new owners have hired Neil Collins as general manager. Collins spent the past 10 years at Maine Yacht Center in Portland, and has built a reputation for both technical expertise and thorough professionalism. 
The Robinhood site has been focused on maritime trade since the late 1700s when Benjamin Riggs operated a waterfront store there, and then a warehouse to support his busy coastal trading business. 
---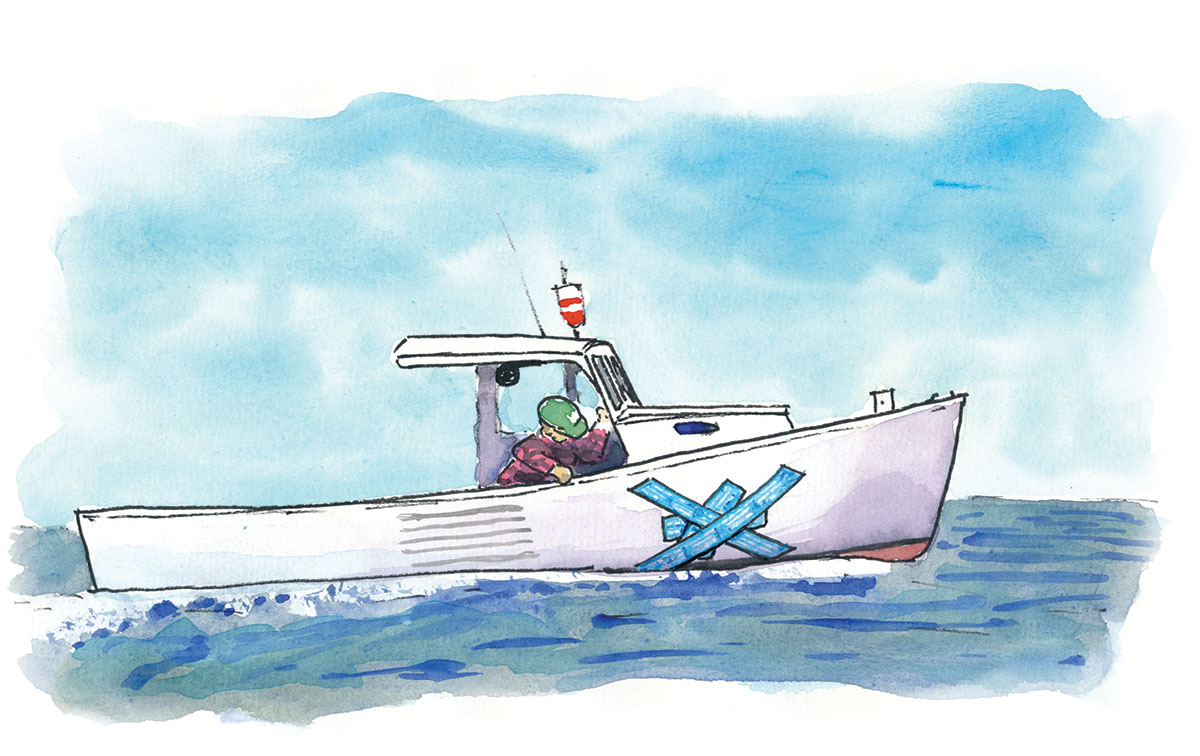 Illustration by Ted Walsh
Bank marketing that sticks
We're all familiar with trade show swag—plastic key chains, pens that fall apart in your purse, little flashlights, monogrammed Post Its, and so on.
Some swag, though, is really useful. Top of the list for savvy scroungers in our neck of the woods is the blue-and-white monogrammed duct tape that Camden National Bank has been handing out for the last decade to audiences at trade shows around the state, including the Maine Fishermen's Forum. The tape is so popular with those in the know that for the past few years bank employees have kept it hidden in their booth and distributed it only upon request.
"People love this stuff," said Pam Kenniston, vice president and senior retail lender at Camden National who was working in the bank's booth at the forum this year. 
"They tell us they keep one roll on their boat, one in their car glove compartment, and one in their kitchen," she added. "One guy told us he used it to keep his boat from sinking when it sprang a leak. Another guy told us that when his favorite wallet fell apart, he fixed it with Camden National duct tape and it lasted another three years."
Many fans were horrified by a rumor circulating at the Fishermen's Forum that the bank did not plan to re-stock its tape supply for future years. But the  rumor was unfounded. "Do not worry," said Camden National Chief Marketing Officer Renee Smyth, when contacted at her office. "There will be more tape. We're just figuring out how much to order now," she said. 
The bank orders the tape from a company in Nashville, Tennessee. "It's a little pricey," Smyth explained, which is why the distribution is so controlled.
The next order of tape will look different—it will carry the bank's revamped logo, a dark blue anchor in a C-shaped wave that signifies the bank's Camden and waterfront roots, and its future—but it will work just the same.
"Rest assured, we will still have the tape at trade shows and events and it will continue to save boats," said Smyth.
---
Hot water and record lobster catch
This has been a good year for fishing in Maine, but warming waters along the coast pose problems for the future. 
The value of Maine's commercially harvested marine resources set a new record in 2015, according to the Maine Department of Marine Resources. The $632 million total reflects an increase of more than $33 million over the previous record, set in 2014.
The news came as fishermen from across New England gathered at the annual Maine Fishermen's Forum in Rockland to discuss the state of their industry and pressing issues, including climate change and warming ocean waters.
During the panel on climate change, Andrew Pershing, a scientist at the Gulf of Maine Research Institute, said temperatures in the Gulf of Maine have been increasing about .07 degrees Fahrenheit per year. While that may not seem like much, it is four times higher than the global average. "We are one of the fastest warming parts of the world today," he told a standing-room-only crowd.
The warmer water has impacted a number of fisheries, contributing to a decline in cold-water-loving cod and winter flounder, for example, and causing an increase in what have historically been more southern species, like black sea bass. NOAA oceanographer Jon Hare said a study of 82 species of fish caught in New England found that 42 percent were at a high level of vulnerability due to warming trends, while a whopping 79 percent were likely to be "negatively impacted."
This is of concern in a state where fishing is such a large component of the economy. This is especially true of lobstering, which is the state's most valuable catch, valued at $495 million in 2015. 
Last year (2015) marked the fourth year in a row and the fourth year ever in which Maine lobster harvesters landed in excess of 120 million pounds, with landings totaling 121 million pounds.
Maine's softshell clam industry retained its second place standing in overall value at $22.5 million, a record for the fishery. While the overall catch was down, the per-pound price went up.
At $2,171 per pound, Maine's elver fishery was by far the most lucrative of Maine's commercial fisheries on a per-pound basis. Despite a season in which landings were well below the state quota due to a cold, dry spring that slowed elver migration and challenged harvesting, overall value increased by nearly $3 million to $11.4 million, Maine's fourth most lucrative behind herring at $13 million.
---
Stop that lobster thief
Higher prices mean lobsters are in demand. Someone stole rather a lot of the crustaceans this winter out of traps off Jeffrey's Ledge in southern Maine, and industry officials want to find the culprit. 
An investigation by the Maine Marine Patrol in late February found that close to 200 lobster traps had been hauled by someone other than the license holders—an illicit act referred to by insiders as "molestation." The lobsters were stolen, and the traps lowered back to the bottom. Maine Operation Game Thief offered an $11,000 reward for information that might help authorities bring the person or people responsible to justice. Anyone with information was encouraged to call the Operation Game Thief hotline at 1-800-ALERT-US (1-800-253-7887).
---
Sweden wants to ban Maine lobsters
Are there so many lobsters in Maine that some might have crawled across to the ocean to Sweden? Or have animal-loving Swedes been releasing lobsters instead of boiling them for dinner? 
Whatever the reason, Swedish regulators say about 30 American lobsters have been caught in Swedish waters in recent years. Swedish scientists are concerned, according to a report in the Portland Press Herald, that escaped North American lobsters could carry shell diseases and parasites that could be transmitted to native European lobsters. Also of concern is the notion that European and North American lobsters could interbreed, creating an offspring that may not be viable for sale. As a result, the Swedish government has asked the European Union to ban imports of live North American lobsters. This could cost Maine fishermen as much as $10 million. Needless to say, the news is making waves.
"This is a complete overreaction on the part of Sweden," U.S. Rep. Chellie Pingree said in a statement. "We have safely exported live lobster to dozens of countries for decades, and even if it's true that a few Maine lobsters have been found in foreign waters, regulators need to look at the problem more carefully and not just jump to conclusions."
In the United Kingdom, according to the Portland Press Herald, two dozen reports of North American lobsters in local waters have been confirmed in recent decades. Many were still wearing rubber bands on their claws identifying the exporting company—leading some to believe that the crustaceans are being held in United Kingdom waters for future consumption.
"The idea that somehow lobsters are going to jump out of their tanks and crawl into the sea and survive just doesn't make sense," Pingree added. "Some reports have suggested that it's actually consumers who have bought lobsters and thrown them in the ocean. Whatever the cause, EU officials should figure out what's really happening."
Any ban ultimately would need approval from the World Trade Organization.
---
Garmin buys Maine's DeLorme
DeLorme, the navigation company based in Yarmouth, Maine, has been bought by Garmin. The sale closed March 3. Although the Yarmouth map store has closed, Garmin plans to retain most of the employees at the Maine location, which will operate primarily as a research and development office. No word on whether Garmin will continue to print DeLorme's popular paper atlases, or on the fate of Eartha, the world's largest revolving globe, which hangs in the company's Yarmouth offices and is visible to those driving by on Interstate 295.
A privately held company that designs and markets consumer-based satellite tracking devices with two-way communication and navigational capabilities, DeLorme was founded in 1976 by David DeLorme. Frustrated by out-of-date backcountry maps of Maine's Moosehead Lake region, he vowed to create better maps of the state.
One of the most compelling products in the DeLorme portfolio is its series of inReach two-way satellite communication devices that allow the user to send and receive satellite text messages or trigger an SOS for emergency help, practically anywhere in the world. In addition to inReach, DeLorme has an extensive library of digital cartography and enterprise GIS software, as well as traditional mapping.
---
A fabulous full-sized folding airplane
The designer of an amphibious folding-wing plane intended to access hard-to-reach fishing holes or marinas, plans to build a prototype of the craft at the former Navy air base at Brunswick Landing, according to the Bangor Daily News.
MVP Aero announced it would be a tenant at TechPlace, a business incubator at the former Navy base. According to the report in the BDN, the airplane company said it is reducing the plane's weight by using composite materials. It has put scale models in the air and tested its hull designs in water tanks and is now focused on putting together a full-scale prototype.
Paul Richards, MVP's director of business development, told the newspaper that the company picked the former Navy base due to its advanced airport facilities near the Androscoggin River and Casco Bay for testing the flying boat, local expertise both in composites and boatbuilding, and the ability to build the full prototype in the TechPlace building.
The company is about three to four years away from manufacturing the plane for sale, said Richards, adding that the market for the craft is primarily affluent adventure-seekers.
---
Best beach rating
Just as most Mainers were stoking up their woodstoves for cold weather, the web-based travel site, TripAdvisor, announced that Ogunquit Beach had made its list of the country's top 25 beaches. The news, reported by the Bangor Daily News, comes a year after Coastal Living magazine named Sand Beach on Mount Desert Island one of its 21 best beaches. 
The TripAdvisor ranking mostly focuses on locations in California, Hawaii, and Florida. The Maine entry is one of only three beaches in the top 25 that is not in one of those three states.
Ogunquit Beach is slotted at No. 15, just behind Manini'owali Beach in Hawaii, and just ahead of Newport Beach in California. Until the weather here in Maine gets a bit warmer, we're just going to have to take TripAdvisor's word for the glory of Ogunquit. 
---
Winter swimmer
Meanwhile in Rockland Harbor, where the beaches are few and far between, cold water and winter weather couldn't keep Sarah Waterman out of the ocean. She swam part way across the harbor on January 17, according to a story in the Pen Bay Pilot. 
Headed off to Hawaii (where the beaches are pretty fabulous, according to TripAdvisor) to train on a women's outrigger and paddling team, Waterman told the Pen Bay Pilot that she needed a good hit of cold before subjecting herself to hot weather. "It's almost like you've got to smoke a pack of cigarettes and drink a ton of whiskey before heading to jail," she said. "It's the cold I crave. I needed to suck up the cold of the ocean one last time before I headed out."
In water this frigid (35 degrees Fahrenheit), it generally takes about 10 minutes before a person begins to succumb to hypothermia. There's also the possibility of cold shock response, which is the body's reaction to sudden cold-water immersion. For those not habituated to it, diving in may trigger an elevated heart rate and stress, which could lead to a heart attack. That doesn't worry Waterman, who does not wear a wetsuit while swimming. She said she swims in the ocean every year around this time. 
Shedding her Muck boots and stripping down to a sleeveless neoprene shirt and leggings, she dove in, while her friends raced back to their cars to meet her over at the other side, the Pilot reported. The swim took about three minutes. When she walked out of the water in bare feet and climbed up the rocky embankment, she was grinning from ear to ear.
"I needed to get as much cold in me as I could," she said. "But I'll definitely take a hot coffee and whiskey now."
---
Who owns the rockweed?
As seaweed becomes ever more popular (we keep hearing that kelp is the new kale), tensions continue to swirl around harvesting issues. The arguments include how to ensure that the harvest is sustainable, as well as who can take what from where. On the latter point, a trio of landowners in Washington County contends that rockweed—like timber—belongs to the entity that owns the land beneath and that it cannot be harvested without permission.
The trio has filed suit against Acadian Seaplants, Ltd., a Canadian company that is Maine's largest rockweed harvester, asking the court to declare that rockweed belongs to the owners of the intertidal flats on which it grows, according to a report in the Ellsworth American. The landowners have also asked the court for an injunction to prevent Acadian from harvesting rockweed on their properties—two parcels of land in Pembroke on Cobscook Bay and Roque Island and the surrounding archipelago located between Chandler and Englishman bays in the town of Jonesport.
In 2014, the last year for which DMR has published figures, a handful of licensed harvesters landed some 17.7 million pounds of seaweed in Maine, according to the newspaper. "At least 90 percent" of that harvest is rockweed (Ascophyllum nodosum), and all of that rockweed was cut in the intertidal zone—where it grows attached to the sea bottom between the low and high tide lines, the newspaper noted.
The plaintiffs in the suit include brothers Carl E. Ross and Kenneth W. Ross, both Calais natives, and the Roque Island Gardner Homestead Corporation. All three landowners claim that boats registered to Acadian Seaplants harvested rockweed on their land without permission. 
The state's Department of Marine Resources has a rockweed Fishery Management Plan that describes the ecology of the plant, its role as a nursery for juvenile aquatic animals and a variety of other environmental factors. Many of those issues remain contentious, but their resolution is irrelevant to the current litigation, the Ellsworth American reported. The central question is whether rockweed, like timber, belongs to the owner of the land on which it grows or, more like shellfish, is subject to a public trust and belongs to the state. 
---
Front Street, SW Boatworks team up
SW Boatworks in Lamoine is so busy that the yard has partnered with Front Street Shipyard in Belfast to build a mold for a 42-foot Calvin Beal design. The design is similar to its sister, the 38-foot CB, but with more length to accommodate both commercial and sportfishing/pleasure demands. The Calvin Beals are known for their seaworthiness, stability, and fuel efficiency—all proven by fishermen and enjoyed by yachtsmen.
Front Street Shipyard is also laying up 42-foot Young Brothers hulls for SW Boatworks. 
SW Boatworks has been constructing custom vessels for more than 15 years and has been very busy recently, said owner Stewart Workman. The downeast company has orders booked through the end of 2017.  
Share this article:
Digital Edition Available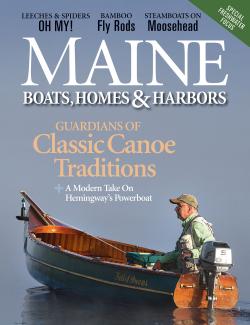 Can't get to the store to buy your magazine? We deliver the stories of Maine's coast right to your inbox. Sign up here for a digital edition.