Dance of the Lady Slippers
The delicate members of the wild orchid family
By Lynette L. Walther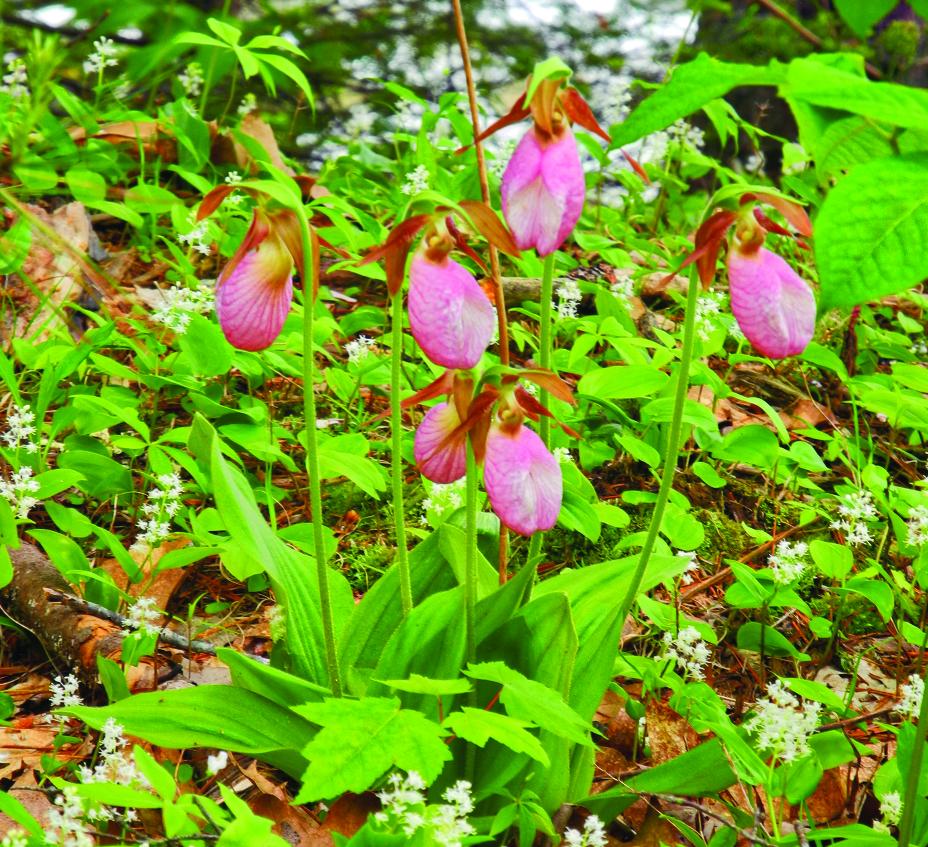 If you do not want to wait for lady slippers to find you in the wild, it is possible to order them from reputable online sellers, such as Plants Delights Nursery or White Flower Farm. But be forewarned that they are pricey and will require the right environment in which to thrive. Photograph by Lynette L. Walther Ethereal and enigmatic, the pink lady slipper is one of the sweetest delights of spring in Maine.
These special wild orchids "are still a mystery to us," said Sharmon Provan, plant records coordinator at Coastal Maine Botanical Gardens. For close to two decades (years before the present botanical gardens, which are open to the public, were developed) staff and volunteers at the Boothbay arboretum have been tagging, charting, recording, and counting thousands of pink lady slippers on portions of the ledgy, wooded 270-acre site. 
"It's the peculiar habits of the pink lady slipper, the idea that they can remain in dormancy for a number of years, and then come back, that make it difficult to understand," Provan explained.
Pink lady slippers, Cypripedium acaule, also called moccasin flowers, come in pink and white varieties and are one of the hardy orchid varieties found in the Northeast. Others are: the yellow lady slipper, Cypripedium parviflorum; the Eastern fairy slipper, Calypso bulbosa L.; the "ram's head" lady slipper, Cypripedium arietinum; and the long-bracted green orchid Actylorhiza viride.
All of these cold-hardy orchids are terrestrial, that is they grow in soil. (Orchids represent the largest plant family with up to 30,000 species, including terrestrials, epiphytes, and lithophytes.)
The delicate shoe-like blooms of the pink lady slipper appear in the late spring, and while they don't perform airs above the ground, they do seem to hop around the sun-dappled forest floor in a colorful botanical dance. And that's where a lot of the mystery comes in.
"They tend to clump, and you'll see another one coming up near where one had been (the previous year)," said Provan. "This is not an exact science. We believe they are the same plant, not a new one moving in. But we are still trying to figure them out. They have this extensive, shallow root system that extends many feet from the plant. And there's the micro-fungi symbiosis."
The Coastal Maine Botanical Gardens study began in 1998, and is expected to run until at least 2018. "At this point we can only say that some of the flowers have actually flowered every year for 18 years," said Joanne M. Sharpe, PhD, who was instrumental in getting the pink lady slipper study project off the ground. 
In recent years the pink lady slippers have put on fantastic displays in the late spring at the botanical gardens. The white variety also puts on quite a show with their glowing white blossoms.
It is important to note that some of this abundance might be due to the fact that deer (and many other small wild animals) have been mostly excluded from the gardens by 8- to 10-foot tall fencing. "If we didn't have the fences, the deer would eat them. They like to eat the blooms," said Provan, partly explaining why the wild orchids are so prolific there. "Many thought that we actually planted these pink lady slippers for visitor enjoyment, but that is not the case."
This orchid prefers disturbed areas and areas on the fringes of development and the forest. In their monitoring of the lady slippers, botanical gardens staff and volunteers have watched several different areas.
In one area they did nothing until about halfway into the study when they noticed a steady decline in blooms. At that point, the staff cut out tree seedlings and soon afterward they noticed an increase in flowers. Another large area had average numbers in the beginning, but they faded out as other plants (hay-scented fern) put forth too much competition, Provan said.
According to the USDA Forest Service website: "Cypripedium acaule grows in mixed hardwood coniferous forests of pine and hemlock on rocky/mossy slopes in the semi-open or in deep humus and acidic but well-drained soil under birch and other deciduous trees of eastern United States forests."
Like all botanical gardens, the Coastal Maine Botanical Gardens strives to protect native vegetation while providing guidance for gardeners throughout the region for growing a variety of plants, trees, and shrubs suitable for the area, including native plants such as lady slippers.
While it is not illegal to pick or transplant pink or other lady slippers in Maine, these delicate plants do not transplant well and they rarely survive for more than a couple years when moved. Given that, it is best to enjoy them in the wild where they grow naturally.
However, if you can provide the proper habitat, who knows, maybe those magical, mystical pink lady slippers may one day tiptoe into your life and landscape on their own accord. 
---
Contributing Editor Lynette L. Walther is the recipient of the Garden Writers Association's Silver Award of Achievement. She gardens in Camden, Maine. Her blog can be found at: gardeningonthego.wordpress.com
Getting there:
The Coastal Maine Botanical Gardens, located at 132 Botanical Gardens Drive, Boothbay, Maine, is open April 15 through October. 31. In addition to driving, visitors can also arrive by boat.
The facility maintains four moorings for boats up to 32 feet and one larger mooring for boats up to 50 feet long.  For more information: www.mainegardens.org or call 207-633-8000.
Share this article:
2023 Maine Boat & Home Show

Join Us for the Maine Boat & Home Show!
Art, Artisans, Food, Fun & Boats, Boats, Boats
August 11 - 13, 2023 | On the waterfront, Rockland, Maine
Click here to pre-order your tickets.
Show is produced by Maine Boats, Homes & Harbors magazine.