Winter Bonding Project
My son and I plan to build a New Zealand Scow Moth
By John K. Hanson, Jr.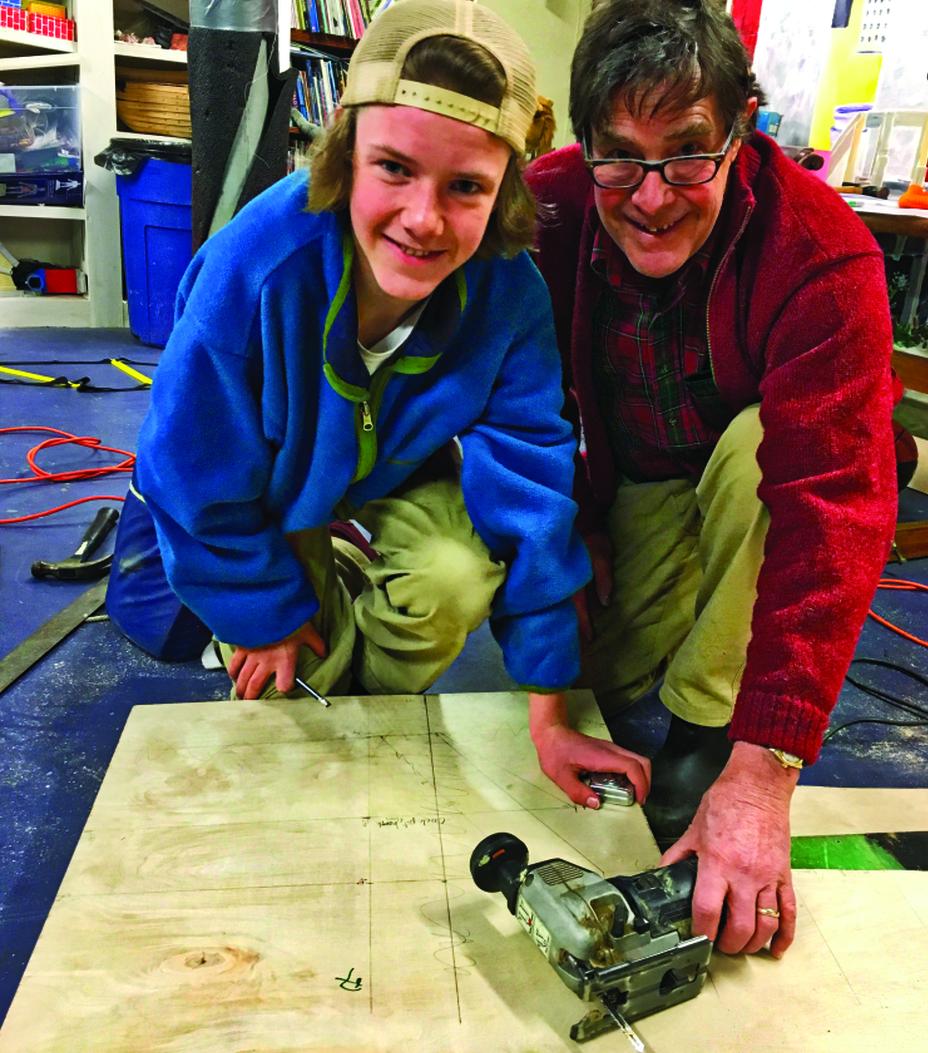 John Hanson and his son Sam have begun work on their Moth in the basement-turned-boatshop. Photo by Polly Saltonstall. He sits a dinghy like a champion equestrian sits a horse, totally in control, and at one with the animal, or in this instance, the boat. He loves to sail the beautifully restored heirloom wooden Sailfish that was built for his grandfather. He loves going fast, and he loves to capsize. 
He hates sailing class, and loathes Optimists. This is my son Sam who is 13 and going on a world-weary 20. He's often bored at school, but likes math and science. To me the answer for his need for speed and an antidote for his teenage ennui is to build a boat—a fast boat, challenging to sail, but not too challenging to build.
My friend and former WoodenBoat Publisher Carl Cramer has become a fanatic for classic International Moths. This development class has few limits: no longer than eleven feet, no wider than five feet and no lighter than 75 pounds, and one sail. While the Moths from the 1920s look a lot different than the Moths of the 1960s, all the pre-1970 International Moths race together under Classic Moth rules, just in different divisions.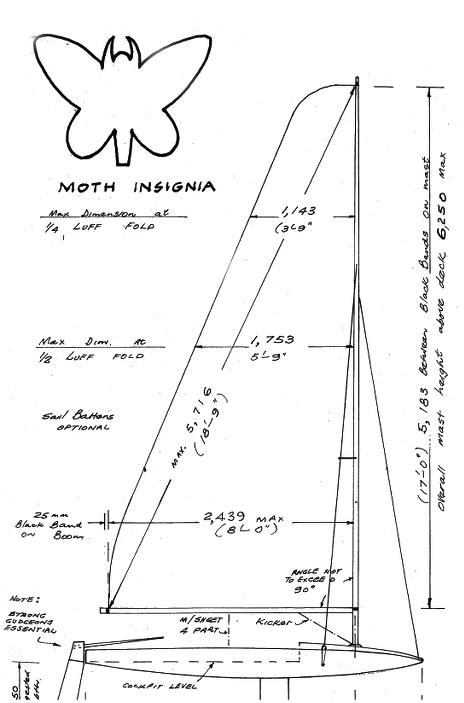 Plans courtesy of the Stewarts Gully Sailing Club in New Zealand The introduction of Lasers in the 1970s just about killed off the Moth class in this country. Lasers offered high-quality racing in one-design, off-the-shelf boats, while the Moth was always a class of backyard builders and tinkerers. Today, these tinkerers, mostly in the post-prime of their lives like me, are the active restorers and sailors of the so-called Classic Moths. These little boats are beautiful, light, fast, and living bits of boat history. I must admit this combo speaks to me.
Meanwhile, today the modern iteration of the International Moths, is one of the world's hottest dinghy classes. Many of the rock star sailors from the America's Cup and other top notch events are racing these boats, not the Classic Moths which are now known as low-riders, but rather these foiling boats that sail three feet above the water at blazing speeds. They look thrilling, must be thrilling to sail, and are pretty much beyond the pocketbook, skill, and patience of a 13-year-old boy. Or for that matter his 65-year-old dad.
Enter the Scow Moth of New Zealand, an offshoot of the International Moth. As the Moth concept took off around the world in the 1920s, many sailors in Australia and New Zealand built boats with a bigger, fully battened sail, and a scowlike flat-bottom. A man named Len Morris came up with a design in 1942 (updated in 1953) that became popular down under, eventually becoming a one-design class called the New Zealand Scow Moth. This boat is perfect for my father/son project.
With its flat bottom, flat sides, and few difficult curves, the boat is simple, and looks like it will be easy to build, (although I have the ability to make anything simple, really hard). At 90 pounds all-up weight, and 90 square feet of sail, it should go like a rocket. Like the Sailfish that Sam already sails, it will be easy to right after a capsize. And unlike the heirloom Sailfish, it won't be a museum piece.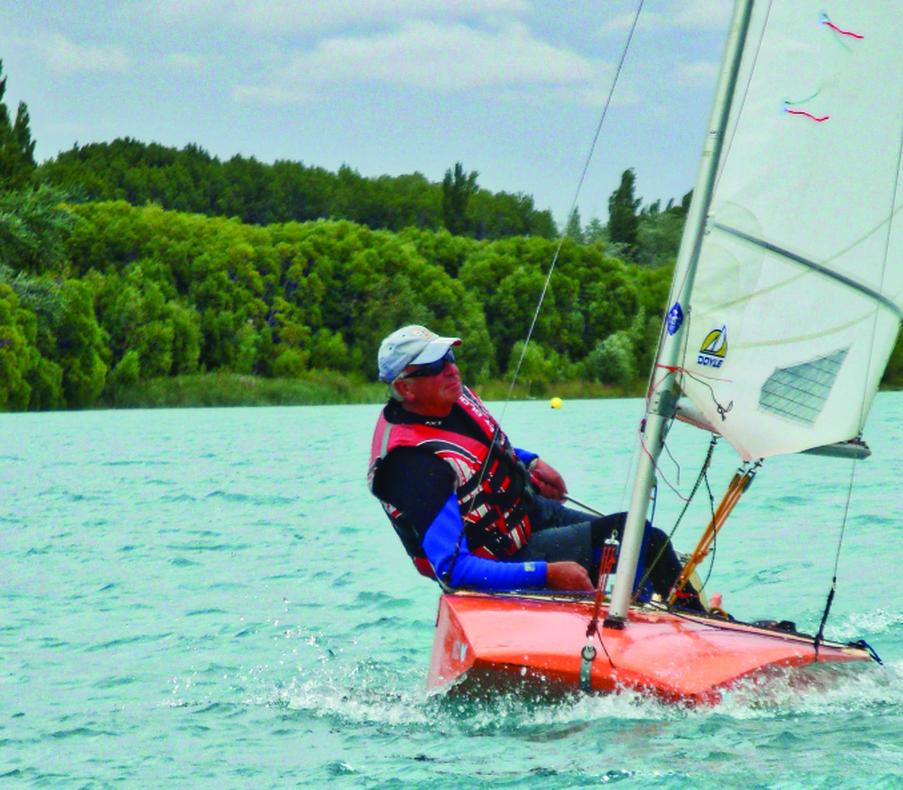 In addition to being fairly simple to build, the New Zealand Scow moth is a blast to sail. Photo by Lindsay Russell Late night searching on the web led to me a blog called Earwigoagin by Rod Mincher at http://www.earwigoagin.blogspot.com with a wealth of Classic Moth information and links. Through his site I found the website for Stewart Gully Sailing Club, in Christchurch, New Zealand, which has a downloadable set of plans. Club member Lindsay Russell has been kind enough to hold my hand via the Internet to help me get this project off the ground.
Because this is a set of plans, and not a kit with precut parts, Sam and I will have to do our own lofting. We will have to translate the lines in the drawing full size onto the wood—in our case cheap underlayment plywood—and connect the dots to get the shape of the boat, its frames, and its backbone. We will then cut this plywood into patterns for the actual pieces of the boat. It should be a fun, challenging, and rewarding exercise for math-loving Sam.
We've got the plans, we've got the material, and we have a workshop set up in our basement. By the time you are reading this I hope we are well under way.
The biggest question so far is will we be able to get the finished boat out through our cellar's bulkhead? I hope so. 
Stay tuned for the rest of the story.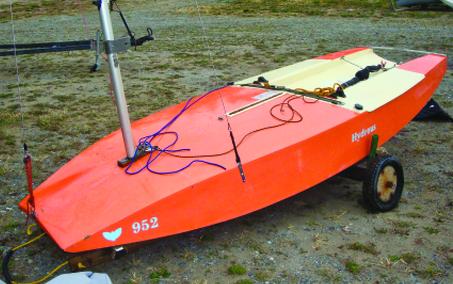 Photo by Lindsay Russell
MOTH Specifications
    LOA  11'
    Beam  5' max
    Weight  75 lb. Classic Moth / 90 lb. NZ Moth
    Sail Area  76 sq. ft. Classic / 90 sq. ft. NZ
---
John K. Hanson Jr. is a life-long boater and is the publisher of this magazine.
Share this article:
2023 Maine Boat & Home Show

Join Us for the Maine Boat & Home Show!
Art, Artisans, Food, Fun & Boats, Boats, Boats
August 11 - 13, 2023 | On the waterfront, Rockland, Maine
Click here to pre-order your tickets.
Show is produced by Maine Boats, Homes & Harbors magazine.