Round Pond
The welcome mat is out
By Mimi Bigelow Steadman
Round Pond had me at hello. More specifically, it had me at the free guest mooring we found just after entering the harbor.
The mooring is a memorial to a young man named Bud Osmer, and it immediately made me love this welcoming and, yes, round harbor on the Pemaquid peninsula northeast of the lighthouse. Since that first visit, we've returned countless times, drawn not only by the hospitality, but also by the harbor's exceptional protection and the village's appealing blend of charm and liveliness. 
To experience the charm, take a stroll past handsome mansard-roofed houses, including an adorable mini house with just two rooms. Stop at the Granite Hall Store, brimming with old-fashioned penny candy, crafts, kitchen supplies, greeting cards, and woolen socks perfect for foggy days under way. Don't pass the store's ice cream window without buying a cone for the walk back to your dinghy.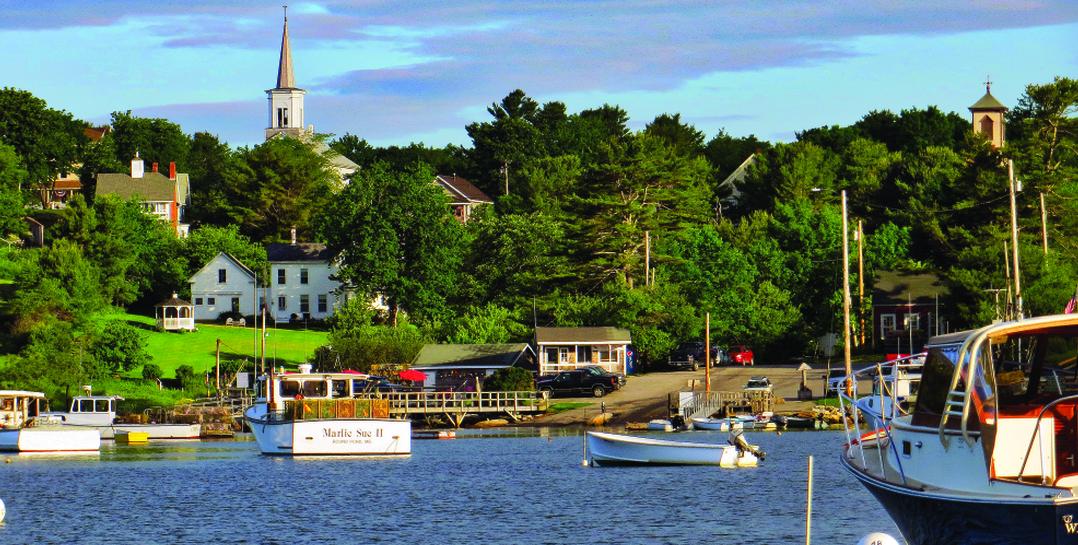 Visitors are drawn to this picturesque village for its charm—and its cheekiness. Photo by Buddy Poland
Seeking more substantial nourishment? There are two dockside lobster eateries—Muscongus Bay Lobster and Round Pond Lobster—and everyone seems loyal to one or the other. Regulars know to BYOB and often bring salads and other sides, too, plus tablecloths and candles to gussy up the picnic tables. The Anchor Inn, a popular, full-service restaurant overlooking the harbor, was renamed the Anchor by new management last summer. The menu is fancier, with prices to match, but it's still a local gathering spot.
For Round Pond's livelier side, head to King Ro Market any Monday evening. In addition to selling groceries, lobster rolls, pizza, and whoopie pies, it hosts a rollicking weekly bluegrass jam year-round, and all are welcome to join in. Across the road, the Little Brown Church mounts Wednesday evening concerts throughout the summer, featuring everything from classical quintet music to energetic stomp drumming. There's more live music on summer Sunday afternoons down on the dock at Muscongus Bay Lobster.
Every Fourth of July, Round Pond raises liveliness to a new high with its infamous, non-PC parade, which attracts thousands of spectators. The hilariously disrespectful floats take potshots at everything from local and national events to political candidates of every stripe. A perennial highlight is the crazily clad Tacky Tourists brigade, a slightly disorganized drill team that totes folding lawn chairs instead of rifles. 
Arriving by boat means you'll avoid the tangle of parade-goers' cars. Anchor outside the mooring field or pick up a mooring—if the complimentary one is taken, choose one of about 10 offered
for nightly and longer-term rental by
Padebco Custom Boats. Stay overnight to enjoy the fireworks show. Celebrants to either side of the harbor take turns setting off impressively loud and colorful bursts.
"It's usually pretty peaceful here in our little harbor," Harbormaster Robert Ball told me. "But on the Fourth of July, you might want to run for cover," he added.
The Fourth of July festivities may be the most animated display of Round Pond's spirit, but a strong feeling of community sparks everyday life here. I sensed it when Jaja Martin told me how, after sailing around the world, she and her family arrived in Round Pond and knew it was where they wanted to be. She now directs a summertime youth sailing camp here (call the CLC-YMCA at 207-563-9622 for details). 
I could hear the community bond in local resident Emily Mack's reminiscences of growing up in one of Round Pond's sea captains' homes. "My childhood was like that old Prince Spaghetti commercial," she said. "The whole neighborhood looked out for everyone's kids."
The entire neighborhood also came to the aid of yacht photographer Billy Black, who remembers getting a flat tire while trailering a chase boat into town. "Everyone rallied to help me," he said. "It's a magical place." Sounds like Round Pond had him at hello, too.     
---
Contributing Editor Mimi Bigelow Steadman lives on the Damariscotta River in Edgecomb.
Share this article:
2023 Maine Boat & Home Show

Join Us for the Maine Boat & Home Show!
Art, Artisans, Food, Fun & Boats, Boats, Boats
August 11 - 13, 2023 | On the waterfront, Rockland, Maine
Click here to pre-order your tickets.
Show is produced by Maine Boats, Homes & Harbors magazine.