Hinckley buys Morris Yachts, a rescue by the Zumwalt, and the tallest American chestnut
By Polly Saltonstall
Beam me up, Scotty
The largest destroyer ever built for the U.S. Navy headed out to sea for the first time last December, departing from shipbuilder Bath Iron Works and carefully navigating the winding Kennebec River before reaching the open ocean for sea trials. And the 600-foot, 15,000-ton ship's very first mission was an unexpected one.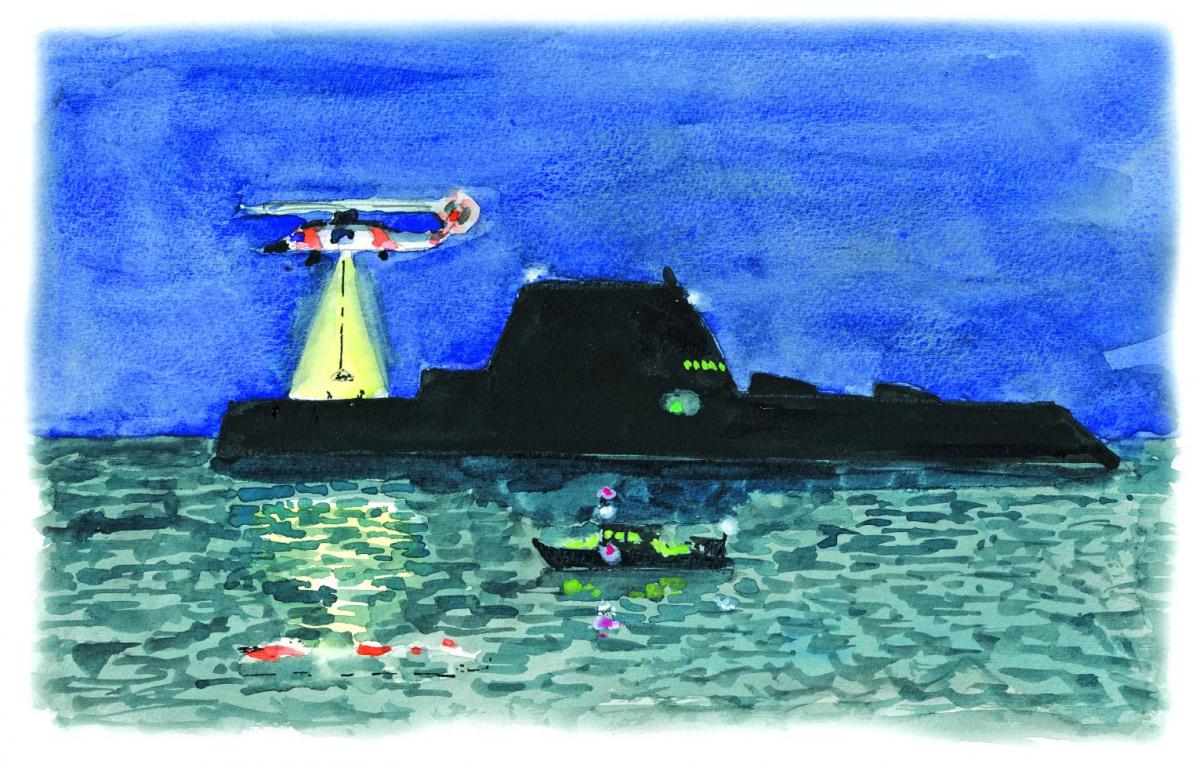 Illustration by Ted Walsh The Zumwalt and its crew responded to a call for help from a fishing crew whose captain was experiencing chest pains about 40 miles offshore. The crew of a Coast Guard helicopter on the scene thought it was too dangerous to hoist the fisherman out of his boat due to the configuration of its deck. So a crew and a small boat from the Zumwalt, which was in the area doing sea trials, transferred the man to the destroyer and he was airlifted from there.
Bath Iron Works planned to test the ship's performance and make tweaks this year with the goal of delivering the ship to the Navy sometime next year. The ship's commander is Navy Capt. James Kirk, and he was chosen for his qualifications as a leader—not because he has the same name as the captain of the fictional Star Trek starship Enterprise. Too bad neither the Coast Guard nor the Zumwalt had access to that Kirk and his tools because then they might have been able to "beam up" the ailing fisherman. 
While the Zumwalt does not have that ability, it does have electric propulsion, new radar and sonar, powerful missiles and guns, and a stealthy design to reduce its radar signature. All of that innovation has led to a growing price tag. The Zumwalt, the first of three ships in its class, will cost at least $4.4 billion. The ship looks like nothing ever built in Maine. The inverse bow juts forward to slice through the waves and sharp angles are said to deflect enemy radar signals. We have been told that the ship's radar profile will look no bigger than the fishing boat whose captain she rescued. 
---
Hinckley buys Morris Yachts
The year 2016 in Maine began with big news for boatbuilders. The Hinckley Company announced that it had bought Morris Yachts, closing the deal to acquire the assets of the Mt. Desert Island-area sailboat builder on January 1. Hinckley plans to continue Morris' boatbuilding and service operations under the name of Morris Yachts, LLC. Both companies build fine luxury yachts within a quarter mile of each other in Trenton, Maine.
Morris Yachts, founded in 1972 by Tom Morris in Southwest Harbor, has built more than 300 sailboats. Founded in 1928, also in Southwest Harbor, Hinckley has expanded since then to include service facilities all along the U.S. East Coast. The company has around 700 employees, including 380 in Maine. An early developer of the fiberglass hull, Hinckley's present yacht line includes its iconic jet boats, and sailing vessels, including the new Bermuda 50.
In the late 1990s, Hinckley opened a manufacturing facility in Trenton where most of its boats are built. The company was purchased in 2010 by Scout Partners LLC, which in turn bought Hunt Yachts in 2013. Morris began building yachts at its Trenton facility in 1999. The company also operates a service yard in Northeast Harbor.
Morris owners will be welcomed at any of Hinckley's east coast service yards from Maine to Florida, according to Roe O'Brien, director of marketing for Hinckley. She said no other immediate operational changes were planned as a result of the acquisition, and that Hinckley "has no immediate plans to stop building anything in Morris's current lineup." Additional details about the purchase were not available. 
"Hinckley is thrilled to have an even greater pool of talent building products for us," O'Brien said, "and we are also eager to create the same high level of customer satisfaction among Morris owners that exists among Hinckley owners."
---
New below the water, and classic above
A new motoryacht designed to combine classic lobsteryacht lines with the ability to reach higher speeds is in the early stages of design and construction at John Williams Boat Company in Hall Quarry, according to a recent story in the Ellsworth American.
Production Manager Bill Wright told the American that from the waterline up, the new boat will look much like the traditional Stanley 38 lobsteryacht. But the boat will have a modern underbody designed to achieve speeds upward of 40 knots. The latest in propulsion units also is part of the equation.
"The top will be a molded Stanley 38 that we have here," he told the newspaper, "and the hull itself will be a one-off, brand new hull."
Designer Doug Zurn of Marblehead, Mass., is working on the hull design, the newspaper reported, which will feature a modified, or deep-V shape, similar to Sabre or Hinckley motoryacht hulls. The construction will be fiberglass over a form core. The company is shooting for late summer 2016 with the new boat.
---
Canada grants oil exploration lease near Georges Bank
Canadian authorities have granted Norwegian company Statoil an exploratory lease to look for oil in an area 225 miles southeast of Bar Harbor and bordering on the eastern flank of Georges Bank. Environmentalists, who oppose the move, fear drilling could leave the ecologically sensitive Gulf of Maine susceptible to a catastrophic oil spill.
It would be the closest that exploratory drilling has come to Maine since the early 1980s, according to a report in the Portland Press Herald. Five wells were drilled on the U.S. side of Georges Bank in 1981 and 1982, before U.S. and Canadian moratoriums were put in place to protect the fishing grounds, the Portland newspaper reported.
Statoil has pledged to spend at least $82 million exploring the parcels under its six-year exclusive lease. The relatively small financial commitment suggests the company has no immediate plans to begin drilling, which is a much more expensive process that requires further approval, the Press Herald wrote. 
---
Tallest American chestnut reaches for the sky in Maine
When University of Maine Forest Scientist Brian Roth set out with a graduate student in a small plane last summer to fly over Maine forestland, his goal was to find American Chestnut trees that had survived the chestnut blight. 
He succeeded beyond his wildest dream—finding a majestic specimen that was confirmed in December as the tallest American chestnut in North America. The tree is 115 feet high—taller than most 11-story buildings. This is huge news for tree lovers. American chestnuts (Castanea dentata) have been ravaged by an invasive blight that kills the trees to the ground. It is estimated that there are only a few dozen large surviving trees such as this one left in the Maine woods.
The next tallest tree in North America is one in Oregon that is 20 feet shorter, according to the American Chestnut Foundation. The tallest American chestnut in the world at 121 feet is in an arboretum in Belgium, said Ruth Goodridge, the foundation's director of communications. The Maine tree is growing in Lovell, a town in Oxford County. 
Scientists at the American Chestnut Foundation hope to learn how this tree and others like it have survived the blight so they can develop blight-resistance varieties.
Last spring, Roth and his colleagues made maps looking at soil and climates most likely to support the American chestnut and scouted those places by plane last July when the chestnut trees produce distinctive clusters of white blooms. This tree stood out right away. 
"We knew what we were looking for," Roth said. "We marked the GPS location and went back in October (by foot) to look again. We found it and the rest is history."
In all, the UM researchers found about two dozen chestnut trees, including several growing quite close to the new record holder. Once the mighty giants of the eastern forest, American chestnut trees stood up to 100 feet tall, and numbered in the billions. 
The fungal pathogen responsible for chestnut blight was accidentally imported from Asia in the early 1900s and spread rapidly. By 1950 the fungus had eliminated the American chestnut as a mature forest tree.
---
Maine-built boat sails into history
Some of us at Maine Boats, Homes & Harbors were glued to our computers in early January tracking the progress of the Maine-built superyacht Comanche in Australia's Rolex Sydney Hobart Race. The action was quite exciting!
High winds caused damage to some boats, which had to drop out as a result. Comanche almost quit after one of its dagger boards was damaged, sailing 30 or so miles back toward home, before turning around again and continuing the race. Her main remaining competitor, Rambler, also damaged one of its dagger boards.
In the end, when Comanche crossed the finish line in Hobart, Tasmania, owner Kristy Clark was on board, becoming the first female owner to take line honors in the blue water classic, according to a release from the race organizers. Kristy's co-owner husband Jim Clark did not sail in the race.
Built at Hodgdon Yachts in East Boothbay, Comanche was skippered by Ken Read of Newport, Rhode Island. 
By all accounts, the finish was spectacular. As Comanche zigzagged close to shore in the fading wind, celebratory lights were flashed on and off from hundreds of houses and cars.
Her finish time of two days eight hours 58 minutes 30 seconds was outside the record of 1 day 18 hours 23 minutes 12 seconds set by Wild Oats XI in 2012.
But it did not matter. The last American to take line honors in the Cruising Yacht Club of Australia's race was Larry Ellison's Sayonara, 17 years ago in the fatal 1998 race, so Comanche's effort was quite an achievement.
---
"Baby born not in manger, but on island ferry"
We've stopped reading the perennial stories about the first baby in the new year,  but have to admit that the above headline in the Dec. 25 edition of the downeast weekly Quoddy Tides caught our attention.
According to the Tides, on Dec. 9 Jayla Nadene Clinch was born on the Grand Manan Adventure while it was tied up at the Blacks Harbour (New Brunswick, Canada) wharf. The little girl, whose parents are Tanai Sears and Daniel Clinch, wasn't due until December 20. Sears was on her way to a hospital on the mainland to see if her labor could be induced when her water broke. Her doctor wanted to fly her out, but she told the newspaper: "It was my first baby, so we thought we had plenty of time. We snuck out the back door. The doctors phoned [the ferry] and said 'Don't let her on.'" She snuck aboard anyway. Ambulances were called to meet the ferry in Blacks Harbour. But when the ferry docked it was too late to move her. "By the time everybody got off the boat I was at 10 centimeters and ready to push. That was it. I had six pushes. It was really quick for a first baby."
Ferry staff stood by outside to help the medical team. Amazingly the incident only made the ferry about 20 minutes late for its next run.
"It was great to report to the province that we were late because we were delivering a baby," the captain said, according to the Tides.
---
"Frankenfish" headed to the dinner table
Federal regulators cleared the way late last year for genetically engineered salmon to be farmed for human consumption; it was the first-ever such approval for an animal whose DNA has been scientifically modified.
The salmon were developed by AquaBounty Technologies of Massachusetts to grow faster than conventional, farmed salmon. And the U.S. Food and Drug Administration's approval followed years of deliberations. The FDA has now declared that the salmon is as nutritious as normally grown Atlantic salmon, which means it will not require special labeling. 
The fish are not likely to land in Maine stores anytime soon, though. According to the Portland Press Herald, spokespeople for Hannaford, Whole Foods, Trader Joe's, Target, and several other national chains with stores in Maine have said they do not plan to sell the genetically modified salmon. 
---
Hold the shrimp
In addition to genetically altered salmon, Maine shoppers also will be hard pressed to find any local shrimp this year as fisheries regulators have extended a moratorium on fishing for Maine shrimp for a third year. 
The ban was first imposed in 2013 by the Atlantic States Marine Fisheries Commission. Apparently prospects for shrimp recovery are poor for the near future. A commission report says warming New England waters will create an "increasingly inhospitable" environment for the shrimp.
The shrimp were previously sought by commercial fishermen from Maine, New Hampshire, and Massachusetts and were a popular winter item at fish markets.
---
Island campus
The University of New England has begun using an island two miles off the coast of Saco as a "living laboratory" to study ocean life and the effects of climate change thanks to a Portland real estate developer who gave the family property to the school, according to the Portland Press Herald.
Donated by Art Girard, the island and its surrounding waters are home to migrating songbirds, lounging harbor seals, lots of dogfish sharks, and various intertidal flora and fauna.
Girard's family bought it for $140,000 in 1999.
Students will use the island to study a range of marine issues, including the impact of climate change and warming Casco Bay waters on the ecosystem.
Girard, a commercial developer, has had a long interest in philanthropy and lighthouses, according to the Press Herald. In 2010, he lost a bidding war—by a coin toss—to purchase Ram Island Ledge lighthouse off Cape Elizabeth, then successfully purchased the Boon Island Light Station off York last year.     
---
Over the bar
The Maine boating community lost several pillars this fall and winter.
Winfield "Winnie" Lash, 97, of the famous line of Friendship boatbuilders, and Jim McManus, 52, president and CEO of The Hinckley Company, died in November. Chandler "Sandy" McGaw, 58, a long-time manager at Camden's Wayfarer Marine, and Jeff Armstrong, 64, owner of Jeff's Marine in Thomaston, left us in January. 
Lash, one of 14 siblings, was a self-taught man of many talents. He owned Lash Brothers Boatyard in Friendship, which he started in 1946 when his uncle, Scott Carter, passed away with a partially completed passenger ferry in the works. At one point or another, all eight Lash brothers, several in-laws, a nephew, and various friends have worked there over the years. Under Lash's skilled hands, the boatyard completed countless ferries, lobster smacks, seiners, draggers, Friendship sloops, and pleasure boats. His sons said Winnie put a bible in every boat he built.
McManus was appointed president of Hinckley in June 2007. He had a career in the dry cleaning, food services, and financial industries before joining Hinckley shortly before the global economy nosedived in 2008. Under his leadership and new ownership the company navigated the Great Recession and emerged as a more efficient yacht builder and service provider.
A former part-owner of Wayfarer Marine, McGaw was Wayfarer's general manager and a shareholder in the private company until 2008, when it was sold. McGaw remained as general manager before retiring in 2011. When Lyman-Morse acquired Wayfarer in July 2015, McGaw rejoined the staff.
Armstrong began working at Anchorage Marine in Thomaston in 1977. Two years later he bought the business, renamed it Jeff's Marine and ran it until he died. 
Losing four people as extraordinary as these guys in just a matter of months is a tragedy and a shocking reminder of how important it is to celebrate life while we have it.            
Share this article:
2023 Maine Boat & Home Show

Join Us for the Maine Boat & Home Show!
Art, Artisans, Food, Fun & Boats, Boats, Boats
August 11 - 13, 2023 | On the waterfront, Rockland, Maine
Click here to pre-order your tickets.
Show is produced by Maine Boats, Homes & Harbors magazine.