Virginia "Sally" Brun: Everything To Do With Art
This painter-turned-sculptor has lived a life rich in expression and friendships
By Carl Little
When Kate Barnes, Maine's first poet laureate, passed away in 2013, she left behind a remarkable collection of writing. Her poetry evoked a range of people and places. Her book Kneeling Orion (2004), her final testament, as it were, was a gift, as fulfilling a volume of verse as has been published in this century. 
One of the poems in the book, "Hunting Season," is dedicated to her friend, artist Virginia "Sally" Brun. Reflecting on that time of year in Maine's autumn when an "irregular popping noise" breaks the silence of the fields, the poet describes the then 83-year-old Brun dressed in blaze orange  walking in the woods near her home: "'We're just as orange/as they are,' she says to me over a cup of tea, 'and, besides,/at my age, what would it matter?'"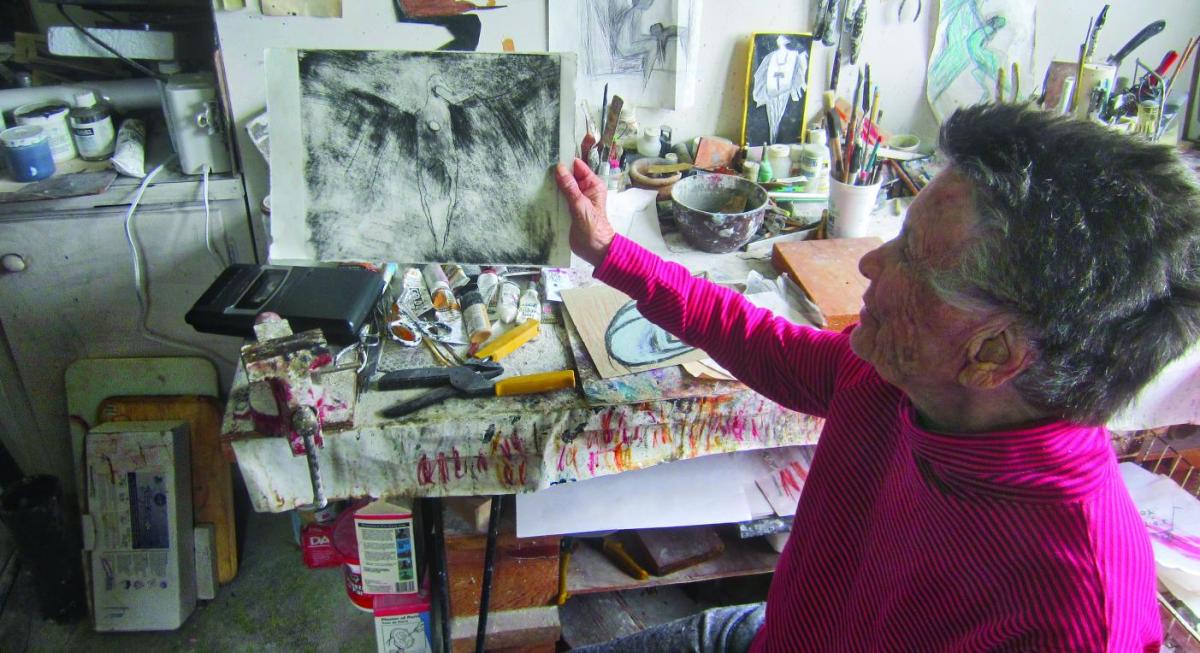 Age has not kept artist Sally Brun out of her studio. Here she studies one of her winged figures. Photo by Carl Little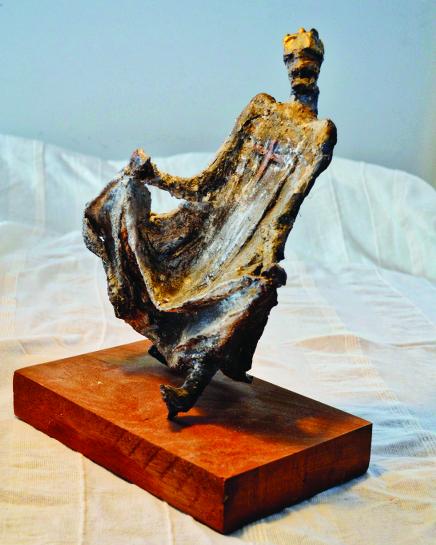 Brun's sculptural work is diverse and includes several small bronzes of a papal figure dancing. Photo by Karl Marean Now 98, Sally Brun misses Kate. The two of them spoke nearly every day, sometimes for an hour, and Barnes sent Brun notes and whimsical drawings, which are now posted around her kitchen. Brun remembers these conversations with great pleasure; they help sustain her as she approaches the century mark.
In her remarkable life Brun has met and befriended legendary figures in literature and art. At the same time, she represents that artist one finds in so many corners of Maine, fully committed to responding in visual ways to the world, working away in the studio, painting, shaping plaster, pulling prints. Personal renown is of little interest as long as there is art to make and family to help refresh the memories. 
On a visit last July, Brun's small comfortable house just a mile or so west of Route 1 was filled with kin. Two nieces, Cynthia Sortwell and Wendy Eichler, and their spouses, Jesse Cash and Tom Eichler, plus a grand-niece, were in attendance, happily joining in the shared reminiscences of a remarkable life.
Brun was born Virginia Sortwell in Boston in 1917. She spent summers at her grandparents' home, the Nickels-Sortwell House, which is now a National Historic Landmark on Wiscasset's Main Street. Then when she was in her early teens, her parents moved the family to Wiscasset year round, to a dairy farm that was a part of the Foye Grant made to her ancestors in the 18th century. Today, that farm is the home of Big Barn Coffee, a micro-roasting business run by Sally's nephew, Dan Sortwell, the seventh generation in his family to occupy the farmstead. 
Sally's training as an artist began at age 15, when her mother took her to Paris. There she studied with the renowned cubist painter Fernand Léger (1881-1955). She took classes with Léger at the Académie de la Grande Chaumière, a school known for its independence and that was popular with American artists (Alexander Calder and Isamu Noguchi studied there). 
A year later, Sally found herself in New York City studying with another French artist of note, Jean Lurçat. A painter famed for his work in tapestry, Lurçat (1892-1966) also designed scenery and costumes for ballets. Brun helped Lurçat paint the sets for one of the ballets—he called her his "student and collaborator"—and recalls being smitten by the handsome artist. Once, Lurçat invited her to the ballet. When she arrived, he handed her a ticket and said he was not going to accompany her. She cried all through the performance. 
Around this time, Brun began to spend part of the winter in Key West, first with her mother, then on her own to paint. There she met and became friends with the poet Elizabeth Bishop (1911-1979). Years later, on another trip to Key West, Sally found herself with Bishop viewing Garrison Bight, a small bay that inspired "The Bight," one of Bishop's best-known poems. Kate Barnes's poem "Elizabeth and Sally" recreates the conversation the painter and poet had while standing on the edge of the bight. 
Sally's art training continued in New York City where she attended the Art Students' League, studying with the Japanese-American painter Yasuo Kuniyoshi (1893-1953). In 1946, she joined the first class of students at the Skowhegan School of Painting and Sculpture. Her classmates included the award-winning children's book author and illustrator Ashley Bryan, who has kept up with her over the years.
In the late 1940s Sally spent time painting in Stonington. There she joined a long line of artists drawn to this stunning part of Maine where, as John Marin put it so memorably, God had let fall "a shovelful of islands" when forming the world.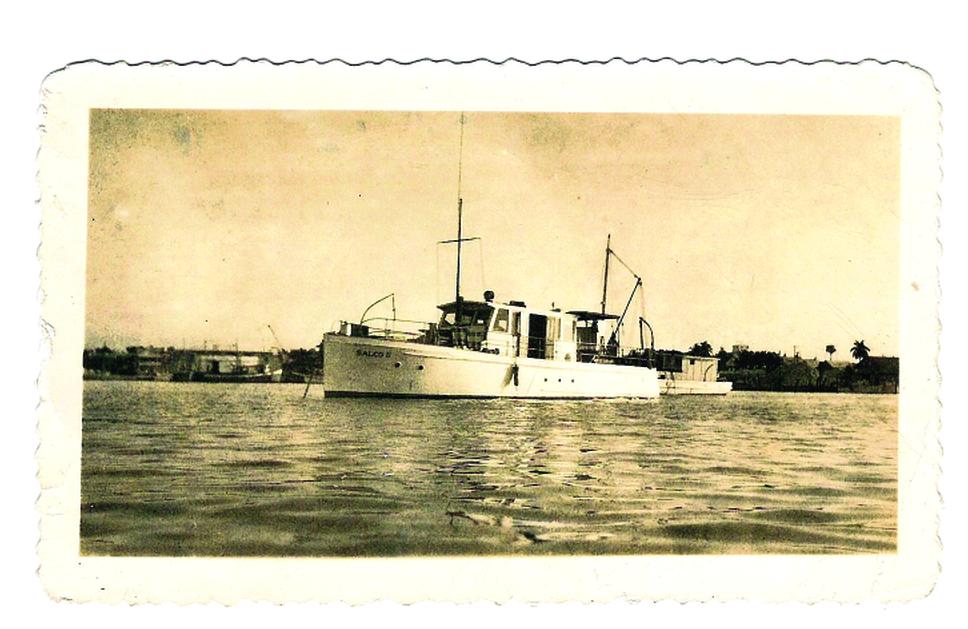 Brun and her husband lived for a while in Key West, Florida, on the Salco II, a Wheeler 50-foot Playmate sea cruiser, before buying a house in Maine. On another painting trip to Key West, Sally met a dashing Danish engineer and inventor named Alexander Brun. The story goes that she was passing by his boat while he was cooking on the deck; they spoke and he invited her to a meal. She married him on June 24, 1950, and they lived on the Salco II, a 50-foot Wheeler Playmate sea cruiser for a while. They took the boat up to Maine on several occasions in the summers, but eventually sold it and bought a house in Nobleboro near Damariscotta Lake. There Sally became friends with Barnes and her parents, writers Henry Beston and Elizabeth Coatsworth, who lived at nearby Chimney Farm. Some time later, the Bruns built a new house in Wiscasset to be nearer to Sally's parents. Alex Brun died in August 1988.
Sally Brun's life as an artist had been on hold while living on the boat. When she returned to making art in the late 1960s, she decided to take up sculpture. She told an interviewer in 2011 that she wasn't sure why she shifted to sculpture except that "it had something to do with wanting to use my hands more, and to use them in a different way."
A tour of her house in Wiscasset offers a retrospective of Brun's art. There are the early paintings of the coast at Stonington: islands in the distance, waves crashing on rocks. They bring to mind Marsden Hartley, Emily Muir, and other painters of the time who responded with a modernist eye to the ironbound edge of Maine. 
The sculptural work is diverse and includes several small bronzes of a papal figure. The lives and vestments of the Popes always fascinated Brun; she enjoyed demystifying these sometime pompous people (one of the sculptures portrays a dancing pontiff). She has also sculpted and made prints and drawings of winged figures. 
During the Balkan wars in the 1990s, Brun made a series of figurative bas-reliefs in which she sought to convey the anguish she felt at the fate of the refugees. An exhibition of these provocative and moving works, organized by the United Nations High Commissioner for Refugees, traveled to Washington, D.C., and Miami, Florida, in 1998. 
Brun can also bring great liveliness to her figures. They are often shown in motion, dancing, stretching their arms into the air, almost ecstatic at times. She embraces the whimsical in a series of sculptures of leaping frogs, one of which seems to spring from the field behind her house. The sculptures are cast in Bath. Brun also works with Bryan Buck, a local welder, who makes customized railings and other metalwork and has helped her assemble some of her figures.
Brun has exhibited her work in various Maine venues over the past 20 or so years, including the Leighton Gallery in Blue Hill, Gallery 170 in Damariscotta, and the Harlow Gallery in Hallowell. She has befriended many artists in her area over the years, including Mildred Burrage and John Lorence. She was a member of the Maine Sculptors group and showed with them at the Atrium Gallery in Lewiston in 2007. For one show her sculpture accompanied photographs by her nephew. In another, in Portland, her work was paired with poems by Kate Barnes. 
Brun intends to leave her home and property to Spurwink, the mental health services provider. She envisions her house being used as a group home "with kids able to be in a safe setting, with the freedom to run and play in the fields." This gift adds to Brun's legacy of giving—through her art and life. 
"Everything to do with art is about feelings," she once said, and she continues to live by it.      
---
Carl Little's most recent book is Jeffery Becton: The Farthest House. A photograph of him was featured in the exhibition "The Maine Literary Portrait Project" featuring portraits by Doug Bruns of 50 authors.
Share this article:
2023 Maine Boat & Home Show

Join Us for the Maine Boat & Home Show!
Art, Artisans, Food, Fun & Boats, Boats, Boats
August 11 - 13, 2023 | On the waterfront, Rockland, Maine
Click here to pre-order your tickets.
Show is produced by Maine Boats, Homes & Harbors magazine.