The Maine I Love - Bob Trapani
Photographs by Bob Trapani
By The Editors
Bob Trapani, Jr. has been photographing scenes at Rockland Breakwater nearly every day since 2009 and says he still finds new angles to explore there. "The diversity that embodies the Rockland Breakwater is nothing short of fascinating. From the plethora of vessels that make up Rockland's working harbor and the changing seasons, to the marine life and tides and storms, no one day at the breakwater is the same. And of course, standing sentinel amid all of the drama and romance is the 1902 Rockland Breakwater Lighthouse, which is synonymous with the nearly mile-long granite wall that forms the outer confines of the outer harbor. It all comes together at the breakwater—our maritime heritage, the heartbeat of a bustling harbor, an alluring tourist destination, and a rock-solid foundation upon which to build a promising tomorrow and one-of-a-kind sense of place." Trapani is working on a new book of his photos titled All Seasons at Rockland Breakwater, which is due to be released in January 2016.

Digital Edition Available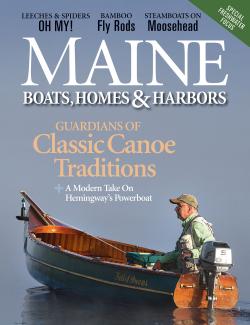 Can't get to the store to buy your magazine? We deliver the stories of Maine's coast right to your inbox. Sign up here for a digital edition.