Cassoulet Maine-style
It's just a fancy bean supper
By Nancy Harmon Jenkins
Maybe beans are not at the top of the list of Maine's culinary treasures (personally, I think fried clams should be at the peak) but beans definitely come to mind whenever Maine food is under discussion. Baked beans and salt pork, a Saturday night staple in the old days, are still treasured at beanhole suppers all over the state.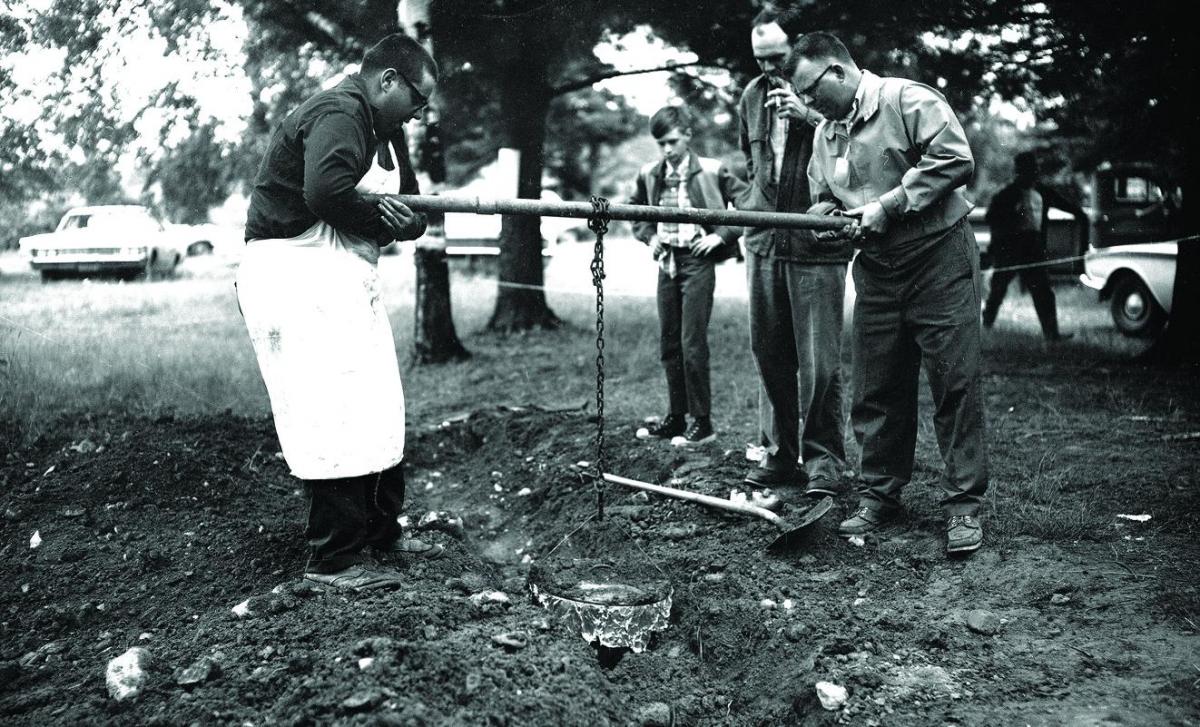 These photos taken by the late Red Boutillier in Ashland in the 1960s show the traditional Maine process of cooking beans in a hole. The beans are placed in a big cast-iron pot with salt pork and other ingredients such as molasses. They are buried in a hole with hot coals and left to cook slowly for 8 hours or so. Photo courtesy Penobscot Marine Museum While this sort of meal is not considered particularly epicurean here in Maine, beans have achieved culinary distinction elsewhere. I've been thinking about that lately. In Maine we like our beans baked very slowly, with some salt pork for fat and maple syrup or molasses to sweeten them. But is that not simply a variation on cassoulet, the great, some would say iconic, dish of southwestern France? When you come right down to it, what is cassoulet after all but Maine baked beans with a southern French accent?
With that in mind, I set out one chilly fall afternoon to make a Maine cassoulet. No molasses, no spices, but loads of garlic and Frenchy herbs, bay leaves and thyme especially. I was determined to use wholly Maine ingredients, from the beans to the garlic to the duck and pork that fattened the dish. And I achieved my goal, apart from the black pepper.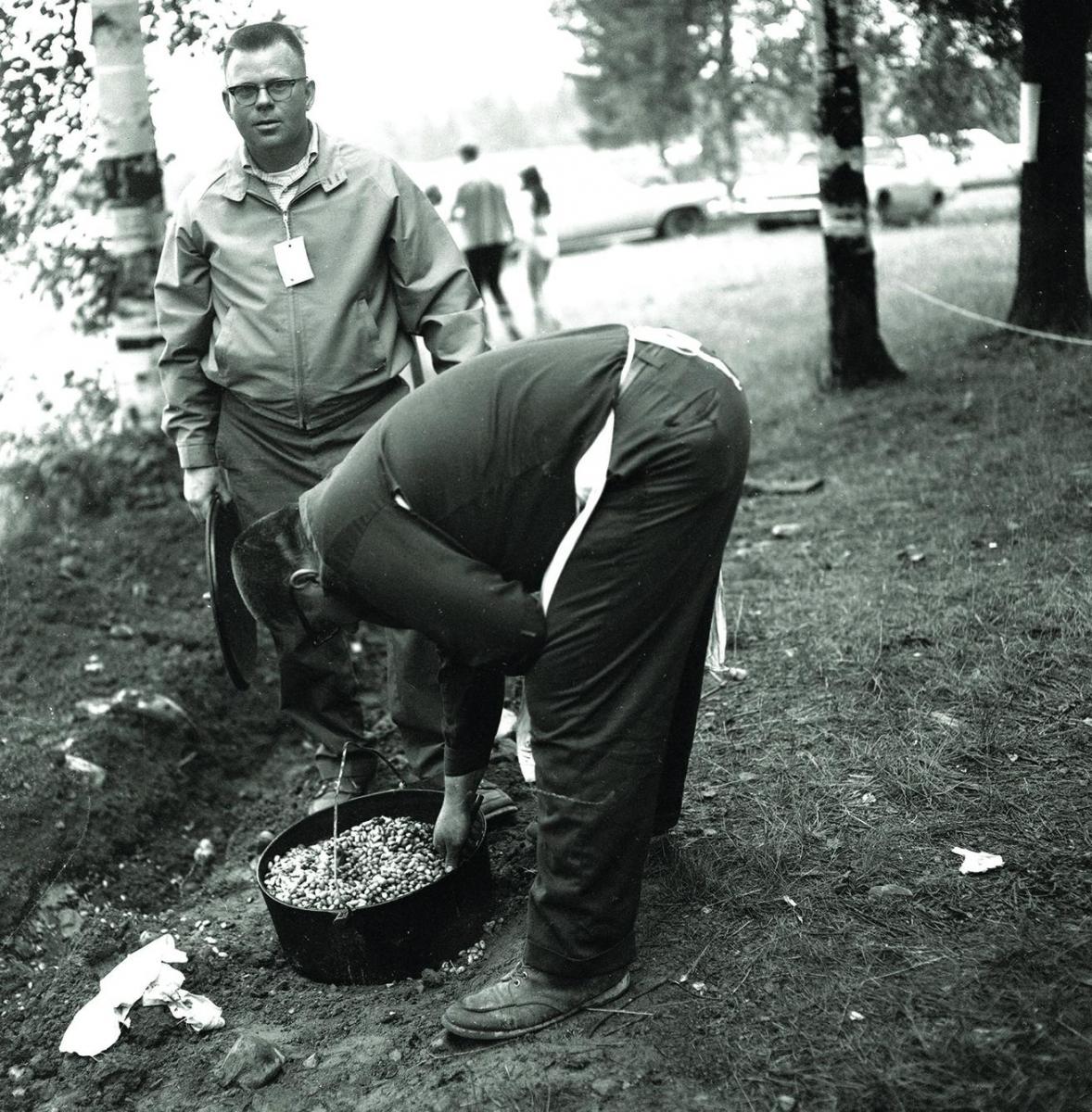 Photo courtesy Penobscot Marine Museum The bean part was easy: Every grocery store in Maine carries dried beans, but be careful what you buy. Bean packages don't carry a "use by" date, since they are considered good for long storage. Long in my book means from one season to the next, not from one decade to the next; old beans take forever to cook to creamy tenderness. I find better bean buys in health food stores and co-ops where people seem both to care more about food quality and to buy more frequently, ensuring a rapid turnover. 
But what kind of beans? I like yellow-eye or soldier, both of which are traditional for baking in Maine and work well in cassoulet, too. Some people suggest great northern, or even small flageolets, a French variety that's grown by some Maine farmers. Marfax, or marafax, and sulfur beans are also good choices, but honestly, any good-quality dried bean can do the job. 
As for Maine-grown meats, we're in much better shape than we were even 10 or 15 years ago, as more and more butchers respond to the demand for local, sustainably grown pork, lamb, beef, and poultry. Farmers' markets also are great places to connect with local meat producers.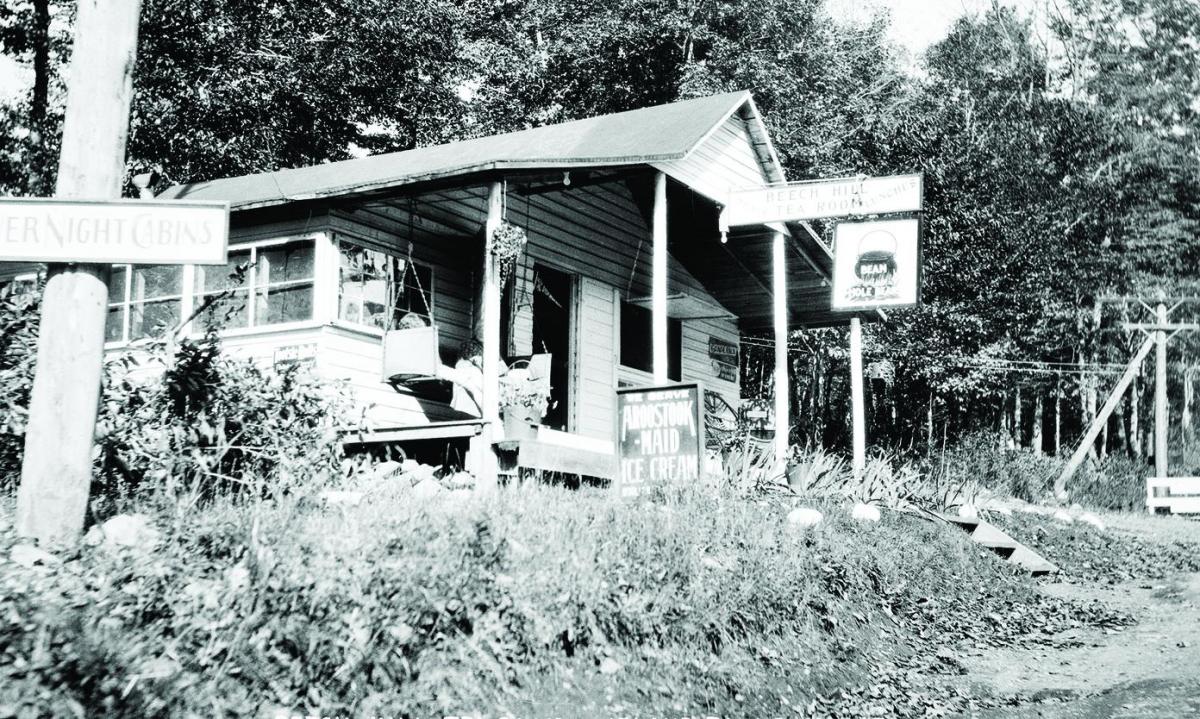 So-called bean hole beans were a favorite roadside meal in Maine during the 1950s. Photo from the Eastern Illustrating Collection/Penobscot Marine Museum Confit of preserved duck or goose, on the other hand, which adds a characteristic flavor, is hard to come by in Maine. You could make your own, but the process takes several weeks. In the event, I skipped that part. After all, to quote master chef Julia Child, "an extremely good cassoulet can be made anywhere out of beans and whatever of its traditional meats are available." For me, that meant a hearty combination of duck, garlic-flavored Toulouse sausages, a pork shoulder, and a good chunk of pancetta—Italian-style streaky bacon, salted but not smoked—with its flavorful rind. That rind yields a gelatinous texture to the meaty sauce that bathes the beans with an unctuous quality. 
Don't worry if you can't find all that. What you need is a combination of fat and lean, salty and fresh—duck and duck fat, salty sausage, salted pork (the pancetta, but it could as easily have been lean salt pork), and fresh pork. You can't make a good cassoulet with just one meat, though you could make a darned good pot of Maine beans with nothing but salt pork. Some cooks use lamb in place of fresh pork, but to my mind that confuses the flavors. Keep it as pure as you can, that's my theory.
One major difference between Maine baked beans and cassoulet is the cooking vessel. Maine beans go into a pot-bellied pot that narrows at the top to keep as much of the steaming liquid inside as possible. A cassoulet, on the contrary, is cooked in an earthenware pot shaped a bit like a flowerpot, wider at the top than at the base, in order to encourage the evaporation of excess liquid and the concentration of flavors. Cassoles, the pots designed for cassoulet, can be found on-line at a cost that might equal a semester at the Culinary Institute of America. Search through your kitchen. I'm pretty sure you'll come across something that will do. In my case it was a French-made earthenware pot that I happened upon at the Goodwill store in Rockland. Who knew it would come in handy so soon?
Cassoulet is pretty easy, but not at all quick. You must start the day before, although once you've browned the meats and put the dish together, there's nothing more to do but tuck it into the oven and add a little liquid from time to time while it bakes for three to four hours.  This is a substantial dish and should be served entirely on its own, followed by a plain green salad. If you insist on dessert, make it simple—no chocolate layer cake, please, but maybe some crisp Maine apples with a bit of cheddar cheese to go with them.    
---
Nancy Harmon Jenkins is the author of many books and contributor to a number of publications including The Wall Street Journal and Saveur. Her most recent book is Virgin Territory: Exploring the World of Olive Oil (Houghton Mifflin Harcourt, 2015). She lives in Camden and Tuscany.
Maine Cassoulet (Serves 8)
ingredients:
1 pound dried beans (yellow-eye, soldier, or your own favorite)
3 fresh whole duck legs, about 2 lbs.
4 Tbsp. extra-virgin olive oil
Sea salt and freshly ground black pepper
4 bay leaves
4 sprigs fresh thyme
1 medium yellow onion, chopped
1 medium carrot, chopped
1 branch of celery, leaves included, chopped
1 whole head of garlic + 2 cloves
¼ pound pancetta, rind included, diced small
About 1½ lbs. fresh Toulouse or other garlic-flavored sausages, 
    cut in 1½" to 2" pieces
4 or 5 pork spare ribs, chopped in pieces 1½" to 2" long
1½ lbs. boneless pork shoulder, cubed
1 Tbsp. tomato concentrate or paste dissolved in 
    ½ cup very hot water; or ½ cup tomato purée
¾ -1 cup unflavored breadcrumbs
Directions:
Cover the beans with at least an inch of cool water. As the beans expand and absorb the water, add more. They should always be well covered. Soak for at least 6 hours or overnight.
Prick the skin of the duck legs all over with a fork (this helps release the fat as it cooks). Rub 2 tablespoons of the olive oil all over the legs and sprinkle with salt and plenty of pepper. Set the legs in the bottom of a roasting pan in which they fit comfortably and add 2 bay leaves and 2 sprigs of fresh thyme. Crush two of the garlic cloves with the flat blade of a knife and chop coarsely. Add to the pan. Transfer the pan to a cold oven and set the temperature on 300º F.
Leave the duck legs to roast very gently for 3 hours, then raise the heat to 375º F and roast an additional 30 minutes, until they are brown all over and the skin is crisp. When the duck is done, remove the legs from the fat and set aside. Strain the fat through a fine sieve and set aside. (All of this may be done well ahead of time.) Strip the meat from the legs and discard the bones.
While the duck is cooking, chop the onion, celery, and carrot and transfer to a saucepan with the remaining 2 tablespoons of olive oil. Set over medium heat and cook just until the vegetables start to soften and their aroma begins to rise. Drain the soaked beans and add them to the saucepan. Add the remaining bay leaves and remaining thyme. Brush any excess skin off the head of garlic and cut it in half horizontally. Add both halves to the pot with the beans, along with water just to cover. Set over medium-low heat and bring to a simmer. Cook the beans just until they are tender, adding boiling water from time to time if necessary. It's impossible to give a time for this as some beans cook in 40 minutes while others may take as much as an hour and a half. It all depends on the age of the beans. Keep testing. The beans should be just tender but not very soft, as they will finish cooking in the oven with the meats. When the beans are ready, strain them, keeping the liquid to add to the cassoulet later.
When you're ready to assemble the cassoulet, add 2 tablespoons of the duck fat to a skillet, set over medium heat, and add the pancetta dice. Cook, stirring occasionally, until the pancetta is brown, then remove and set aside. In the fat remaining, brown the sausages on all sides and remove. Then brown the pieces of spare ribs and then the pork shoulder, removing each as they finish browning. 
When all the meats are browned, it's time to put together the cassoulet. Set the oven on 300º F. Add a layer of beans to the bottom of your chosen cooking vessel (we'll call it a cassole for brevity's sake) and scatter all the reserved duck meat and the pancetta dice over the beans. Add another layer of beans and top them with the cubes of pork shoulder, then another layer of beans and finally the sausage and spare rib pieces. Settle the garlic halves back in the beans. Pour in the hot water with the tomato paste dissolved in it. Bring the reserved bean liquid to a simmer, then add as much of it as necessary to come to about ¼ inch over the top of the beans. Scatter half of the breadcrumbs over the top of the cassole and dribble about a tablespoon of duck fat over the top. Transfer the whole thing to the preheated oven.
Let the cassole bake, uncovered, for about 1½ hours. Take a look from time to time and if it looks dry, add a little more of the simmering bean liquid, trickling it down the sides of the cassole so you don't disturb the breadcrumb crust forming on top. After 1½ hours, stir the crust gently down into the beans and scatter the remaining breadcrumbs on top to form a new crust. Dribble another tablespoon of duck fat over the top and return to the oven for another 1½ hours. By this time the cassoulet should be irresistibly aromatic, with a bubbling golden crust on top, in short, perfect. Remove from the oven and let it rest on the kitchen counter for about half an hour before serving.
Sources
If you can't find good beans in your local store, try these online sources for truly 
Maine-grown beans: 
greenthumbfarms.com in Fryeburg
mainedrybeans.com (Freedom Bean Company) in Albion 
woodprairie.com in Bridgewater
osbornefamilyfarm.com in Charleston 
baersbest.com in South Berwick 
As for Maine-grown meats, I go to Maine Street Meats in Rockport. Others, recommended 
by people I trust, include: Maine Meat in Kittery; Farmers Gate in South Portland; 
Kniffen's in North Anson; and Kniffen's II in Waterboro. 
Share this article:
2023 Maine Boat & Home Show

Join Us for the Maine Boat & Home Show!
Art, Artisans, Food, Fun & Boats, Boats, Boats
August 11 - 13, 2023 | On the waterfront, Rockland, Maine
Click here to pre-order your tickets.
Show is produced by Maine Boats, Homes & Harbors magazine.