Brooklin Boat: Foggy
A yacht styled by Frank Gehry
By Laurie Schreiber
Bring together an internationally famous architect, a world-class superyacht designer, and a renowned Maine builder of wooden boats, and the result is a yacht that is as striking in its aesthetics as it is innovative in its engineering. Brooklin Boat Yard launched Foggy, a 74-foot yacht designed by Frers Naval Architecture and Engineering with input from modernist architect Frank Gehry, late last spring.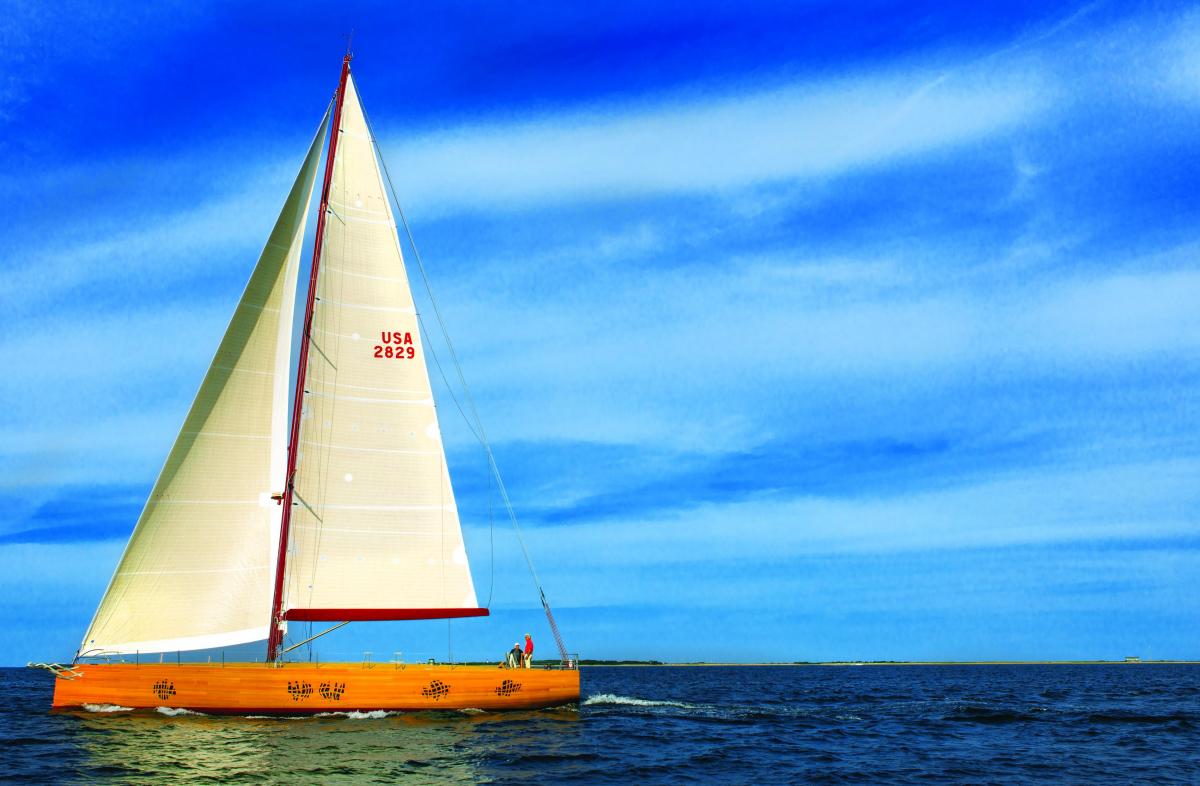 This 74-foot yacht, built of wood over a carbon core, was designed by Argentine naval architect German Frers with input from architect Frank Gehry whose whimsical touches include hundreds of small glass port lights in the yacht's hull and deck and a titanium bowsprit. ©2015 Todd Eberle Gehry is known for his groundbreaking, fantastically sculptural buildings. He transforms hefty concrete and steel into undulating lines and complex curves that convey light and movement. Examples include the Guggenheim Museum Bilbao in Spain, which opened in 1997, and the recently completed Fondation Louis Vuitton in Paris. His challenging concepts, such as FLV's "envelope of glass"—3,600 curved-glass windows, each uniquely shaped in three dimensions—necessitate complex technical solutions.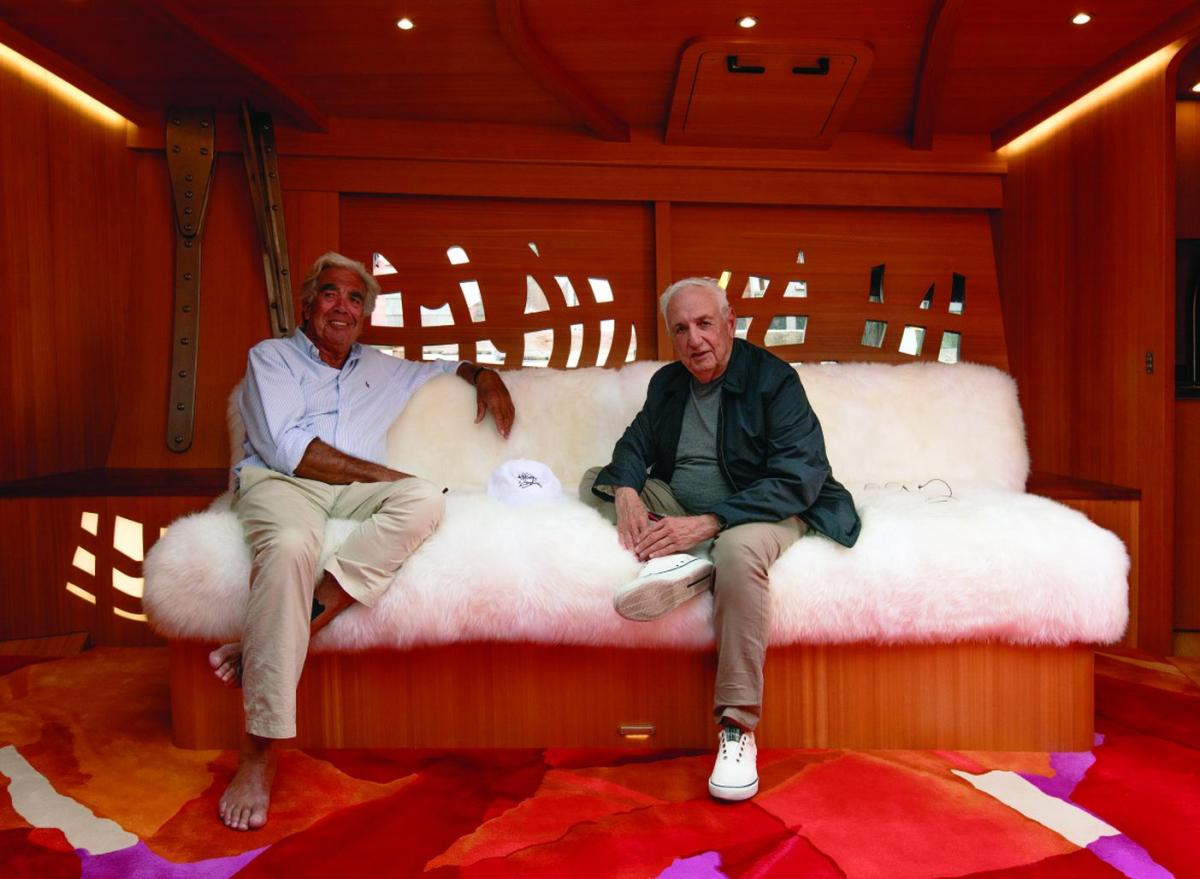 Foggy's salon includes a psychedelic carpet created by Gehry's daughter-in-law Joyce Shin. The couches are covered in sheepskin from New Zealand. Naval architect Frers, left with Gehry, right, designed the boat and Gehry added fanciful architectural elements. ©2015 Todd Eberle Gehry seems to have had windows and complex curves on his mind when he was approached several years ago by an old friend who asked him to meld his aesthetic vision with the design of a sailboat. While Gehry could not reinvent the basic shape of a boat, as he has with buildings, he used the Frers 74 as a canvas for his curvy style. 
His styling included hundreds of daylights—each four-sided and uniquely shaped, ranging up to several inches on a side—arranged as undulating clouds that pierce the foredeck and upper hull. Other Gehry touches on deck included flush hatches, retractable hardware, and hidden troughs for the halyards, all in order to achieve an unobstructed surface. The laminated deck frame above the main salon is a combination of longitudinal and transverse deck beams sinuously shaped in both directions to mimic the window deck light shapes. Other details include sculptural metal webs installed over the bowsprit and the pedestals for the twin steering wheels.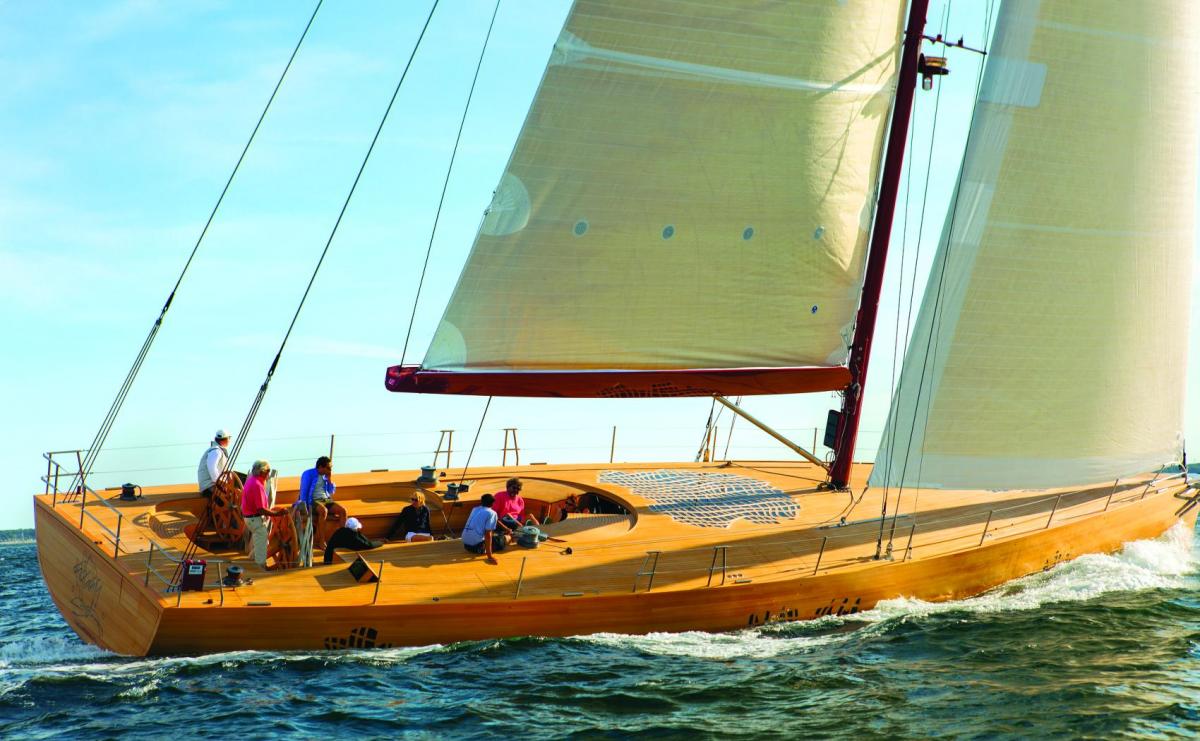 Not only is Foggy unique looking, the boat also goes fast. The yacht, with owner Richard Cohen at the helm, clocked the fastest elapsed time in the 2015 Round the Island Race off Martha's Vineyard. ©2015 Todd Eberle The story begins with Gehry's friend, New York real estate developer Richard Cohen. 
"He heard me talk about designing a sailboat for somebody, which didn't happen," Gehry recalled. When Cohen decided to commission Frers—the designer of more than 1,000 yachts, ranging from exotic superyachts to two America's Cup contenders—to draw a fast, ultra-modern daysailer, he turned it over to Gehry for styling input. 
Gehry is a weekend sailor who enjoys taking his Farr Yacht-designed Beneteau First 44.7 out on Sunday afternoons along the coast near Los Angeles.
"My work life is very intense, so this is the one thing where I relax a bit. It seems to work," he said.
He had never designed a boat before. "It was a totally new topic," he said. "But I'm interested in boats. If you look at my Walt Disney Concert Hall in front, it's definitely wing-on-wing. And if you look at the building in Paris we just finished, it's a regatta. So sailing does inspire my work a lot."
For his part, Brooklin Boat Yard owner Steve White was delighted to work with a famous architect. He was fascinated by Gehry's design process and the engineering complexities inherent in the drawings, both despite the challenges and because of them. Brooklin Boat Yard specializes in cold-molded, high-end wooden yacht construction. This project took the yard to a whole new level of work. 
"When we first started looking at the design, I and a lot of the workers here would say, 'Why would you do something like that? Why would you make it so difficult?'" White said. "Our approach is usually, 'What's the end product and how do you get to that end product, quickly, simply, strongly, efficiently, and looking nice?' But once we embraced the aesthetics of it, everybody's outlook changed pretty dramatically."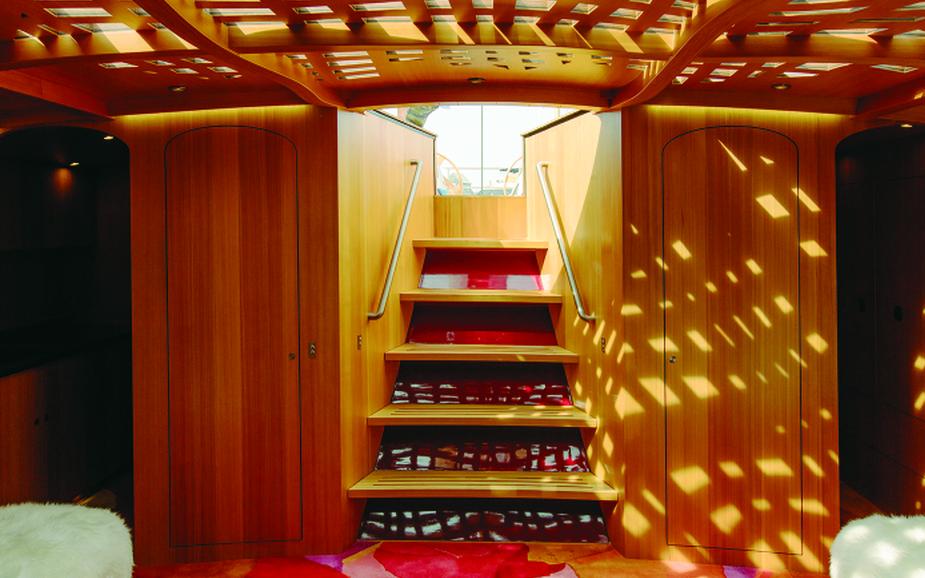 Light coming through the lattice-patterned windows creates a sense of motion in the boat's interior. ©2015 Todd Eberle The daylights were a big challenge. What happens when you cut 800 small holes into a deck and hull? If you're the Brooklin Boat Yard crew, you implement a rigorous protocol to test the many types of stress that might impact various configurations of materials and joinery that maintain the strength and integrity of the hull and deck. In other words, the crew needed to ensure that the 800 pieces of glass would remain intact when battered by waves. 
All of this involved new seat-of-the-pants engineering concepts for the boatbuilding world. White and his team invented solutions to problems as they went along.
Construction of the boat's skin started with a seven-layer laminate. On the hull, the inner planking of western larch, running fore and aft, is covered with unidirectional carbon fiber and infused with West System epoxy. The outer planking consists of two vacuum-bagged diagonal layers of western red cedar, a layer of 3/16" western larch, and a layer of infused bi-axial carbon fiber. Sandwiched in between inner and outer layers is Corecell foam. On the hull, the final layer of planking took almost two weeks. Because the yacht's topsides have a bright finish, no fastening holes could be visible. That meant only one strake per day could be installed. 
The deck involved similar construction techniques. It is finished with teak strips "woven" around and through the intricate pattern of daylights. Throughout, large areas of carbon reinforcement lend the additional strength necessary to accommodate the lights. 
The clusters of daylights were created separately, like puzzle pieces. The crew built individual laminated panels to conform to the curves of the hull and deck where each cluster would be installed. The laminates were constructed atop a mold, covered with a release bond, defining the placement and shape of each window. The whole shebang then went to Water Jet Acadia, a division of Nautilus Marine Fabrication in Ellsworth, where a computer-controlled abrasive water-jet cutting machine, blasting 60,000 pounds per square inch of water mixed with garnet abrasive through a tiny nozzle, can cut almost any material. When the laminates were released from the mold, the construction resembled what the crew called "spiderwebs," which were inserted into the hull and deck and laminated in place.
Developing that process took some thought. Initial tests showed that air voids in the laminate caused it to blow apart when the water jet hit the pocket laterally. Cutting the largest laminate, on the deck above the main salon, was the scariest part.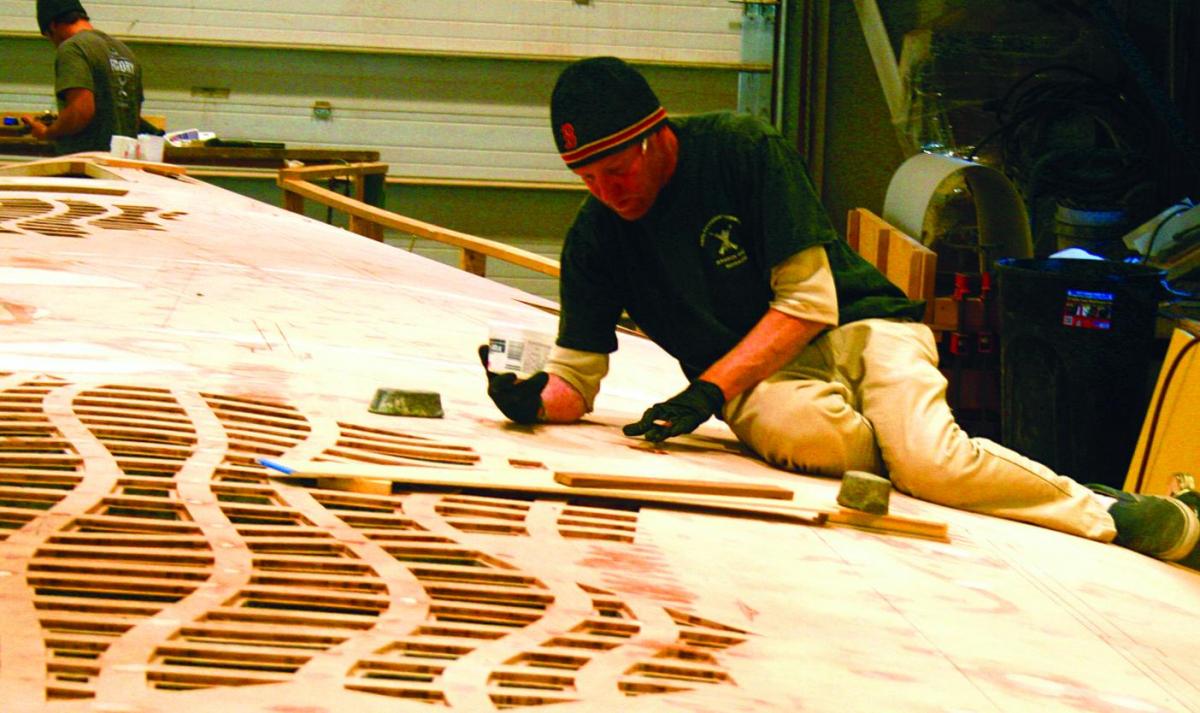 Installing the many small glass port lights and making sure they could withstand the stress of waves and wind was a major engineering feat for Brooklin Boat Yard owner Steve White and his crew. This photo shows the deck under construction. Photo by Laurie Schreiber "We had a lot of money invested in carbon and labor and all that. We didn't want to blow it all apart," said White. "It had to be set exactly right or one of the windows wouldn't be where it was supposed to be."
And then there were the windows, 5/8" clear plate-glass quadrilaterals. Fortunately, White had previously worked with Robert Baird, a Brooklin summer resident whose company, Historical Arts & Casting in West Jordan, Utah, specializes in custom architectural products. Baird and his team produced the glazing, each to the exact specification of its respective frame.
"One of my nightmares was that I was going to get a whole box of these pieces of glass and they weren't going to be labeled," White recalled.
The resulting yacht is modern and sleek. Down below, narrow shafts of sunlight through the patterned windows lend an ethereal ambience. The comfortable accommodations include a salon, full galley, master cabin, guest cabin, and crew cabin. 
The level of detail is extraordinary. The custom air-conditioning plenums, for example, took hundreds of hours to develop with the idea of tucking them out of sight behind a mirror. A touch of a button causes the companionway hatch to roll open and the dropboard to fall into a well. The fold-down transom reveals a "garage," fitted with a specially designed mechanical system to lift and rotate a dinghy into position underneath the aft deck. A passarelle on a pair of tracks rolls out from underneath the deck and pivots 180 degrees either way to reach the dock. The treads are articulated to remain level no matter the angle of the ladder.
White had to wrap himself around Gehry's design process. In most boat projects, builders receive detailed drawings in advance. In this case, Gehry's designs shaped up while construction was underway. Gehry preferred to start by presenting a concept to his team in Los Angeles, White said. The team "sketched it or described it to us. We did a computer rendering and sent it out to them," he explained. "They adjusted it and it went back and forth until they were finally happy. And then they'd say, 'But we have to run it by Frank.' Then they'd show it to him, and he'd say yes or no."
The complex process was worth it because it allowed the Maine team to interact with a visionary. "But in terms of keeping a schedule…" White trailed off, bemused.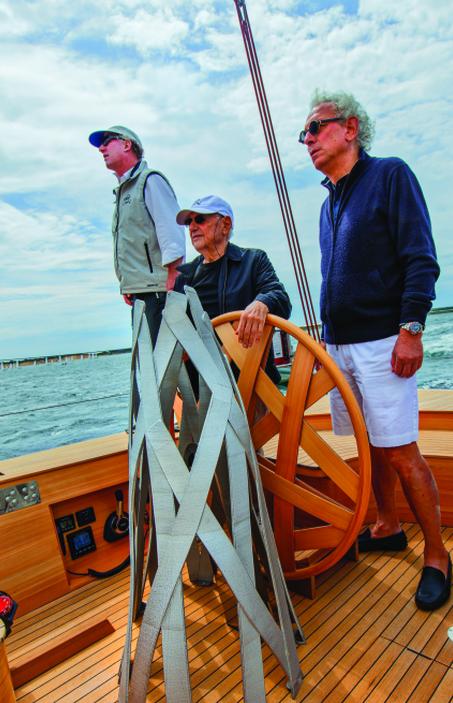 Gehry, middle, at the helm of Foggy with the yacht's owner Richard Cohen, right. The architect designed the titanium binnacle. ©2015 Todd Eberle White visited Gehry in Los Angeles. His office was like a warehouse, White said, "just one big open room, no cubicles. Lots of desks. There were 140 people working there. Half of them were on computers doing 3D modeling and engineering, and the other half were sitting at big tables and desks with scissors and glue and paper, making models. There were probably a dozen or more big architectural projects going on at once. I was astounded by how engaged he (Gehry) was in each one."
White observed Gehry's sketching technique when the architect made a drawing for the name of the boat—Foggy stands for Frank O. Gehry—which was water-jet-cut in titanium for the transom.
"When he draws, he puts the pencil to the paper and it doesn't ever lift off. It just goes around and around and around, and it eventually becomes a gigantic scribble that makes no sense whatsoever. Then he hands that to somebody else and it eventually becomes a drawing you can do something with," White said.
Although the process could be trying at times, White enjoyed the project.
"The pleasure was the challenge of creating these shapes and these architectural forms, interpreting what he wanted, then figuring out how to build it," White said. "It took us to a whole other level, in terms of a personal challenge to everybody's skills. Our guys are so invested in this boat and the way it looks."
LOA  73'9"
Waterline  66'4"
Beam  18'10"
Bulb keel draws  12'5"
Ballast  18,959 lbs.
Light displ.  54,454 lbs. 
Designers:
German Frers
Frers Naval Architecture & Engineering
www.germanfrers.com
Frank Gehry
Gehry Partners
www.foga.com
Builder:
Brooklin Boat Yard
Brooklin, ME
207-359-2236
www.brooklinboatyard.com
---
Laurie Schreiber has written for newspapers and magazines on the coast of Maine for more than 20 years.
Share this article:
Digital Edition Available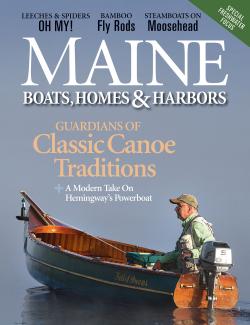 Can't get to the store to buy your magazine? We deliver the stories of Maine's coast right to your inbox. Sign up here for a digital edition.