Maya, The Edge, and Jackson
By The Editors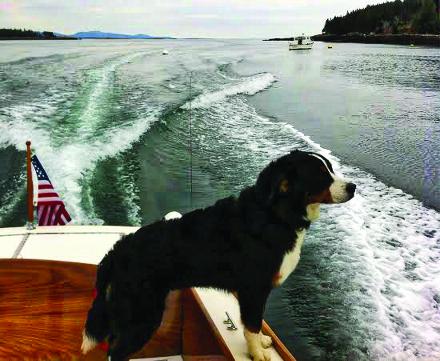 Maya Maya and The Edge are the resident boatyard dogs at Redfern Boat and Up Harbor Marine in Bass Harbor, Maine. Maya, a Bernese Mountain dog, and The Edge, a Newfoundland, are inseparable. They take their work to heart, monitoring the tasks of their boatyard humans, Carlton Johnson and Kathryn Walsh, at all times.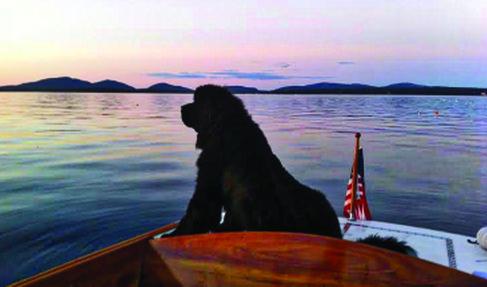 The Edge As pups they were especially gifted at facilitating the disappearance of any inventory small enough to be hefted in their substantial mouths. Something missing? That badger brush you just put down? A foam polishing pad or an impeller? Rigorous surveillance ultimately revealed the culprits and the location of their stash, which included roller covers, tape, Volvo parts, hose clamps, fragments of Soundown, a small life vest, rope, and, atop the pile, a captain's cap.
The pups' humans report that thanks to subsequent positive reinforcement training, the canine duo completed their one-year probation without relapse. They have paid their restitution in the form of wags and kisses and assumed their duties as delivery mates and general supervisors of boatyard activities, especially social networking. They are quite proficient at that, albeit a little slobbery.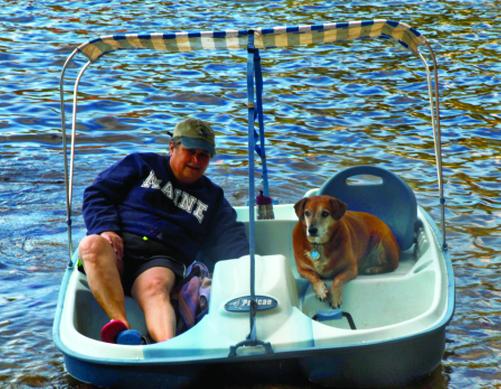 Jackson Jackson is a nine-year-old southern gentleman. A corgi-basset mix, he is a rescue dog from Georgia. Being barrel-chested, he has no desire to swim in Crystal Lake in Gray, Maine, where he lives with his family. However, that doesn't mean that Jackson lacks an affinity for being afloat. When he sees his owner Debbie Uva—an artist who works with fused glass and runs Grape Island Glass—get into the paddleboat, he gets quite excited. He even has his own seat. Actually, Jackson loves to cruise along on the lake so much that it is not easy to get him back on dry land.     
---
Do you have a dog that helps on your boat or accompanies you alongshore? We'd like to see your water-friendly canine. Email a clear photo and pertinent details to editor@maineboats.com or mail it to Boatyard Dog, P.O. Box 566, Rockland, ME 04841.
Share this article:
2023 Maine Boat & Home Show

Join Us for the Maine Boat & Home Show!
Art, Artisans, Food, Fun & Boats, Boats, Boats
August 11 - 13, 2023 | On the waterfront, Rockland, Maine
Click here to pre-order your tickets.
Show is produced by Maine Boats, Homes & Harbors magazine.