Retro Ride
Cruise the lakes on a vintage boat
By Laurie Schreiber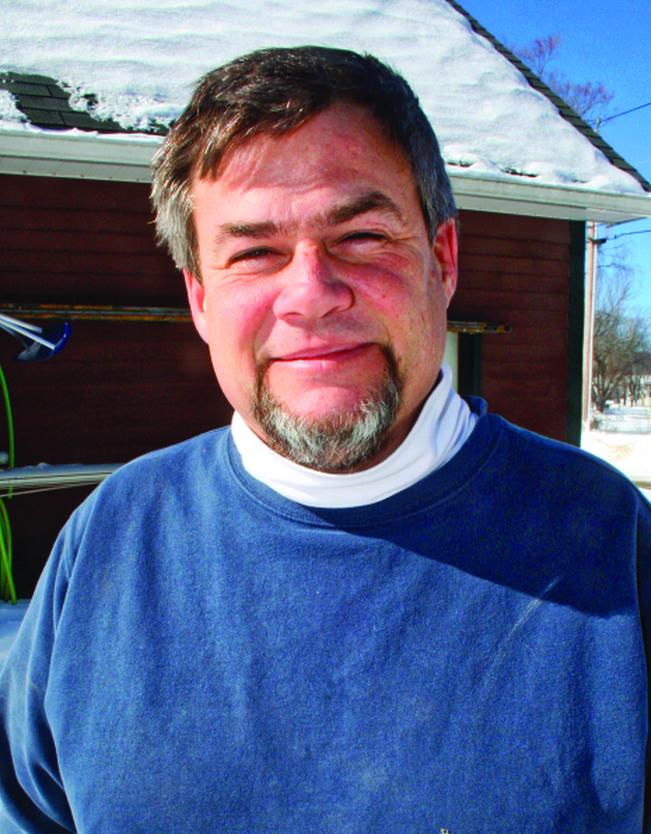 Shawn Grant sold a collection of cars so that he could buy a fleet of vintage boats. Photo by Laurie Schreiber Shawn Grant has never been one to buy already-restored boats or cars.
"I like the basket cases, the ones that need ridiculous amounts of work—read 'love,'" he said. "The transformations are so rewarding."
At one time, Grant had a small, but cool collection of cars. There were his "muscle" cars: a rare 1968 Dodge Dart GTS Big Block 4-speed, a 1968 Dodge Dart GTS 340 Auto, and a 1970 Dodge Demon 340 4-speed. Then there were English sports cars: a 1964 Sunbeam Alpine GT and the rare 1966 Sunbeam Tiger 260 V-8.
"Who doesn't love an old two-seat sports car to buzz around the coast of Maine or run around the lakes in the brilliance of autumn?" he said.
Then in 2007, Grant sold his collection so he could buy an equally cool fleet of vintage wooden boats, along with the tools and equipment he needed to start Brightside Wooden Boat Services, a rental, restoration, storage, and maintenance business in Belgrade Lakes Village, near Great Pond.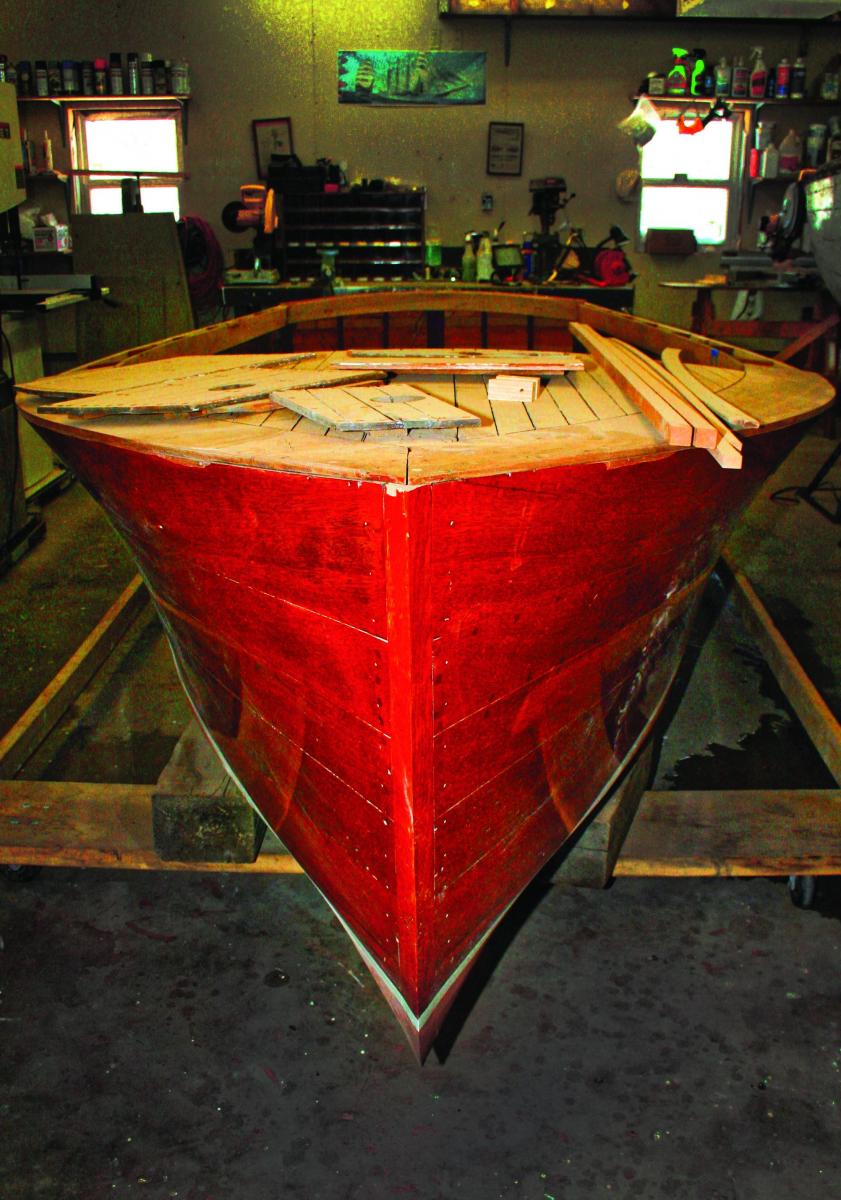 Shawn Grant and his crew recently restored this rare 17-foot deluxe utility Chris Craft, built in 1939. Photo by Laurie Schreiber The swap was well worth it. Grant has always had boats in his blood. "I grew up around boating, hearing stories from my dad about the ships' captains in my ancestry, in Stockton Springs, Searsport, Sandy Point.  I'd hear about ships' captains running pine and granite down to the cities or to South America and bringing bananas and rum back. I was totally infatuated with those stories when I was a little boy."
He was 10 or 12 years old when, with another neighborhood kid, he restored his first boat, an eight-foot sailing punt. "I've been hooked ever since. It was probably as crude as it could be, but to us it was yacht-like. It was punky rotten and we glued and screwed and painted it up and had a ball with it."
Grant grew up in Farmington and spent many youthful days on the Belgrade region's chain of seven lakes, an idyll of boating and fishing as popular with residents as it is for a seasonal surge of tourists. The largest lake, Great Pond, was an inspiration for On Golden Pond screenwriter Ernest Thompson, who spent summers on its shore.
Grant started his career selling forest equipment—skidders, log loaders and the like—eventually, with two partners, setting up his own dealership. In 1994, he bought property in Belgrade, across the street from a stream that connects two of the region's larger lakes. At first, he thought he'd build a house and flip it, as he'd done with investment properties elsewhere. Instead, he settled down.
"I just decided I love this area and didn't want to leave," he said.
In 2007, he sensed the economy was headed toward recession. "You could just feel things were tightening up," he said. But he saw that as an opportunity. "I've always had boats. I've always dreamt of doing something with boats. So I said, 'I'm going to open up a shop and play around with boats until retirement.'"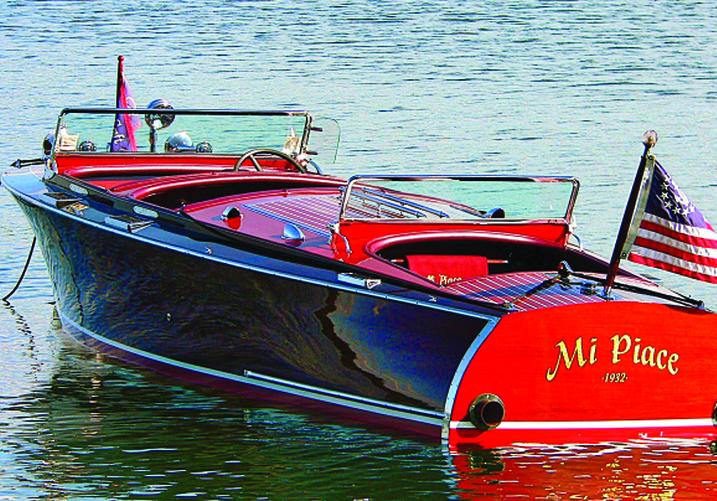 A 21' Chris Craft Triple cockpit runabout built in 1932 Today, Brightside is one of only a few companies in the country offering antique wooden boat rentals. Grant loves hunting down these classics. He's got a rare 17-foot deluxe utility Chris Craft built in 1939. Named Motion Granted, its varnished carvel-planked hull has that old-time feel. Then there's a 1957 24-foot Chris Craft hardtop named Granted. Grant believes that it spent its early life in the Rangeley Lakes region, followed by a stint in Jackman, then it sat for 25-plus years in a barn. Some might consider stashing a boat in a barn as sad neglect, but it turned out well for Grant. The boat, which he refers to as a "gentleman's cruiser," was in near-original shape. On the other hand, another acquisition, a 1960 23-foot Chris Craft sea skiff, named Permission Granted, was in rough condition when he acquired it, and needed a top-to-bottom restoration.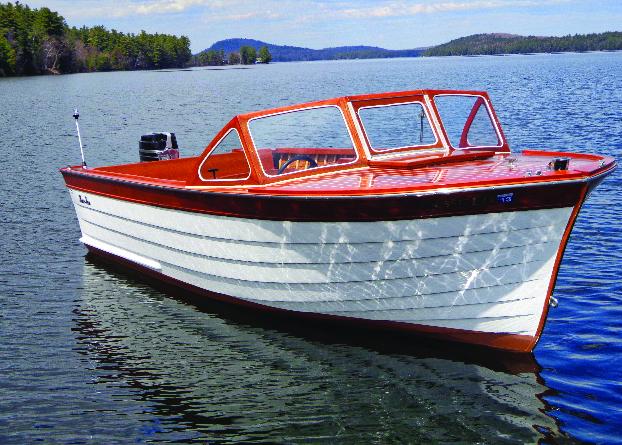 A 19' Penn Yan Allseas built in 1960. Courtesy Brightside Wooden Boat Services. Grant has gradually expanded his rental fleet to include modern powerboats, sailboats, canoes, kayaks, and pontoon boats. At the same time, he has earned a reputation among other wooden-boat owners, who have come to him in growing numbers for restorations, storage, and repairs. Recently, he and three employees were working on several sweet little boats, including a 1951 Century Viking, a 1960 17-foot Lyman outboard runabout, and a 1947 Philip Rhodes Dater class sloop that will see extensive rehab before hitting the water again.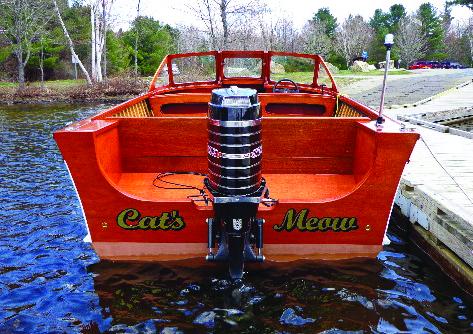 Stern view of the 19' Penn Yan Allseas. Courtesy Brightside Wooden Boat Services. Now Grant's business is growing again. In 2014, he became a dealer for Elco Electric Motors. He plans to install one in his 1957 Chris Craft and run it as a tour boat. An enthusiastic proponent of electric propulsion as clean, silent energy, he's also working with a couple of lobstermen to pair Elco motors with their diesel engines. The plan is to get data on energy efficiency and pollution reduction when the Elco is used to run the boats between traps, saving the diesel for long distances. And he's also working with a local conservation group to find charitable funding for installing electric motors on their DASH boats (Diver Assisted Suction Harvester), used in the process of removing lake weeds.
Finding a way to make a living from his love of vintage boats has made Grant a happy person.
"I get to test boats and ride around all day. How fun is that?" he said. "My passion is boats, and it's nice to be here doing this. I live for it."
---
Laurie Schreiber has written for newspapers and magazines on the coast of Maine for more than 20 years.
---
For more information: Brightside Wooden Boat Services, 21 Hulin Road, Belgrade Lakes, ME;
207-495-3680; www.brightsidewoodenboat.com
Share this article:
2023 Maine Boat & Home Show

Join Us for the Maine Boat & Home Show!
Art, Artisans, Food, Fun & Boats, Boats, Boats
August 11 - 13, 2023 | On the waterfront, Rockland, Maine
Click here to pre-order your tickets.
Show is produced by Maine Boats, Homes & Harbors magazine.