Sabre's New 66-Footer
Comfortable, roomy, and easy to drive
By Art Paine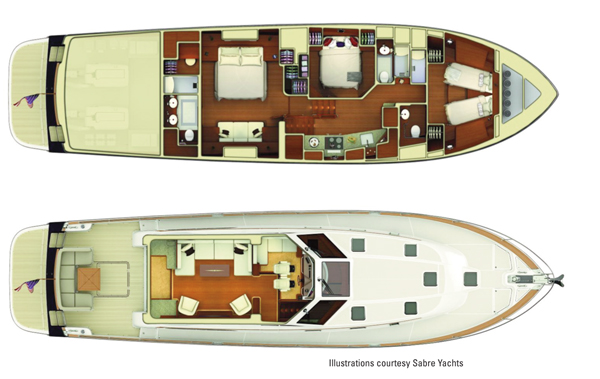 Illustrations courtesy Sabre Yachts. Sabre's new 66 Dirigo has three ensuite staterooms and a spacious galley below, and a large open salon up top with 360-degree views outside.
By Art Paine | Off the Drawing Board Not since Trumpy launched
Rumak III
in 1955 have I seen a poweryacht that I like right now as much as the new Sabre 66 Dirigo. While it is stylistically reminiscent of the smaller Sabres, stretching the length has made this new Sabre flagship even prettier than its siblings. Added to her good looks are practical considerations like extreme build quality and after-purchase support. Sabre's new flagship also expands the present limit of the "owner as captain" envelope with the latest in propulsion systems. The first of the new 66s is now under construction in the company's Rockland plant and is due to be launched in August. I visited the plant for a firsthand look. The new boat comes in response to customer demand. Even during the recent recession, customers who loved Sabre's biggest powerboat, then 54 feet long, asked for something larger, said Kevin Burns, Sabre's chief designer.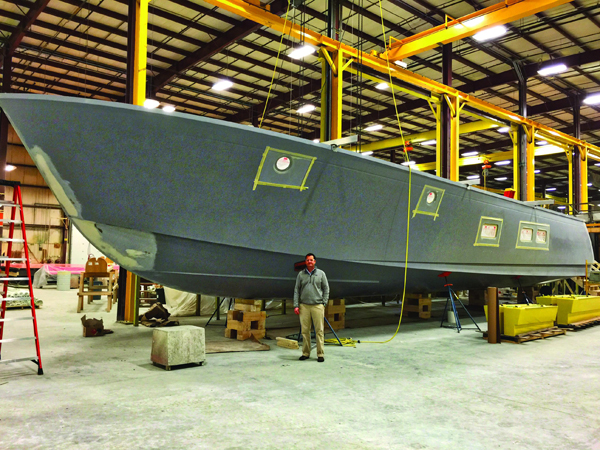 Photo by Bentley Collins/Sabre Yachts. The first 66 hull under construction in Rockland dwarfs Sabre's Chief Operating Officer, Aaron Crawford. When it is launched this summer, the Dirigo will be the company's largest and most luxurious motoryacht to date.
Sabre chose early on to expand its reach into the marketplace by using a dealership sales model that allows the company to build boats continually on an efficient production-line basis. Dealers not only sell boats, they also provide valuable assistance for otherwise busy yacht owners. Because Sabre has done such a great job of integrating design, quality manufacturing, and after-sale backing, most owners are very loyal to the brand. Clients told the Maine-based company that they wanted the owner's stateroom in this new bigger boat to be absolutely as palatial as possible—comparable to a sumptuous hotel suite. They also wanted the boat to be as big as possible without requiring a professional captain or crew. This last need has been tackled by the latest developments in docking assets, like joysticks and digitally-controlled throttles, but above all else by integrating this gadgetry with easy-to-use software.
I have no intention of showing this to my wife, as her reaction will surely be, "If they can put five closets, one a walk-in, inside a boat, why can't I have more than three in our whole house?
A significant portion of the commercial shipping world is moving towards "pod" drive systems. Pods (integrated pod drives) can swivel like an outboard motor, thus aiming 100 percent of engine thrust in the desired direction. This is handy for commercial vessels such as tugboats when they are strapped to the side of a barge or a ship. Some pods must be rotated fully around in order to reverse, but the types used on yachts have forward/reverse transmissions. The Sabre 66 Dirigo will feature a Volvo engine and counter-rotating propeller pod drive. This system uses a pair of smaller diameter screws, which minimizes draft. The Volvo models are unique in that the props are out in front not in the disturbed wake of a shaft or a lower-unit gearbox. This is intended to enable the engines to transfer as much as 20 percent more actual thrust, therefore resulting in better speed and fuel economy. Volvo pioneered marine counter-rotating propeller drives over 40 years ago; theirs and other brands are the new-new thing under yachts.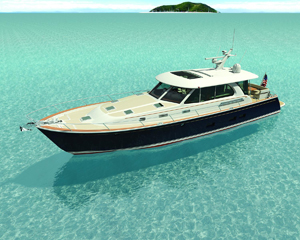 Courtesy Sabre Yachts. This computer rendering shows what the Dirigo will look like in the water.
Equally important as propulsive efficiency, these steerable drives with their true-reversible transmissions (in contrast to thrust-reversing "buckets" on jet-drives) are optimal for docking maneuverability. Burns explained that almost any imaginable approach problem can be anticipated by routines programmed into the link between the joystick and the twin drives. Combine rotational freedom with precise throttling for each of the engines with the capability to twist the hull by going forward on one engine and backward on the other, and there's almost no limit to maneuverability. Big as it is, the 66 ought to be easy to bring in to a dock, even in the hands of folks who wouldn't have the time, inclination, or experience to apply for a captain's license. While Sabre calls this a downeast-style cruiser, I don't think that's the right term for this boat. It's true that the general massing of the superstructure and the lack of an upper bridge suggests a Maine lobsterboat. But this is a full-planing, twin-engined, hard-chined boat. Its hull form has more in common with PT 109 than with your average lobsterboat.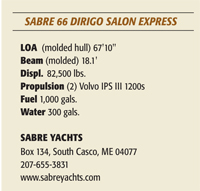 One additional similarity between the 66 and a downeast lobsterboat is that the steering and piloting take place inside a deck-level shelter. Although you can bet your bottom dollar there'll be a flybridge version in the future, presently this boat has the preferable lower-deck shelter for a thick-a-fog run. Looks aside, one very downeast aspect of all the Sabres is their build quality. Only in a love-to-work state like Maine, where people for years have been tinkering with their own cars, chopping their own home heating source, and reloading their own ammo cartridges, could you factory-build a boat that's got the refined hand-made quality of a custom job. Diligent workers are willing to get up early and to travel a long way on sometimes dicey roads in order to accomplish precise and satisfying work. That work ethic favored Sabre when the company's only product was a 28-foot sailboat, and it is critical to Sabre's success today. The Sabre 66 Dirigo is a two-story palace, with the bedrooms downstairs. In houses they call that upside-down, but in yachts it's one of the biggest advantages gained by boxy wide aftersections. Privacy chambers are down in the hull, with only the windows you want. Upstairs it's all about the view. The thing I noticed instantly when perusing the plans were three sleeping palaces. The aft stateroom, a few steps down from the galley, is huge. I have no intention of showing this to my wife, as her reaction will surely be, "If they can put five closets, one a walk-in, inside a boat, why can't I have more than three in our whole house?" Well, honey, it also has more bathrooms, too—a nice ensuite one for each of two guest cabins. The galley is long and narrow, a good stretch of space for efficient gourmet-quality food prep. The chefs enjoy nice big hull windows. Lastly, the mechanic in me appreciates that the systems are isolated way aft, behind a thickly soundproofed wall, with all kinds of open space—all mechanics love wrench-room. Sabre is building this new boat in the Rockland, Maine, industrial park. Last year, the company partnered with the O'Hara Company on the Rockland waterfront to tear down an old fish processing building and build a new 18,000 square foot building where the new 66-footers will be painted and launched. Being able to combine words like successful, luxury, and yacht with "American manufactured" tickles me pink. Contributing Author Art Paine is a boat designer, fine artist, freelance writer, aesthete, and photographer who lives in Bernard, Maine.
Share this article:
2023 Maine Boat & Home Show

Join Us for the Maine Boat & Home Show!
Art, Artisans, Food, Fun & Boats, Boats, Boats
August 11 - 13, 2023 | On the waterfront, Rockland, Maine
Click here to pre-order your tickets.
Show is produced by Maine Boats, Homes & Harbors magazine.