Buffer and Olive - Issue 134
Buffer and Olive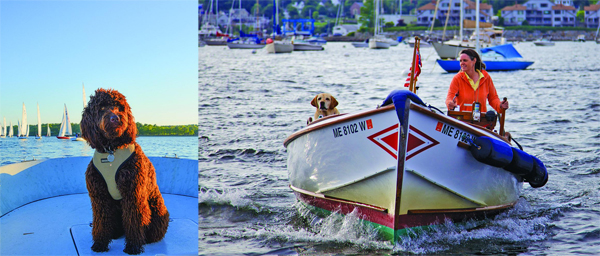 Buffer (left) and Olive (right). Left Photo by Ann-e Blanchard and Right Photo by Alison Langley.
BUFFER is a colloquial term given to the chief boatswain's mate on a Commonwealth Navy ship. Since Scott Thomas, a retired Canadian Naval Officer and former captain of a 154' schooner,
Highlander Sea
, was used to having a buffer on board, when he and his wife, Pamela, got a chocolate labradoodle puppy, of course they named him Buffer. The dog races regularly on the Thomas's J/35
Sugar Sugar
and helps Pamela run the mark boat for Etchells Fleet 27. Ashore, Buffer helps at the family business ARTiPLAQ in South Portland, which mounts nautical charts and other custom images. OLIVE is the official greeter for the Camden Yacht Club, where her owner Barb Goos (above) is dockmaster. Olive, a 9-year-old yellow lab, was supposed to be a seeing-eye dog. Goos, who volunteered as a puppy raiser for Guiding Eyes for the Blind, spent a year socializing Olive and teaching her obedience. But when she went back to New York to take her "In For Training" exam, Olive did not have the right qualities to continue guide training. "She chose another career. She chose to be the ambassador for the yacht club," said Goos. What a choice: do a serious job or have fun around boats. Good call, Olive. Do you have a dog that helps on your boat or accompanies you alongshore? We'd like to see your water-friendly canine. Email a clear photo and pertinent details to
editor@maineboats.com
or mail it to Boatyard Dog, P.O. Box 566, Rockland, ME 04841.