Awanadjo Almanack - Issue 134
Welcome to Blue Hill: the Town, the Bay, the Mountain
By Rob McCall
"Courage is not the towering oak that sees storms come and go; it is the fragile blossom that opens in the snow." -
—From Alice M. Swaim

Illustration by Candice Hutchinson
Dear Friends: April showers have melted the snow and ice with gratifying speed and now, after months of torpor, life is rapidly returning. The clogged arteries of the land are miraculously cleared. The earthy breath comes fresh again. The body warms and the heart of the earth beats stronger. The ice is gone from the streams and mostly gone from the harbor where the mill brook turns the waters the color of
cafe au lait
with runoff from upstream. The stump of the old sugar maple cut down during the winter is now welling up with fresh sap from the roots. Life and movement are once more restored as we watch the long-awaited miracle of resurrection happening right before our eyes. We mortals return to life, too: some sooner, some later. In the old days, we are told, spring tonics were concocted to drive winter's sluggishness away. Grandma would soak some nails in a bucket of water until it turned orange and then everyone would drink. Dandelion leaves were steeped into tea. Sour rhubarb stems were chewed—as long as you could stand it—to freshen the blood and motivate you to get the spring chores done before the black flies returned.
Natural events, April
Warmish days, frost-free nights, and showers are bringing along the buds on bush and branch. Red maples are just coming into bloom. Take a close look at these tiny flowers; if they were bigger, we would be cutting them and putting them on the dining room table in grandma's cut-glass vase to be admired by all. Alas, they are so tiny. American elms are also in bloom, and their shiny brown bud scales litter the ground. Below, yellow coltsfoot is in bloom. This dandelion-like flower comes out before its leaves emerge and is often found along roadsides and around older houses. Out on the barrens the blueberry buds are showing tiny pale dots against their burgundy stems. Spring warblers are beginning to show up in some locations. Identifying these various confusing species is a challenge even to seasoned birders. People like me can only point and grin.
Saltwater report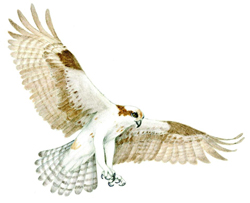 Illustration by Candice Hutchinson
Ospreys, also known as sea eagles (which they are not), or fish hawks, or sea hawks, or fish eagles, are returning from as far south as Patagonia to their aeries in tall dead trees near salt water. This great, speckled bird has a wingspread of up to six feet and a keen eye that allows it to dive from 100 or more feet above the water, seize a fish in its talons, and return to its huge stick-built nest to share with its young and its life mate.
Freshwater report, early May
It is whitewater season on Maine's rivers and streams, the destination of many a paddler's pilgrimage. Testing oneself against a racing, roaring river is good practice for living life. Like time, the river goes only forward. One is carried by the current and must be ready to make quick decisions by watching the movement of water against rocks and boulders right ahead. The rapids and riffles must be read now, as there is little time for pondering. Hesitation or misjudgment may lead to a sudden cold bath, or worse. Sometimes one must choose between the lesser of two evils, but there is a transcendent and unspeakable exhilaration in giving oneself up to being carried by the currents of the river. I've paddled the Union, the Machias, the Kenduskeag, Blue Hill Falls, and Cobscook Falls. I've been baptized and I've been saved; I've won and I've lost; and I don't regret any of it. I dream about it whenever the waters rush. I don't do whitewater anymore, but the lessons I learned are scribed on my soul: Keep your essentials in a dry bag, hold onto your boat even if you are thrown over, don't think too much, and go with the flow.
Mountain report
Awanadjo stirs like a great monolithic bear emerging from her long hibernation. On damp days she breathes great clouds of mist into the sky. On warm and sunny days her pelt glistens and shines as she soaks up the warmth and ever so slowly stretches herself awake. On her broad back, fiddlehead and bracken uncurl and Canada mayflower leaves reach up at the edge of the woods while buds swell on birches. Tree swallows swoop and dart over her lower fields, catching flying insects and quickly commandeering the bluebird boxes set up there. The blackflies are active, though not biting yet; just what the tree swallows need for a good feed. Bunches of pale green salamander eggs cling abundantly to sunken twigs in deep vernal pools in the Wisdom Woods, a good sign. These are the eggs of the stately spotted salamander, which has been observed in these pools in the past. This shiny dark blue or brown creature has rows of yellow spots, can grow to nearly ten inches in length, can live more than 30 years, and always returns to the same vernal pool to mate. I will never forget watching one do a slow arabesque in a shaft of sunlight in the very same pool many years ago. It may still be there. By the way, I found the name "awanadjo" for Blue Hill many years ago in Fannie Hardy Eckstorm's Indian Place Names of the Maine Coast. Her sources among the Penobscots said the name means "small misty mountain." Not long ago a Passamaquoddy man told me he had never heard the word in his native language. I looked up 'awanadjo' in David A. Francis and Robert Leavitt's wonderful Passamaquoddy-Maliseet dictionary, and found that it's not there. Instead, the word for misty mountain is 'pkotewkotonesu.'
Saltwater report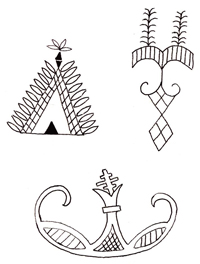 Illustration by Candice Hutchinson
These days, we also launch our human-powered craft onto salt water, just as the inhabitants of this coast have done for thousands of years. Artifacts of the 5,000-year-old Red Paint culture appear from New Jersey to Norway (including numerous places along the Maine coast) suggesting transatlantic ocean travel centuries before the Vikings ever set sail. Archaeological digs in downeast Maine have revealed plummets, harpoons, and bones of dolphin and swordfish indicating long-ago deepwater fishing. Remains of seafaring craft and skin-covered boats do not survive the acidic soils, but I have collected traditional Wabanaki designs that show great waves, four-man boats, and sea creatures as big as the boats. I've painted these designs on my kayaks, and would be glad to share them with you.
Natural events, late May
We celebrate Memorial Day during this quarter moon. It seems a bit peculiar to be remembering those who have died at the very time when the earth is exploding back into abundant life. But maybe that is because we prefer to think of life and death as two different things that are diametrically opposed, and we need to be reminded from time to time that they go hand in hand. You can't have one without the other. They are two faces of the same coin. Death must have life, and life must have death. Think of all of those resting in the cemeteries under the pink phlox that runs riot among the stones. Whether veterans or fishermen or simply mothers and fathers, they labored for others and at last gave their lives to provide for others. Think of the salmon fighting upstream to spawn and then die so that the next generation may live. "In the midst of life we are in death," goes the phrase from the old prayer books, read by gravesides for ages. If others die for us, isn't it for us to live our lives fully, thankfully and joyfully, and to give our lives the same way when our time comes: fully, thankfully and joyfully?
Field and forest report
We traditionally expect apple and lilac blooms around Memorial Day, and sure enough they are coming on. Apples in the pink, lilac clusters still tight, pears coming into bloom in dooryards. Wild cherry, wild strawberry, bunchberry, and elderberry are coming into bloom now along the edge of the woods, and the fields are greening up.
Seedpod to carry around with you
From yours truly: With spring's melting snow from Katahdin's steep side, mile after mile of whitewater you ride, from Maine's highest mountain to her lowest tide, you roll on Penobscot, roll on. From Henry David Thoreau: You must live in the present, launch yourself on every wave, find your element in each moment. And from Maine poet Jennifer McIntosh: Flash of shadow, shift of light—extended wings of osprey etched on the ground, here, then there, then returning. The white underbelly and broad gray strokes suspended overhead—just drifting, effortless and regal, so close that I could almost grab hold and take flight too. That's the almanack for this time. But don't take it from us—we're no experts. Go out and see for yourself. Yr. mst. Hmble & obd'nt servant, Rob McCall Rob McCall lives on Moose Island. This almanack is excerpted from his weekly radio show, which can be heard on WERU FM (89.9 in Blue Hill, 99.9 in Bangor) and streamed live via
www.weru.org
. His latest book,
Great Speckled Bird: Confessions of a Village Preacher
, is available through your local bookstore. To receive a weekly Almanack installment:
awanadjoalmanack@gmail.com
.
Share this article:
Digital Edition Available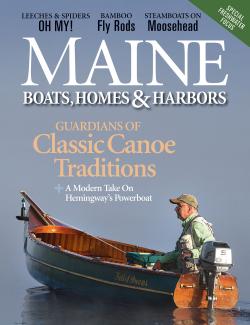 Can't get to the store to buy your magazine? We deliver the stories of Maine's coast right to your inbox. Sign up here for a digital edition.