Brooklin Boat: Dreadnought
Classic good looks combined with speed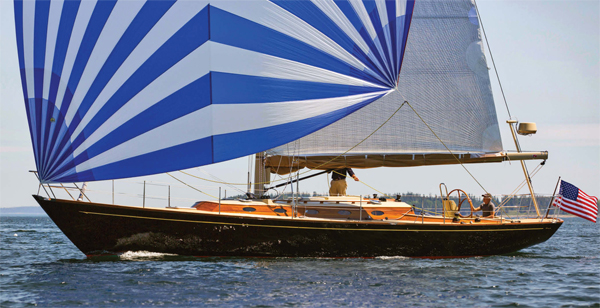 Above the waterline,
Dreadnought
has a gorgeous classic look; below, the boat is built for speed with a modern fin keel and spade rudder. Photos by Billy Black
By Art Paine Joe Weber has long been a steadfast fan of Steve White and Brooklin Boat Yard. The Southwest Harbor summer resident has owned and loved two boats built by White, so when he began dreaming up his next project, there was no question about who would build it: White and crew. Weber wanted a yacht that looked gorgeous, sailed fast, and had a decent handicap rating for racing. Specifically, he was interested in PHRF and Gulf of Maine Ocean Racing Association events, in which he'd have to compete against boats of all types of construction, including extreme racers with carbon skins and foam cores. Who better to come up with the design than Jim Taylor? The Marblehead, Massachusetts, designer knows the numbers game—from keel hydrodynamics to structural engineering to handicap ratings—better than most. The result was
Dreadnought
, a sleek cold-molded sloop launched by Brooklin Boat Yard last summer.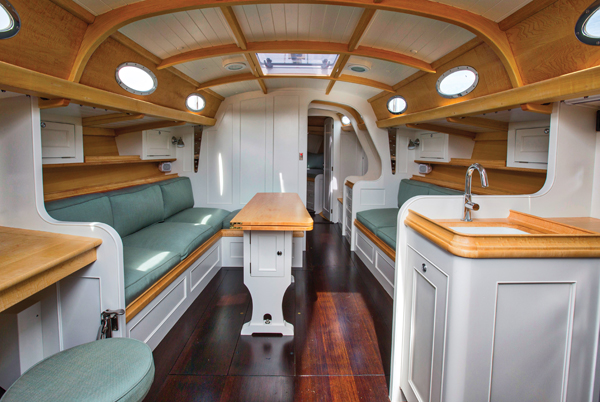 While
Dreadnought
is built for racing, the classic interior is spacious and comfortable.
Dreadnought
is 49 feet overall with a waterline length of 35.1 feet and an 11.6-foot beam. Weber's previous yacht,
Va Pensiero
, while about the same length as
Dreadnought
, was 10,000 pounds heavier with more wetted surface below the waterline. Taylor knew he could draw an even faster boat with an even better rating. Above the waterline,
Dreadnought
's longish overhangs increase the boat's effective sailing length, and most importantly they give it a beautifully classic appearance. Below the waterline, the modern canoe body shape, with fin keel and spade rudder, helps the boat go fast.
Dreadnought
's preliminary PHRF rating is 51. One feature of note is the inclusion of a self-tacking jib for cruising and a genoa jib for racing. Genoas concentrate power down low, contribute to a few degrees higher pointing, and the overlap area is untaxed by rating rules.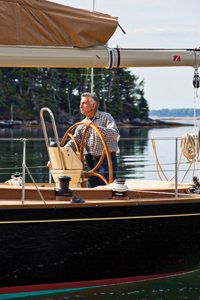 Joe Weber at the helm on launch day.
Dreadnought
's classically simple interior features lots of sculptural detailing in white paint, which gives it an airy look. The sole is built of Wenge wood with a deep umber finish that contrasts with the bright, varnished, curly maple table, stairs, and countertops. The yacht sleeps up to six people with a forward master cabin, quarter berth, and salon. The interior incorporates honeycomb-cored panels to save weight.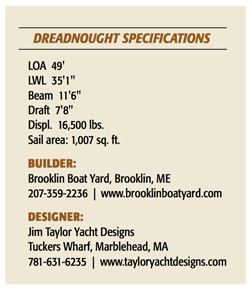 While Weber did not test
Dreadnought
in many races last season, he was pleased with her speed. I had a chance to see that speed up close during a pursuit race off Mount Desert Island.
Dreadnought
blasted by my Luders 16 as if we were standing still, on the way to what seemed a fairly effortless first place. Overall, during the first season of racing on his new boat, Weber placed first in his class in the Gulf of Maine Ocean Racing Association's East Region. Gorgeous? Check. Fast? Check. Mission accomplished. Contributing Author Art Paine is a boat designer, fine artist, freelance writer, and photographer who lives in Bernard, Maine.