Sailing into the Future
A need for speed leads an Internet pioneer to a Maine boatbuilder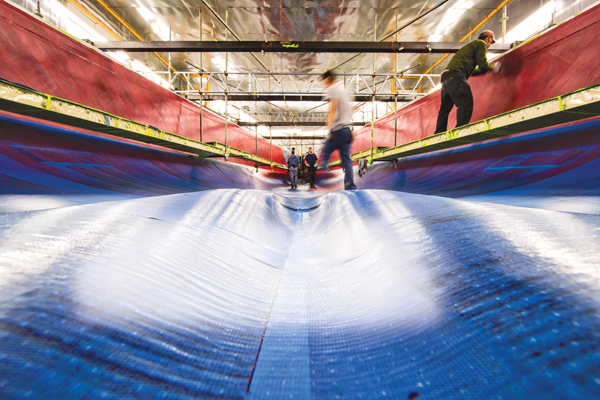 Comanche
's hull is made from light but very strong carbon fiber. Here the crew at Hodgdon Yachts begins laying out the carbon cloth.
By Tom Groening | Photos by Onne Van der wal Internet entrepreneur Jim Clark wasn't interested in graceful lines. Or in creature comforts and ease of handling. The sublime pleasure that is sailing probably never crossed his mind when the idea for his new boat was born. Speed was what he wanted. Clark didn't just want a fast boat. He wanted the fastest boat—as in world-record-breaking fast. If his design team and the builders at Hodgdon Yachts in East Boothbay hit their marks, speed is what he will get. Founder of the Web browser Netscape, Clark was profiled in the 1999 book The New New Thing, Michael Lewis's take on the early days of the Internet. A native Texan and Silicon Valley titan, Clark seems to find joy in boats rather than digital codes. The New New Thing described his 155-foot yacht Hyperion, which, when it was launched in 1998, was the world's largest sloop and remarkable for being computer controlled.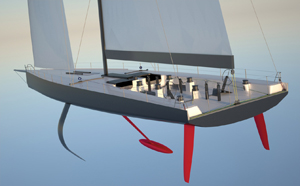 About 100 feet long and 23 feet wide, the boat looks like a giant surfboard. When it is rigged, the mast will sit well aft and the transom will act as the traveller for the boom. Courtesy Hodgdon Yachts
This new boat, named
Comanche
, is a monohull built out of carbon fiber—about 100 feet long and about 26 feet wide. It is expected to be completed in time for the next Sydney to Hobart Race. The goal is to race in as many of the major ocean races as possible, including the Fastnet, Transpac, and Newport to Bermuda, and to set speed records. Work began in September 2013. Given his resources, Clark could have had his maxi ocean racer built anywhere in the world. Yet he chose a Maine company whose history goes back 200 years. That's because Hodgdon has earned a reputation for its advanced composites work, in which light but strong materials are blended. "There really aren't many places in the world that can do work of this caliber," said Ed Roberts, Hodgdon's director of sales and marketing. Clark and his team also wanted the boat built in the United States.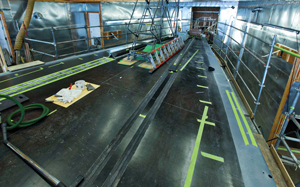 Because the carbon and glue must be cooked in order to set, the interior of the shed where the boat was built was lined with metal to create an oven.
"Somebody recommended they talk to us," Roberts said, and the deal was sealed. "There has not been a sailboat of this significance built in the United States since Ranger (1937 America's Cup defender) was built at Bath Iron Works." Like some of Hodgdon's previous boat projects, this one was top secret in the early stages. Then Ken Read, president of the North Sails Group and a sailor who was part of the project team, saw photos of the work in progress. He was so excited, he convinced Clark to go public. Still, the work remained largely behind closed doors until launching day. In fact, in this case, Clark is not the only one who wanted the project kept under wraps. Hodgdon's advanced composite techniques also are closely held.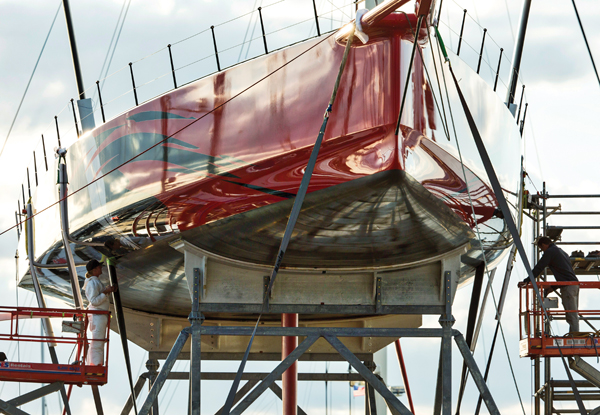 Comanche
viewed from the bow.
Founded in 1816, Hodgdon's first projects were wooden fishing schooners. The company transitioned to the pleasure-yacht business in the early 1900s, built Navy boats during the 1940s and 1950s, and by the 1960s was busy building yachts designed by the likes of Sparkman & Stephens, Bill Tripp, Jr., and John Alden.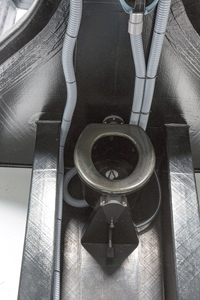 Accommodations for the racing crew are sparse to save weight. This photo shows the marine head. The two kitchen sinks are about the same size.
Current company president Tim Hodgdon is the fifth generation in his family to run the yard. Since joining the company in 1979 he has helped expand into cutting-edge-technologies and the luxury yacht market. In addition to
Comanche
, projects currently under way include construction of a 65-foot cold-molded wooden sailboat and refitting a 118-foot steel luxury schooner. In recent years, Hodgdon has launched a number of large yachts, power and sail, that have married the best properties of wood, epoxy, and carbon fiber. The company also has diversified its customer base. Hodgdon formed a separate division to take what the company learned from building high-tech pleasure boats into the military market. The result was a prototype carbon-fiber military patrol craft launched in 2008. At the other end of the spectrum, the company has expanded its involvement in the super-yacht market with a line of limousine tenders. Hodgdon also recently merged with the Boothbay Region Boatyard and added a service division. As close to the cutting edge as this yard is, though, the Clark project still was a coup. "In terms of the racing [vessels]," Tim Hodgdon said, "there probably hasn't been anything in this range. It will put us into a different venue."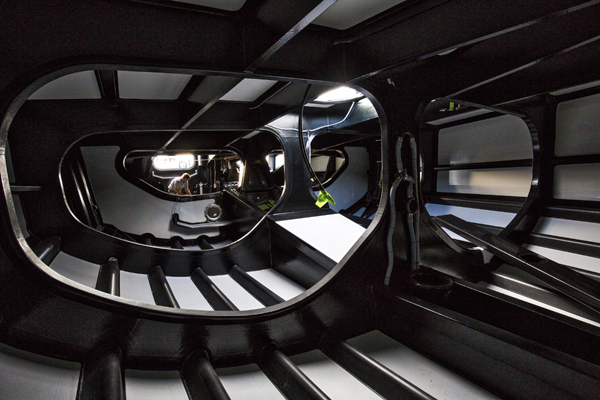 A section of the finished interior.
In addition to Read, Clark's captain and representative on the project, and a team from Hodgdon, the building crew included over a dozen members of Clark's sailing team, primarily from Australia and New Zealand, many of whom have helped build previous cutting-edge Volvo Ocean racers and America's Cup contenders. In all close to 60 people have worked on the boat, which was designed by French firms Guillaume Verdier and VPLP.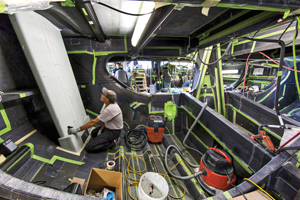 In addition to workers from Hodgdon, the team building
Comanche
included people from Cianbro, which has experience working with hi-tech composites, plus members of Jim Clark's racing team.
Though Hodgdon is very much a custom yard, the Clark project meant modifying its facilities. The most striking change was creating a 120' by 40' enclosed area that worked essentially as an oven, which was necessary for the composite process. "It's probably the biggest marine oven in the United States right now," Roberts said. Building with composites—a technique that joins synthetic and sometimes natural substances to form exponentially stronger yet light material—has evolved significantly in recent years. Normally carbon-fiber construction involves adding resin during the building process. But this project used what is known as pre-preg carbon fiber, which means the epoxy resin had been added in advance. Multiple layers of the fabric were placed in a boat-sized mold, squeezed together in a vacuum bag and then heated in the oven to set the resin. The pre-preg material needed to be kept frozen until it was used. That meant installing a trailer-sized freezer outside the boat shed.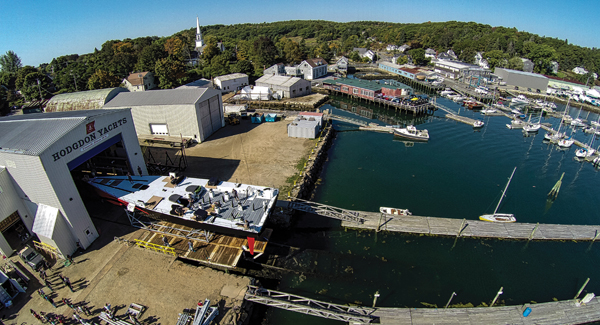 Comanche
was launched Sept. 27. This photo shows the boat at the 200-year-old Hodgdon yard with East Boothbay in the background. Photo by Adrian van der Wal
This sort of hull construction is the latest "new, new thing," and Hodgdon's team is well versed in the technique. Thirty years ago, many in the crew might have been more comfortable building plank-on-frame wood boats, Hodgdon said. The yard's crew has learned to embrace each new wave of technique. Many were involved in the construction of the Bruce King- and Andrew Winch-designed
Scheherazade
, a 154-foot-long cold-molded wood vessel built in 2003. Go-fast features in the Clark boat include keeping it as light as possible. "Every kilogram makes a difference," Roberts said. "Every wire, every screw is weighed." News last winter about the boat set the racing world abuzz. It will feature extreme aft beam, a canting keel, daggerboards, water ballast, and a lot of sail area. Instead of push-button controls, the crew will use manual winches to control the sails and daggerboards. In addition to saving weight that might otherwise be taken up by fuel oil, those "coffee grinders" in turn will help power up the boat's hydraulics. When under sail, the boat is designed to exceed its theoretical hull speed. With its flat stern, wide body and deeper bow, it looks like a giant surfboard. Some predictions call for sailing speeds in excess of 30 knots.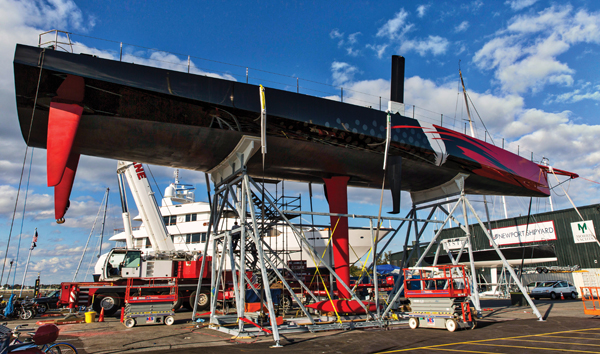 The 22' canting keel and two daggerboards were built in Italy and installed in Newport, RI, along with the rig, which was built in New Zealand. The boat is scheduled to ship to Australia in November.
"With its power-to-weight ratio, there's been nothing like it before," Read said in an interview with
Sailing World
. Gearing up for such a big job as this can tax a boatyard. A large crew is dedicated to the project; special rigs, tools, and equipment are purchased; and the yard goes great guns until the vessel is completed. The day after the launch may find some idle hands. Given Hodgdon's track record of innovation, though, the yard's workers are not likely to be idle for long before the next new, new project. Tom Groening is a reporter and editor with more than 25 years of experience. He is the editor of
The Working Waterfront
in Rockland.