What's In a Name?
Jaan: 19 yachts and the history of Hinckley
By Alan Sprague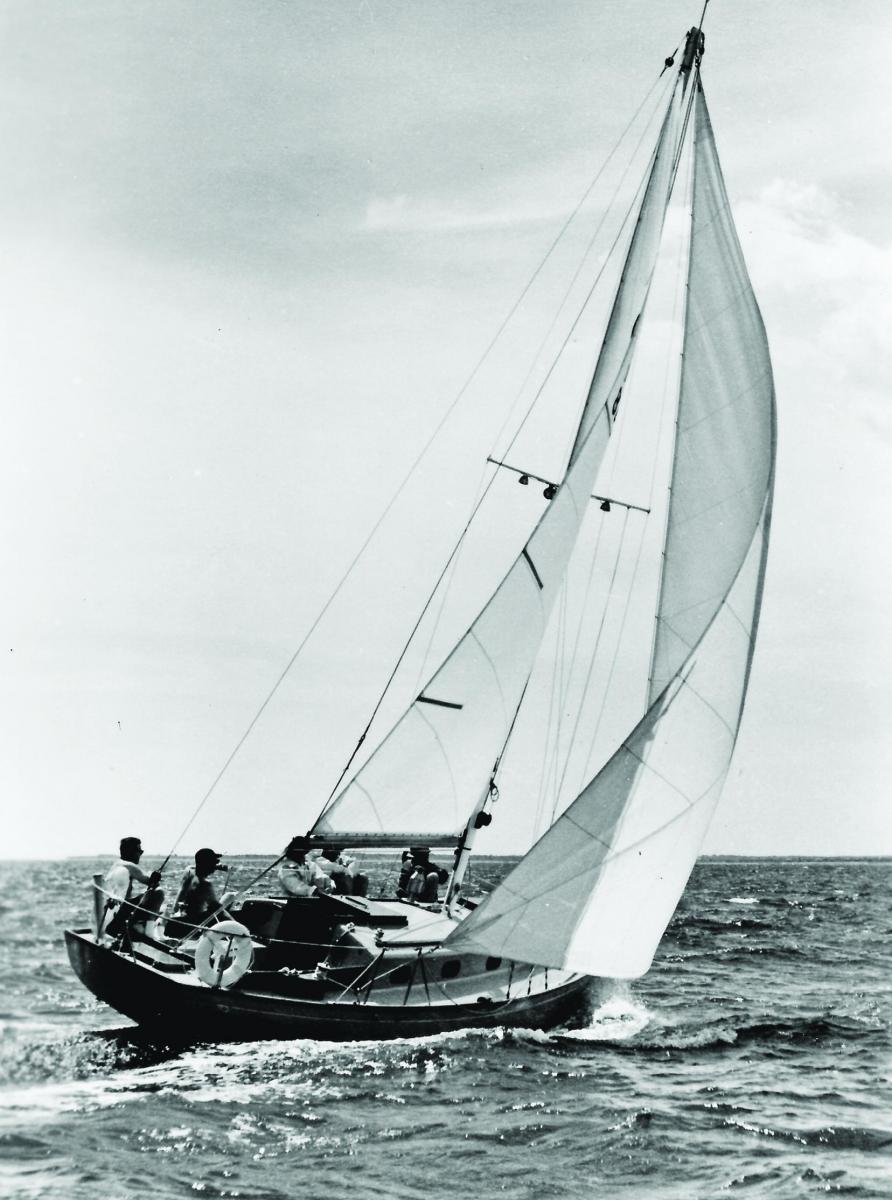 Jaan No. 2, shown here in a Hinckley Yacht Co. photo shoot from 1962, was a Sou'wester 30. Images courtesy Hinckley Co. (2)
Talk about being a kid in a candy store. "We always had a boat," is what both Bob and Hank Hinckley said when asked about growing up with their father, Henry R. Hinckley, president of the Hinckley Company. 
What they left unsaid is that almost every single one of those boats had the same name. While Henry Hinckley was an innovator in the boatbuilding business and an early pioneer in the use of fiberglass for production boats, when it came to boat names he found one he liked and stuck with it. For 24 years, he named every boat he had built for himself Jaan, a combination of his daughter's names, Jane and Ann. The early story of his company can be told by telling the story of all his Jaans.
Arguably the premier American yacht builder of the last half-century, Hinckley Yachts was founded in 1928 when Henry's father, Benjamin, bought a small boatyard on Mount Desert Island. Henry, fresh out of the engineering school at Cornell University, took over operations from his father in 1932. The new company built fishing boats at first, and within a few years added a 28-foot Sparkman & Stephens sloop, eventually building 20 of them. When World War II started, Hinckley Company shifted gears, building wooden line boats, tugs, and other small boats for the U.S. Army and Coast Guard. Eventually, the company produced almost half of all the vessels built in Maine for the military during the war.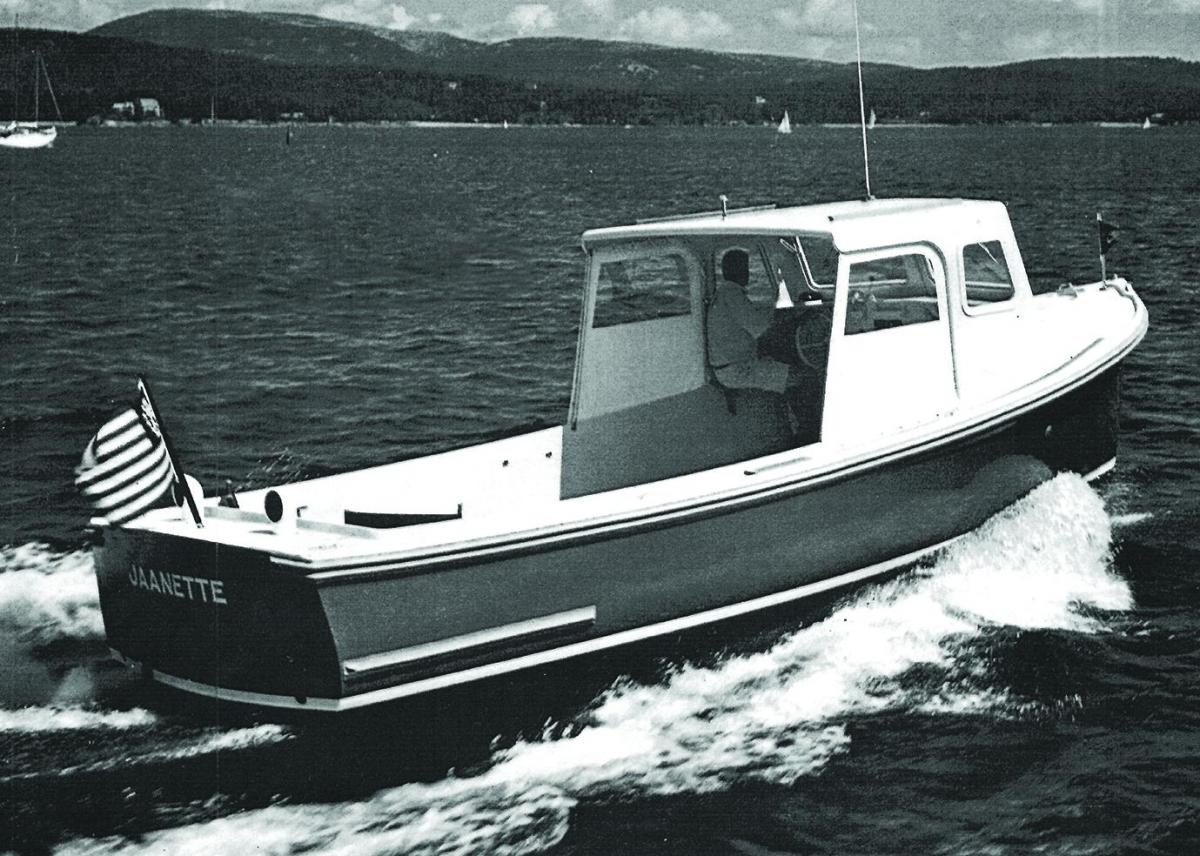 Jaan No. 6 (actually Jaanette) was a Roustabout, an early Hinckley powerboat based on mine yawls the yard built during World War II.
After the war, Hinckley focused on pleasure craft, mostly sailboats, with four different designs ranging from 28 feet to 45 feet, including a 34-foot sloop designed by Henry Hinckley and called the Sou'wester 34. By the 1950s, the company had built 62 of these boats, before redesigning the Sou'wester as a 36-foot step cabin model. The first Jaan, built in 1955, was one of these 36-footers. Henry and his family used Jaan No. 1 for seven years. 
Hinckley Company records show that 18 more Jaans were built for Henry. Some of them were sold shortly after or even before they were launched, as people believed that owning Henry's personal boat added value. Some of them were ordered by Henry to start a new line or just to keep things going on an even keel. 
"It was not uncommon back then for people to keep the same name like that," said Henry's son Hank. "He just decided to carry the name on."
Hank Hinckley and his brother Bob  have carried on the tradition. Bob has called several of his boats Night Train while Hank has owned three Diligents. "I named the first one that because I promised my wife I would be diligent and try to sell the boat," he said. "That was the deal if I wanted a boat."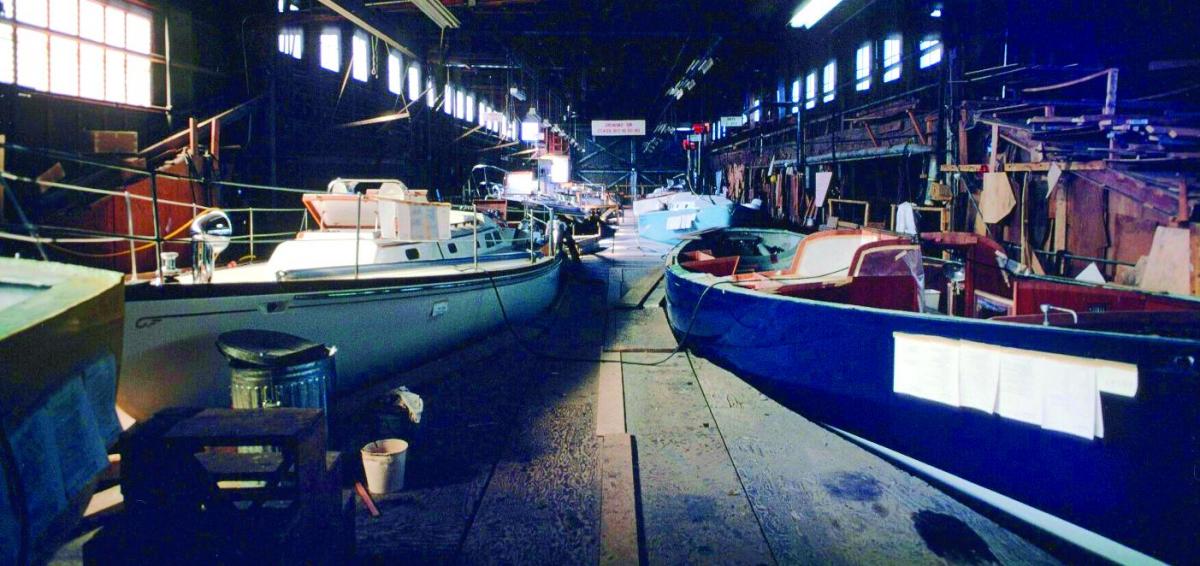 This circa-1968 view of the workshop shows fiberglass Bermuda 40s at various stages of construction in the foreground, with a couple of Pilots in the back. Photos courtesy Hank Hinckley (3)
Henry and his son Bob started experimenting with fiberglass, then a relatively new material, in the late 1950s. They built dinghies and other small boats until 1958 when they decided to go up in scale and switch the Sou'wester 36 line from wood to fiberglass. While the company was still making the molds for the SW-36, a group of New York City-area customers, led by a man named Harold Oldak, approached Henry. They wanted Hinckley to build eight copies of a redesigned version of the Block Island 40 by noted naval architect Bill Tripp.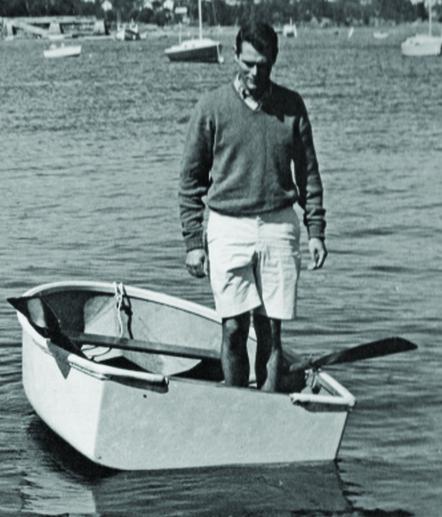 Bob Hinckley testing the stability of an early experimental fiberglass dinghy.
The offer of eight pre-sold boats was irresistible. The Sou'wester project was put on hold and all energy went into producing what became the now famous Bermuda 40. As a result, the B-40 was the first fiberglass Hinckley sailboat to be launched. It hit the water in the fall of 1959 for a flotation check, then was hauled and finished over the winter and delivered the next summer, just in time for the Bermuda Race, where it did well, even with an inexperienced crew. 
In 1961, the Hinckley crew began working on a fiberglass Sou'wester 30, using the hull of a newly built wooden SW-30 as a plug. Henry, who wanted a fiberglass boat, sold his wooden Jaan, and signed-up for the fourth fiberglass hull of what turned into a series of 27 Sou'wester 30s (including nine built from wood). Jaan No. 2 was launched in 1962.
"I learned to sail on that boat," said Hank Hinckley.
Henry's SW-30 is the only one of all the Jaans that retains its original name. It is currently listed for sale by the Hinckley Company's brokerage division.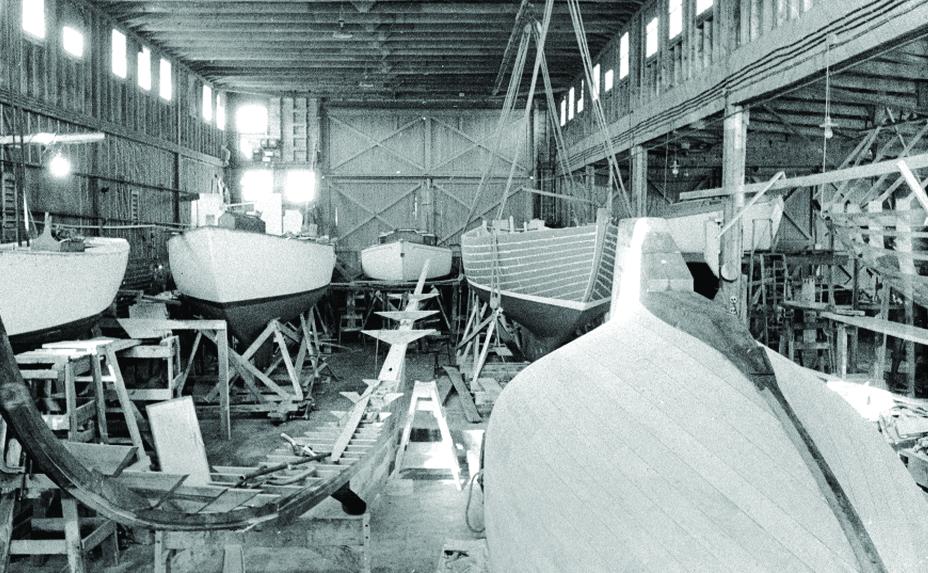 This 1959 image shows work under way on wooden boats in the same workshop as the one above. The upside down hull is likely the one used as the plug for the SW 30 fiberglass molds. About that time, some investors from the original Oldak group approached Henry asking for changes to a 33-foot Sparkman & Stephens sailboat that Hinckley had built in the late 1940s. The 33 was stretched two feet and the sheer raised to provide more headroom below, resulting in the Pilot 35, which some consider to be the prettiest Hinckley ever built. A bit more "racy" than the B-40s, the Pilots sold well, with Hinckley eventually launching 125 of them. 
At that time demand for fiberglass Hinckleys was picking up and Henry was made an offer he couldn't refuse for his current Jaan, which he sold in the fall of 1964, after making sure he could get one of the Pilots the following spring. Since he still owned a Jaan when he ordered the Pilot, he named the new one Jaan II. That was a Pilot 35, Hull No. 48. 
By then the Jaan charm was kicking in. Henry sold his new Pilot to a happy owner in less than a year and ordered one of the now popular B-40s for himself. Jaan No. 4 was B-40 Hull No. 46. This Jaan also sold quickly, and Henry ordered another new B-40 for the next year. 
Jaan No. 5, a B-40 built in 1968, stayed with the family for three summers. Hank Hinckley remembers crewing on that Jaan in the 1969 SORC Race when he was 20. Bermuda 40s have a long shallow keel with a centerboard that allows the boat to explore shallow water, but is not so great for racing. Soon after the start of the race the go-fast boats had pulled ahead. However, the navigator on Jaan noticed that they were all headed for a wrong buoy, which was quite a bit farther up the course. Jaan made the turn at the correct buoy and came in ahead, much to the consternation of the other skippers, including Ted Turner, according to Hank.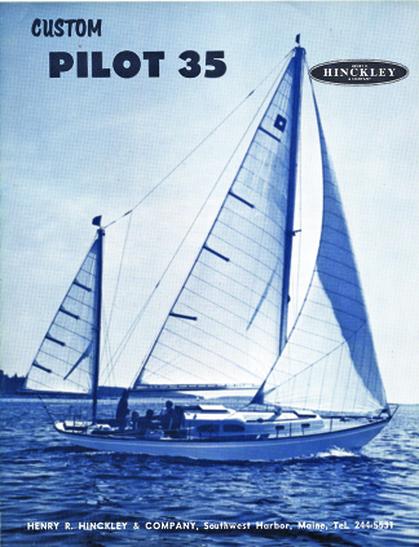 Hinckley's Pilot 35, introduced in 1963, was an instant hit. Jann No. 3 was a Pilot.
When Henry Hinckley began spending winters in Florida, he had one of the company's 26-foot Roustabout launches made for him, which he used to explore the rivers and canals of South Florida. The launches were a fiberglass version of the company's wartime mine trawls. Hinckley sold the roustabout, which was named Jaanette, in 1974. 
During the 1970s, the Hinckley Company decided to build a 38-foot sailboat designed for offshore racing. A demonstration model, named Jaan Too, was built in 1970 and sold the next year. Another 38 demo, also named Jaan Too, was built and sold just as quickly. However, when the official Offshore Racing rules were revised, the Hinckley 38 became obsolete. Neither Bob nor Hank Hinckley remember sailing on either of the Jaan Toos. The boats likely were off racing somewhere. They were Jaans No. 7 and 9.
Early in 1970 when sales were slow, Henry ordered another B-40 to avoid layoffs at the company. Jaan No. 8, this boat was sold even before it was launched. Around this time Hinckley Company began building even larger boats. Henry designed a line of 49-foot sailboats, called the H-49, and started construction of another Jaan. Launched in the fall of 1971, it sold the following year. So Henry claimed the next available H-49. That was Jaan No. 11, which he kept for four years. The family sailed that Jaan to Nova Scotia in 1973.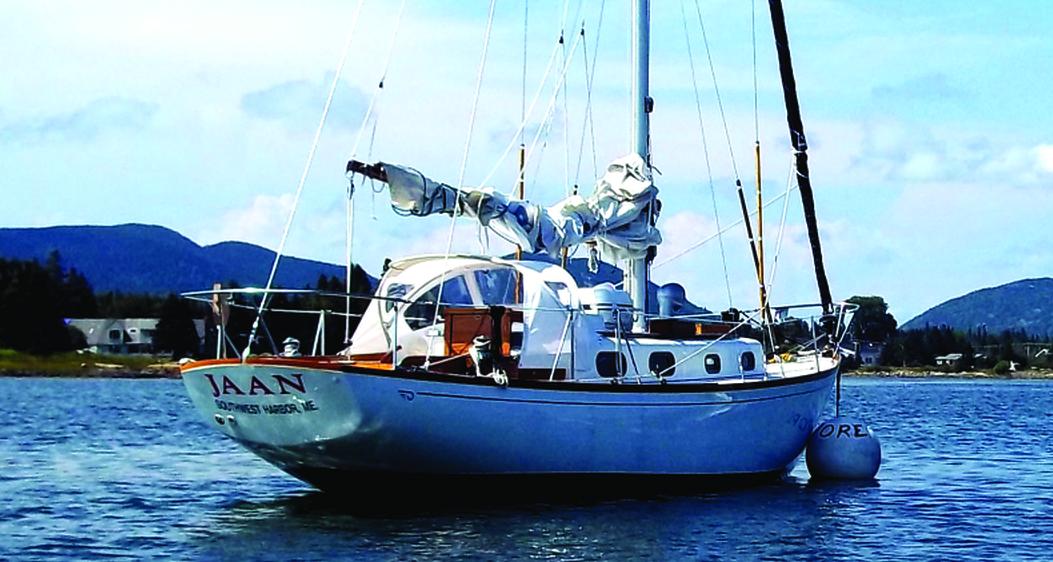 Jaan No. 2, a SW-30 shown in Bass Harbor, Maine, is the only one of the Jaans still sailing today under its original name. Photo by Alan Sprague
Bob Hinckley worked as a master carpenter on many of the boats built during the company's transition from wood to fiberglass. Hank, who was just a child then, got his chance to be the master carpenter when he came home from military service in 1977 and worked on a B-40. That boat, Jaan No. 14, sold right away. Jaan Nos. 12 and 13, also built in 1977, were both "sold-before-they-splashed" boats. The next three Jaans, also B-40s, each sold the year they were built, the last in 1979. They were sailed by Henry and the family during the summer and sold in the fall. 
Hinckley Company records list another Jaan as a 48-footer built in 1967 and sold in 1978. Most likely it was named Jaan on paper to order materials only. Neither Bob nor Hank remember that boat and the original owner on the delivery papers is not Henry, company records show.
Henry sold the Hinckley Company in 1979 and bought a used B-40. That was the last Jaan, No. 19. Henry  died in 1980. Except for Jaan No. 1, all the Jaans remain in active service, proudly carrying on the Hinckley tradition of excellence.
Alan Sprague is a boat carpenter living on Mt. Desert Island. He is co-emcee of the World Championship Boatyard Dog Trials at the MBH&H Show, and co-host of "Boattalk" on WERU-FM Blue Hill.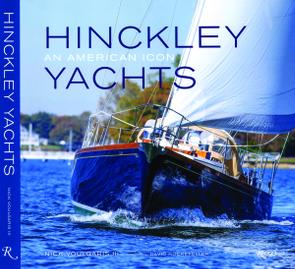 You can read more of the Hinckley story in a new coffee table book: Hinckley Yachts, an American Icon, by Nick Voulgaris III, with an introduction by David Rockefeller; Rizzoli, New York; 2014.
Share this article:
2023 Maine Boat & Home Show

Join Us for the Maine Boat & Home Show!
Art, Artisans, Food, Fun & Boats, Boats, Boats
August 11 - 13, 2023 | On the waterfront, Rockland, Maine
Click here to pre-order your tickets.
Show is produced by Maine Boats, Homes & Harbors magazine.