Rays of Hope
For 109 years, these vessels have brought help to remote islands
By Laurie Schreiber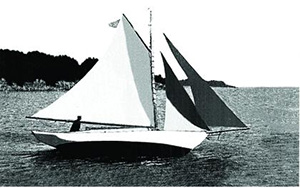 Friendship sloop,
Hope
, the mission's first vessel, 1905-1906.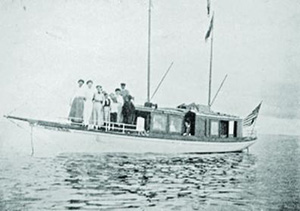 Motoryacht,
Morning Star
, 1906-1912.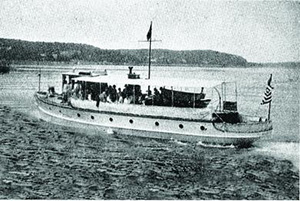 Sunbeam I
, 1912-1926, designed by John Bird and built at Camden Shipyard.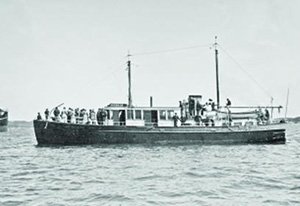 Sunbeam II
, 1926-1939, designed by Albert Condon and built at the Jonah P. Morse Shipyard in Damariscotta.
One early foggy morning a couple of years ago, the Maine Sea Coast Mission's flagship Sunbeam V was in Boothbay Harbor when a lobsterboat motored alongside the big, dark-green, steel-hulled powerboat. The lobstermen asked for coffee and breakfast, which the steward happily provided. Onboard the 75-foot-long Sunbeam V, the mission's president, Scott Planting, who was fairly new at the time, was bemused. Who are those people, he asked the captain, Mike Johnson. Johnson didn't know, but added, "I bet their fathers and grandfathers and great-grandfathers had a connection with Sunbeam. So they said, 'Oh, it's Sunbeam. Let's pull over and get some food,' because they always have."
This nondenominational, seaborne program has been ministering to people in need along the coast for more than a century. Today, at least once or twice a month, when folks on Maine's least accessible islands hear Sunbeam V's whistle, they know to expect aid and fellowship-just as their forebears had for 109 years. "It's really about human relationships in the context of spiritual life, serving the needs of people as they come up," said the pastor of this "island parish," Rob Benson. "There's a strong sense of continuity in being deeply involved with people in these communities. We pretty much know everyone on the islands, especially people living there in the winter." A graduate of the Yale Divinity School, Benson is an ordained minister in the United Church of Christ. But he does not preach any one creed.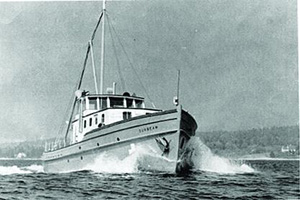 Sunbeam III
, 1939-1964, designed by Tams, Inc. and built by the Harry G. Marr Shipyard in Damariscotta (previously Morse).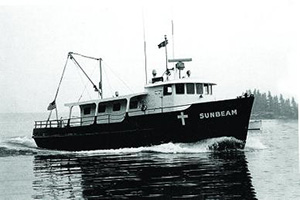 Sunbeam IV
, 1964-1995, designed by Luther Blount and built by the Blount Marine Corp. of Warren, R.I.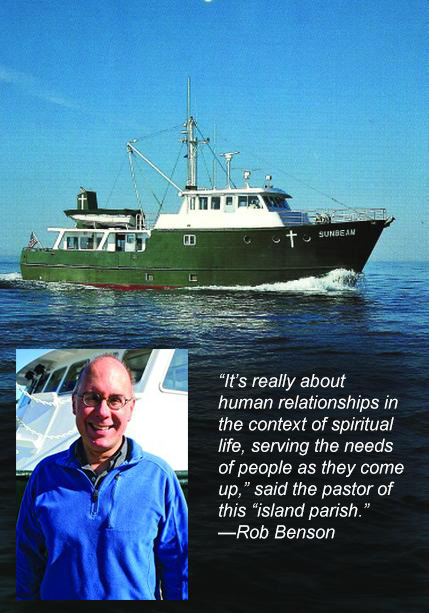 Sunbeam V
, launched in 1995, designed by John. W. Gilbert and built by Washburn & Doughty in East Boothbay.
"We talk about nurturing the spirit of the community, which has the sense of caring and spiritual connectedness, but holding it lightly enough so people feel it's accessible and relevant, he said. "We also talk about a ministry of hospitality. The context is about connection and love and grace and caring for everyone."
In addition to Johnson and Benson, the ship's crew includes engineer Storey King, steward Jillian, and Sharon Daley, R.N., director of the mission's Island Health Services Program. Practicing in the ship's specially outfitted medical suite, Daley administers a telemedicine program, specialty clinics, screenings, and inoculations for Frenchboro, Matinicus, Swan's Island, and Isle au Haut. Recently she was preparing to host a public health specialist from Harvard University to discuss fishing safety, and a team of audiologists to perform free screenings.
Benson provides religious services and pastoral care, primarily for Frenchboro, Isle au Haut, Matinicus, and Monhegan, and other islands by invitation. He also facilitates other mission programs, including elder care, youth outreach, and educational and cultural endeavors. During any given week, he might make house visits, arrange for Sunday services, schedule workshops with artists and musicians, host suppers or breakfasts aboard the boat (the good food on Sunbeam is legendary) or in a community hall, shepherd school groups for overnight field trips, or link mainland groups to service projects on the islands. Mostly, though, he does what pastors everywhere do: provide an impartial presence, listen to people's problems, and help whenever possible.
Based in Bar Harbor, the Sea Coast Mission was started by the sons of Scottish immigrants. Alexander and Angus MacDonald were born on Prince Edward Island and spent much of their childhood in Bath, Maine. Both became Congregational ministers and eventually ended up with parishes on Mount Desert Island, Alexander in Seal Harbor and Angus in Bar Harbor.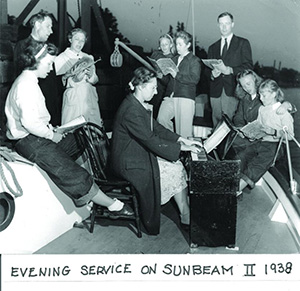 An evening service on the
Sunbeam II
in 1938.
Early papers at the society's headquarters, a former brick mansion overlooking the water, describe Alexander as the society's primary mover and shaker-a well-educated person, devoted to the well-being of others, and not afraid to get his hands dirty to accomplish that goal.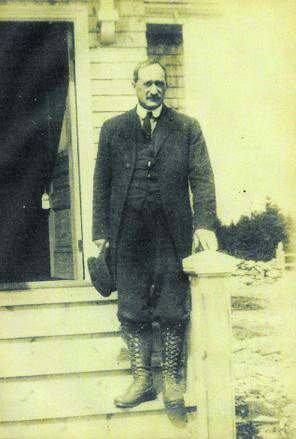 Alexander MacDonald, founder of the Maine Sea Coast Mission.
During his college years, he taught in small coastal and island schools where he witnessed the struggles of remote communities. While summer tourists reveled in the beauty of the Maine coast, MacDonald saw remote communities that were isolated by lack of transportation and communication, dependent on fishing and a little farming on rocky land-and far from medical help. The story goes that one day in 1905 the MacDonald brothers were standing atop a mountain, gazing at the islands beyond. "What a parish all of this would make!" Alexander exclaimed. They knew the islands, and they knew that life on the islands was tough, said Planting. "For the lighthouse keepers' families, there was very little education, no health care," he said. "That was true on the islands, too. The dream was to provide services."
The brothers contacted coastal pastors and summer residents, asking for support. The response was "most hearty, for all recognized the great need of such work," according to an early mission bulletin. The MacDonalds bought a Friendship sloop, named Hope, and began sailing to nearby islands. A year later, a Bar Harbor summer resident donated his motoryacht, Morning Star, to the cause. In this "staunch little launch," Alexander MacDonald cruised the coast during the summer, organizing Sunday schools, caring for the sick, helping secure better public schools, founding a circulating library, and distributing literature. By 1908, the mission was a permanent fixture in coastal life.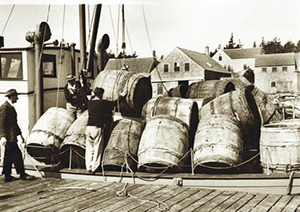 Loading barrels of salt fish on the
Sunbeam III
, which often brought basic supplies to remote islands, as well as fellowship.
"We have storms, fogs, adverse winds, and strong tides to contend with, but our warm reception makes us forget such difficulties," he wrote. "I am ever grateful to the many friends who make this mission possible. My aim is to build so that others can continue to build on the foundation now being laid, so that the people all along the coast may be uplifted socially, morally and spiritually." While cruising along the coast, adding lighthouses and Coast Guard stations to his itinerary, he found children with no schooling, families with scant food supplies, sick people without access to medical assistance, and communities without organized fellowship.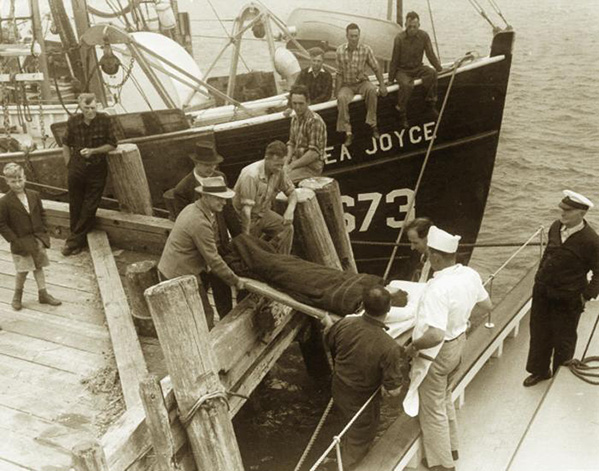 Since the early days, the Sea Coast Mission has provided crucial medical assistance to Maine's most remote islands. Here a patient is carried onto the Sunbeam II (the vessel on the right side of the image) in 1933.
MacDonald knocked on the doors of state agencies and charitable organizations to get aid-textbooks and teachers, medical equipment, money, and volunteers. In 1912, another Bar Harbor summer resident donated $7,000 to build the first purpose-built mission ship, a 57-footer. The daughter of the lightkeeper on a rocky mass called Mistake Island picked the name for the new boat. Imagine the Morning Star twinkling before dawn, then comes sunrise and a Sunbeam, she may have mused.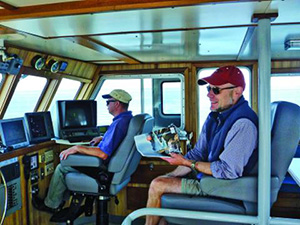 Sunbeam V
Capt. Mike Johnson, right, and the engineer Storey King, left, take turns steering the vessel in its spacious wheelhouse. Photo by Polly Saltonstall
Equipped with berths for emergency runs to mainland hospitals, the vessel, while built for summer voyages, was stiffened for part-time winter use, allowing MacDonald to expand his itinerary and time on the water, reaching light stations and as many as 300 islands that then were occupied year-round. He organized a nonsectarian "Brotherhood of the Coast" and helped build small schools, post offices, and chapels. "Mac," as he was called in written recollections, performed marriages, funerals, and Sunday services; brought the latest news to lonely householders; encouraged them to plant gardens to improve their diets; often brought flour, vegetables, and meat; and transported physicians, nurses, and dentists to the islands and the seriously ill to mainland hospitals.
During a severe flu epidemic, he arrived at one outer island laden with food, castor oil, and the old-time J.C. Browne's medical mixture; and with the help of others, cooked for and helped nurse the community back to health. The daughter of the lightkeeper on a rocky mass called Mistake Island picked the name for the new boat. Imagine the Morning Star twinkling before dawn, then comes sunrise and a Sunbeam.
Soon, he began to plan Christmases for island children, loading Sunbeam with gifts-a tradition that continues today, although now it is mostly land-based. MacDonald died in 1922 aboard Sunbeam while it was at port. He had just loaded up with Christmas presents for nearly 3,000 children and adults.
Angus MacDonald stepped in as supervisor and the society established its first dedicated headquarters in Bar Harbor. The mission continued to meet the needs of islanders through an expanding array of services, helping, for example, to bring telephone services to the far-flung islands of Matinicus and Criehaven. Sunbeam II was launched in 1926 and replaced in 1939 by Sunbeam III, the society's first fully year-round boat, fitted for ice-breaking and equipped with accommodations for overnight stays, emergency transport, and dental clinics.
Health Care From Afar
For remote communities such as Maine's islands, telemedicine has made medical care far more accessible than it once was.
Sunbeam V
's medical suite is outfitted with a videoconference unit that allows the ship's long-time nurse, Sharon Daley, and her patients to link to primary care providers and counselors on the mainland. "It takes a bit of getting used to, but then they're comfortable with it," Daley says of her patients. "Say you have a sore throat, cough, and earache. I do what an office nurse does-take your temperature and vital signs, list your medications, and I fax it to the provider." A handheld medical camera allows her to take digital images of problem areas-that sore throat, for example-which are immediately available to the provider.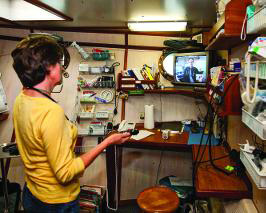 Nurse Sharon Daley consulting with a physician in the telemedicine unit. Photo by Greg Spring/courtesy Maine Sea Coast Mission
"One of the reasons we decided to do this was because it's so expensive and time-consuming to go off the islands," she said. "People now have better access to medical care." -LS
The steel Sunbeam IV, launched in 1964, gave way to the present Sunbeam V, when it was launched in 1995. The Sea Coast Mission has expanded its programs beyond the islands to health clinics and education programs downeast. Still, the water-borne outreach remains central to the organization. Today, far fewer people live year-round on Maine's islands. Thanks to technology such as telephones, conditions are less harsh than they once were.
Still, it would be hard to imagine island life without a visit from this venerable member of the family. "I don't think we're indispensible," said Benson. "But I think we make life a little easier."
Laurie Schreiber has written for newspapers and magazines on the coast of Maine for more than 20 years. Portrait of Rob Benson by Laurie Schreiber. Historic images courtesy Maine Sea Coast Mission. Video: The Maine Sea Coast Mission's Sunbeams are special boats. Watch the 1939 winter launch of the Sunbeam III in Damariscotta, Maine, when a Coast Guard icebreaker had to clear the way. Video courtesy Northeast Historic Film and Maine Sea Coast Mission
Share this article:
Digital Edition Available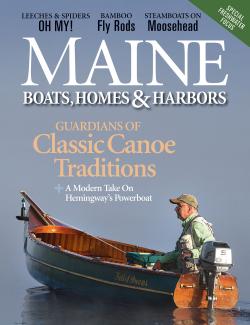 Can't get to the store to buy your magazine? We deliver the stories of Maine's coast right to your inbox. Sign up here for a digital edition.