Letters to the Editor - Issue 131
Issue 131
Doughdishes and the chauffeur
Bill Mayher's excellent article on the Herreshoff 12½ in the June/July 2014 issue of
MBH&H
brought back many fond memories. Growing up, I spent summers at Cataumet on Cape Cod, which in those days was a proverbial hotbed of Doughdishes, as they were called then. In fact, my great grandparents had three at one time and all of my cousins and I had inspiration not only from Bill and Goody Harding, but also from Dick Carter, all of whom were neighbors. The derivation of the term "Doughdish" has always intrigued me. Family lore has it that my great grandmother's chauffeur, who was Italian, referred to the boats using the Italian word for twelve (
dodici
), or a derivation thereof. Perhaps one of your readers will have a different explanation. In any event, after having spent 80-plus years in and around boats, I can honestly say that my greatest thrill has been, like Bill, being able when I was 10, to singlehand a Doughdish into the infamous afternoon Buzzard's Bay Chop.
Ned Gruener
Camden, ME
Herreshoff 12½ = Perfection
What a wonderful surprise awaited me in church this morning when our friend Sally, fresh back from her family cottage in Blue Hill, Maine, dropped the July issue into our pew. She knows I like sailboats, and whispered that there was an article by Bill Mayher about a cute little sailboat I might like. She was right. I learned to sail in a Marconi-rigged Herreshoff 12½ on Long Island, New York's Great South Bay. It turned out to be the same boat Sidney DeWolf Herreshoff rescued from the scrap heap after the Hurricane of 1938, and rebuilt for his sons Nathanael and Halsey to learn to sail in. That boat survives today on display at the Herreshoff Marine Museum at the company's original site in Bristol, Rhode Island, where we donated her in 1981. But unlike Bill, Dad just couldn't go more than half a summer without the feel of that beautifully shaped tiller beneath his hand. So we had a Doughdish built that same year. I have the honor of owning, maintaining, and sailing her today on Malletts Bay in Vermont. Everything Bill states in his article about her attributes is true. While folks have tinkered with that original 100-year-old design, none have surpassed it. Some may draw less water, but they're not as good to windward. Some may allow for beaching, but that forces the cockpit floor up by a few inches, creating a less comfortable position for the crew. The original ergonomics are masterful. There's just enough weather-helm so that the steering arm is in a comfortable position. The leeward seats are at just the right spot for propping up the skipper and crew while beating to windward. The varnished coamings both keep water out and the crew in, while allowing just enough spray to remind you that you're still sailing a fun boat! Whether you choose a fiberglass Doughdish, or one of Artisan Boatworks' spectacular wood reproductions, you may reach the same conclusion that my Dad did some 30 plus years ago when he said: "This is my terminal yacht!"
Jonathan E. Brooks
Colchester, VT
Shining a light on segregation
Thanks for the great article on Rock Rest in
MBH&H
(April/May 2014). I drive by Rock Rest frequently and all I had ever heard about it was the underground railway story, which didn't make any sense to me. I think one of the great under-told stories in American history is the story of Jim Crow, segregation, and the African-American diaspora from the South to the North. Imagine what a safe harbor Rock Rest must have been to its guests. Thanks again for shining a light on this corner of it.
Spencer Smith
Kittery, ME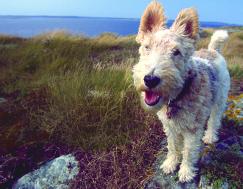 Photo by Michelle Stapleton
Farewell, Abbie
Abigail Burgess Gasperini, 82 in dog years, was laid to rest quietly at home last winter. This beloved wire-haired fox terrier of extraordinary character
chose
Pete Gasperini to be her pack leader, and accepted Carla Harris as a pack member. Abbie was the poster dog for Maine Boats, Homes & Harbors Show's first World Championship Boatyard Dog Trials in 2003. She was featured on magazine-produced T-shirts, brochures, ads, posters, and a banner over Route 1 in downtown Rockland. She also was the mascot and figurehead of the
My T
dive workboat, riding the bow with one front paw on the railing, the other pawing the air over the bow wash. Observers, especially those on tall ships, rushed to take her picture, naming her "The most photographed dog on the coast of Maine." She loved boats of all kinds and readily obeyed when told to "Get in the boat!" She was also often sighted hanging out the passenger window of pickups, looking for her canine buddies. Abbie loved all modes of conveyance, and seized every opportunity to commandeer a ride on motorcycles, gators, tractors, backhoes, mules, and cranes. Abbie was known for her numerous great adventures, one of the most recent being lost on Green's Island for three days and two nights, causing a stir among local canine aficionados. That was just one of many dramatic tales of survival. She had adoring eyes for her pack leader, counting on him to rescue her from her many escapades. It was rare to see one without the other. Vinalhaven loves dogs, is the best place to raise a dog, and is the best place to be a dog. On Vinalhaven, our dogs help define us. At her interment, a simple candle placed atop her carved granite monument miraculously burned non-stop for 48 hours, enduring snow showers, wind, and bitter cold. She will always be with us, and, like her namesake, her indomitable spirit and light will never go out.
Carla Harris
Vinalhaven, ME
Pumped about Pumpkinfest
Thank you for the wonderful article on Damariscotta (
MBH&H
June/July 2014). We love living here, and your article very clearly explained why. And thank you for highlighting the Pumpkinfest (Oct. 10-13, 2014), as that is a labor of love for all the hundreds of volunteers who make it happen each October.
Kathy Anderson
Damariscotta, ME
Lobsterman says yes to wind power
Dave Yetman (Letters to the Editor,
MBH&H
April/May 2014) and
The Economist
are correct that in the United Kingdom wind turbine construction costs make wind power expensive. The University of Maine, however, is attempting to solve the high construction costs with floating turbines that at present appear to be working as expected. The lower costs would allow wind power to be a viable alternative to carbon-based electricity production. The new turbines would be miles off the coast, not really affecting coastal cruisers. As a lobsterman in the Boothbay region, I have heard no grumbling by the local fisherman. Even our super conservative governor has changed his mind on wind power and is now supporting the University of Maine project. Most climate change scientists are predicting a three-foot rise in the oceans by 2100. Yes, use natural gas as a transition fuel, but we need to get off carbon energy fast.
Mike McConnell
Boothbay, ME
For the Record
The article in Issue 130 (June/July 2014) about the artist William Irvine contained incorrect information. He is represented by Courthouse Gallery in Ellsworth, Greenhut Galleries in Portland, Gleason Fine Art in Boothbay Harbor, and the George Marshall Store Gallery in York.