View from the Porch - Issue 130
Issue 130
By Peter Bass
Coffee brandy wars, ships of cardboard, the Hinckley touch
Now that you have purchased a new Maine-built boat at the recent Maine Boatbuilders Show in Portland, it is high time to plan the summer's activities. Remember that on the first of June all of summer is still in the bank, and any withdrawals you make before the Fourth of July do not affect the opening balance. I assume that you spent the month of April planning your summer cruises and inputting all the waypoints into your new chart plotter. Don't forget to take paper charts along, as well. Remember to keep those fenders aboard and docklines stowed. Just because you are doing your part to pull the boat business out of the Great Recession doesn't mean that you'll get a free pass steaming by the porch. We turn a blind eye to high crimes and misdemeanors, but not to dangling fenders and Irish pennants. There was a lot of news to follow this spring, including the lingering whale of a winter, also known as the "tease and freeze." In my winter quarters in the mid-Atlantic we had three opportunities to shovel snow. At least I still own a snow shovel.
Let's party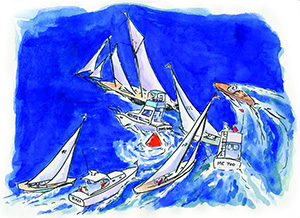 Illustration by Ted Walsh
For the last several years, an unusual regatta has been gathering steam in Penobscot Bay. What is most unusual to many racing sailors is that "gasoline athletes" are invited. The converse is also true: sailors are allowed to mingle freely among the powerboaters without disguises. What's a yachtsman to think? I refer, of course, to the Penobscot Bay Rendezvous, now in its fourth year. This year's proceeds will benefit LifeFlight of Maine. So mark your calendar for August 14 to 17 and get your entry in. Actually, if you make your dock and mooring reservations for August 8 to 17, you can segue directly into the PBR (great acronym) from the Maine Boats, Homes & Harbors Show, which takes place on the Rockland waterfront August 8 through 10. Start at
www.penobscotbayrendezvous.com
for all the race details. There are a variety of fees, depending on the events you wish to take part in; the only category I didn't see was one for people with no boats. I guess you have to draw the line somewhere.
Gentlemen, raise your brandies
Our long-time readers know that we have a peculiar fascination with Maine's favorite distilled spirit: Allen's Coffee Flavored Brandy. The popularity of this beverage in our state is astounding and to many, confounding, as well. That it is the perennial best seller in all bottle sizes in our state has not been lost on other bottlers of distilled spirits. At least one, the maker of Mr. Boston Coffee Brandy, has developed a marketing strategy to appeal to our provincial nature: make it in Maine. Thanks to Jessica Hall of the
Portland Press Herald
for penning the article and a porch regular for spotting it. The former White Rock Distillery in Lewiston, most recently owned by the makers of Jim Beam bourbon, has been purchased by Sazerac of New Orleans, maker of Mr. Boston, among other brands. The company has renamed the business Boston Brands of Maine and will produce the pretender to the coffee brandy throne in its spiritual (get it?) home, using coffee beans roasted in, you guessed it, Maine. If this isn't enough to get you to switch, the 1.75 liter bottle of Mr. Boston's concoction is $11.99 versus $19.99 for Allen's. Let the games begin. We will continue to take our coffee hot and in the morning, thank you very much.
Maine on top again
My editor sent along a link to a fun blog on the
Bangor Daily News
website called "#Maine", which follows news and views about Maine as published on the Internet. The particular entry she thought might interest me was written by Seth Koenig, who reported that Maine is a top state for UFO sightings on a per capita basis, exceeded (just barely) by Arizona and Vermont. This blog may become my new favorite source for statewide news; it is exactly what I can imagine myself writing were I an actual journalist. See: hashtagmaine.bangordailynews.com. There is a group know as MUFON (Mutual UFO Network), which is a clearing house of sorts for all news UFO. Be your own judge by going to mufon.com. If your spouse leaves you because you spend four hours a days on the site, I am not responsible. I assume their data is a result of reports to their organization, which perhaps might skew the data collection. At any rate, Maine is a leader again in this all-important benchmark of intellectual sophistication. Or as one anonymous commenter to Mr. Koenig's piece said, "I wonder if there is any correlation between the UFO sightings and the sales of Coffee Brandy?"
A visit with Ashley Bryan
There's finally a way to celebrate the many facets of author and artist, Ashley Bryan. On June 23, The Ashley Bryan Center launches its first exhibit at Acadia National Park's Islesford Historical Museum, a few paces from the Islesford ferry dock. Thanks to writer Donna Gold for tipping us off and providing this update: Best known for his more than 50 children's books and for his unique, rhythmic storytelling, Bryan exudes art. "The desire to create identifies us as being human," he likes to say. If that's the case, Bryan is superhuman. This summer's exhibit, "A Visit With Ashley Bryan," reflects his history-born in 1923 to descendants of slaves from Antigua, and raised in the Bronx in a home filled with color, birds, children, and encouragement. From small illustrations to life-sized photos, it show- cases his books, his art, and his work with children. There's also no stinting on the more troubled moments of this most joyous man's life-as when he was drafted into the segregated black regiments of World War II, and plunged into D-Day. He says drawing, using materials sequestered away in his gas mask and helmet, helped him survive. Bryan has since spent years traveling the world telling his stories, encouraging artists, supporting libraries, coming home to paint, write, turn sea glass into stained glass and puppets-all visible at the Islesford exhibit at no charge.
The Hinckley touch
For those who find themselves single in mid-life, and to whom the whole "find love on the Internet" path seems something like taking your clothes off in public, trying to find some help to make appropriate connections is a challenge. I was successful in that transition, but having gone through it I was interested to read that Jill Hinckley, granddaughter of Hinckley Yachts founder Henry, has decided to leverage her skills as a marine industry recruiter along with her broad network of connections, into a personalized match-making service called J. Hinckley Introductions. When I first heard about it, I thought it was a service to introduce people to the boat of their dreams, which made sense to me since my relationships with boats have had many of the earmarks of romance, followed by emotional breakup and search for another. Jill's business has nothing to do with boats, unless you put that on your profile. You can decide whether or not to throw her a line at
www.jhinckleyintroductions.com
. If you need a boat, I'm sure she can recommend a yacht broker, as well.
Men of iron, ships of cardboard
Portland's Compass Project, which has long sponsored a weekend boatbuilding event as a fundraiser for their mission to reach at-risk teens through boatbuilding, has added a new twist. This year's event has a new hull material: cardboard. It is a one-day event on July 19, and has a lower cost of entry than the two-day boatbuilding festival of yore.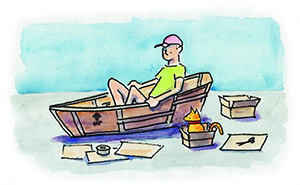 Illustration by Ted Walsh
The challenge is to build a boat in three hours, have lunch, don several lifejackets and navigate a short course, or some portion thereof. All materials and instruction will be provided. A paddle and row event for more seaworthy craft is also planned. See: compassproject.org.
The lobster-catching cat
Several times we have written about the use of a power catamaran as an appropriate and more fuel-efficient platform to catch lobsters. The first time was an April Fool's Day article that was an homage to George Plimpton and his April 1 spoof of baseball phenom Sid Finch in
Sports Illustrated
. More recently we reported on a serious effort by Penobscot East Resource Center and naval architect Doug Read of Maine Maritime Academy. That design recently finished tanks tests, but no word on when one might be built. Another entrant into the field turned up at the Maine Fisherman's Forum in February, according to an article in Working Waterfront. A Montreal firm showed a model that it claims will be available for initial trials in September on Lake Champlain. Other than the model, there is little information in the public domain-no website, no renderings, nada. The boat seems to be derived from a UK model called a Pro Cat and licensed to the Montreal firm, Magipati International. Who will be the first lobsterman to show up in a multihull? Stay tuned.
Over the Bar
Noted New Hampshire wooden boatbuilder and long-time instructor at the WoodenBoat School summer programs, Gordon "Swifty" Swift, died in February at 89. He began his career in boatbuilding working for Bud McIntosh in 1965 at the McIntosh yard in Dover, New Hampshire. In 1976 he established Swift Custom Boats in Newington, operating that for 30 years. An Internet search reveals several Joel White designs built by Swift that are simply stunning. Quite a life. Our other marine icon sailing on into the beyond is Hobie Alter, who died at 80 in March. One of the original inductees into the National Sailing Hall of Fame, he made his reputation early on as a surfboard manufacturer, whose use of foam and fiberglass anticipated those materials in today's composite boatbuilding. His need for something to play with when the offshore wind flattened the surf led to the Hobie Cat. The rest is history.
Go forth and enjoy summer
The summer is now upon us and with it comes your chance to become a marine icon yourself. So launch that boat and have at it. A penny saved may be a penny earned, but where's the fun in that? A penny spent on boating is just the beginning. Keep those fenders aboard and those docklines coiled.
The porch at last is full of friends The ice is cracked, the limes are cut The dock is in, the boat out front It all seems nearly perfect but, The peace is broken by the sound Of go-fast boats with straight through pipes And girls in thongs just holding on Then oh too quickly out of sight. Old guys in rockers settle in Calm racing hearts with sips of gin In freshly painted rockers steady Feet up, binoculars at ready.

Illustrations by Ted Walsh Contributing Editor Peter Bass was last seen boarding a double-hulled amphibious UFO, with a healthy supply of seafood, Allen's Coffee Flavored Brandy, and a book about dockline etiquette to share with the intergalactic community at large. To submit your comments... newsy tidbits, photos, illustrations, clippings, rants, and raves for possible use in this column, use the form below. Or mail to "View From the Porch," P.O. Box 566, Rockland, ME 04841 or fax to 207-593-0026. Items may be edited for length and clarity; materials become the property of Maine Boats, Homes & Harbors, Inc.
Share this article:
Digital Edition Available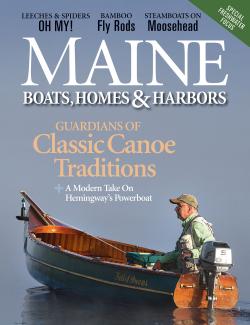 Can't get to the store to buy your magazine? We deliver the stories of Maine's coast right to your inbox. Sign up here for a digital edition.