Damariscotta
Damariscotta: Waiting to be discovered

Downtown Damariscotta's waterfront, viewed from the Newcastle shore. Photo by Mimi Bigelow Steadman
By Mimi Bigelow Steadman "I thought I knew Maine pretty well," I overheard a woman say to her companion as they strolled along Main Street in Damariscotta. "But I never realized there were all these great little spots here." I gathered the two had, on a whim, taken the Damariscotta exit off Route 1. Cars whiz past the town on the bypass, and yachts must make a 25-mile round-trip detour from the ocean to visit, which might explain why this great little hamlet is sometimes overlooked. The downtown's three-block National Historic District is flanked by handsome, 150-year-old buildings built of bricks fired from local marine clay. Inside, a bevy of shops draws customers from the neighboring Pemaquid and Boothbay peninsulas. Increasingly, they're being joined by visitors from farther away who have discovered the selection of fine furniture, pottery, art, jewelry, and other Maine-made goods; books; clothing; specialty foods; and home accessories. The very first Renys discount department store, opened in 1949, is still going strong here. There are also nearly a dozen good restaurants, cafés, and pubs. At several, you can slurp delicious oysters freshly harvested from the river. Abenaki Indians summering on these shores two millennia ago prized the oysters, too, and left behind huge, still-visible shell middens. By 1875, the shellfish had disappeared. Then in the 1970s, aquaculture programs on the river spawned new enterprises, making the Damariscotta a hotbed of oyster farming. You'll pass strings of oyster floats if you arrive by boat. The scenic cruise from the river's mouth demands careful navigation. There's the turbulent Fort Island narrows just above East Boothbay; Glidden Ledge, which squeezes you toward the western riverbank; and a sinuous channel into Damariscotta. "Don't try to anchor," advised harbormaster Paul Bryant, who also owns Riverside Boat Co. "The current is strong and changing." Bryant offers free moorings; two-hour tie-ups are permitted on the end of the floats at the town landing, while dinghies may be tied alongside. Standing at the town landing, I sometimes imagine clipper bows and towering spars and the cadence of caulking mallets pounding oakum into graceful wooden hulls. While the harbor today is filled with small working and pleasure craft, in the 1800s the scene would have included grand cargo vessels heading to sea from some 30 area shipyards.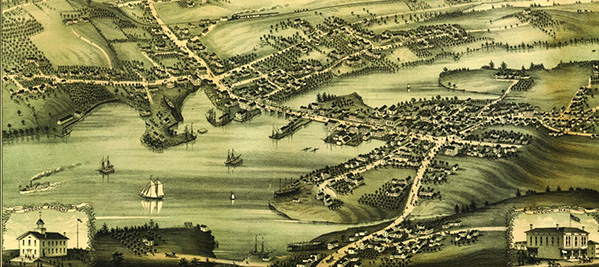 This bird's eye view of Newcastle and Damariscotta by A. Ruger was printed in 1878. Courtesy Library of Congress, Geography and Map Division
Local business owner Barnaby Porter wants to remind townspeople and visitors of that golden era of shipbuilding, when more than 400 barks, brigs, schooners, and full-rigged ships were launched along the riverbank. He has proposed building a boardwalk shaped like the port deck of the largest vessel built here, the three-masted clipper Ocean Herald. "It would be at least 275 feet long," said Porter. "It would celebrate the town's very impressive shipbuilding history and help people realize that these things were really big!" There were some great launching celebrations back in the day, and Damariscotta still knows how to throw a good party. Annual events include the Pirate Rendezvous in late June, a Blues Festival in early August, and the Pemaquid Oyster Festival in late September. The year's biggest is Pumpkinfest, when thousands of visitors descend on the town over Columbus Day Weekend. Highlights include a Main Street display of huge, imaginatively carved and ornamented pumpkins; a pumpkin catapult (think Monty Python's vegetable wars); and a mammoth pumpkin drop onto junk cars. It all culminates with a rollicking regatta. Where noble clipper ships once set sail, competitors race about in tubby, tippy, outboard- and paddle-powered pumpkinboats. Yes, pumpkinboats. I'm pretty sure those old shipbuilders are spinning in their graves. Mimi Bigelow Steadman lives on the Damariscotta River in Edgecomb. She has cruised Maine waters for decades.