The Maine I Love - Ann-e Blanchard
Photograph by Ann-e Blanchard
This series is designed to portray the natural beauty of Maine. In each issue of
Maine Boats, Homes & Harbors
magazine we feature a landscape or seascape photograph, then accompany that with a gallery of more work by the same photographer here on our web site.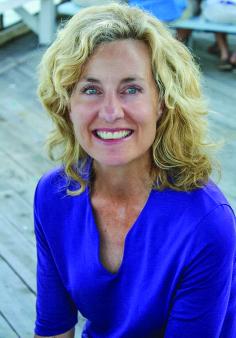 Photo by: Annette Newberry
This issue we feature the work of Ann-e Blanchard, a freelance photographer from Scarborough, Maine, who shoots photos for the Portland Yacht Club and Gulf of Maine Ocean Racing Association web site. She, her husband, Tony, and their son, Nico, cruise the coast in their J/32
Enchantress
. As a photographer, Blanchard seeks to capture the delight of people working and playing on the water, and dramatic scenes created by shifting weather elements. These photos show the crew of the
Andrew Mcallister
, a 98' long tug with a powerful 6,000 horsepower engine. The tug met up with an oil tanker just beyond Portland Headlight, followed the tanker back into the harbor and assisted with docking. The whole process took about an hour.