In the Garden
The useful and lovely plant known as mullein
By Lynette L. Walther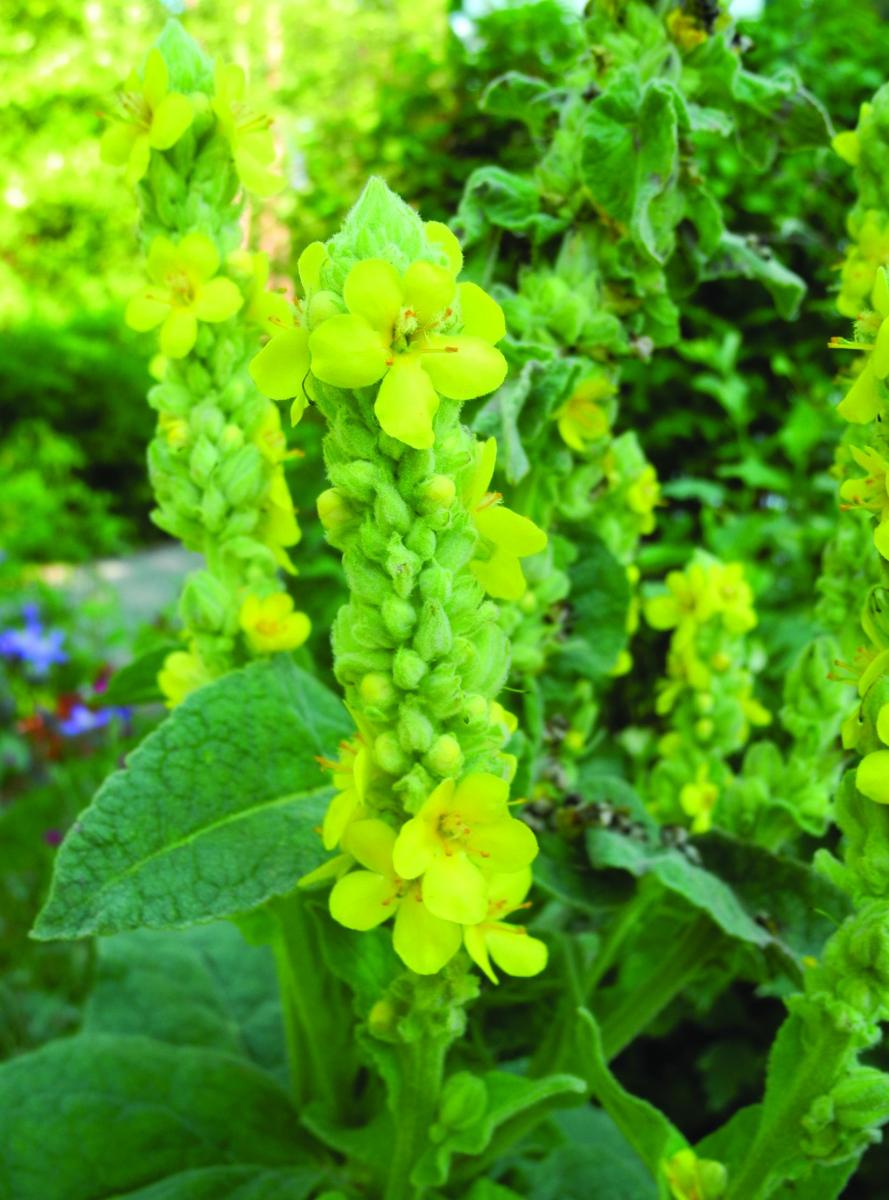 Mullein is a multi-purpose herb with many healing abilities derived from its flowers, leaves, and root. Useful and attractive, mullein is also a handsome addition in landscapes with its soaring six-foot-tall stalk of blooms. Photos by Lynette L. Walther
Mrs. Almira Todd valued mullein. I discovered that while reading The Country of the Pointed Firs by Sarah Orne Jewett. Jewett's unnamed narrator stayed in Mrs. Todd's home while in the fictional Maine coastal village of Dunnet Landing, which many readers think was based on the midcoast town of Tenants Harbor. Published in 1896, the book has since become a classic.
An irrepressible herbalist, Mrs. Todd, "Almiry" to her friends and relatives, prized a lot of herbs—those that she grew in her wild little garden or gathered from the surrounding woods and fields. It was the mullein, though, that occupied her mind when she, her mother, and the narrator set out in a horse-drawn buckboard for a family reunion. She fretted (that's how people worried about things back then) that in their haste to get on the road for the much-anticipated annual event, she might have forgotten to close her front door. It was a windy day, and the mullein leaves drying on newspapers upstairs might get covered with dust blowing through the open door. Come cold and flu season, Mrs. Todd would need those thick, soft leaves to dispense for respiratory issues.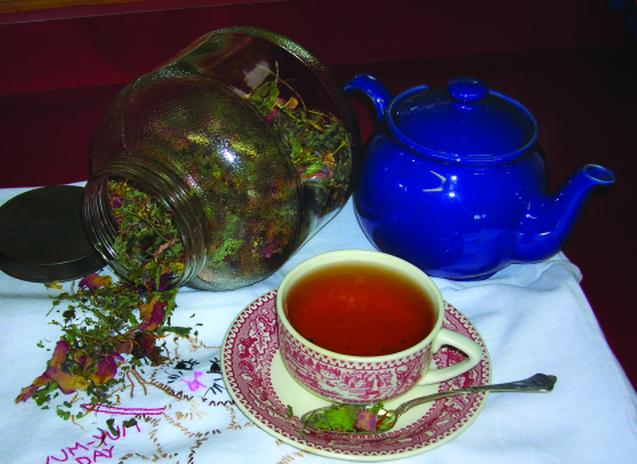 There's nothing like a cup of herbal tea to take the edge off a cold or rainy day and bring back the glory of summer.
It was a lucky coincidence for me that I picked up The Country of the Pointed Firs during the summer season, because I had been watching the progress of a robust mullein plant that had insinuated itself into my rose bed. The biennial was a welcome addition, even though I have no idea what brought that solitary plant here. The previous summer it had been a compact, attractive rosette of fuzzy leaves. 
Although I wasn't certain then, I suspected it might be a salvia. Was I ever wrong. The next spring it showed its true colors by sending up a signature spike tightly packed with small fuzzy green buds. Bingo: mullein.
My research told me what Mrs. Todd most surely knew, that I should have been collecting those fuzzy leaves the summer before. First-year mullein leaves are the most potent. That did not stop me from drying a few of the second-year leaves along with the sunny yellow blossoms for my summer herb tea mixture.
Mullein (Verbascum thapsus) can thrive across a wide range from Zones 3 to 9, and its presence indicates soil on the acidic side. Most people recognize it as the large plant seen growing in disturbed areas such as fields and ditches or alongside roads. Mullein is a multi-purpose herb with many healing abilities derived from its flowers, leaves, and root. Useful and attractive, mullein is also a handsome addition in landscapes with its soaring six-foot-tall stalk of blooms. The fuzzy green leaves can be up to two feet long, and the blooms are a magnet for bees. The long taproot, which makes mullein difficult to transplant, is used to treat urinary tract issues. The leaves are dried and used in teas (well-filtered after brewing to remove the tiny "hairs") to relieve congestion and help clear the lungs.
Come fall, my plant was left en situ to provide food for wild birds. If I am lucky a seed or two will take root to provide me with another round of this handsome and useful herb. 
A word of caution to anyone gathering wild herbs and plants: know what you are collecting. When in doubt, use a plant guide for positive identification. Misidentification can be dangerous, even deadly. Also, always be responsible and respectful when collecting wild plants.
What a gift from Mother Nature this plant has been. Unlike Mrs. Todd, I had no previous experience with mullein and my adventure was pure experimentation. It was a happy coincidence to become acquainted with both Mrs. Todd and mullein in the same summer.
---
Contributing Editor Lynette L. Walther is the recipient of the Garden Writers Association's Silver Award of Achievement. She gardens in Camden, Maine. Her blog can be found at: gardeningonthego.wordpress.com.
Share this article:
2023 Maine Boat & Home Show

Join Us for the Maine Boat & Home Show!
Art, Artisans, Food, Fun & Boats, Boats, Boats
August 11 - 13, 2023 | On the waterfront, Rockland, Maine
Click here to pre-order your tickets.
Show is produced by Maine Boats, Homes & Harbors magazine.