A Letter From Away
An amateur sets out to build his own runabout and then keeps on going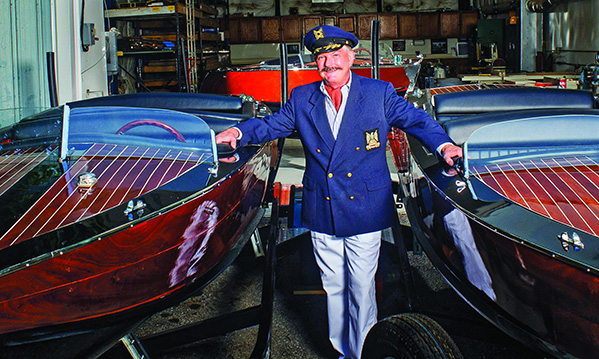 Looking for something to do after retiring from his job as a physician, Dr. Dale R. Hamilton took up boatbuilding. He is shown here in his shop with some of his works of art. Photo courtesy of Dr. Dale R. Hamilton
By Dr. Dale R. Hamilton
Ragtime was a 1930s double-cockpit runabout-owning her the fulfillment of a lifetime dream. Just looking at her made my heart throb. She was my magic carpet away from a world of plastic cookie-cutter boats and into the select company of vintage mahogany thoroughbreds. Even her name, Ragtime, evoked the Roaring Twenties: flappers, rum-runners, and a style that transformed every man into a brooding rebel like those portrayed in the movies by the late John Garfield.
The magic spell didn't last, though. Ragtime's primitive hull shape made for a hard ride. The boat literally slammed from wave to wave in anything other than a dead calm. Such forces stressed the plank bottom, creating leaks that I could never completely stop. Plus, the huge cast-iron engine devoured a full tank of fuel in just a weekend. So Ragtime and I reluctantly parted company.
Years passed, and I still longed for the perfect runabout. Then I read about a design by Ray Sargent for a mahogany runabout powered by a marinized Subaru car engine. Sargent's boat looked like a single-cockpit version of Ragtime, yet featured a modern underbody with a modest deep-V deadrise and a spray rail reaching upward to the stem. I also liked the idea of borrowing from robust, reliable Subaru cars, since they often achieve more than 200,000 road miles with legendary fuel economy.
An energetic 65-year-old, I was looking for an elegant way to pass my retirement years. Also, there were grandchildren to indoctrinate into the culture of tools and fixing things. Even as I doubted my own skills, I wanted to show these youngsters how to accomplish something with their own hands instead of by punching little buttons. I already had a shop (although my wife calls it a garage). I had been reading about epoxy and its magical ability to make super-strong bonds and to waterproof almost anything.
I ordered the plans. Boat plans such as these, which were offered by WoodenBoat magazine, are drawn for amateurs like me. Add to that the availability of books, CDs, and Internet sites with instruction and counseling in boatbuilding. The Home Depot less than two miles from my shop offered nearly all the materials. Beyond that, United Parcel Service could bring the world to my doorstep. Moreover, there is a dazzling array of cheap power tools, both electric and pneumatic, available to the do-it-yourself builder.
Of course I considered buying another old boat and restoring it. There are lots of old wrecks available; and if they are not free, they are very cheap. A boat so acquired would be an enormous head start and it would show me how a boat goes together. The value of the finished project would be very different, however. In the first case I'd end up with a restored 1953 Zoom Craft, worth maybe $2,500-if I could sell it. In the second case, I'd have a brand new boat. My resistance and natural caution melted away. I would build my own boat.
The plans called for cutting only three plywood bulkheads. I did this the first weekend. Next, two longitudinal engine stringers had to be glued up to run down the center of the hull. This formed the skeleton of the hull. The next task was to stretch plywood over the skeleton and glue it with epoxy. I needed more hands for this operation. In a flash of inspiration, I thought of the grandkids, ages six and 10. Despite delivering what seemed to be clear instructions, it took only a moment after spreading the epoxy to realize this had been the worst possible idea. In a heartbeat, my beautiful meranti plywood was covered with little epoxy handprints, and I had kids that were epoxy from head to toe. This was the first troublesome task, but by sticking with it over the course of a few days, I managed to achieve a reasonably smooth skin.
Next, sheets of fiberglass were draped over the hull and filled with epoxy. The job was completed by bonding 3/8-inch mahogany planks over the sides. This resulted in a strong but still lightweight structure with little interior framework. I stood back from my work nearly bursting with pride. Once the hull was turned over, it was fitted with strip-laid mahogany decks, seats, and an instrument panel. The Subaru engine was perfect for the low center of gravity and minimum profile. The engine had to be "marinized," which involved changes in the electrical, fuel, and exhaust systems. Here again, the plans were thorough.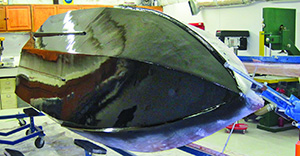 Hamilton designed a steel rotisserie that encloses the boat in a pivoting steel frame, allowing him to turn the hull 360 degrees during the construction process. Photo courtesy of Dr. Dale R. Hamilton
Launch day was as terrifying as it was fulfilling. I had invited a professional marine engineer along, so he could handle the boat while I worried. The boat slipped off the trailer, and seemed to be at home in her natural environment. I had anticipated a gentle first run, perhaps to 2,500 RPM. This was not to be. We had no more than eased ourselves into the cockpit when my driver rammed the throttle full forward and we rocketed across the lake like a comet. I was mortified until he slowed somewhat and began to carve gentle S turns in the water. Incredibly, the boat was stable and well-mannered during these maneuvers.
The boat was fast and nimble. It achieved planing speed easily and the generous spray rail resulted in a comfortable dry ride even in a modest chop. Its fuel economy was at least as good as its automotive counterparts. But there were drawbacks. Sargent must have been a compact fellow because he allowed very little legroom. I felt I could do better. I had the design redrawn, lengthening it by 11 inches in the cockpit under the dash. I selected Mercury's new four-cylinder Vazar stern-drive engine because it had nearly as low a profile as the Subaru, as well as a very desirable trim feature. The aft placement of the engine allowed me to add a generous second cockpit.
Building Sargent's boat called for making fillets while upside down. Scrambling under a hull is always tough on an old guy. I solved that problem by building a steel rotisserie of the type that old-car restorers use. This device encloses the vehicle, or boat, in a steel frame that pivots on each end allowing 360-degree rotation of the hull. Conveniently, the bottom side of the jig was finished as a 20-foot long table so I could glue up my plywood and longitudinal members. Best of all, I could work standing up. I finished the hull just as before, enjoying the great convenience of the rotisserie.
Locating and cutting the hole in the transom for the stern drive unit was critical, but easily managed with Mercury's installation manual. The hull was completed with the installation of a mahogany deck and black covering boards and king plank-just like Ragtime. Performance of this boat was even better than the first one. The additional 11 inches of waterline and increase in horsepower really improved its performance. The first time another couple occupied the aft cockpit reinforced the wisdom of adding that extra room.
I am well into my "retirement" now, and just starting my fifth hull. Everything I have built has been sold, including one runabout that serves as a yacht tender in Maine waters. As a builder, I have experienced more personal growth during this time than any other single enterprise of my life. Consistently overcoming seemingly bewildering problems forges character. It has made me less likely to accept failure and dead ends. I have learned that anything can be fixed, although some fixes may be costly in terms of time and materials. Boatbuilding has ceased being my labor, and has become my art. The gleaming runabouts in my shop are like pictures at the exhibition.
Dr. Dale R. Hamilton served 23 years in Army Special Forces before retiring to his boatbuilding business in Murfreesboro, Tennessee.