Letters to the Editor - Issue 129
Issue 129
A deep-V lesson
I enjoy your magazine
Maine Boats, Homes & Harbors
, and consider myself fairly well read and traveled. I think however, that a minor improvement would be helpful to your readers in future issues. Specifically, the push to condense your articles is leaving out information that would be of great interest to readers. For example, the article in Issue #128 about the Lyman-Morse-built boat,
Peregrine
, referred to the deep-V hull with integral chines and lift strips. A sketch or picture of this would have significantly improved the article so the reader could fully understand this concept. The article about Freshwater Stone referred to large buildings and "wire cutting." I have never seen this done and feel the article would have been significantly enhanced, as well as educational for your reader, if this had been shown and/or explained.
Alden E. Waterhouse
Pace, Florida
Editor's note:
Mr. Waterhouse makes a good point about the boat lingo. We asked Contributing Editor Art Paine to draw a diagram and explain the concept. Art offers the following lesson: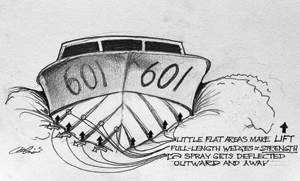 Illustration by Art Paine
Naval architect Ray Hunt pioneered the concept of the deep-V hull while designing boats for offshore racing, particularly in the Gulf Stream race from Miami to Nassau. These boats frequently went airborne then crunched down into a wave. Hunt designed a full-length, wedge-shaped bottom to dissipate the landing shock. The addition of small full-length wedges, called lifts, did two things: they deflected spray outward, and helped lift the boat up in the water, which enhanced planing. Integral chines are full-length wedges involving extra material and corrugation. They enhance the stiffness of the bottom.
MBH&H cover honored shipbuilders
As a longtime subscriber to
Maine Boats, Homes & Harbors
, I was struck by your choice of photo for the March 2014 issue. I recognized USS
Zumwalt
immediately. Many years ago, as a young Naval officer, I spent several months at Bath Iron Works as a member of the "nucleus crew" of a new destroyer being built there. Working with the folks at BIW was an experience I will never forget. I also had the honor of serving in Admiral Elmo Zumwalt's Navy. It is truly fitting and proper that you chose the
Zumwalt
for your cover, because it is a truly modern warship named after a truly modern Admiral. He was an extraordinarily decent man who inspired many of us to serve at a time when being in uniform was not respected as it is today. Thank you for using your cover, which has long been reserved for restored wooden boats and scenic pictures of Maine, for a picture of this amazing warship. It is another reminder to us all of the extraordinary craftsmanship and patriotism of Maine's shipbuilders.
Robert Brudno
Washington, D.C.
Thumbs down on wind power
In response to Peter Bass's solicitation for opinions on offshore wind power in Maine (Winds on the Water;
MBH&H
Issue 128), I refer you to an article from the January 4, 2014, edition of
The Economist
(my other favorite mag). It describes the current state of offshore electric generation in the United Kingdom and points out the staggeringly high costs. I think it is a cautionary tale for those who advocate wind power as a panacea for all that ails Maine's economy. In the end, it comes down to economics. Yes, the local project is keeping the boffins in Orono excited and employed for now, but the bottom line is that offshore wind power will never be a viable solution without massive subsidies, especially in light of the very inexpensive and relatively clean generation that our growing supply of natural gas can provide. From a boater's point of view, the miniscule reduction of carbon emissions that offshore generation may offer over gas generation is simply not worth the potential despoilation of our beautiful coastal waters.
Dave Yetman
Hodgdon Island, Boothbay, Maine
Memories of meals at sea
I really enjoyed your "Sea Cooks At Work" piece in the March issue. It reminded me of cooks I knew aboard the seiner
Saint Ann
out of Gloucester in the early 1950s. In Gloucester lingo we were a "gang"—15 first- and second-generation Sicilians, one Portuguese, and me. We ate a lot of pasta. The sauce was begun early in the morning with garlic sautéing in olive oil. The aroma filled the vessel. It went on for hours as tomato paste, tomato sauce, onions, peppers, and meat were added. The result was quite different from restaurant spaghetti. The garlic flavor dominated. We also ate steak, big salads, and fish stews. One of my favorite meals was Sunday night supper of split peas and elbow macaroni in a butter sauce. The skipper and his son slept in the deckhouse. The rest of us were crammed into the fo'c'sle, which was also the galley. It was equipped with a large diesel-fired iron stove, a sink, and a huge icebox. The cook prepared full meals for all of us in a space not much bigger than the stove itself. When we were all seated at the table the scene looked much like the picture in your story of the crew at the table aboard the
Gertrude L. Thebaud
. We ate on deck when we could. The cook's second job was to take the helm when the captain and crew were off in the seine boat. Often it took hours to make a set. That could mean a long time between meals. When we spent the night at the dock in Gloucester we always had freshly baked bread from the local bakery in the morning. The coffee was not very good because the crew never could wait for it to percolate. To keep on the good side of the cook I often washed the dishes. The food I was served aboard the Saint Ann certainly was not the best I ever had, but I don't remember any food I enjoyed more.
Dave Jackson
Rockport, Maine
Praise and a quibble
Good job on the last issue. The design seems snappier and I like the treatment of the boats: a dozen writeups rather than a laundry list of boatyards, some stuff on homes and harbors, and there were two boats for mere mortals. Let me put in a plug for human power, which might make an interesting column, come to think of it. That could include places to go on sea and land, and boats in which to go to them. One factual quibble. On the
Zumwalt
, that big bulb on the bottom that sticks forward does two things: it is a place for sonar (a.k.a. sonar dome) and it decreases resistance. I guess it might increase stability, but I'm skeptical.
Fast Piece of Furniture
was on view at Maine Maritime Museum this winter, and there is some good video of the boat under sail on the Chickawaukie Ice Boat Club site (
http://iceboat.me
), as well as historical footage.
Benjamin A.G. Fuller
Cushing, Maine
For the record
Our story on the Francois Vivier-designed boat
Leilu
in the March issue omitted the fact that the kit used to build Leilu was made with CNC routing by Hewes and Co. in Blue Hill, Maine. Hewes and Co. is now a licensed representative for Vivier designs in America. FMI:
www.hewesco.com
. All materials become the sole property of Maine Boats, Homes & Harbors, Inc. Letters may be edited for style, length, and clarity.