Maine Yacht Center: Class 40
Launching high-tech offshore racing yachts
By Charles J. Doane
Most of the Class 40 fleet is in Europe. Since 2007, MYC has imported boats for completion in the U.S. Photograph courtesy Maine Yacht Center
By Charles J. Doane Class 40 monohulls quickly became among the most popular shorthanded ocean-racing boats in the world after they were first introduced in 2004. Competitive International Monohull Open Class Association (IMOCA) 60s—with exotic features like carbon hulls, canting keels, fiber rigging, deck spreaders, and rotating masts—have long been prohibitively expensive for wanna-be amateur ocean racers. But the Class 40 boats, which are built to a restrictive box rule, are more accessible. Hulls are constructed of conventional foam-cored fiberglass; the mast and keel are fixed; standing rigging is steel rod; and class rules are tailored to keep running costs out of the stratosphere. Brian Harris, the general manager at Maine Yacht Center in Portland, probably has more experience preparing and maintaining Open 60s than anyone else in North America. He jumped on the Class 40 bandwagon early on and began importing Akilarias, which are one of the more competitive brands, in 2007. In a special arrange- ment with French designer Marc Lombard and Tunisian builder MC-Tec, the boats are shipped in parts to Maine Yacht Center, where they are assembled and fully commissioned into ready-to-sail condition. Harris has managed IMOCA boats in Europe for several top singlehanders and in 2007 led Maine Yacht Center in refitting Rich Wilson's Open 60, Great American III (ex-Solidaires), for the 2008-09 Vendée Globe. During 2014, Harris and the yard will again be working with Wilson to prepare his next 60, Great American IV (ex-Mirabaud), for the 2016-17 edition of the race. This past year Harris kept Maine Yacht Center in front of the Class 40 curve with the launch of the very latest, third-generation Akilaria, the new RC3, which promises to be very competitive. Building on extensive experience gained in the prior two iterations, this new boat features a new hull design, new appendages under the water, new deck and interior layouts, and a new rig. The hull now boasts full-length hard chines to improve initial stability and righting moment, and the retractable bowsprit articulates either side of the centerline to improve downwind sailing angles. A longer coach roof and optional convertible hardtop provide more shelter in the cockpit, and the water-ballast system has been improved and simplified, with a single, larger transfer pipe and fewer tanks that are further outboard. With its lower weight and reduced wetted surface area, the RC3 should be markedly faster than its RC2 predecessor, which currently holds the class record of 359 nautical miles covered in 24 hours.
I haven't had a chance yet to sail the new RC3, but I did help sail a second-generation RC2 boat back from a Newport-Bermuda Race run in 2012. During the race, the boat, competing in the Double-handed Division, ran the course from Newport, a distance of more than 600 miles, in less than three days and hit speeds as high as 24 knots. We weren't pressing hard on the way back, but still sailed more than 700 miles to Portland in just four days in light to moderate conditions. Accommodations on these RC racing boats are crude—some pipe berths, a nav desk, a gimbaled burner for heating packets of freeze-dried gruel. You can, however, order a more civilized version of the Akilaria, with furniture and other amenities, if you're looking for a serious performance cruiser. Charlie Doane learned to sail on the Maine coast as a boy and since then has roamed the North Atlantic on various boats. He has written for various sailing magazines.
Slide show
: While most of the Class 40 fleet is in Europe, Maine Yacht Center has imported and built the monohulls in Maine since 2007. Photos courtesy Maine Yacht Center
Share this article:
Digital Edition Available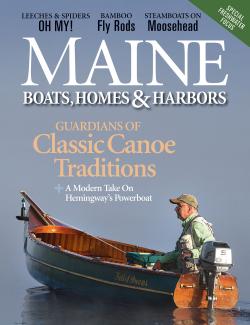 Can't get to the store to buy your magazine? We deliver the stories of Maine's coast right to your inbox. Sign up here for a digital edition.