The Paine 14
A modern, more manageable take on the Herreshoff 12½.
By Art Paine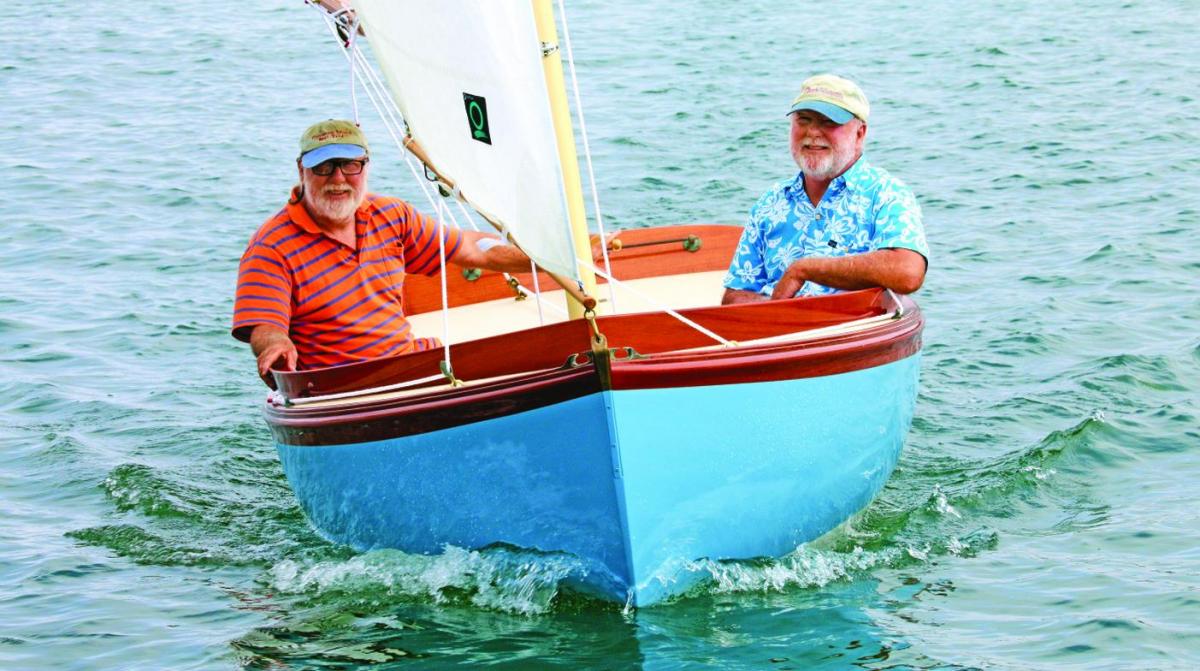 The author, left, and his brother, Chuck Paine, test-drive Amelia on launching day last summer. Photo by Norm Talbot
There are folks in this world who from an early age not only dream, but do. This is a story about one such person: my identical twin brother, Chuck Paine, and his project designing and building a modified cold-molded Herreshoff 12 ½.
The boat, named Amelia and painted a glossy light blue, was launched last summer and introduced to the world at the 2013 Maine Boats Homes & Harbors Show. At press time, Chuck already had taken an order for one and was working with a builder to produce more.
Chuck and I grew up on Jamestown Island near Newport, Rhode Island. We spent our summers surrounded by boats—ferries, Navy ships, rowboats, and yachts. We hung around boatyards, but as our mother decreed, kept quiet, were polite, and distracted nobody at their work. 
The two biggest shipyards were Wharton's and the Round House. Wharton's built everything from sawn-frame fishing trawlers to exquisite pulling boats. The Round House sheds, to the best of my recollection, handled little other than power and sailing yachts designed and built by the Herreshoff brothers. 
To say that Chuck and I were enthralled with the beauty and performance of these gorgeous yachts would be an understatement. As soon as we could read, we devoured Rudder, Skipper, Motor Boating, and especially the design section of Yachting. Soon enough we found the two or three books dedicated to the Herreshoff family, concentrating on John B. and Nathanael G. Herreshoff. Much to my mother's concern, we were one-track nautical fanatics. All we wanted in life was to follow in the path of Nat Herreshoff. (It is not an accident that I named my only son Nathaniel.)
Chuck and I committed the Herreshoff scantling rules to memory. We learned to fair lines before our teens, and took private (and free) drafting lessons from Charles F. "Chick" Street, a talented amateur yacht designer and a Massachusetts Institute of Technology naval architecture graduate.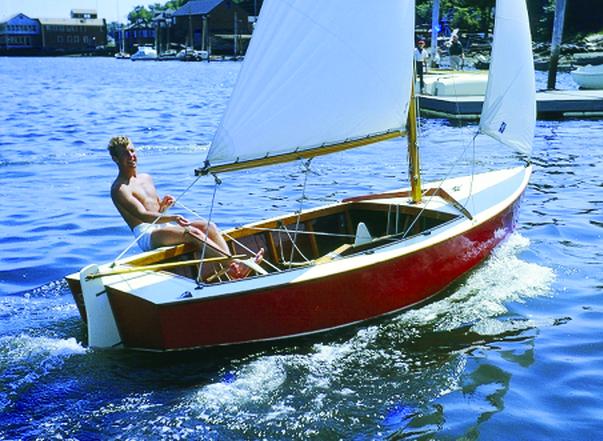 To our immense good fortune, Chuck and I were artistic prodigies, a fact not lost upon the state of Rhode Island. As "gifted and talented" teens, we were selected to attend subsidized art classes at Rhode Island School of Design in Providence. Another subsidized program allowed us, at age 13, to take sailing lessons in what was our first time in a sailboat. We soon were winning more than our share of races on Narragansett Bay, perhaps through some sort of inbred talent but more likely due to the unfair advantage of twin telepathy and exactly equal weight. 
Eventually our love of boats boiled over. We saved our earnings from paper routes, lawn-mowing, and other  jobs to build our own racing boat, a Bluejay, which was the youth boat of choice then. Despite having no experience and only a few hand tools, we purchased a set of plans from Sparkman and Stephens for $50, which included our official racing number. Too young to drive, we traveled by bus to the M. L. Condon Company in White Plains, New York, where we hand-selected our expensive Sitka spruce, mahogany, and Bruynzeel marine plywood. Long story short, two 14-year-old kids built a Bluejay named Scratch that became nearly unbeatable on Narragansett Bay. Two years later, we sailed Scratch to second place in the North American championships.
I had pluck and could draw, but on top of sharing those assets Chuck was smart and did well in school. He sailed through the upper tracks of elementary and high school, concentrating upon the tough classes like math and science, always with an eye toward engineering. After all, the Herreshoffs made the top of the heap as much through mechanics as through art. Chuck's mental magic hit the jackpot when he took the College Boards. He missed getting a perfect combined score of 1600 by getting a single math question wrong. He went to Brown University and studied mechanical engineering, enabled by plentiful financial aid and a state scholarship.
As is well known now in the yacht-design world, Chuck never lost his eye for the prize—to follow in the footsteps of Nat Herreshoff. After years of unswerving effort he established his own design firm, and more than 1,000 boats have been launched to his designs. 
In 1971, at the age of 27, Chuck bought a wooden Herreshoff 12½, which he renamed Petunia. He proceeded to restore it to near-new condition and steered the boat for many a happy mile. When he retired from Paine Yacht Design four years ago, he wrote a book about his designs and the philosophy behind his oeuvre and the boating business. Then he undertook a project about which he'd long dreamed: he attempted to improve the one boat design he'd considered virtually unmatched.
Chuck has often said that the 12½ represents Nathanael Herreshoff's absolute best design. Others say it's the most satisfying boat to own in the watery world. In my opinion, few keelboats of any size can boast such a comfortable cockpit, and the 12 ½ is almost impossible to capsize.
But owning one of these jewels is a commitment. Built originally to meet a budget, not for longevity, they require constant maintenance. 
Chuck's goal was to create a boat that looked almost identical to Petunia, but he wanted to make it smaller, for easier trailering, and to add small conveniences to make setup quicker and maintenance less. He also wanted to reduce the wetted surface by nearly half to make the boat faster.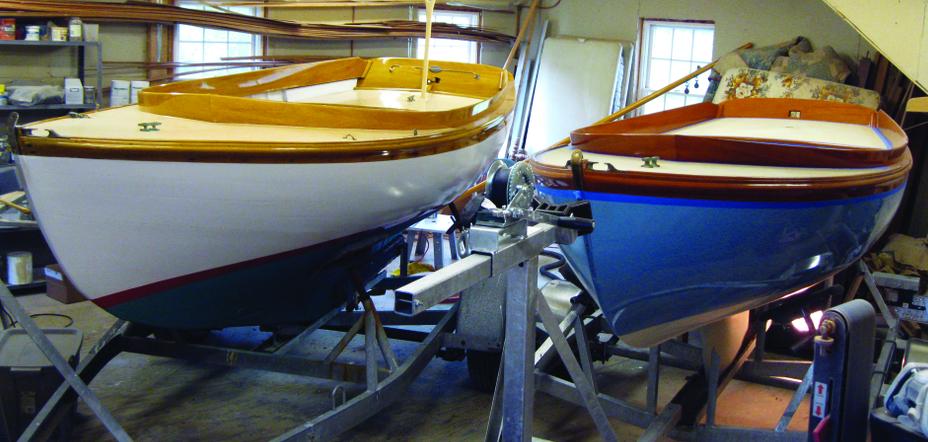 Above the waterline, Chuck Paine's original Herreshoff 12½ Petunia, left, looks very similar to her offspring, Amelia, right. Below the waterline is a different story. Photo by Art Paine
Herreshoff was never asked to put these features into the 12½ in 1913, when he was commissioned to design a boat for youngsters learning to sail on Buzzards Bay. Maybe left to his own devices he might have tried the split underbody— such fins were being experimented with at the time on skimming-dish sail racers. Petunia, and fiberglass versions, such as the Doughdish and the Cape Cod Shipbuilding H-12, do have wonderful qualities. They're pretty and especially comfortable due to a commodious cockpit. Small sailboats, especially ones meant to be trailered, normally have a centerboard. But while centerboarders can flip, keelboats do so only rarely. That is yet another advantage of the 12½, especially as a craft for the young and the old. 
The Paine 14 is as identical as Chuck could make it to the12 ½. Down to the finest details—the covering boards and coamings, the bow and stern flotation tanks, even the fittings and paint scheme are very similar. The molded sheer strakes were specially constructed on the property of the Herreshoff Marine Museum in Bristol, Rhode Island.
The big changes take place below the waterline, where a slightly shallower and more wing-like NACA-foiled fin keel provides extra bite to windward. A small balanced rudder gives the steering more power, without requiring a lot of tiller deflection—perhaps the only small flaw of the Herreshoff original.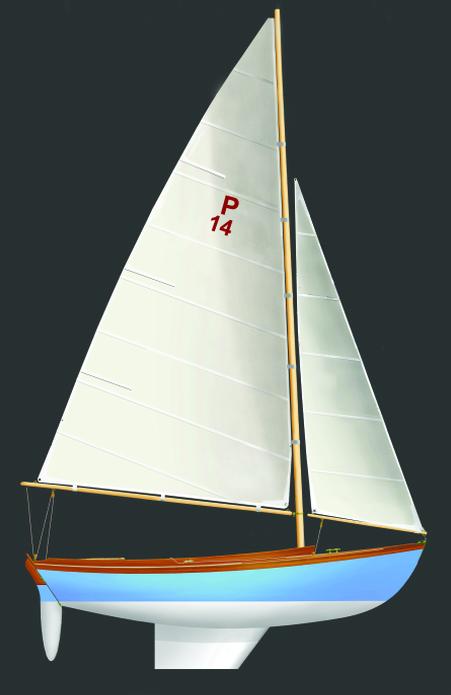 The P-14 features a split underbody with modern fin keel and balanced dagger rudder. Courtesy ChuckPaine.com, LLC
Like most yacht designers, Chuck spent his career drafting plans that were influenced by the stipulations of clients and corporations. But designers of all stripes can be their most visionary when not held in harness by clients. 
 "It was tremendous fun designing a boat without someone else telling me what to do," said Chuck. I think it's partly for this reason that Chuck, not normally a big risk-taker, pulled out all the stops in terms of inventiveness. 
I can hear you thinking, "In such a small boat and one which intentionally mimics something already in existence, how much improvement can be expected?" It was reasonable to expect evolutionary, but not revolutionary results. 
But when I went down to Tenants Harbor on launching day at the end of July to "test-drive" the boat, I found it to be a scintillating performer. When I say performance, I mean that in two respects. Amelia sails faster and is much easier to maneuver than a Herreshoff 12 ½, and is more manageable. 
The Paine 14 can be stored on a trailer in a garage and towed easily behind a normal-sized car, in part because it weighs about half as much as the Herreshoff version. It draws slightly less, and thus can be launched at any normal ramp from the extendable-boom Triad trailer. The carbon fiber mast does not require stays and is easily stepped (which was more important to Chuck than a light mast's effect upon stability and speed). The sails are easy to rig, because the jib luff contains the forestay—a pull on its halyard is all that's needed. The main has no track or slides; rather it is bent to the mast with five Velcro straps. 
When I sailed Amelia, I was blindsided by the way the boat accelerated. In eight knots of breeze or more, the boat went from dead in the water to full speed in three or four boat lengths, as long as the sails were trimmed right. The teeny little rudder—a perfect airfoil—was capable of whirling the boat in pirouettes. 
In a journalist's necessary inclination toward full disclosure, here are some revelations: Amelia was not Chuck's first attempt toward a modern version of a 12½. Just prior to his "retirement," he drew a nearly identical hull for a client who wanted a small daysailer to stow aboard his Paine-designed motoryacht. That boat, which was built in New Zealand, was gaff-rigged, with small differences in keel size and placement. Also, Joel White designed a trailerable wooden boat called the Haven 12 ½, which deserves consideration as a shoal-draft variant that's the same size as the original Herreshoffs. 
None of these boats can or will ever be inexpensive. A cold-molded version of the P-14 will cost $70,000 and a fiberglass P-14 carries a projected price of $39,000 or so.
Is there a market for even the prettiest copy of a Herreshoff 12 ½? If so, from what quarter? There are and will always be people who'll seek out sisterships of Petunia, willing to pay a high price for any boat that is restorable, providing it has a Herreshoff Manufacturing Co. builder's plaque.
But Amelia looks just as lovely, and will be far easier to own. After testing Chuck's amazing best-ever design, I predict that the design will sell like French fries at a county fair.
---
Art Paine is a boat designer, fine artist, freelance writer, aesthete, and photographer who lives in Bernard, Maine.
---
Herreshoff 12 ½ vs. Paine 14: 
The Numbers
"The boats are very different in some ways, intentionally very similar in others because, as I will always profess, the H12½ is the best yacht design ever done by anyone. The big difference is that the P-14 is significantly lighter. I am amazed by the effect that this has upon the boat's performance." —Chuck Paine
 H12½                  P-14  
LOA: 15'10"     LOA: 14'
LWL: 12'6"          LWL: 11'3"
Beam: 5'10"        Beam: 5'4"
Draft: 2'6"          Draft: 2'3"
Displ: 1,500 lbs.      Displ: 860 lbs.
Designer/Builder: 
ChuckPaine.com, LLC, P.O. Box 114, Tenants Harbor, ME 04860, www.chuckpaine.com
---
Share this article:
Digital Edition Available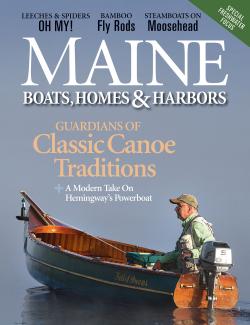 Can't get to the store to buy your magazine? We deliver the stories of Maine's coast right to your inbox. Sign up here for a digital edition.