Boatyard Dog - Issue 127
Ruffles: Our New World Champion
By Gretchen Piston Ogden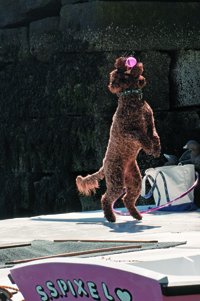 Photo: Bell's Furry Friends Photography
A whole woof-load of fun was had during the 2013 World Championship Boatyard Dog Trials at the Maine Boats, Homes & Harbors Show in August. Dogs that ranged from the diminutive (toy Manchester terrier) to the gargantuan (Saint Bernard) went paw-to-paw in front of an adoring crowd. When the fur stopped flying, a Portuguese water dog named "Ruffles" had won barking rights as the new World Champ. Ruffles is from Cushing, where she spends as much time as possible chatting up the lobstermen, riding in her kayak, and chasing rocks and ducks. She got near-perfect marks during the required parts of the competition—the Dockside Obstacle Course and the Dinghy Hop. Then she performed her freestyle routine with both a hula hoop
and
the required tennis ball. In the end, her unleashed enthusiasm (and her handler's willingness to join her in a swim) garnered her the lead over a tight field. She will guard the coveted "Pup Cup" for a year, and have a photo shoot with Bell's Furry Friends Photography. Gatsby, a flying chocolate Lab from Scarborough, was runner-up "by a wet nose," and an honorable mention went to young Huckleberry, a Saint Bernard from Portland. New this year at the show was the "Boatyard Dog Wannabe Wagon," which profiled six shelter dogs and encouraged show attendees to "vote" with cash donations for their favorite. Brutus the pit bull won full barking rights and a portrait by Bell's Furry Friends. Proceeds went to local shelters, which also received donations of toys, treats, food, and gift cards. Custom Float Services was lead sponsor of the 2013 trials; supporting sponsors were Sea Bags, The Loyal Biscuit Co., and Time Warner Media. Start training now for 2014!

Share your Boatyard Dog's story with our readers! Send a clear photo and pertinent details to: BYD, P.O. Box 566, Rockland, ME 04841, or click here and use our online contact form.
Share this article:
Digital Edition Available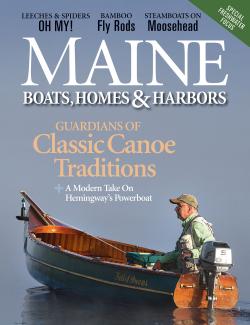 Can't get to the store to buy your magazine? We deliver the stories of Maine's coast right to your inbox. Sign up here for a digital edition.