View from the Porch - Issue 125
Issue 125
By Peter Bass
The season begins. In saying this I do not mean to slight Maine's other seasons, particularly winter, which this year turned out to be a real humdinger with plenty of snow. My early winter concerns that there would be too little snow for the skiers and snowmobilers were wiped out in the Big Dump and then fortified as the winter progressed. But for the boating addled, when June starts busting out all over, a young man's fancy turns to boats. If there is romance involved while boating, so much the better. Just keep your priorities straight. Fishing happens to be the interest of several porch insiders, so for our first several subjects let us dive into the watery world of alewives, eels, and pimpfish.
Bass (as in pimpfish)
When asked to clarify the spelling of my last name on the phone, even though I assume my enunciation is perfect, I often say, "Bass, like the fish." Years ago, in most situations requiring clarification, I would spell my name and hear the response, "Oh, like the shoe." The fish explanation seems to work better now almost universally, even in calls answered in lands unknown. The lesson here seems to be that brand names often fade according to generational or ethnic factors, but all mankind seems to know about bass fishin'. Along the Atlantic seaboard, I can say, "as in striped bass," which brings me to another of our favorite subjects on the porch,
Morone saxitilis
, a.k.a, striper, rockfish, linesider, and, yes, pimpfish (per Wikipedia). This time of year I like to check in on the abundance of the species, which is estimated annually by the Atlantic States Marine Fisheries Commission. The info may some day be used to adjust catch quotas as needed. The definition of "needed" is often contested by various parties, but for this year, the ASMFC has deemed the fishery to be not overfished, and thus will not change the allowable harvest. Although the available biomass of the fishery is down sharply, it's not down enough to trigger changes by the ASMFC.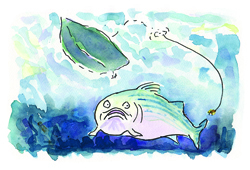 All illustrations by Ted Walsh
Maine striper fishermen have had much less success recently than they did in the boom years of 1996 to 2006. Most of what we catch here in Maine spawns in the Chesapeake, where there was a string of poor spawns until the 2011 year class. This big class won't make it into the "keeper" category in Maine until 2014 or 2015. Speaking of keepers, I don't fish for species I can't eat. I may choose to release, but my frugal and fish-loving Canadian forebears would have argued against that.
Alewives
As I write this in mid-April, several newspaper articles and editorials have announced or lauded, perhaps prematurely, the opening of the St. Croix River to the free passage of alewives via fish ladders. This passage had been closed since 1994, when guides and businesses that serve the smallmouth bass fishery around the town of Grand Lake Stream successfully petitioned the legislature to drop a board in the Grand Falls Dam fishway to block passage. This in spite of science indicating that spawning alewives have little or nothing to do with the smallmouth fishery. Four current and former Maine Department of Marine Resources commissioners testified that the ban should be lifted. That position was supported by Canada, the local Native-American tribes, and nearly everyone involved. The bill was sponsored as emergency legislation by Passamaquoddy Tribal representative Madonna Socotomah. The emergency nature was to get it passed so that the boards could be lifted before the 2013 spawning run. The good news? It was passed in time. One of the supporters of the blockage originally was George Smith, then the influential head of the Sportsman's Alliance of Maine and now a full-time writer, blogger, and editorialist. Mr. Smith, though often controversial, was always a thoughtful and passionate defender of wildlife, and has continued to develop or modify his positions as information comes available. He is fully engaged in forming opinions, rather than simply holding them. My kind of guy.
For coastal dwellers, seeing a moose is a breathtaking moment, one that hopefully occurs while hiking, not driving.
Mr. Smith summed up his current position in his
Bangor Daily News
blog as follows: "As for that board in the Grand Falls Dam that blocks passage— I'd like to get my name off of it. I'm pretty sure it was a bad decision."
Elver madness, part deux
What would this issue be without a little news on the juvenile-eel gold rush that grips Maine for a few weeks each spring? High prices, limited licenses, tribal prerogatives, and not enough wardens—all make for another season of great copy. Last year, we thanked Stephen Rappaport of the
Ellsworth American
for introducing us to the concept of "elver laundering." This occurs when illegally caught elvers from in or out of Maine are processed (laundered) through legal dealers and entered into the supply chain. Now, from the crime-stopping pages of the
Portland Press Herald
comes an actual story of illegal elvers crossing state lines in hopes of growing up to be sushi: A Mr. Parker of Candia, New Hampshire, was caught trying to slip through the net of the Marine Patrol with 41 pounds of the little critters, which were confiscated and sold for $61,000. Officials suspect that the eels were caught in another state. Mr. Parker was towing a trailer with equipment to store and maintain live elvers. The year's shenanigans had started earlier: Before the season opened some Maine men were caught in New Jersey illegally fishing for elvers, which is prohibited in all states save Maine and South Carolina. Evidently these enterprising fishermen were trying to get the jump on the season, hoping to have a supply to sell as the season opened in Maine. Last year saw a quick spike in price in the first days. For a truly excellent and thorough run-down of the lifespan of the American eel, written by Tom Walsh of the
Bangor Daily News
, visit www. bangordailynews.com/2013/04/05/news/state/the-mysterious-eel-from-sargasso-sea-to-sushi/
Moose by the numbers
I ran across an interesting summary of Maine's moose hunt in an article in the
Ellsworth American
by V. Paul Reynolds, Maine Guide, writer, editor, radio host, and former information officer for the Maine Department of Inland Fisheries and Wildlife. Between Mr. Reynolds and Mr. Smith, there would appear to be few hunting, fishing, or wildlife subjects left unaddressed. For reference, you can read Mr. Smith's views on his site, georgesmithmaine.com, as well as in several Maine newspapers. Mr. Reynolds is the editor of the
Northwoods Sporting Journal
. For subscription information and current stories see sportingjournal.com.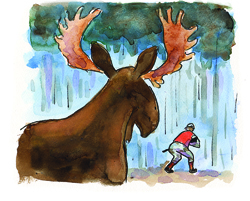 All illustrations by Ted Walsh
Back to the mighty moose. Maine has offered moose permits through a lottery system since 1980 to control a then rapidly growing moose population. For coastal dwellers, seeing a moose is a breathtaking moment while hiking or fishing (hopefully not while driving) in the North Woods in the spring and summer. Unless we are also hunters, we seldom cross paths with Maine's largest animal, except the stuffed one in the Maine State Museum in Augusta. I'm told there is a diorama that depicts two bull moose, their antlers locked in mortal combat, at L.L. Bean's flagship store in Freeport as well.
Maine striper fishermen have had less success recently than they did in the boom years: 1996 to 2006.
In the interest of full disclosure, my brother-in-law has been a successful moose hunter and guide, and has shared his delicious bounty with his broader family. The hunt itself, as Mr. Reynolds reports, is a pretty big deal and an important source of income for the wildlife management efforts of the state. In 2012, 3,725 permits were issued and 2,895 moose were killed, a success rate of 78% overall, although in the southern regions the rate was 18%. In 2013 there will be 4,155 permits issued, 90% of which go to Maine residents. Entering the lottery costs $15; if you win a permit the fee is $52 for residents and $585 for people from away, plus the cost of a hunting license. Applications closed some time in May; the drawing is in mid-June in Greenville.
More by George
The aforementioned George Smith had a piece in March in the
Kennebec Journal
that took me back to my earlier life in Wilton. Mr. Smith wrote a piece about the practice of foraging for wild foods in which he led off by noting a law to require mushroom foragers to be certified in order to sell commercially. He was struck by the omission in the law that foragers should have a landowner's permission to remove mushrooms or fiddleheads (the curly early sprouts of the ostrich fern). He likened the practice to picking a neighbor's corn without permission and selling it to the local store. This brought me back to one of the first homes I owned, an interesting old farmhouse in Wilton, in a valley on the road to Weld, an area known as the Intervale. Our cornfield, which we leased to a local dairy farmer, bordered a strip of woods next to Wilson Stream, the inlet to Wilson Lake. This particular stretch of bottomland along the river, and for a few miles up and down stream, was ground zero for fiddlehead foraging.
As with birds and high-bush blueberries, the grower is always a step behind the professionals.
Wilton is home to Wells Canning Company, probably the only fiddlehead canner in Maine, maybe the world. The company bought from foragers, some of whom would sweep up my property in the dark and denude it of fiddleheads. In the years I lived there, I would try to gauge the right moment to get some for myself. However, as with birds and high-bush blueberries, the grower is always a step behind the professionals. The only way I enjoyed my own fiddleheads was to buy a can of Wells's product at the local market. Mr. Smith noted that a state representative from Wilton, Russell Black, has introduced a bill to require commercial foragers to obtain landowner permission. It comes a little late for me, but it's a good idea.
Small game news
To counterbalance our moose report, we note the following mosquito news: Cranberry Isles, which evidently has quite an area of prime mosquito farming topography, has voted to postpone trying to control the problem with a naturally occurring bacterium called
Bacillus thuringiensis israelensiis
or "Bti" for short. I remember that this was used at Sugarloaf to control the swarms of black flies—the unofficial Maine state bird—on the golf course. The worry at Sugarloaf was that it would have an effect on the brook trout in the Carrabassett River. In Cranberry Isles the worry is the unknown effect on lobsters. As I remember, Bti had no measurable effect on brookies. My other, more direct, recollection is that it didn't have much effect on the black flies either.
The floating shoeman
One of the Maine news sources I enjoy greatly is
The Working Waterfront
, published by the Island Institute (workingwaterfront.com). Coming from a long line of shoemakers, I enjoyed reading in Kaitlin Webber's column, "There was a Time," about place names on Swan's Island and their history: such names as Dead Man's Beach or Mill Pond. She also mentioned Cottles Cove, the last stop of an itinerant shoe repairman who years ago traveled by barge from island to island plying his trade. Why didn't somebody tell me about this career choice? I could have been a modern-day Mr. Cottle, not only repairing shoes, but also peddling Cole-Haans, Guccis, and Topsiders to the summer rusticators for their swell parties.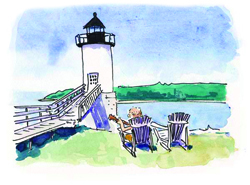 All illustrations by Ted Walsh
This reminded me of a similar experiment by a couple of 20-somethings when I was the same age myself and working at the Hinckley Company. They acquired a handsome 50-foot workboat that was equipped with a small crane and a good-sized hold. Their plan was to deliver small bulk cargo and heavy objects to coastal and island communities from suppliers in Boston and Portland. We were so intrigued by their plan that we had our next shipment of batteries shipped by them from Boston. Unfortunately, their old diesel died near Portland, and the two fellows had to rent a truck to complete the haul. The engine turned out to be terminal, and the replacement expense proved to be too much for the young entrepreneurs. This idea might still work, however, unlike my barge full of Gucci loafers. This column seems to have been mostly a discussion of critters, except for the above section on the floating shoe repairman and the erstwhile small-scale coastal freighters. All in all, though, this theme seems to be particularly appropriate to Maine in June, as the snows recede and we head to the woods, mountains, and islands of Maine. See you there.
Now the weather's finally warm The skeeters can begin their swarm Maybe you'll see a moose about As you seek the rising trout.
Maine in spring and early summer Surely is a Time of Wonder As you read this give a thank That all of summer's in the bank.
Just because I wax poetic Dare not think us sympathetic If you pass by in early season Un-seaman-like for any reason.
We're back in place, our rockers steady Feet up, binoculars at the ready.

Long-time
MBH&H
Contributing Editor Peter Bass is a freelance writer and raconteur who divides his time between porches in Maine and Virginia.
Click here to read other articles by Peter Bass »
To submit your comments... newsy tidbits, photos, illustrations, clippings, rants, and raves for possible use in this column, use the form below. Or mail to "View From the Porch," P.O. Box 566, Rockland, ME 04841 or fax to 207-593-0026. Items may be edited for length and clarity; materials become the property of Maine Boats, Homes & Harbors, Inc.
Share this article:
2023 Maine Boat & Home Show

Join Us for the Maine Boat & Home Show!
Art, Artisans, Food, Fun & Boats, Boats, Boats
August 11 - 13, 2023 | On the waterfront, Rockland, Maine
Click here to pre-order your tickets.
Show is produced by Maine Boats, Homes & Harbors magazine.