Moore In Maine
From Belfast to Barcelona: creating imagined landscapes using pieces of the real world.
By Carl Little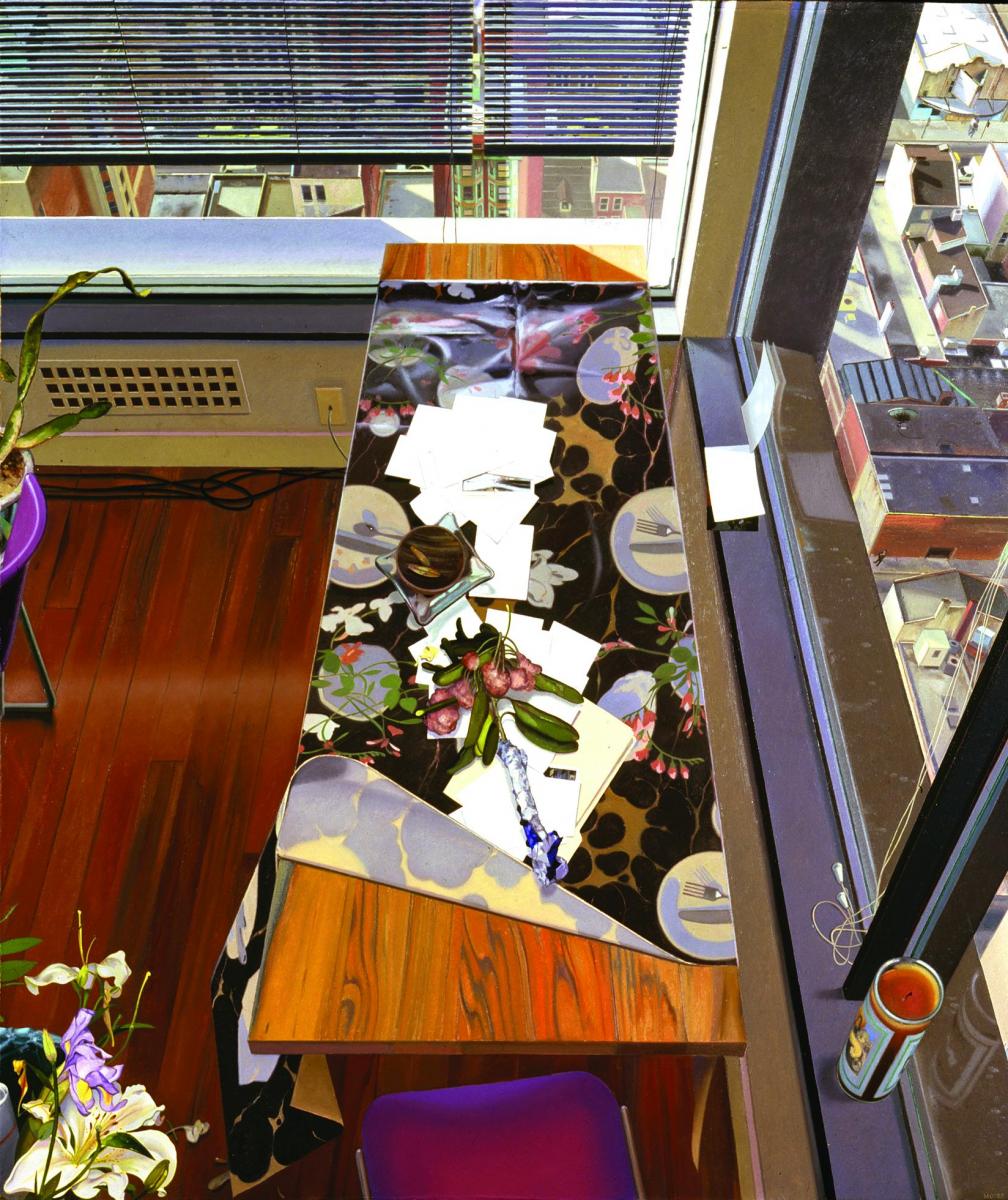 TEN DAYS, 2006-07. Oil on canvas, 72" x 62"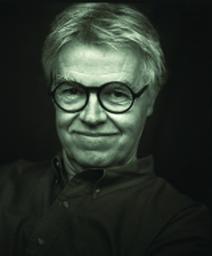 Photo by Will Brown, courtesy Locks Gallery, Philadelphia.
Artists are known to create worlds. Some base their images on what is in front of them; others draw on the imagination. A few, like John Moore, use bits and pieces of experience and place to construct composite views. As poet William Corbett wrote in an essay for Moore's 2005 exhibition at the Hirschl & Adler Gallery in New York City, "All that appears in these pictures exists but not as it does in the paintings."
Consider Moore's 2008 work Stillwater Spring (at right).The mill buildings in the distance are based on an industrial site in Coatesville, Pennsylvania, but the river that dominates the work is the Passagassawakeag as it passes through Belfast, Maine. The painter has organized a landscape that makes visual sense, but which doesn't exist in reality.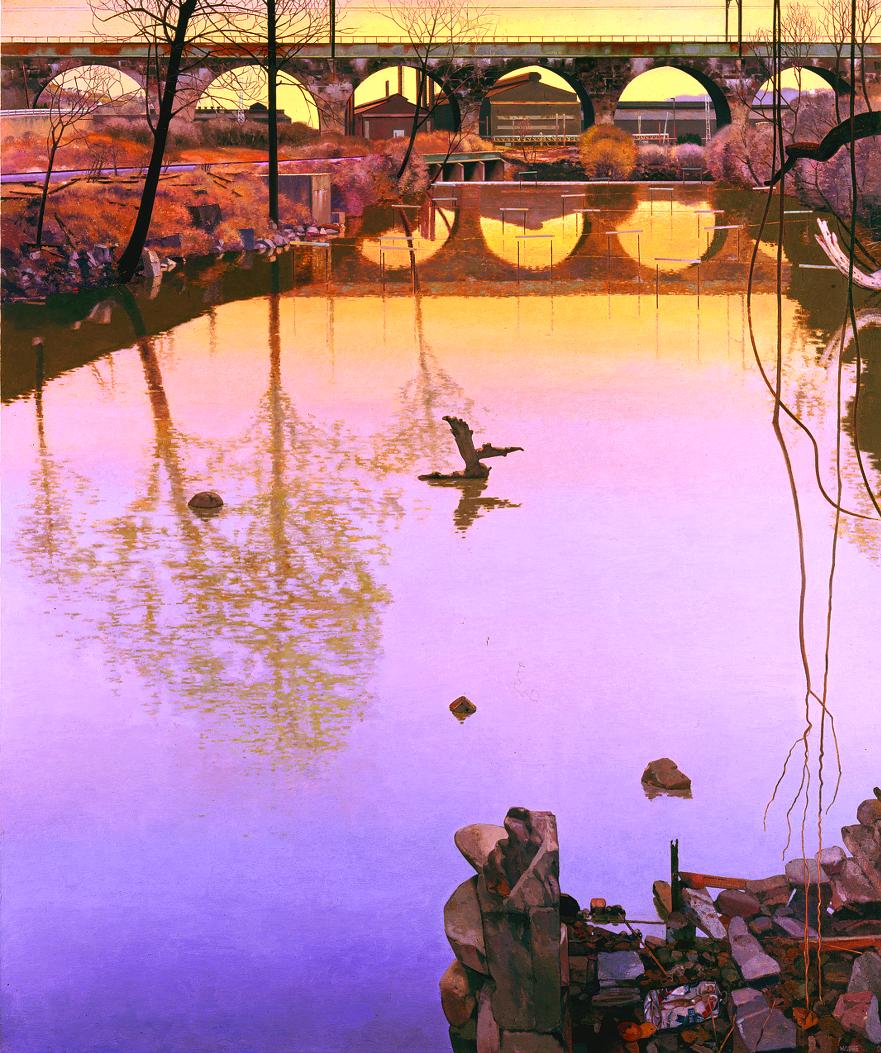 STILLWATER: SPRING, 2008. Oil on canvas, 90" x 75"
John Moore and his wife Sandra, a jewelry designer and antiques dealer, enjoy that view of the Passagassaweag River from their house during their annual stays in Maine. Depending on responsibilities back in their home base of Philadelphia or exhibition arrangements going on in New York City, the couple tries to arrive in Maine in May and stay till November. (One year they remained through the end of December. "Belfast was beautiful then," Moore recalled, "candlelit windows, the way people dress up their houses—really lovely.") 
Moore retired in 2009 as chair of the Department of Art at the University of Pennsylvania, where he is now emeritus professor. His ten-year tenure at Penn completed a distinguished career in teaching that included positions at Temple University's Tyler School of the Arts (1968-1988), University of California at Berkeley (1981-1982), and Boston University (1988-1999).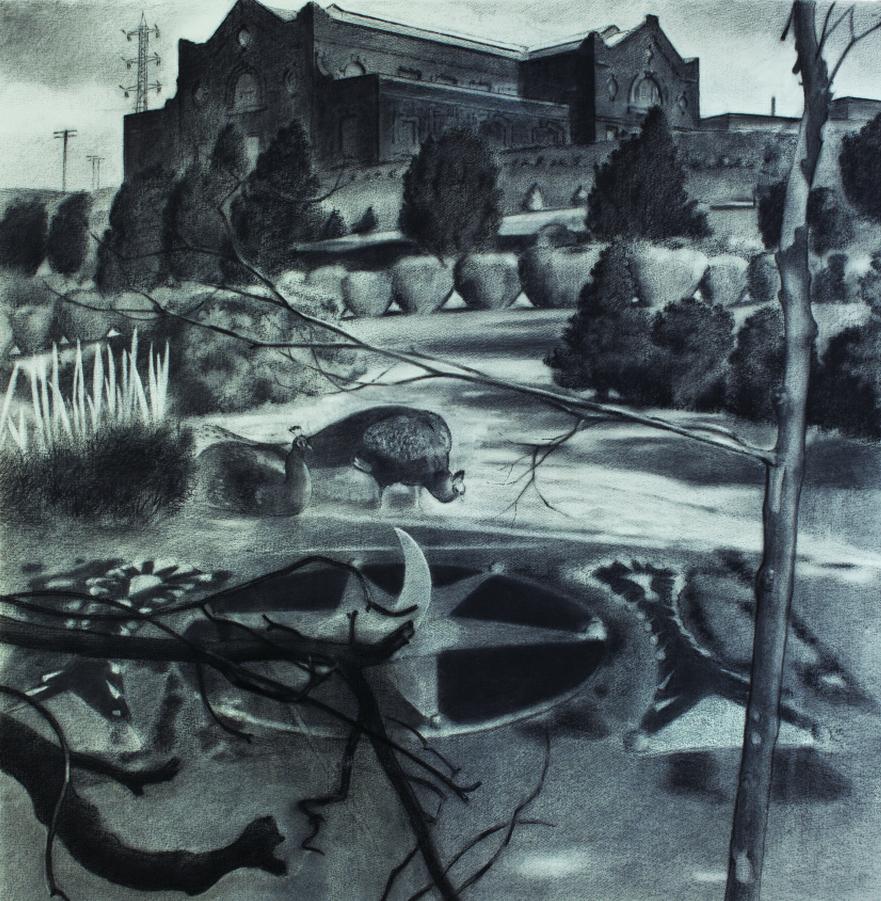 FORTUNA 2009. Charcoal on paper. 43 3/4" x 45"
Since his graduate student days at Yale in the late 1960s, Moore has been composing his paintings from multiple sources, attempting, he writes, "to collage those sources into a seamless whole." His New Haven studio, when he was a student, featured narrow slit windows near the ceiling and no view. The most interesting perspectives in the area were not easily accessible, so Moore would make small gouache or charcoal studies from observation and memory, then compose his sketches into a kind of hybrid image in his studio. Over the years he has also utilized slides and digital images.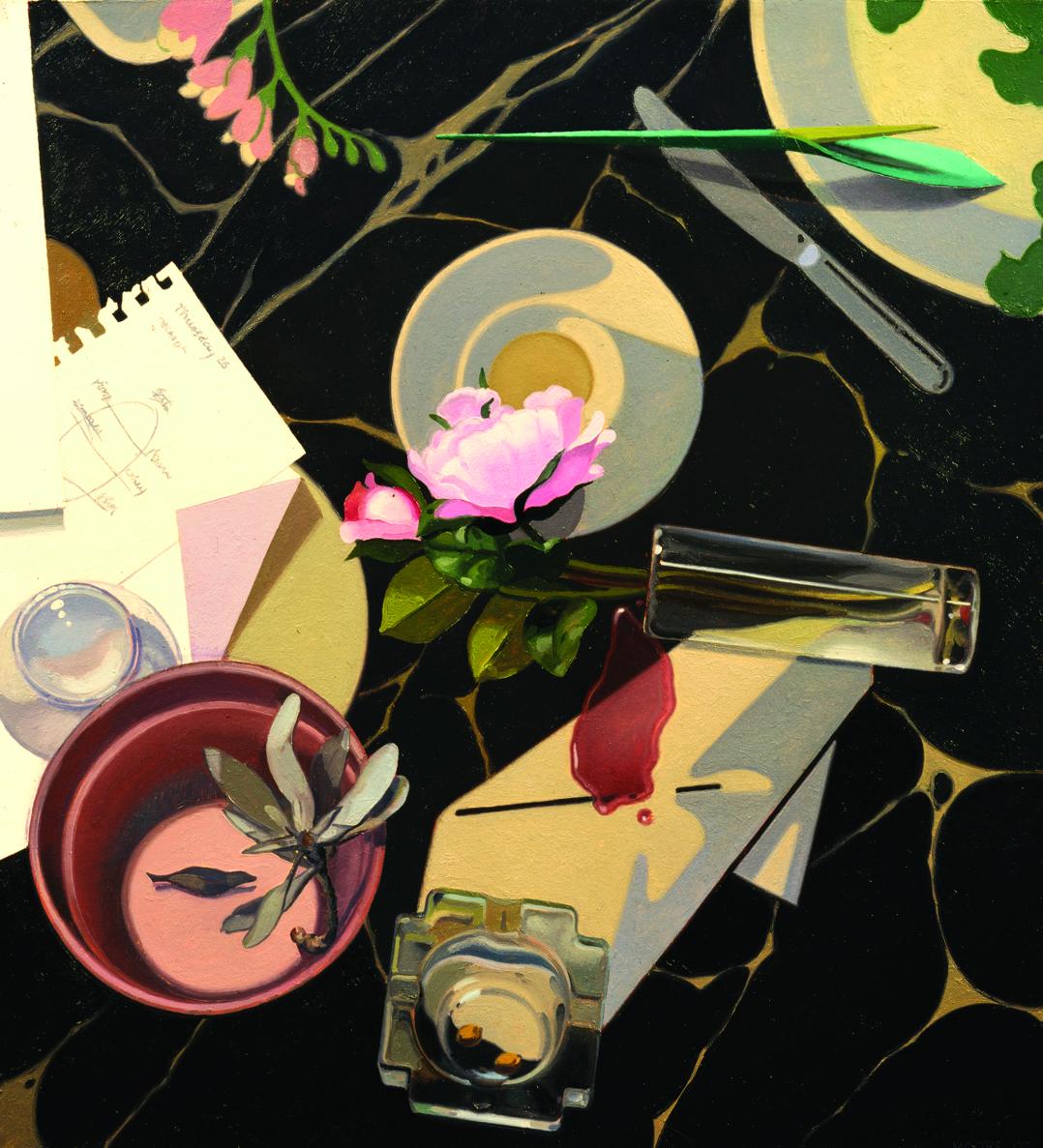 SPILL, 2007. Oil on canvas, 26" x 24"
The process of working from secondary sources, Moore avers, freed him. Not tied to a specific motif, he could take license with the landscape and could work from places off the beaten track (he recalls the top of a parking garage in Boston as a great spot). The spaces he has experienced—from Boston and Belfast to Barcelona and Paris—have featured sites that he has sought to present in new, invented configurations.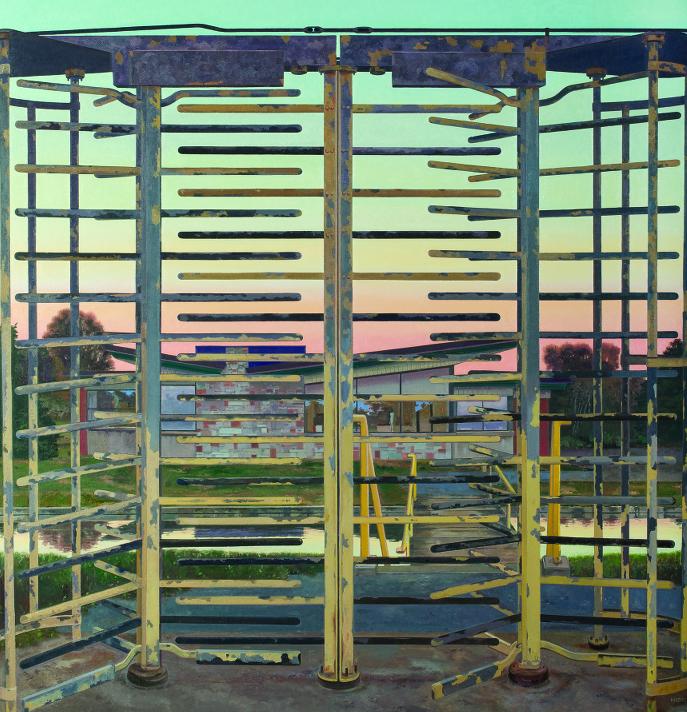 TURNSTILE, 2012. Oil on canvas, 70" x 68"
Moore is not the first painter to create landscapes from the elements of many. Edward Hopper is among the most famous for taking this approach. Hopper once explained that Cape Cod Evening, 1939, "was pieced together from sketches and mental impressions of things in the vicinity."  For example, the doorway in the painting, he noted, was "borrowed" from a house in Orleans, a town 20 miles distant from his home in South Truro.  "Reality is not what it is," the poet Wallace Stevens once observed: "It consists of the many realities which it can be made into."
Early in his career, Moore focused on the still life. He offered precise studies of tabletop arrangements that were highly refined and calculated—"liturgical setups," as one critic called them. Over time he began to include windows as background, and then the views beyond the panes of glass, which often serve as a framing device. 
Moore arranges his landscapes in a manner similar to his still lifes, assembling parts of many to create a layered and compelling whole. In one piece, Opacity, the view is from his Philadelphia studio, but the building visible through the window can be found, he says, "down the street from the Maine College of Art" in Portland. In another, Turnstile, the structure in the background is the Bangor Waterworks Building, which was built in 1875. (Its underground tunnels served as a setting in the movie version of Stephen King's novel Graveyard Shift.) Where is the rusted turnstile? It stands in front of a mill in the aforementioned Coatesville, Pennsylvania.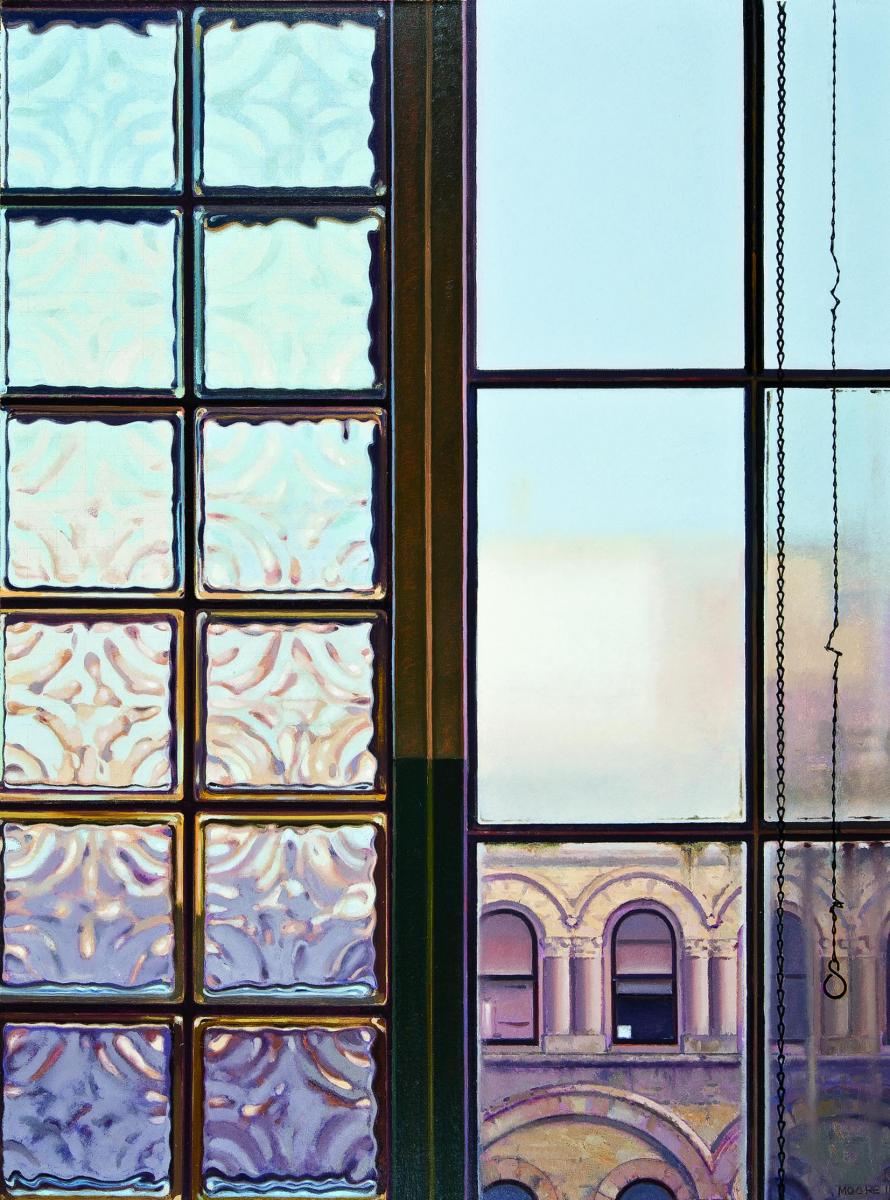 OPACITY, 2011. Oil on canvas, 48" x 36"  
Moore even mixes the light. He told an interviewer once that he sometimes uses Maine light in his Philadelphia pieces. Working on a picture of his home city in his Belfast studio, he will turn to the sky outside his window as a source of illumination in his canvas. He speaks with eloquence about the "color of the light" in Maine as being something that is concrete "from which everything else is measured." 
Born in St. Louis, Missouri, in 1941, John Moore, when he was 17, was hired by the aerospace manufacturer McDonnell-Douglas as a draftsman and technical illustrator. (His skills in design would later be evident in his still lifes and architectural motifs.) From drawing aircraft and rocket parts, he went on to earn a BFA at Washington University in 1966 and an MFA from Yale two years later.  
Moore began receiving recognition as a painter while at Yale: he won the Ely Harwood Schless Memorial Prize in 1968. In 1977 the American Academy of Arts and Letters presented him with the prestigious Childe Hassam Award, which he won again in 1988. He was featured in a number of landmark "new" American realism shows and began to have solo shows in New York City, Boston, Philadelphia, and elsewhere. Other awards and fellowships followed. Most recently, in 2010, Moore was made an Honorary Doctor of Fine Arts by the Lyme Academy College of Fine Arts in Old Lyme, Connecticut. 
Today, Moore's paintings hang in many prestigious collections, including the Art Institute of Chicago, Metropolitan Museum of Art, and Philadelphia Museum of Art. Here in Maine, the Farnsworth Museum in Rockland and the Colby College Museum of Art in Waterville have acquired his work.  
Moore first came to Maine in 1974 to teach at the Skowhegan School of Painting and Sculpture. He returned to the school in 1980 and then again in 1984, when he used part of his earnings from the summer teaching stint to buy a home with 50 acres of land on Route 141 in Monroe. He and his wife spent 20 summers there with their sons Aaron and Alex. But over time, he says, local dairy farms were replaced by gravel pits, with a "constant parade" of trucks barreling down the road, spewing rocks. The couple was obliged to keep their windows closed.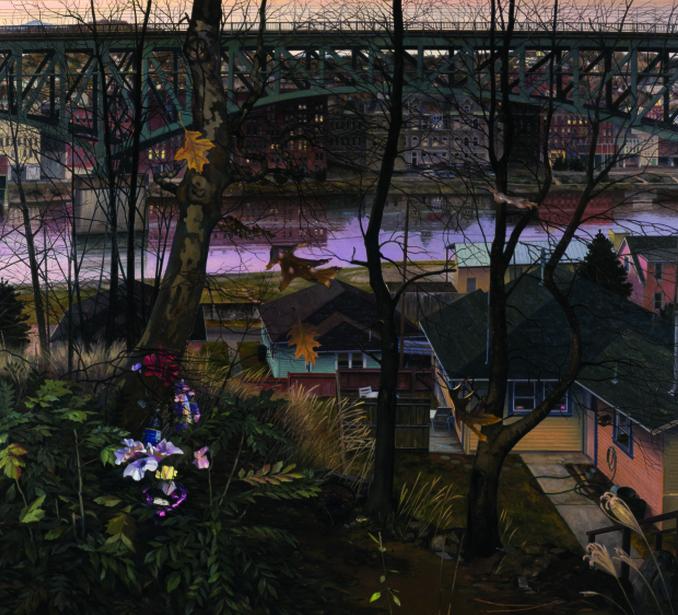 BRIDGE, 2000. Oil on canvas, 64" x 72"
Moore's painting Monroe, 1985, depicts a less picturesque side of Maine. The view from just above the town's general store includes a trailer home, a pickup truck, and a nondescript yard. The place recalls the so-called "real" Maine depicted in Carolyn Chute's novels or the short stories of Christopher Fahy. Indeed, as Moore notes, at the time he was working on the painting he was taken with the concept of what many analysts, fairly or unfairly, have labeled "the other Maine."
Driving from Monroe to Belfast and back over the years, Moore and his wife had noticed a rather hard-on-its-luck white clapboard farmhouse near the Passagassawakeag River. About eight years ago, they bought the place and proceeded to fix it up. They had the foundation replaced and redid a good portion of the interior.
During his stays in Maine, Moore has explored different sites. He has never been interested in the iconic subjects offered by the Maine coast or Mount Katahdin. Like his friend and fellow painter Rackstraw Downes (see MBH&H #113, March 2011), whom he first met at Skowhegan in 1974, Moore has been drawn to less conspicuous subjects: a run-down plant in Waterville or the poultry-processing plant in Belfast. The views are dynamic and striking, but not on anyone's list of most-painted Maine motifs. 
Moore's painting Bridge, 2000, might exemplify his point of view. The Route 3 bridge in Augusta, as seen from across the Kennebec River from the city, provides the backdrop for a cluster of unassuming houses, weeds, and bare trees that partly obscure the prospect. Attracted by the arching structure of the bridge, the painter visited the area with his sketchbook. He later learned that the chain link fence in his painting had been added to the bridge as a way to deter suicide attempts, a fact that added "a whole other resonance" to the place. 
Moore is part of a community of artists in the mid-coast area. He is friends with painters Alex Katz and Yvonne Jacquette (see MBH&H #108, March 2010), who come up from New York City in the summer. He also sees fellow Philadelphians: painter Emily Brown and her husband, photographer and filmmaker Will Brown, live nearby. The latter made a video portrait of Moore, "13 Miles from Paradise" (2006), which explores the painter's obsession with Coatesville, Pennsylvania.
Moore has kept something of a low profile in Maine. Nevertheless his work has appeared in group shows at what is now the Center for Maine Contemporary Art. ("Looking at the Land," 1993) and the Farnsworth Art Museum ("The Constructed Landscape," 2007). In addition, he was one of the featured artists in the latter's "Four in Maine: Drawings," part of the statewide "Maine Drawing Project" mounted in 2011. The Farnsworth exhibition highlighted the work of Moore, Mary Barnes, Emily Brown, and T. Allen Lawson (see MBH&H #117, Winter 2012). 
At the Farnsworth, Moore exhibited a group of large-scale charcoal drawings made in his Belfast studio in the summer and fall of 2009. The subjects, which include billboards, water towers, factories, and urban views, are based on thumbnail sketches, notes, and snapshots made in various locations from South Carolina to Maine (structures in Augusta and Bangor appear, respectively, in Slab and Fortuna). "Although the drawings conflate observation, memory and imagination," Moore wrote in a statement for the show, "everything in them is true, or could be true, or has been true."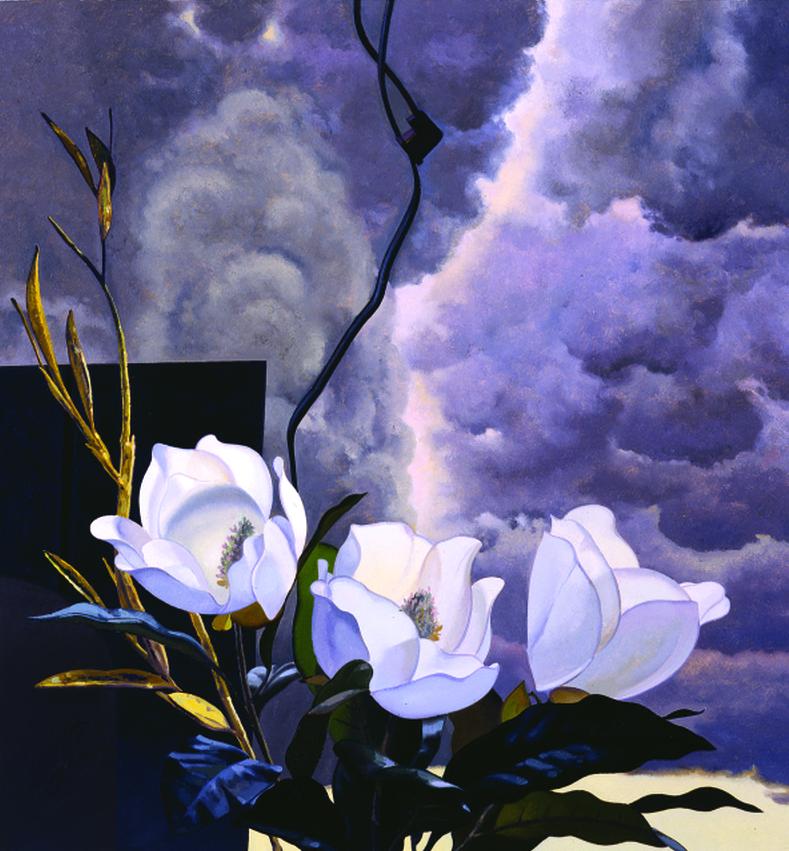 COMING DOWN, 2004. Oil on canvas, 30" x 30"
At a dinner at the Farnsworth at the time of the drawing show, Moore had a conversation with John Ames, the renowned art dealer; the two had first met back in the 1980s, when Ames had Gallery 68 in Belfast. Ames was surprised to learn that Moore hadn't ever had a show of his paintings in Maine. The two began talking, and a year later, in consultation with Moore's long-time New York City gallery, Hirschl & Adler, Ames presented the painter's first one-person show in the state, at Ames's 10 High Street Gallery in Camden. 
The exhibition at 10 High Street included the painting Miracle Hill, 2010, a painting of a mausoleum Moore came across on the edge of a Civil War cemetery in Greenville, South Carolina. The painting presents the structure as dark and industrial, with an aged façade. As he does elsewhere, Moore weaves together themes and images, time and history. And there is symbolism: a vine in the foreground is about to bloom, suggesting new life.
Moore notes that space, color, and light are the initial triggers for his paintings; the subject matter, he notes, is "a given," although he needs to know the place before he can paint it. Knowledge of a site, he says, adds depth to the picture. He remembers hearing a program on NPR that told the story of people migrating to the factories in his Philadelphia neighborhood. That additional dimension of history made him want to paint the factory buildings even more.
"There has to be some presence," he said. "I can make something up, but need a springboard—something with a particular feel to it." 
Moore cites an essay by the novelist Joan Didion. "Why I Write" describes a similar experience: how an occasion, occurrence, or event impresses itself upon her mind, where it simmers until it triggers associations that lead to a piece of writing.
"The spaces I live in are full of such places," the painter said, "and I am always thinking about and looking for ways to bring them forth."
Over the years, Moore said, Maine has often provided a "crucial component" in many of his paintings, "or the location that sealed the deal."
---
Carl Little is the author, most recently, of Nature & Culture: The Art of Joel Babb (University Press of New England). Two of John Moore's paintings are reproduced in Little's 2006 book Paintings of Maine—A New Collection (Down East Books).
For More Information
John Moore is represented by the Locks Gallery in Philadelphia, and the Hirschl & Adler Gallery in New York City, where he recently had his 12th solo show.   
Share this article:
Digital Edition Available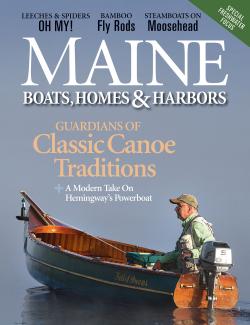 Can't get to the store to buy your magazine? We deliver the stories of Maine's coast right to your inbox. Sign up here for a digital edition.