Maine Course - Gather, Yarmouth
Dishing up affordable, local food in an old community hall.
By Kim Ridley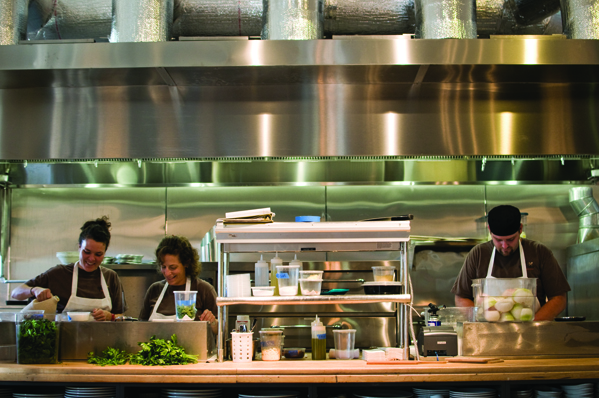 All photographs by Peter Dennen
Matt Chappell was ice-skating with his two young sons on a pond in downtown Yarmouth one winter day when he spotted a "For Lease" sign in front of the Masonic Hall across Main Street. The sight revived a long-held dream. "I worked in restaurants in my twenties and never really let go of the desire to open my own place," Chappell said. Two decades later, as he stood before the grand old hall, he decided it was time to take the plunge. Built in the 1860s, the hall had most recently housed an antiques shop, but Chappell envisioned something more in keeping with its bean supper days. He wanted to create a casual, friendly place where people of all ages, particularly families, could "gather" for a simple but delicious dinner made mostly with food from the farm, garden, and root cellar. Chappell's plan seemed simple, but it also was deceptively ambitious. In addition to transforming an old building into a restaurant he would call Gather, he was committed to creating a menu that was at least two-thirds local food and to serving it at affordable prices.
Gather opened last September—less than a year after Chappell spotted the sign—and the hall has been hopping ever since.
To meet his high ideals, Chappell hired chef Chad Conley, a Portland native whose kitchen pedigree includes stints at Hugo's in Portland and New York's famed Jean-Georges. Conley returned to Maine to take a break, worked at Eliot Coleman and Barbara Damrosch's Four Season Farm in Harborside, Maine, in 2010, and then managed a farm for Portland-based Miyake restaurant. By early 2012, Conley was ready to return to the kitchen—this time to focus on approachable food with a spotlight on local meat and produce. Shortly after a mutual friend suggested that Conley speak with Chappell, Conley was planning Gather's menu.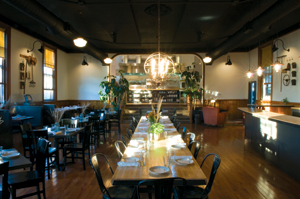 Gather opened last September—less than a year after Chappell spotted the sign—and the hall has been hopping ever since. Knowing this, Tom and I arrived early on a recent Friday evening. People were already waiting in the parking lot before the place opened at 5:00. Two things intrigued me when we walked in the door: the glow of the kitchen, which occupied the stage at the far end of the hall like an improvised play, and the comfortable feeling of the space despite its size. Dark wood wainscoting, period pendant lights, a few rangy houseplants, and a small children's area equipped with toys conspired to create an almost homey atmosphere. Vintage Van Morrison and Creedence Clearwater Revival on the sound system clinched it. The menu appeared to feature straightforward comfort food: chicken & dumpling soup, simple salads, pizza, burgers, and main dishes ranging from grass-fed short ribs to house-made fish sticks for the kids. At first glance, one might think "comfort food, ho-hum," but consider what Conley does with the food. The crab and corn fritters, for instance, were at once plump and light. Flecked with fresh crab and surprisingly sweet kernels of corn, they were fried to crispy perfection and served alongside a kicky sambal chili mayonnaise.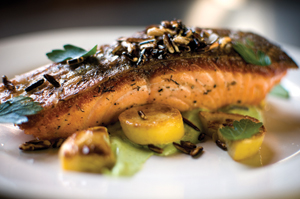 Tom began with a salad of roasted beets, goat cheese, and pepitas over mesclun dressed with a buttermilk-citrus vinaigrette. The toasted pepitas provided a nice salty crunch and contrast to the beets. The salad was good, but a bit overdressed. I moved on to the short ribs, which were seared and braised, and then perched atop a fried celeriac patty surrounded by a pool of the most delicious lentils I've yet to encounter. Conley later told me that the celeriac preparation was inspired by a lunch Barbara Damrosch served at Four Season Farm. He also shared his secrets for the lentils: He cooked them in liquid from the braised pork, along with a sachet of bacon, thyme, and other herbs, then finished them with an onion puree, which added savory sweetness and an almost creamy texture. One of Gather's most popular entrees is the salmon, which Tom found to be moist and flavorful inside a crispy skin. The fish was served with wild rice, summer squash, and a bright green yogurt dill sauce that evoked the flavor and color of spring. Once again, Conley elevated humble ingredients through thoughtful preparation: both the Greek-style yogurt and fresh dill-infused oil are made in-house.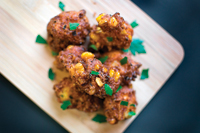 The drinks list included a dozen-plus wines, house-made sodas, and a handful of Maine beers on tap. Tom and I both enjoyed a pale ale from Portland-based Bunker Brewing Company. Citrusy and crisp, the red-gold ale was satisfying and well balanced. We shared the maple crème brûlée, one of three desserts that evening. A light hand with the maple syrup added an earthy sweetness to this classic, which was deftly finished with a sprinkle of coarse salt atop the crackly caramel crust. Conley's care and creativity with local ingredients shone through every dish we sampled. The prices were indeed reasonable, with starters to be had for $5 and main dishes beginning at $11. Conley keeps it affordable by carefully choosing his menu and cuts of meat, all of which is sourced from Farmer's Gate in Wales, Maine. And while the kids could order fish sticks or burgers, mom and dad could tuck into such specials as sautéed garlic squid with sambal chili atop a scallion puree. Both Conley and Chappell are committed to supporting Maine food and drink producers. "I grew up in Maine and I enjoy showcasing different businesses here," said Chappell, whose parents Tom and Kate launched the famed Tom's of Maine in Kennebunk. "It's fun to be able to turn people on to the good things that are happening here. The more we can create outlets for Maine producers, the more it will become entrenched and part of everyday life." By 6:00, the restaurant was full, including the 18-seat table in the middle of the hall, where several families with young kids were having dinner together. As Tom and I finished the last spoonfuls of dessert, I was struck by how brilliantly Conley and Chappell had breathed new life into the old hall. It sure would be fun to see more endeavors like this spring up in beloved old buildings around the state.

Recipe: Fusilli Pasta with Zucchini and Basil
Parmesan sauce
3 Tbsp. butter 11⁄2 Tbsp. extra virgin olive oil 6 Tbsp. flour 21⁄4 cups milk 5 oz. grated parmesan reggiano 3 oz. grated pecorino romano
Pasta and vegetables
1 lb. dry fusilli pasta 1 lb. zucchini, julienned into pieces slightly larger than the pasta 1/2 bunch of basil, torn into strips juice of one lemon salt and black pepper 4 egg yolks
(Serves 4-6)
Make a blond roux by melting the butter in olive oil in a saucepan and then whisking in the flour. Whisking constantly, cook 3 to 4 minutes over medium heat until the flour loses its raw smell. Add the milk and, while still on medium heat, whisk occasionally until the sauce is thickened and just about simmering. Add the cheeses and whisk to melt and combine. Remove from heat and set aside. Cook the pasta according to package directions in a large pot of boiling salted water. While pasta is cooking, heat a little olive oil in a large pan. Sauté the julienned zucchini in olive oil on high heat until golden brown (be careful not to overcook). Remove from pan and drain on paper towels. Add the cooked, drained pasta to the pan and coat with the desired amount of sauce. Heat until simmering, thinning with water if desired. Add salt, pepper, and lemon juice to taste. Remove from heat and immediately stir the egg yolks into the hot pasta, mixing thoroughly (the heat of the pasta will cook the egg yolks). Add zucchini and most of the basil. Sprinkle with the remaining basil before serving. —Chad Conley
Kim Ridley is a freelance science writer and editor who also writes about food, art, and architecture.
. FOR MORE INFORMATION:
Gather
189 Main St. Yarmouth, ME 04096 207-847-3250
www.gathermaine.com
Dinner: Tuesday-Saturday 5:00-9:00 p.m. Sunday Brunch: 10:00 a.m.-2:00 p.m.
Share this article:
2023 Maine Boat & Home Show

Join Us for the Maine Boat & Home Show!
Art, Artisans, Food, Fun & Boats, Boats, Boats
August 11 - 13, 2023 | On the waterfront, Rockland, Maine
Click here to pre-order your tickets.
Show is produced by Maine Boats, Homes & Harbors magazine.