Maine Course - In Good Company, Rockland
An atmosphere of unstudied elegance.
By Kim Ridley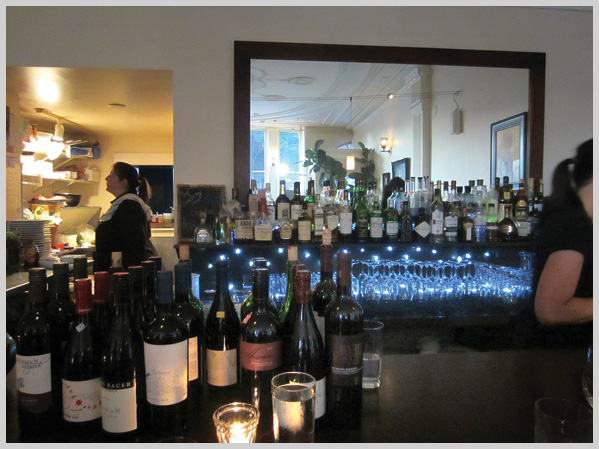 Photos by Tom Curry
Melody Wolfertz grew up in a large family in Rockland, and she fondly recalls the holiday dinners her mother prepared. What made them truly memorable, however, was more than good food. "My favorite part was the conversations we had around whatever food we were sharing," Wolfertz said. When she returned to Rockland after many years away, those memories inspired her vision for In Good Company, the tiny gem of a restaurant she opened on Main Street in 2004. "I wanted to create an atmosphere where unhurried conversation was part of the experience, as well as to serve good food in a beautiful setting," said Wolfertz, who graduated from the Culinary Institute of America and cooked in Dallas and Aspen before returning home. The entire place emanates an elegant but friendly vibe with a half-dozen small tables and a leaf-green loveseat flanked by mismatched chairs. Original figurative paintings hang on cream-colored walls and a plaster medallion graces the high ceiling, left from the building's earlier incarnation as a bank. A smaller room out back is flanked by window seats and painted a cornflower blue. It gives the feeling of a romantic hideaway.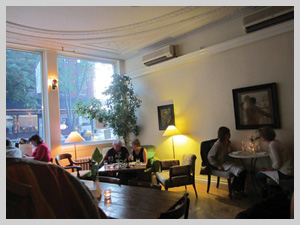 The vibe is warm and friendly at In Good Company on Main Street in Rockland.
Tom and I and our friend Kat decided to perch at the bar in the front room. As we perused the menu, nearly everything looked intriguing, but we were all drawn to sage as our opening herb. Tom shared sips of his Sage Rita, a refreshing twist on a margarita. From there, we sampled crostini with arugula and sage pesto. Wolfertz somehow married these two strong flavors into a surprisingly subtle spread that was addictive. The crostini also proved to be the ideal delivery vehicle for molten cheddar cheese with house-made mango chutney, which had a pleasant kick. The gentleman sitting next to me had ordered the halibut with salsa verde on yellow rice and beans, so I asked him how it was. "Excellent," he replied. "I come here for fish every Saturday night. And she makes the best crab cakes in the world. Don't miss them if you ever see them on the menu."
As we perused the menu, nearly everything looked intriguing, but we were all drawn to sage as our opening herb. Tom shared sips of his Sage Rita, a refreshing twist on a margarita.
I ordered the halibut and made a note to come back for the crab cakes. Inspired by Cuban cuisine, the fish dish was vibrant in both color and flavor. The brilliant green salsa of chopped cilantro and other herbs was wonderfully piquant and set off by sweet sautéed cherry tomatoes. The savory yellow rice was flecked with creamy cranberry beans. The whole shebang was outstanding. It was hard to share any of the halibut, but I swapped bites for samples of Tom's tenderloin and Kat's meatloaf. The tenderloin was luscious: A plump chunk of beef crusted with Great Hill blue cheese butter served with a wine demi-glace. Ditto on the meatloaf with bourbon gravy, which Tom pronounced the best he'd ever had. It was moist, fine-textured, and delicately laced with a smoky-sweetness. Wolfertz shared her secret: she shingles the meatloaf with apple-wood smoked bacon. Both beef dishes were accompanied by mashed potatoes and rainbow chard that had been sautéed with sweet red pepper and cherry tomatoes. For dessert, we shared a tangy rhubarb tart topped with barely sweetened whipped cream. The flavors shone through thanks to that light hand with the sugar. Throughout the evening, we watched Wolfertz turn out dish after dish from her miniscule kitchen, which was formerly the bank's vault. As she prepared and plated everything from nibbles to entrées to desserts with only occasional assistance as needed from a server, it struck me that she must be supremely organized. Later I asked her about it. "I wish I was organized!" she replied. "I have a good friend who often tells me I'm an adrenaline junky." Although she admits that she's gotten somewhat more organized "with age," Wolfertz takes a serendipitous approach to creating her oft-changing menu, often "simmering" ideas in her mind overnight. "I don't have a process," she said, "it's more about what I am feeling. If it's cold or rainy out, I think, what would I want to eat for dinner tonight." If she hears that particular guests are coming, she'll sometimes prepare a dish with them in mind. "I want guests to feel like they're in a friend's house eating simple, nourishing food and enjoying conversation with dinner companions over a bottle of wine, the outside pressures of life set aside to connect with each other over the table." That she accomplishes with style and grace. As we lingered over coffee and an Al Green song played on the sound system, I felt well fed in more ways than one. Tom started with the spring rolls, which were filled with chicken confit and then fried. Small and savory, they were drizzled with a slightly sweet sesame-soy sauce accompanied by orange aioli.

Kim Ridley is a freelance science writer and editor who also writes about food, art, and architecture.
www.kimridley.com
FOR MORE INFORMATION:
In Good Company
415 Main Street, Rockland, ME, 04841 207-593-9110
www.ingoodcompanymaine.com
. Open 7 days a week, 4:30 p.m. until closing. Reservations available only for parties of 6 or more.
Share this article:
2023 Maine Boat & Home Show

Join Us for the Maine Boat & Home Show!
Art, Artisans, Food, Fun & Boats, Boats, Boats
August 11 - 13, 2023 | On the waterfront, Rockland, Maine
Click here to pre-order your tickets.
Show is produced by Maine Boats, Homes & Harbors magazine.