View from the Porch - Issue 120
Issue 120
By Peter Bass
On the cover of the April/May 2012 issue of this magazine there is a boy steering a sailboat while wearing a wonderful, older-than-his-years expression. Steering a vessel at a young age is one of those events that can give you a feeling that you really are somebody important and capable of big things. You are trusted with the safe operation of a great machine. For me it was certainly a moment when I thought I might amount to something, an event that may happen any year now. The picture by Benjamin Mendlowitz (of course) was taken on the Concordia 31
Vital Spark.
This gave me another wistful moment, not because I know this boat, but because I know the stories from whence came the name. If you have never read the stories of Para Handy and the crew of the small coastal freight boat Vital Spark as she steamed the rivers and lochs of Scotland, please try to find a copy. A friend from Cornwall in the UK presented me with the book (title:
Para Handy
) about a year ago, and I try to knock down a few stories every week or so. It is like a good friend who understands your absences and always treats you just as well when you return. The author is Neil Munro, who wrote the stories as a series in a newspaper in Glasgow. That's enough information to start you on your quest to find Captain Para Handy.
Back to the Boy on the Cover
There is no age limit to the wonder of the first command. One of the children of our blended family came to visit in Boothbay one summer with a college friend who had grown up in Brooklyn and whose seafaring experience consisted of Staten Island ferry rides. We hopped into Grandmother's launch and headed up Townsend Gut for a tour, quickly handing the wheel to Ron of Brooklyn, who gripped it with sufficient firmness that sap would have run out had it been wood. He soon relaxed enough to look around and yelled to no one and everyone, "I am driving a BOAT!" There may have been an adjective before "boat."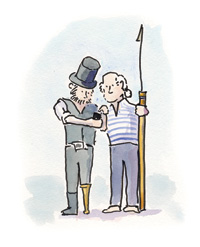 All illustrations by Ted Walsh
iWhale
Here's a headline via the Bangor Daily News that had us chuckling before we realized it was not only serious but probably worthwhile: "App aims to spare whales from ships in Atlantic." Our immediate vision was a whale-sized iPad with a Ship Spotting app that runs off those transponders that identify other ships on the radar. Instead it is an app called Whale Alert, which uses existing underwater microphones to locate whales and alert mariners based on their boats' GPS positions. Not only is Big Brother watching us, he is watching whales, too. Ahab, think what you could have done with an iPhone. The follow-up vision evoked by the headline was the "Dory" character in the movie "Finding Nemo" when she speaks "whale." Although I generally laugh whenever I hear Ellen DeGeneres speak, her imitation of "whale" is always good for a boffo. One of the joys of having grandchildren is being able to say without embarrassment that you have watched "Finding Nemo" four times.
But Do They Sell Aerosol Cheese?
I love cheese but exercise restraint, but that might change if I lived in Belfast. According to an article by Heather Steeves of the Bangor Daily News, there is a new shop in Belfast with the most direct marketing message possible in its name: Eat More Cheese. Started by Tony and Natalia Rose, the shop will turn their interest into a family business. Initially they will offer about 40 cheeses plus other sweet and savory treats, none of which are recommended by the American Heart Association. For older residents of the mid-coast, it is hard to think of Belfast, the former broiler capital of the world, becoming a foody haven, but evidently it is well on its way. Just writing about it makes me want to send someone into town for a stinky Stilton and a big Bordeaux, or even a chunk of cheddar and a box of merlot.
Elver Madness, Part Deux
High demand and plentiful product will be buying a lot of new trucks around the coast as elver fishermen cash in on the spring season. Last year there was elver gold-rush hysteria at $1,000 per pound; this year opening-day prices exceeded $2,000. A few pounds in a dip net make a profitable night's work, although reportedly one fisherman had a 48-pound night using a larger fixed net. You do the math. Elvers are baby eels and are shipped to Japan, China, and Korea to stock ponds, where they are raised to maturity and then command a high price as a component of Asian cuisine. We gleaned our elver facts from a couple of articles by Stephen Rappaport in the Ellsworth American in late March and early April. I recall that Mr. Rappaport's reports on this fishery provide dependable fodder for this column year after year, and we thank him for that. Mr. Rappaport notes that the value of the fishery, which runs from late March through May, engenders a wild-west mentality as fisherman compete for choice spots on the brooks and streams where elvers run in the spring. The state enacted emergency legislation a couple of weeks into the season to stiffen penalties for damaging another fisherman's gear and for fishing during closures or without a license. In the first couple of weeks of the season, wardens had already issued 98 summonses. It reminds me of the smelt runs in inland Maine when I was growing up, but with the added complications of a lot of cash. All this will get even more competitive if the Feds ever determine that elvers need to be protected under the Endangered Species Act. Hold on to your hat!
For older residents of the mid-coast, it is hard to think of Belfast, the former broiler capital of the world, becoming a foody haven, but evidently it is well on it's way.
Maine's New Ferry
Having ridden the Vinalhaven and North Haven ferries many times over the years and realizing that I have been on the same vessels for the last 40 years, I was pleased to read in the Free Press Online that Maine has a new boat, the
E. Frank Thompson
. The 154-foot vessel was built of steel in Mobile, Alabama, and while it doesn't sport free wi-fi or plush seats, it is completely handicapped-accessible and has heads with baby changing stations. Reading this made me ponder how some of those messy situations might be compounded in a beam sea. As I write this the
Thompson
has just made its inaugural voyage with paying passengers. It is the biggest vessel in the fleet, with slightly more capacity than the 130-foot
Governor Curtis
; both carry up to 250 passengers but the
Thompson
can fit five more vehicles.
Hooking a Moving Log
I had an encounter with a shortnose sturgeon in the Kennebec River some years ago while fly-fishing for striped bass. A couple of friends and I were anchored in Fisher Eddy south of Bath flinging Clouser Minnows (a weighted fly that runs with the hook pointed up) when I hooked what felt like a log. After a few seconds I realized that the log seemed to be moving and subsequently landed a small sturgeon hooked in the tail. We got it unhooked and back in the water quickly but were fascinated by this meeting with a creature that has been essentially unchanged for millions of years. In early April, Melissa Waterman penned an article in the
Free Press Online
about the rite of spring that is the migration of the shortnose and Atlantic sturgeon up Maine's rivers to spawn. Unlike salmon, which spawn every year, sturgeon wait out a few years between reproductive activities. (That's a long headache.) I am glad our fish wasn't an Atlantic sturgeon, which can grow to well over 10 feet long and weigh hundreds of pounds. Large specimens probably still cruise the Kennebec and Penobscot Rivers, but sightings are unusual. More frequent are the smaller fish, which you often see leaping out of the water to shake off parasites; at least that is what I have been told is the reason for such behavior. Both Atlantic and shortnose sturgeon are scarce and protected, so should you have a chance encounter with one or the other while fishing, don't take it home to show the kids. Instead, I suggest that you always take the kids fishing.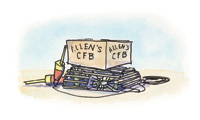 The Winner and Still Champion
Sometimes I wonder why I am so fascinated to learn the same thing every year at this time and still marvel at it: Allen's Coffee Flavored Brandy is again the best-selling spirit in Maine. The company from Somerville, Massachusetts, that produces the beverage generally sells a million bottles in various sizes for over $12 million dollars annually. In 2011, ACFB sales dipped slightly to 988,000 bottles and just under $12 million in sales. That's the first sub-$12 million year since 2006. The peak was 2009 at almost $13 million, in the depths of the Great Recession. I am indebted to Bill Trotter of the
Bangor Daily News
for his obsession with the release of the annual "Drink.ME" report.
As a loyal Mainer, I have tried to embrace it as part of my culture, like eating blueberries and lobster...
Although the recession was a personal challenge, drowning my sorrows in ACFB was never on the agenda. As a loyal Mainer, I have tried to embrace it as part of my culture, like eating blueberries and lobster, but I can never quite get there. My fascination with ACFB is noted within my family and often results in birthday gifts of hip-pocket-sized bottles, so my mention again of ACFB's dominance in Maine liquor sales will probably keep this gift-giving going on and on and on. It is OK to stop now, John.
The Shoe Fits
One thing that really caught our eye on the porch was yet another
Bangor Daily News
article, this one about the market for Maine hand-sewn shoes that continues and increases in the Far East. In the heyday of the Bass Weejun, GH Bass enjoyed an excellent export business to Japan, and that interest is building again, but not for Bass, whose current ownership shuttered the factories in Maine long ago and now has shoes under the Weejun brand made offshore. The Japanese interest is in the Maine connection, and several American brands, such as Ralph Lauren, Red Wing, and Quoddy Mocs are finding that the made-in-Maine brand is what sells. While several of the small hand-sewing factories in Maine make shoes for other brands, Quoddy makes and sells it own brand.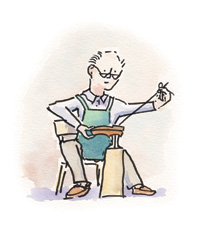 Bass, Dexter, and Sebago may have built this brand awareness in Japan and may still enjoy export sales there, but they are not in a position to enjoy the Maine-branded connection.
The Japanese interest is in the Maine connection, and several American brands, such as Ralph Lauren, Red Wing, and Quoddy Mocs are finding that the made-in-Maine brand is what sells.
When I last worked in the shoe business 25 years ago, Weejuns sold for about $80 a pair. They still sell for $80 a pair. Thanks to offshore sourcing, that price is the consumer expectation and will not change, so the likelihood that a big resurgence in Maine shoemaking will occur is slim. But we nevertheless celebrate the small victories of the several niche manufacturers who still thrive. My wife habitually sings "June is Busting Out All Over" on the first of June, and it is one of the year's markers that I look forward to, much like the Drink.ME summary noted above or the Elver Chronicles. What are your markers? On the porch we used to celebrate the Bass Family National Holiday, which happened to be my Dad's birthday in August, and was an MFO, or mandatory family outing, not that we minded. In deference to our employers who did not recognize this particular national holiday, we usually designated a Saturday before or after as the "holiday observed" when it fell on a weekday. All families have these annual markers that are theirs alone. Enjoy yours and the special time that is summer in Maine.
Drink a toast and look to sea If you can with A.C.F.B. If you can't, do not despair You can use Froid Riviere. Time is short, it's already June; The season's over all too soon. Before the days are short and darker Celebrate each family marker. Recall Cousin Sally and Uncle Eddie Feet up, binoculars at the ready.

Long-time
MBH&H
Contributing Editor Peter Bass is a freelance writer and raconteur who divides his time between porches in Maine and Virginia.
Click here to read other articles by Peter Bass »
To submit your comments... newsy tidbits, photos, illustrations, clippings, rants, and raves for possible use in this column, use the form below. Or mail to "View From the Porch," P.O. Box 566, Rockland, ME 04841 or fax to 207-593-0026. Items may be edited for length and clarity; materials become the property of Maine Boats, Homes & Harbors, Inc.
Share this article:
Digital Edition Available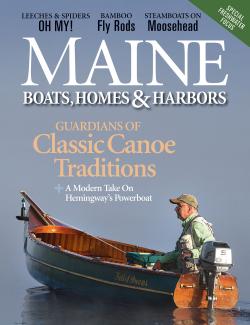 Can't get to the store to buy your magazine? We deliver the stories of Maine's coast right to your inbox. Sign up here for a digital edition.