View from the Porch - Issue 116
Issue 116
By Peter Bass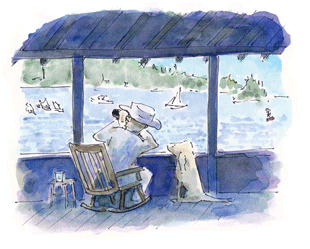 All illustrations by Ted Walsh
As I write this it is a cool mid-June, and the magic few months that make up the high season in Maine are still in the bank. As you read this they are half withdrawn, so let's hope that the funds have been well spent. We all mark this season in different ways; for some it is days on the water, for others, fish caught or books read. Politicians and TV talking heads these days like to refer to the "metrics" of a situation, measurements that somehow reduce the qualitative to the quantitative so that events might be more accurately judged. Maybe we need this, maybe we don't. For our part we are staying away from keeping score and concentrating on the things that don't need numbers to enjoy. I believe your porch rocker is empty, so have a seat.
Headlines
There have been some great newspaper headlines composed of late, three of which we would like to note:
"Lamoine Woman Attacked by Chow"
Ellsworth American
My first thought was of the scene in the movie Beetlejuice in which the faces of dinner guests were grabbed by a hand in the soup. My second was a memory of my reaction to a stale eclair some years ago.
"Candidates Peripherally Involved in Anonymous Mail Endorsement"
Bar Harbor Times
Now here is probably something about which we maybe should get to the bottom of, and soon. It forces you to read the article just to understand the headline.
"Trojans Nip Crusaders in Quarterfinal"
Bar Harbor Times
This sent me to the history books to find out just how far apart in history these two groups actually were. I knew that they worked the same general part of the world at different times and that they were on opposite sides of the B.C./A.D. divide. Turns out they missed each other by about 25 centuries; that is, until the 2011 high school baseball playoffs. Sport really does unite disparate constituencies.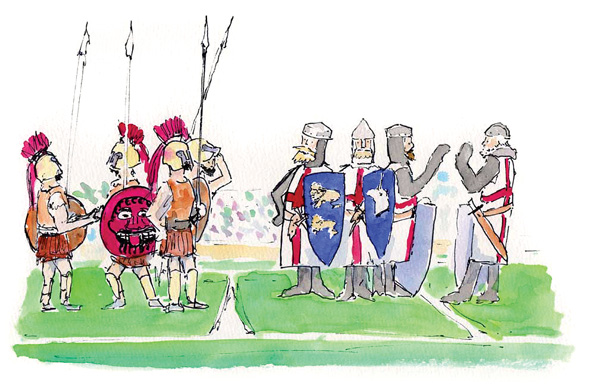 Ghost Grapplers
No, this is not a name of a dumb new show on network TV. We are talking about—take a deep breath—The Gulf of Maine Lobster Foundation Derelict Lobster Gear Retrieval, Salvage and Disposal Program, or GOMLOBFOUNDDERLOBGRRETSALDISPROG in Navy speak. Actually, this is a program to recover lost lobster fishing gear and has accomplished quite a lot: over 3,000 "ghost" traps were recovered, many of which were still catching lobsters on the bottom. According to an article in the
Ellsworth American
, this joint effort by the Foundation and the Maine Department of Marine Resources, which provided grant-writing help to garner funds from another breathtakingly long-named Federal fund. These funds paid lobstermen a fuel allowance to spend a couple of days in their home turf grappling for lost gear.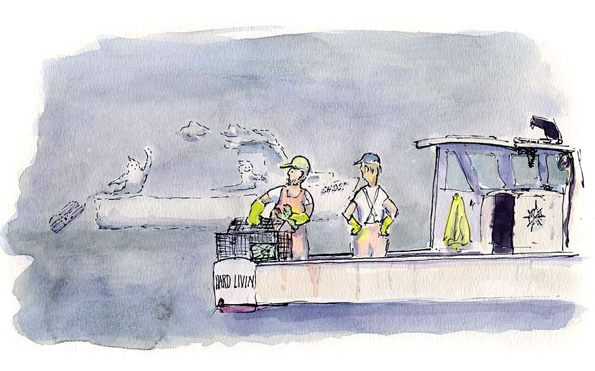 The final effort of the project, in mid-April, involved waters off Mount Desert Island and was funded in part by contributions from several cruising yacht clubs, both local and from away. The traps were returned to their owners if salvageable or crushed for metal recycling if not.
Elver Madness
Well, it happened again. Maine's spring fishery for elvers—tiny juvenile "glass" eels—saw a five-fold increase in price this year over last, topping out at more than $1,000 per pound. (It takes 2,200 to 2,400 of the slimy little fellows to make a pound.) The price jump seems to be tied to a curtailment of the fishery in Europe, which had been supplying much of the market, according to an article by Stephen Rappaport in the
Ellsworth American
. Elvers are captured in either fixed or dip nets as they move upstream from the sea to grow up in fresh water, sort of a salmon cycle in reverse. They are shipped live to eel farms in China and Japan to grow out to market size. The consumption is nearly all in Japan, where eels are believed to have beneficial effects on one's stamina. This season was a bonanza for the few. Elver licenses are limited and may be purchased only by those who held them the previous year. Our guess is that this year's gold rush, enjoyed by the few who have hung with it over the years, will put a lot of pressure on the Department of Marine Resources to spread the wealth. History has shown elver netting to be a fickle profession both in supply and price, but this year paid for quite a few new pickup trucks. Some on the porch remember the free-for-all of 20 or so years ago when there were high prices and no regulation. There were some pretty interesting confrontations in many towns with an accessible stream. I remember the Yarmouth Police Department having to mediate more than a few disagreements on the Route 88 bridge.
We have ranted from time to time about the use of corn ethanol in fuel for a couple of reasons: one is the bad things it does to marine engines and fiberglass fuel tanks, and the other is that its economies are questionable.
Eat Here, Make Gas
We have ranted from time to time about the use of corn ethanol in fuel for a couple of reasons: one is the bad things it does to marine engines and fiberglass fuel tanks, and the other is that its economies are questionable. We suspect it is political sop to corn states with early presidential caucuses, and further suspect we are forcing corn into fuel through subsidies, to the detriment of food costs and actual energy use. An article in the
Bar Harbor Times
by one Jason Wimbiscus prompted a little research into other alcohols, none of which are drinkable but are useful nonetheless. A student team at College of the Atlantic has developed a start-up business, Gourmet Butanol, that converts food waste into butanol, an alcohol that can be burned in internal combustion engines without blending with gasoline. The business is a result of a course in identifying community issues and solutions for them. Currently, food waste is trucked off Mount Desert Island at a cost of $90 per ton, less what the seagulls steal from the dumpsters. The challenge seems to be the bacteria that digest the food waste; the strain has to operate in an absolutely anaerobic—oxygenless—environment. Keeping oxygen out is proving to be the thorny issue. Doing a little research on the web turns up a lot of information: bacteria versus yeast-based chemistry, by-products, whether or not the process is energy neutral, butanol versus ethanol versus methanol, and last but not least, smell. We respect the team's enthusiasm and hope to report progress in future columns. We on the porch are fans of the College of the Atlantic and wish them wild success.
Note to The Graduate: Birds
Forget plastics, the industry of the future is birds, or rather birding.
Mainebiz
staff writer Rebecca Goldfine reported on the growing sport or hobby of birding among retiring boomers, who may be giving up their somewhat more extreme sporting pursuits but want to stay active in the outdoors. Maine is evidently home to many interesting species and sits astride seasonal migratory routes that give Mainers and tourists alike a huge variety of subjects.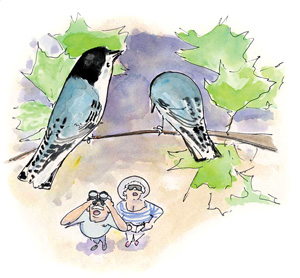 A 2006 survey by the U.S. Fish and Wildlife Service pegged the number of birders nationally at 48 million and estimates that they collectively spent $12 billion in travel and twice that on equipment. Other surveys put the number higher and growing fast, making birding one of the fastest growing outdoor sports. Maine is one of the beneficiaries of this growth in popularity. The godfather of Maine's "bird economy" is devoted birder and state representative Bob Duchesne of Hudson, whose efforts and research led to the establishment of the Maine Birding Trail. The Maine Office of Tourism printed 20,000 copies of Duchesne's trail map, which disappeared from the shelves. His web site, mainebirdingtrail.com, is a comprehensive guide to birding in Maine, and features a variety of trip-planning tools, including "Best Nests," a list of the names of lodging businesses that are committed to providing help and resources, such as guided trips, to their guests. While some of us on the porch have a hard time identifying the call of the cuckoo clock, there are some in our circle who are already keeping a life list of birds they have identified. We want it known that we use our binoculars for bird-watching, too, not just to identify the latest trends in skimpy swimwear.
Salty Talk
In addition to using the nautical lexicon in limericks about men from Nantucket, sailors and sailing writers especially like to use it for both accuracy and bragging rights to one's degree of marine literary purity. As a result of the introduction of Sabre Yachts' new 48 Salon Express and my article in this issue of how it came to be, I was sent to the dusty stacks to educate myself on the "salon" versus "saloon" debate.
Sticking with good old Merriam-Webster, we find that both derive from the French "salon." Both can refer to public rooms or living rooms ashore, but Merriam-Webster online lists only saloon with any nautical meaning.
Sticking with good old Merriam-Webster, we find that both derive from the French "salon." Both can refer to public rooms or living rooms ashore, but Merriam-Webster online lists only saloon with any nautical meaning. Modern usage in describing powerboats more often trends toward salon, which gives traditionalists goosebumps, nausea, temporary speechlessness, or all of the preceding conditions concurrently. The student of Internet searches will be able to find comments with varying degrees of outrage on boating forums. In the end we sided with Sabre's use of the salon variation, and I must agree. The term Saloon Express sounds to me like the name of an express bus to the
Chez Paree
in Waterville. Another word I have noticed in the boating press that I find to be too anachronistic even for me is "abaft," which of course rhymes with "daft." Yachting magazine has yet to print a boat review without at least two "abafts." It means aft of another location, as in "In the main saloon, the thirsty sailor will find the wet bar abaft the port settee," or "After several tumblers of boat gas, the sailor will be found on the sole abaft the wet bar." On the porch, boat gas is made by adding a fifth of Mount Gay to a bottle of Roses's lime juice, and putting the resultant mixture in the freezer to be dispensed as a premix, much like actual boat gas for a two-cycle outboard.
Sail Training, Coast Guard Style
The Navy and Coast Guard service academies, as well as most state maritime academies, have long valued and included sailing experience as an important part of training professional mariners. In larger sailboats capable of ocean passages and overnight long-distance racing, the academies have used both donated and purpose-built boats. The best known are the Naval Academy 44s, which are now in their third iteration in the fiberglass era, beginning with the Luders 44-foot yawls, followed by the McCurdy & Rhodes designed 44 Mk I, and now by the Pedrick 44 Mk II. What is of interest to us here on the porch is the eight-boat contract that Morris Yachts is working on for the Coast Guard Academy, the first of which,
Shearwater
, was delivered to the Coast Guard in May. Morris is working on the balance of the contract to be delivered in 2011 and 2012. The delivery of
Shearwater
was widely covered in the state press; we got our details from the
Ellsworth American
. The Coast Guard boat is also a Pedrick design and, like the Naval Academy's, is built for strength and ease of handling, befitting its mission of sail training as opposed to flat-out speed. Accommodations are for eight cadets and a training officer in a more Spartan style than the usual Morris practice, but still to their usual high standards of finish. In these times of stress for the boatbuilding industry, a contract like this is a welcome addition to the economies of eastern Maine. Knowing that the skipper of the Coast Guard cutter coming to save your bacon probably has been to sea in a small boat like your own is a comforting prospect.
So Gather Some Rosebuds
The high season is upon us, and I hope we are all enjoying the magic of a Maine summer. My early reports from fishing buddies on the striped bass in southern Maine are positive: plenty of mackerel for bait and good-sized fish. As we sit wrapped in fleece on the porch in pre-summer and watch as the moorings populate with the usual suspects, we know it is just a matter of time until we will have plenty of watching to do. We are expecting a higher level of seamanship and boatkeeping this season, so plan to be at your best on the way by.
On porch rockers we'll be there Eagle eyed in foul and fair Noting foibles of passing ships While we munch potato chips.
You may hear us through the fogs Noshing burgers and hot dogs On the helm be not unsteady Feet up, binoculars at the ready.

Long-time
MBH&H
Contributing Editor Peter Bass is a freelance writer and raconteur who divides his time between porches in Maine and Virginia.
Click here to read other articles by Peter Bass »
To submit your comments... newsy tidbits, photos, illustrations, clippings, rants, and raves for possible use in this column, use the form below. Or mail to "View From the Porch," P.O. Box 566, Rockland, ME 04841 or fax to 207-593-0026. Items may be edited for length and clarity; materials become the property of Maine Boats, Homes & Harbors, Inc.
Share this article:
2023 Maine Boat & Home Show

Join Us for the Maine Boat & Home Show!
Art, Artisans, Food, Fun & Boats, Boats, Boats
August 11 - 13, 2023 | On the waterfront, Rockland, Maine
Click here to pre-order your tickets.
Show is produced by Maine Boats, Homes & Harbors magazine.