Book Review Robert McCloskey: A Private Life in Words and Pictures
Robert McCloskey: A Private Life in Words and Pictures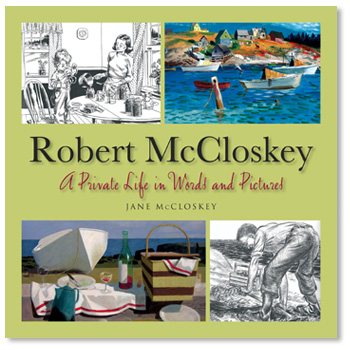 Robert McCloskey: A Private Life in Words and Pictures
by Jane McCloskey Hardcover, $24.95. ©2011 Seapoint Books, Kittery Point, Maine
After Robert McCloskey's last book was published in 1963—
Burt Dow, Deep-Water Man
, inspired by a fisherman on Deer Isle—not much was heard or known about him, despite the wide success of his award-winning children's books. In her book, Jane McCloskey, Robert McCloskey's daughter, wrote that her father was a very private and shy person, so the book's subtitle is well chosen. "Much of my understanding of my father came from detective work," she wrote, "watching him and thinking about him and what he said and didn't say, and reading his books and looking at his pictures. This book is a result of a lifetime of sleuthing." As both a biography of Robert McCloskey—author of
Blueberries for Sal, One Morning in Maine
, and
Make Way for Ducklings
, among other classics—and as a memoir of the author's own life with her father from childhood into adulthood, Jane McCloskey has created an exquisitely illustrated book. It includes 50 never-published-before paintings and drawings by her father as well as familiar images from his children's books, which are here given context within the framework of his life. Less-well-known aspects of McCloskey's life are also revealed, along with remarkable, undiscovered paintings—many of which his own author-daughter had never seen—found after his death "stashed in closets, hidden everywhere." While McCloskey was a gifted artist, he was not much recognized for his skill as a painter. The illustrations in this book include nuanced paintings and drawings of Maine coastal icons such as islands, boats, and seagulls; local characters and McCloskey's family; scenes of Mexico where the family lived for a few winters; travels in Italy and Greece; and scenes of his Ohio childhood home. Jane McCloskey conveys an intimacy with the coastal/island landscape. She tells us what it was like to grow up on Scott Island, off Deer Isle. Much of her childhood was spent, often outdoors, with her sister Sal—of McCloskey's iconic Blueberries for Sal fame—crawling around rocks and tide pools. Her writing is clear, with a quiet irony and without pretense, much like the elemental, appealing paintings and drawings by her father.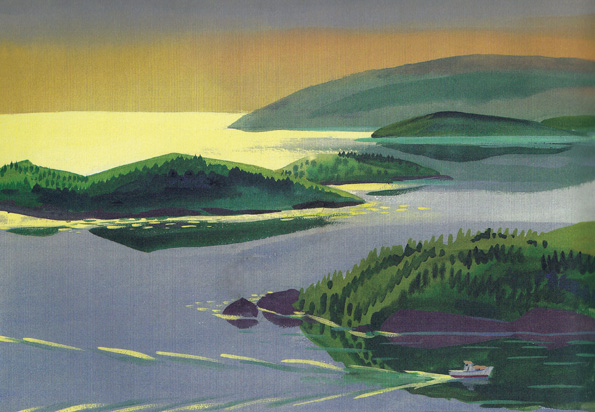 Best known for his book illustrations, McCloskey was also a talented fine artist.
There's a sweet parallel to the author telling stories about playing as a child and growing up, just as her father wrote about and illustrated what his real children, and his fictitious characters, were up to in their book adventures—picking blueberries, learning to sail, playing cards. Of her father—she always called him Bob—exploring the Maine coast to find their new home in 1946, she wrote, "
In Make Way for Ducklings
published in 1941, Mr. and Mrs. Mallard found an island home for their family in the Boston Public Garden. Bob must have been rehearsing how to find a home for his own family." The McCloskeys were often on the move when not summering in Maine. She and her sister went to school in Switzerland and Mexico when her parents decided to travel or live as ex-pats. To the author's credit, nothing is sugar-coated. Family life wasn't so rosy when Robert McCloskey went into a period of serious depression, and she describes teenage years when she felt more distant toward her father. In my favorite chapter, "Dinner with My Parents," the author describes a typical evening with her parents as an adult, with her dad picking her up at the dock and motoring out to the island for a meal and then their watching TV together. She recounts the conversation, describes the look of the sky and the sounds on the water as her father brought her back to the mainland dock late at night. She also tells the story about a tour-boat operator who would announce to his passengers on a bullhorn that they were passing the island home of the "famous Robert McCloskey." Finally, McCloskey, annoyed, bought an air pistol and started using beer cans he threw in the water for target practice as the boat came by. That put a quick end to the tour boat visits and the gawking. According to the author, Robert McCloskey focused for many years on designing and creating complex puppets for a possible TV show that never panned out. While he won the Caldecott Medal for children's literature twice—unprecedented, then—his puppets and his art were important parts of his life. "His puppets and paintings," his daughter wrote, "which never won any awards, were worth as much to him as the books which won the praise of the world." To many who live in Maine or have summered in Maine at some point, the name Robert McCloskey simply means summers on the coast. Yet his audience is greater than that.
Make Way for Ducklings
resonates with people far beyond Maine, and continues to make its way onto the bookshelves of generations of readers. This fine book isn't just for fans of Robert McCloskey's books, however. With its well-chosen illustrations, it is strong enough to stand alone as an art book. As a memoir, it is well written, with vignettes of family life from the 1950s to the present, solidly grounded by place, work, play, and daily rituals. Read it and savor it. It's almost as good as actually being on the Maine coast.
—Linda Hedman Beyus