View from the Porch - Issue 115
Issue 115
By Peter Bass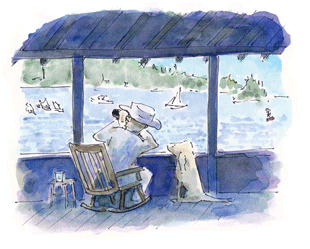 All illustrations by Ted Walsh
As the figurative pen hits the figurative paper, it is mid April and the weather is hovering in the mid 50s and Sebago Lake is still ice-bound. While there have been a few days of deceptive warmth, we have recently had what I like to call the April surprise: a late snow dump, appropriately this year on April Fool's Day. As this issue hits the stands, we are in the transition between mud season and the sweet interlude known as Maine summer. I know summer is approaching, because the spring commissioning bills for the cottage, dock, moorings, and boats are starting to come in. Last summer the dividends of great weather were worth these investments; we hope our down payments on this summer prove the same. The virtual Porch has been active, however, so pull up a virtual chair and have a virtual seat.
Faster than a Speeding Crustacean
In the
Bar Harbor Times
via
Village Soup
we learn of a band of divers who donate their time to coastal cleanup and other underwater activities. Capable of feats of underwater dexterity and derring-do, these mild-mannered submarine friends of nature are known collectively as the League of Underwater Superheros. In early April, our superheroes took on the task of retrieving wire grids used as a matrix to replant underwater eelgrass beds, previously set by the Mount Desert Island Biological Laboratory with the assistance of community volunteers. They had been placed last summer with plants attached, which then rooted in the sediment. Eelgrass dies back in the winter and re-emerges in the spring, making the end of winter the ideal time to remove the wire grids. Eelgrass is vital to the marine food chain and to the reproduction and protection of many species. On the Porch we know of this, having used grass beds to advantage when striper fishing, particularly along the edges. There is a spot in the Royal River in Yarmouth that can be particularly productive along an edge that drops rapidly to deeper water. Of course I can't tell you where it is, although you might try heading carefully west from green flasher "1."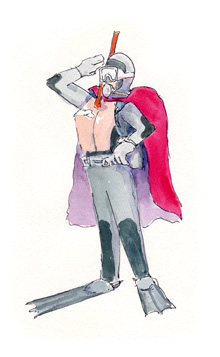 Welcome Back Bill
As a regular reader of this column, you may remember when we discovered the ubiquitous Bill, who seems to have a lot to say whenever a new legislature is in session. We are indebted to the headline writer of the
Bangor Daily News
for reporting on what Bill is up to this season.
BILL TO ALLOW EASTPORT TO SELL BOAT SCHOOL.
Evidently Bill has some serious influence over the goings-on in Eastport. Maybe Marlow Yachts, the buyer, has promised him a position with the new school and yacht-building facility.
BILL WOULD CLARIFY TRANSGENDER BATHROOM USE.
Bill loves a good controversy and likes to set things straight. Beyond that we have no comment regarding how he means to clarify this issue.
BILL WOULD INCREASE PERMITS IN MOOSE LOTTERY BY 100.
Bill doesn't think that killing 3,140 moose each year is enough. All I ask of Bill in this case is that the moose be allowed to participate also, sort of like getting the "get-out-of-jail-free" card.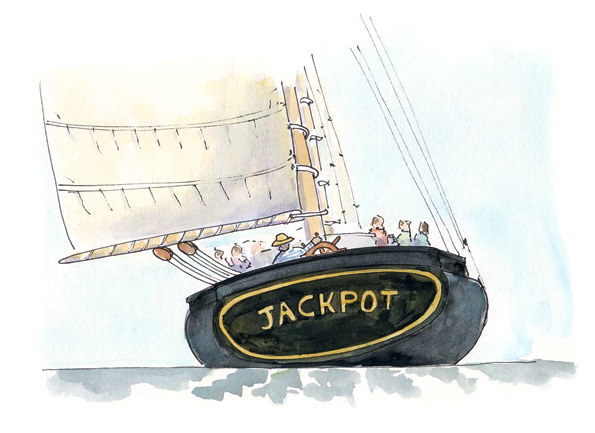 Schoonercino
In previous columns we have had some fun with the casino as philanthropic organization. You may recall that the various casino referendums all have some societal benefit attached to them in an attempt to hoodwink the voting populace into believing that there is a soft side to the devil. Probably because legislatures don't want to tackle issues about which there are reservations on moral or religious grounds, they are quick to pass them off to the voters. There are other issues that they do not pass off, such as giving tax breaks to certain interest groups here and there to foster a perceived public benefit, such as reduction in sales tax to out-of-state boat buyers so that they will keep their large yachts in Maine waters for a longer period. The most recent iteration of this that caught our eye was LD 59, which gives a sales tax break on materials to maintain and operate the windjammer fleet, according to an article in
Village Soup
(villagesoup.com). Now, one person's tax break is a moral outrage to another, so why don't we help out beleaguered businesses in the same way we preserved the harness racing industry: give 'em slot machines through a referendum, which our enlightened electorate seems to approve for anyone but Native Americans, who probably would get some actual benefit from the revenue stream. I can hear the clink-clink of the anchor windlass as a schooner rounds up and drops anchor in a quiet cove, to be followed by the ka-ching ka-ching of the slots after their weather covers are removed. It's just the beautiful sound of business and democracy working hand-in-hand. That way the money won't come out of the state's coffers, it will come out of the tourists', which, after all, is our way.
Here a Southport, There a Southport
If you grew up around Boothbay, Southport was this big island with a swing bridge over Townsend Gut and a great place to eat lobsters, Robinson's Wharf. Later David Nutt started a shop there to build the Southport 30 lobsterboat, now being built by Doug Goldhirsch, a.k.a. Southport Island Marine. As we wrote this in April, we learned that Doug is looking for the right buyer for his boatbuilding and storage business. Here's your chance to become the builder of one of the sweetest-looking small Maine lobsterboats ever. The sale is being handled by Legacy Properties, Sotheby's International Realty. Of course there are many Southports, including a well-known resort town in the UK, and since they are all ports, it should come as no surprise that there are other boatbuilders also carrying the name. To add to the confusion, a well-known builder of Southport-named boats has now been acquired by Augusta's Kenway Corporation, and the boats are being built in Maine. And they are pretty cool: Hunt-designed outboard fishing machines developed specifically to take advantage of and properly support two big four-stroke outboards and get you out to where the big ones play, magna cum celeritate. Kenway is the builder of the well-known Maritime Skiffs, and this gives them a brand extension into what has been a very popular style in the no-holds-barred sportfishing world. Check the Southport website for more information:
www.southport-boatworks.com
. See you out there.
Maine Boats for Maine Folks
Staying with the Maine boatbuilding theme, we find that the well-known Surry boatbuilder Wesmac is building a new 46-footer for the College of the Atlantic. The
Bangor Daily News
reported that the vessel, named
Five Friends
, is expected to be ready for trials this month. The boat's name refers to five MDI summer residents who helped finance its construction to support the college's marine programs and its stations on Mount Desert Rock and other islands. The group was organized by the late Edward Blair, a former COA trustee.
Five Friends
will replace
Indigo
, the college's workhorse since 1994. It will be able to carry nearly twice the number of passengers and will feature sophisticated sound suppression to enable classes to be conducted while underway. College of the Atlantic, an alternative liberal arts college, was established in 1969 in Bar Harbor. It has a unique mission, curriculum, and setting, and has in a relatively short period achieved an international reputation disproportionate to its modest size. The college is a fascinating story in itself, learn more at:
www.coa.edu
. I wish I were 18 again for a lot of reasons; one is to be an undergraduate at COA. I could have gotten a head start in writing about all things marine, and perhaps have even gotten good at it.
Flash: DEP Denies Dock Seaweed Shadow, Solons Save
Here's a real head scratcher: Maine's Department of Environmental Protection denied permission for a lobsterman to store traps on his new dock when they weren't being fished. The DEP cited "loss of habitat," because the traps would shade the seaweed below. This particular case seems to push the people vs. the environment discussion to a ridiculous level, and throws into question the decision-making capability of the department. It is not as if this were a hasty decision made by a junior staffer without oversight, either: the denial and appeal dragged on for over three years. The legislature (our solons) quickly dispensed with the issue by simply stripping the DEP of its authority to regulate traps and related gear on docks. Good sense prevailed in this instance. I am sure that we will get a letter or two in defense of the DEP for its role in protecting Maine over the years, and on the Porch we will agree. This particular case, however, seemed to move the role of guardian into one of theocratic zealotry.
Tidbits:
Mike Mayne of Edgecomb Boat Works, which does those lovely Lyman restorations among other projects, has merged with Edgecomb native Mitch Carey's Coastal Boat Transport, which has been offering overland transport of watercraft to 20 tons since 2007. The companies will operate under the Edgecomb Boat Works name. Bob Stephens and Paul Waring have moved their yacht design business from Brooklin Boat Yard to new offices in Belfast. Originally under the aegis of Steve White and Brooklin Boat Yard, the firm is striking out independently as Stephens Waring Yacht Design (SWYD). The new firm will design for many clients and builders, and Brooklin Boat Yard will be free to build for any designer. Should be good business all around. See the print version of
Maine Boats, Homes & Harbors
magazine for coverage of a recent SWYD project. The
Bangor Daily News
noted a birthday of note in early April: the schooner
Bowdoin
, now owned by Maine Maritime Academy in Castine, turned 90 this year. This remarkable vessel is profiled on Bowdoin College's website
www.bowdoin.edu
and in Virginia Thorndike's book,
The Arctic Schooner Bowdoin
. In response to a potentially tragic house fire in Frenchboro on Maine's Long Island in January, a number of residents and friends of Frenchboro have established a relief fund for the purchase of firefighting equipment for it and other island communities as well. Consider a donation to: Island Institute-Frenchboro Fire Fund, P.O. Box 648, 386 Main Street, Rockland ME 04841. Penobscot Island Air, an air service that operates out of Knox County Regional Airport in Owls Head, reached a significant milestone when it performed its 500th medevac flight in its six-year history. The 500th event was the transport of a Vinalhaven resident to the mainland for emergency treatment at Pen-Bay Medical Center. The International One Design, a magnificently graceful racing class designed in 1936, has its largest fleet in Northeast Harbor, and that fleet will send crews and possibly boats to the World Championships in Marblehead this June, according to an article in the
Bar Harbor Times
.
www.iodclass.com
.
Mementos of the Sea
We received a notice from Boston Harbor Auctions this winter of an upcoming auction of a wide variety of nautical artifacts, many from J.P. Morgan's luxurious steam yacht
Corsair
. We assume that this was the first of four yachts by that name which was the flagship of the New York Yacht Club in the late 1890s when Morgan was Commodore. By the time this issue is in your eager hands, the auction will have been held, so there'll be no time left to buy a set of china with the NYYC burgee and owner's private signal. No great loss, I say; all that gilt precludes tossing the dishes into the microwave anyway. Plus you probably wouldn't slap a peanut butter and jelly sandwich down in front of little Molly on one either. My favorite item on the auction list was one of the 30-foot launches from a later
Corsair
, designed and built by N.G. Herreshoff. View the full list at
www.bostonharborauctions.com
. Perhaps in 80 years, there will be an auction of the artifacts of our Dyer 29,
Etchemin
, including the four matching plastic tumblers, the alcohol stove (a.k.a Mr. Soot), and the custom-made holding tank. Ah, the gilded age of yachting. And now for another issue-appropriate closing ditty.
Waste not a lovely day in June The fleeting summer ends too soon
Every day before high season Lose you not for any reason
Dangling fenders and Irish pennants Will be marked by the Porch's tenants
Lines aboard and courses steady Feet are up, binoculars at the ready.

Long-time
MBH&H
Contributing Editor Peter Bass is a freelance writer and raconteur who divides his time between porches in Maine and Virginia.
Click here to read other articles by Peter Bass »
To submit your comments... newsy tidbits, photos, illustrations, clippings, rants, and raves for possible use in this column, use the form below. Or mail to "View From the Porch," P.O. Box 566, Rockland, ME 04841 or fax to 207-593-0026. Items may be edited for length and clarity; materials become the property of Maine Boats, Homes & Harbors, Inc.
Share this article:
2023 Maine Boat & Home Show

Join Us for the Maine Boat & Home Show!
Art, Artisans, Food, Fun & Boats, Boats, Boats
August 11 - 13, 2023 | On the waterfront, Rockland, Maine
Click here to pre-order your tickets.
Show is produced by Maine Boats, Homes & Harbors magazine.