Mainely Gourmet - Craignair Inn, Spruce Head, Maine
"An air of authenticity"
By Peter H. Spectre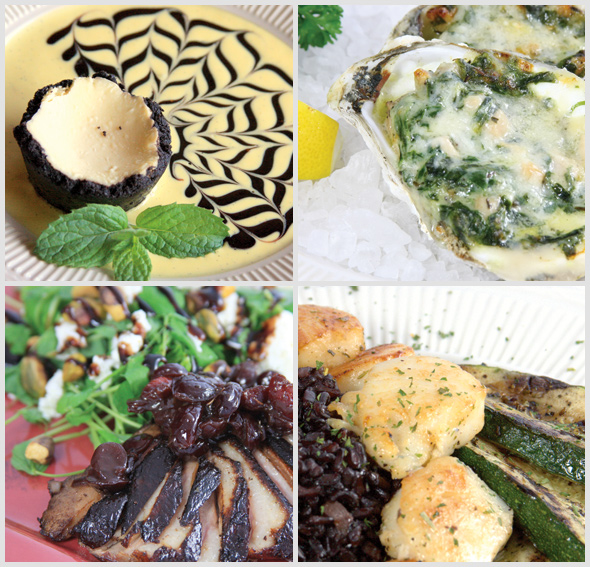 From duck to scallops to oysters to desserts, "Most of the menu is prepared in the modern manner."
Photos courtesy Craignair Inn
We all have in our mind's eye the perfect seaside restaurant. While my vision may differ from yours in some specifics, the odds are that they share at least one element—the perfect one must have an air of authenticity. I'm not talking about the food—we'll get to that later—but the restaurant's location, the decoration, the feeling of the place. My vision is of an inn on the coast. It is set on a rise overlooking the ocean with islands in the distance and waves breaking on a half-tide ledge. There are small gardens here and there, and wildflowers—in season I can see fields of lupine in the distance—and a lawn that slopes down to a cove bound by an archetypal Maine shoreline that may be rugged but not so much that you can't stroll along it after a meal. To get to the inn you take a long, winding, secondary road off Route 1. When you have traveled so far that you think you'll be soon driving into the sea, you turn onto a narrow back road and after a mile or two come to a little village that seems familiar to you even though you may never have seen it before. The inn and the view are the dominant features; the houses are small, humble, just what you'd expect in a mostly year-round community at the end of a road that goes nowhere else but there. The restaurant itself is on the inn's first floor. It's a room of modest size with a smaller living room to the side. The kitchen is in back. There are no fishnets hanging from the ceiling, no crossed oars or harpoons on the walls. Rather, to use a modern cliché to describe a space reminiscent of the past, it is what it is: simple, unassuming, with paintings of coastal scenes on the walls. The single most notable element is the view across the cove to the ocean beyond.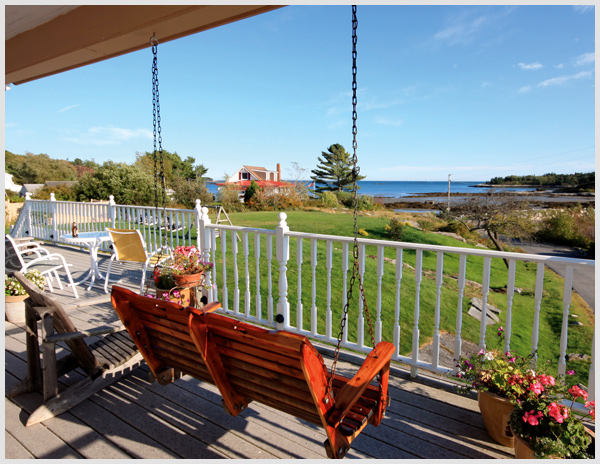 "On a rise overlooking the ocean with islands in the distance."
As strong as that image may be in our minds—after all, regional travel magazines and no end of bodice-ripping novels have made hay with it over the years—only a handful of restaurants in midcoast Maine, perhaps the entire coast, could answer to that description. In the hamlet of Clark Island, the village of Spruce Head, the town of St. George, almost at the end of the peninsula that defines the western edge of Penobscot Bay where it meets the Gulf of Maine, the Craignair Inn is one of them. Formerly a boarding house for stonecutters who worked the several quarries, now silent, in the area, it was converted to an inn and restaurant decades ago and has served generations of visitors since. The food. That's also what it is about, is it not? On the one hand, the menu is what you would expect: less meat than fish, but plenty of varieties of both, all fresh. On the other hand, while most seaside restaurants can be unadventurous when preparing such dishes and are heavy with fried food, the Craignair is not: most of the menu is prepared in the modern manner, which is to say, lots of ingredients identified with French, Italian, or other foreign cuisines. Words such as
rémoulade, risotto, demi-glace, béchamel, japonica
, etc. (Assuming that foreign words are used on American menus to add a tone of sophistication, one has to wonder if menus in, say, France use English words for the same purpose.) Nevertheless, trendy is not the word to use when describing the Craignair. The closest the chef came to that was when, on our recent visit, he sent out an
amuse-bouche
, a delicious single scallop in a pastry shell to whet our appetite for an appetizer, and included black japonica rice with my entrée, about which one gourmet writer recently asked rhetorically, "Is black rice the new brown?" Neither one of us ordered an appetizer, but if we had, we would probably have chosen the crab cakes on mixed greens with Dijon
rémoulade
($10, for two people), though if I were to order just for myself, I would have had fried coconut shrimp with pineapple chipotle sauce ($9). Another interesting offering was smoked haddock chowder, which I would have tried if it didn't conflict with my entrée. For an entrée, Eileen chose surf and turf; i.e., petite tenderloin and grilled shrimp with compound butter and red wine
demi-glace
($22). She said it was cooked to perfection and that she would order it again in a heartbeat. I had baked stuffed haddock ($21), a filet filled with crabmeat and topped with lemon butter. It's an old seaside restaurant standby that was considerably enhanced by the above-mentioned black japonica rice. Other entrées worth a look the next time around—and there will be a next time—are cedar-plank-roasted salmon with Dijon cream sauce ($19), beef Bourguignon with carrots, onions, mushrooms, and potato ($22), steak Diane with mushroom Dijon sauce ($22), and seared scallops with black japonica rice ($23). Authentic air, fine dining—the Craignair Inn, open year round, provides everything you could want in a seaside restaurant on the coast of Maine.

Peter H. Spectre is the Editor of this magazine.
Craignair Inn & Restaurant
5 Third Street Spruce Head, ME 04859 800-320-9997;
www.craignairinn.com
Open year round.
Share this article:
Digital Edition Available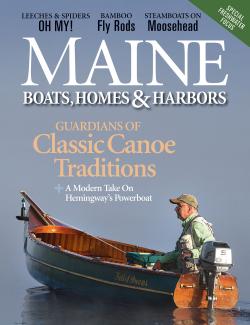 Can't get to the store to buy your magazine? We deliver the stories of Maine's coast right to your inbox. Sign up here for a digital edition.