Letters - Issue 111
Issue 111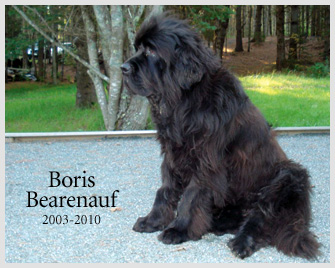 Over the bar
We're sad to report the passing of Boris Bearenauf, a.k.a Mr. Bean, dockmaster at Up Harbor Marina from 2003-2010. His person writes: "Boris came onto the scene full speed ahead to capture the coveted Maine Boats, Homes & Harbors World Champion Boatyard Dog® honors at the MBH&H Show in 2004 at the age of 8 months. His ability to tie a bowline and his undeniable charisma catapulted him into the life-long ability to befriend all he encountered. Many, many miles over the bottom and countless hours of sea time helped round out his legacy. Much could be said about Boris, but in reality no words could paint the true picture of this stoic, lovable beast. Boris left port for the final time on June 2 at around 5:30 p.m. His travel itinerary was to take him to Mount Zion. No one knows for sure how long this will take. Whether it is a pretty quick fetch or if the journey is long, many people will miss you, old friend!"
Carlton Johnson
Redfern Boat, Lamoine, Maine
High praise
Imagine the start you gave me when I turned to page 15 of MBH&H #109, May 2010, and saw your "business partner," Mike Mayne, staring at me over my Cheerios, full page no less. Mike and his crew have restored and maintain a Lyman and an Egg Harbor for Carol and me. Mike's combination of skill, knowledge, and conscientiousness is rare and hard to find. Trust me, I've looked. That's not to say there aren't talented boatbuilders out there; I've had boats built by some of them. But when it comes to resurrecting a 40-plus-year-old boat with all its idiosyncrasies, Mike is, as they say, the total package. We've enjoyed and profited from your restaurant tips, book reviews, and places to visit by both land and sea over the years. Keep up the entertaining and informative work and keep "partnering" with Maine's best natural resource, its small-business talent.
Arthur J. Rocque, Jr.
Stonington, Maine
More high praise
I just read your review of Susan Shetterly's book
Settled in the Wild
, and I want to tell you how much I loved it, too. She read here at the Blue Hill library this winter, and it was the most perfect, sweetest author event ever. It was freezing cold and windy outside, but the room was packed, and she just lit up the night. I've read the book a few times now (it's short; don't get the idea that I have lots of leisurely reading time), and I couldn't agree with the review more. It's really fabulous.
Brook Minner
Blue Hill, Maine
Ray Hunt information requested
I am collecting information for a biography of C. Raymond Hunt (1908-1978), American yacht designer of sail and power who was productive in the period 1933-1968. (See page 26, this issue.) Hunt's passion for performance led him in many directions domestically and internationally, as a racing sailor, inventor, designer, cruiser, and naturalist. Much is already known about his International 110s, 210s, Concordias, revolutionary deep-Vs, and custom designs, such as Minotaur, Easterner, and Drumbeat. It is the less-well-known areas of his life and work that need greater information: the powerboat he used on patrol duty with the U.S. Coast Guard, his design work at BuShips, his work with Richard Fairey of Fairey Marine, England, and most especially, his designs that never made the press but revolutionized boating as we know it today—catamarans, trimarans, tunnel-keels in runabouts, a prototype destroyer he used for lobstering off Cohasset, Massachusetts, and many more. I would be interested in receiving correspondence (
mwksail@msn.com
) from your readers who may remember Ray Hunt, own one of his designs, raced against him, or know stories of his racing or design endeavors.
Mark W. Kellogg, Director of Research
Severn Marine Consultants
309 Holland Road
Severna Park, Maryland 21146
It's a Corgi!
We were tickled to see that the Boatyard Dog in MBH&H #110, July 2010, was a Pembroke Welsh corgi. We cruise the Pacific Northwest on a wood boat, a Monk McQueen, through the San Juan and Gulf islands with our very own boatyard dog, Reilly Ace. Everywhere we go, we are regaled with calls of "It's a corgi, the queen's dog!" Corgis know their place in the world. Whenever we spot a seal, we exclaim, "Look, it's a seadog!" and Reilly hops to attention.
Catherine Crandall Ramsden
M/V Continental