A Letter from the Publisher - Issue 111
Issue 111
By John K. Hanson, Jr.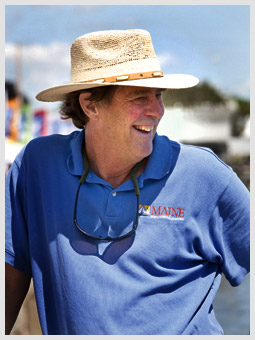 John K. Hanson, Jr., publisher,
Maine Boats, Homes & Harbors, Inc.
Photo by Jeff Scher
Rockland, Maine
The Power of the Maine Myth
Maine was once Norumbega. First named as such on Verrazano's map of 1524, it was the land of dreams and desires for early European explorers. Today, Maine is still Norumbega, land of mythic truths and legends for artists of all stripes. In this issue we feature two European artists fascinated with the idea of Maine: Anne-Emmanuelle Marpeau of France, and James Dodds, of Great Britain. Both are attracted to Maine's ongoing traditions—Dodds to the boats and boatbuilding, Marpeau to the triumphs and struggles of coastal life. A long time ago Maine struck a resonant chord within me as well. I felt the same attraction as Marpeau and Dodds the first time I saw the coast without the fog. (Some may suggest that the fog didn't actually lift for me for many years hence....) My first clear visions of the coast were profound in an indescribable way. I still, on most days, get a feeling of that transcendence, but unlike my artist friends, I have no way of expressing it through art. I can, though, look at their artwork and appreciate that Maine has worked its mythic magic on them as well. Both Marpeau and Dodds will exhibit in Maine this summer, as will many others, Maine-based as well as those from away. Check out their work; see the essence of Maine through their eyes. The power of myth, the power of artistic vision, is also the power to unite us as a community. For a microcosm of this creative community, I invite you to join us on the waterfront in Rockland, August 13-15, for the 8th annual Maine Boats, Homes & Harbors Show. The air during the show will be crackling with the energy radiated by more than 300 boatbuilders, artists, designers, and craftsmen. Come be part of the community, be part of the art.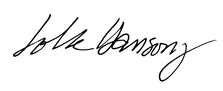 Share this article:
Digital Edition Available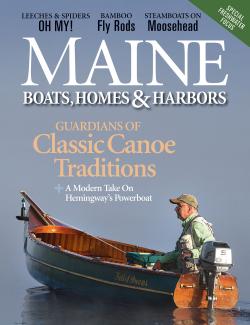 Can't get to the store to buy your magazine? We deliver the stories of Maine's coast right to your inbox. Sign up here for a digital edition.