Mainely Gourmet - Senator Inn & Slates Restaurant
Cloud Nine at the Senator Inn, Augusta | Slates Restaurant, Hallowell
By Peter H. Spectre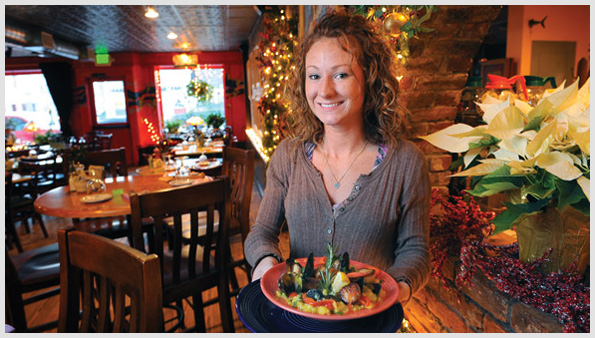 Slates in Hallowell: a restaurant with a bar, or a bar with a restaurant? Photo by Fred Field
There's a sign outside the Senator Inn in Augusta that says "Fine Seafood" and "Great Desserts." I can't attest to the seafood—we went there for Sunday brunch, buffet style, and for that seafood was a minor attraction—but I can speak to the dessert. There was something for everyone: cakes, pies, sauces, dips, puffs, tarts, turnovers, and especially for me, Indian pudding. Indian pudding. Those two words say everything you need to know about the menu. Brunch at the Senator Inn's Cloud Nine restaurant is about all-American food centered on New England fare, and the core of the latter is Indian pudding. Milk, butter, corn meal, nutmeg, cinnamon, molasses, all served hot and topped with cool whipped cream... mmm, mmm, good. But polite folk save dessert for last, and that's what we did. Face it. Most Sunday brunch buffets are forgettable affairs: In a nutshell, boring food, overcooked, served lukewarm. The Senator's, however, is not. After our meal, out in the parking lot, Eileen and I took a vote. We've been to a few buffets over the years and the only one we could think of that could top the Senator's was at the Chateau Frontenac in Quebec City, and that was probably only because it cost twice as much. What's the test of an excellent buffet? The food has to be warm, cool, cold, or hot, depending on the recipe; it has to stay that way without becoming dry, soggy, or overdone; it has to be arranged logically, and it has to be recognizable; i.e., you have to be able to look at it and, without the assistance of a menu, say, "I know what that is." Casseroles are okay; concoctions are not. By that definition, the Senator Inn's is in the hall of fame. Here's just a sampling of the choices, in no particular order: spiced hot apple, seafood Newburg (haddock, lobster, shrimp), roast beef, baked ham, stuffed pork loin, bacon, sausage, eggs, breakfast pastries, chicken pie, sautéed vegetables, roasted potatoes, mashed sweet potatoes, basmati rice, Belgian waffles (with fruit and whipped cream), chili, salad, quiche Lorraine, eggs Benedict, and then, of course, dessert.
Pluses:
» The dining room had ambience, which is surprising, since the inn itself is a motel (though on the upscale end of things). » The Indian pudding should make Native Americans proud.
Minus:
» Coffee was extra, which seems odd since everything else is included in the fixed price. » The piped-in music was hideous.
Senator Inn & Spa, Cloud Nine Restaurant
284 Western Avenue, Augusta, ME 04330 207-622-5804
www.senatorinn.com
Some people would never attend a buffet no matter how good the recommendation. They much prefer sit-down dining, each course served by a waiter. For them, in the Augusta area—actually the next-door river town of Hallowell—the best bet is Slates. Rumor has it that Slates's brunch, served Saturdays and Sundays, is so popular that people wait in line to get in. I wouldn't know, because we ate dinner there on a Tuesday night. (We originally planned to go on a Monday, but that is live entertainment night and we prefer peace and quiet while we dine.) Usually you would expect Tuesday to be slow, but when we arrived, about 6:30, the place was packed. It's difficult to pin a label on the Slates decor. In a storefront building on Hallowell's main street, tucked among antiques shops and boutiques, it has tin ceilings, brick walls, and art for sale, some good, some not so. It has the feel of a restaurant with a bar, or a bar with a restaurant, depending on your original intent. Did you come to drink and then, later, decide to dine? Or was it the other way around? It's also difficult to pin a label on the menu. Generally, I'd call it eclectic with a Mediterranean accent, Spanish overtones, and the barest hint of Mexican, but even that definition would be unfair. Consider, for example, the specials of our night: Soup of the day: Vegetarian split pea; cup $4, bowl $5. Appetizer: Fresh Maine crabmeat canneloni with marinara and creamy alfredo ($8). Entrées: Spiced seared salmon and tuna with cranberry-maple glaze and pear-ginger butter ($18); peppercorn seared beef tenderloin ($24); Mediterranean seafood stew (shrimp, scallops, lobster, bluefish, calamari, mussels) with garlic bruschetta ($24). Sides: Mashed potatoes, grilled eggplant, quinoa pilaf, honey-roasted carrots. The drink of the day was fresh muddled Margarita—orange, lime, Rose's lime juice, Cointreau, tequila—which Eileen ordered and declared to be delicious. (I had a martini, and it was both mixed perfectly and generous in size.) Slates is also a bakery, specializing in bread and bagels, and the standard pastries you would expect from a bakery in any New England town, among them: carrot cake, pumpkin-spice cheesecake, gingersnaps, chocolate-chip cookies, boom-boom bars (cheesecake brownies), and more.
Pluses:
» The waitress was a tiptop professional on top of her game.
Minus:
» Coffee was extra, which seems odd since everything else is included in the fixed price. » The salad was untossed, and the dressing was served on the side (Eileen's complaint).
Slates Restaurant & Bakery
167 Water Street, Hallowell, ME 04347 207-622-9575
www.slatesrestaurant.com
Share this article:
2023 Maine Boat & Home Show

Join Us for the Maine Boat & Home Show!
Art, Artisans, Food, Fun & Boats, Boats, Boats
August 11 - 13, 2023 | On the waterfront, Rockland, Maine
Click here to pre-order your tickets.
Show is produced by Maine Boats, Homes & Harbors magazine.