Mainely Gourmet - Two Village Stores - Owls Head General Store and The Sea Store
Two Village Stores
By Peter H. Spectre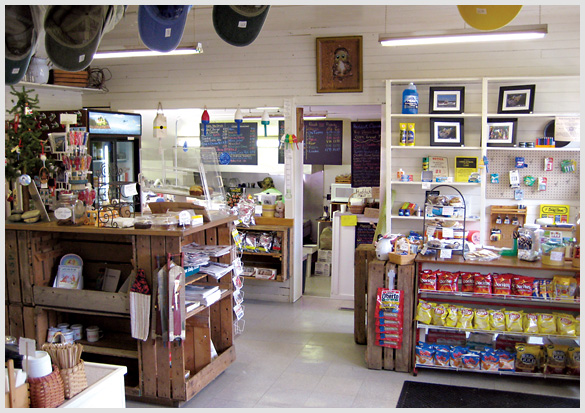 The Owls Head General Store.
The general store is dead. Long live the general store. Or—to rewrite Mark Twain's response to a famously erroneous rumor that he had died—the reports of that institution's death are greatly exaggerated. Not that today's general store bears much relationship to the fabled one of yore. These days you'll look long and hard for a pickle barrel, or a new pair of winter woolies, or a bunch of old geezers sitting around a woodstove playing checkers and spouting aphorisms about the weather. Rather, in most villages—especially those along the coast and most especially those that have strong summer populations—you'll find something akin to a small restaurant—part take-out, part sit-down—alongside a selection of staples of the convenience-store variety. To say that this is a major change from the old days when just about the only hot food available at your standard general store was a steamed hot dog, dyed red, on a soggy bun and the only place to eat it was on the front stoop, would be an understatement. Not that every general store has given up on steamed dogs. Some traditions die hard in the state of Maine. Actually, "general store" is somewhat of a misnomer. While there are a handful that offer everything from a meal to a can of Spaghetti-Os, from a bridal gown to an over-and-under shotgun—Hussey's ("If we ain't got it, you don't need it!"), just beyond the Windsor Fairgrounds, comes to mind—most have limited selections of very little. Perhaps we should call them what they are: village stores. The best of them have not only progressed beyond the red dogs, they have also leaped past the next stage (pizza, fried dough, popcorn chicken) to a menu that would do a big-city cafe or delicatessen proud. There is a difference, however: many of these stores, the best of the best, have food of the home-cooked variety.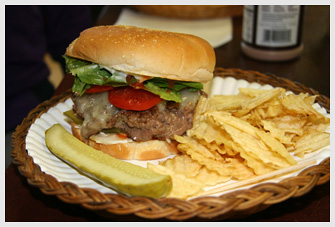 The Owls Head General Store "Seven Napkin Burger"
is the best around.
I was thinking about all of this a few days ago when Eileen and I stopped at the Owls Head General Store, just up from the harbor in Owls Head, next to the post office. There were items for sale, but they were of the gift shop sort. There was hardly a staple in sight beyond beer, wine, and chips; instead there were T-shirts, crafts, minor art, jellies, and jams. In other words, despite the title, it was a new-age village store, which was all right with us. We had come for lunch. There was a printed menu, in itself a change from the old days, and a long list of daily specials posted on the wall. We had hamburgers ("six ounces of rave reviews" according to the menu), because a neighbor down the street said they were the best on our stretch of the coast, and she was right about that. From the looks of the other diners' meals, we could have easily had what they were having—a smoked turkey sandwich, a roast beef sub, the haddock chowder, a lobster roll, the baked-bean special—and been just as happy. For dessert, we had grape-nut custard made the way my grandmother used to make it: light on the grape-nuts, heavy on the custard. A few days later we continued the theme and had lunch at the Sea Store in Spruce Head, next to the boatyard, just up the road from the world-famous Lobster Lane Bookstore. More "general" than the Owls Head General Store, the Sea Store had a few emergency groceries, plenty of dairy products, beer, wine, and the usual accessories, and limited gifty items beyond a few T-shirts and sweatshirts. Call it half village restaurant, half convenience store.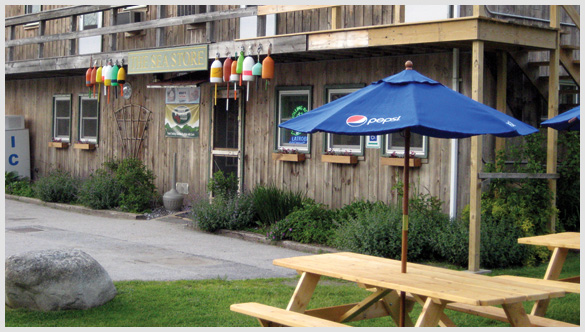 Thumbs up for the Sea Store's lobster roll.
While the Owls Head General Store had a slightly affected tea-room quality to it, the Sea Store was a bit more down-home. That could be because the clientele tends to be more local. (A sign on the wall next to one of the tables: "Old Goat's Club meets here for gossip, backbiting, and slander.") People from far and wide come to the Owls Head General Store; they might switch their allegiance to the Sea Store, or at least share it, after a taste of some of their home-style cooking, especially the daily specials. I can speak for the chicken-salad sandwich. It had plenty of the main ingredient, enough but not too much mayonnaise, a hint of onion (subtle, not the punishment all too common at other venues), and another flavor—lemon perhaps?—that I couldn't identify but which added to the experience. Eileen can speak for the lobster roll. She gave it a thumbs up with gold oak-leaf cluster for two reasons: it was perfectly rendered, with plenty of lobster meat balanced by the right amount of mayonnaise, and it was only $9, which was $3 less than the going rate elsewhere in the area at the time. (Note: lobster prices vary as the market fluctuates.) We can both speak for the tomato soup. A special of the day, home-made with fresh ingredients, it had a hearty consistency and a flavor unlike the standard emulsified canned type. There are plenty of other village stores on the coast of Maine that serve good, solid, home-style meals. Look for them. Patronize them. Recommend them to your friends and neighbors. Long may they live.
Owls Head General Store
2 South Shore Drive Weekdays, 6 a.m.-5 p.m. Weekends, 6 a.m.-7 p.m. 207-596-6038
The Sea Store
26 Island Road, Spruce Head Monday-Saturday, 5 a.m.-8:30 p.m. Sunday, 6:30 a.m.-8 p.m. 207-594-2888

Share this article:
Digital Edition Available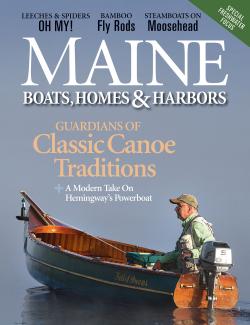 Can't get to the store to buy your magazine? We deliver the stories of Maine's coast right to your inbox. Sign up here for a digital edition.