Mainely Gourmet - Portland: Becky's and Street & Co.
Becky's and Street & Co.
By Peter H. Spectre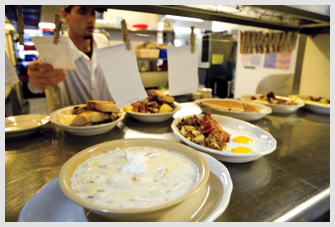 Becky's on Hobson Wharf.
Photo by Jeff Scher
The first time I even heard of a grilled crabmeat sandwich, never mind ate one, was one day several years ago when I was visiting a friend and his wife suggested that I stay for lunch. It was a special day, she said—they had a container of freshly caught and picked crab, and she would be grilling it. Thanks but no thanks, I said. In an earlier time I had lived on the marge of Chesapeake Bay, and I remembered how the local saloon served soft-shell crab. They flattened it out and fried it whole and slapped it between two pieces of bread, the claws and feet sticking out beyond the edges. There was a lot of crunching when you bit into the thing, and the taste was influenced by whatever else had been cooked in the pan (have you ever tasted scrapple?). Ours is nothing like that, she said. Stick around, you'll see. So I did. If you have never tried a Maine-style grilled crab sandwich, jump right on it. It's basically a grilled cheese sandwich with crabmeat instead of cheese, and it is spectacularly delicious. The very best I have ever had was at Becky's, in Portland. We were in Portland for the day. We ate lunch at Becky's, because it came highly recommended as the place for good old all-American stick-to-the-ribs diner-style food and that's what we needed after driving down Route 1 to the city and doing a lot of walking around. (Some people call diner-style food "comfort food," but I've always thought that to be a tad condescending; besides, what's the alternative? Discomfort food?) The specials of the day were lasagna with garlic bread ($7.95) and grilled crab with Swiss melt ($8.95). Grilled crab and cheese! Try that and you'll never waste your money on a lobster roll again. Packed with crab, enhanced with Swiss cheese, grilled in thick white bread, Becky's model was nothing short of spectacular. Becky's is an institution on the Portland waterfront. In a nondescript building at the head of Hobson's Wharf, it has booths and a counter. The restaurant originally catered to waterfront workers —and still does—but its reputation has spread. Now regulars come from all over the city for breakfast, lunch, and dinner. If you've ever eaten in a diner, or a "family" restaurant, you know the menu. The difference is that Becky's is vastly better. Pluses: » For nostalgists, they have genuine milk shakes in vanilla, chocolate, strawberry, and coffee flavors. » The staff is friendly and welcoming, even when the place is crowded. » Usually there is seating at the counter when there is a wait for a booth. Minuses: » Expect to wait for a booth during the lunch hour. » Parking is—how should we say?—irregular. Since Becky's is short on spaces, customers park behind other customers' parked cars, thus blocking them in. The street is the best bet if you can find a space.
Becky's on Hobson's Wharf
390 Commercial Street, Portland. Open 4 a.m –9 p.m., 7 days a week. Closed Thanksgiving and Christmas. 207-773-7070
www.beckys.com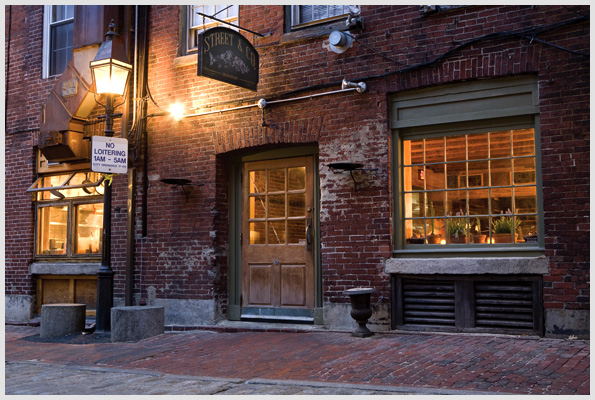 Street & Company, Wharf Street, Portland.
Photo by Jeff Scher
Dinner that night was at Street & Co., not far from Becky's but miles away in the menu department. If Becky's was inexpensive, Street & Co. was anything but. And if Becky's was eating, Street & Company was dining, though not particularly in the formally elegant sense of the word. Any restaurant with an open kitchen, with cooks and their assistants—seven of them—right out there in full view of the diners, would have to be called casual if not informal. (But we did have a taste of formality beforehand; we had pre-dinner cocktails nearby at Eve's in the Garden at the Portland Harbor Hotel.) Street & Co., with an entrance off a cobblestoned alley, is in the lower level of one of the Old Port buildings, probably originally a series of shipping or storage rooms. The restaurant is all about fish, most of which is prepared in a Mediterranean rather than the traditional Maine style. The decor has a Mediterranean sensibility, too—from copper-topped tables to hanging dried herbs. Even the waiters have a vaguely Mediterranean air, though perhaps a tad too casual for a restaurant with such an upscale menu: the men wear t-shirts that actually look suspiciously like undershirts. (They wear t-shirts at Becky's, too, but they look like what they are.) Starters on the menu include "tastes" (minor appetizers), salads, and appetizers. A taste: pan-seared albacore with capers and lemon, $4.00. A salad: red and green romaine lettuce with olives, roasted pepper, tuna, and artichoke, $7.95. An appetizer: mussels Provencal with garlic, white wine, and butter, $9.95. Entrees are grouped on the menu according to how they are cooked: in the pan, grilled or blackened, and broiled. For example, cooked in the pan: scallops in Pernod and cream, $26.95. Blackened: swordfish, $26.95. Broiled: halibut, $26.95. Eileen and I shared the lobster diavolo, $42.95 for two; a lobster, split in half and broiled, on a bed of linguini with calamari, mussels, and mahogany clams. It was hot in the spicy sense, as the word "diavolo" (devil) suggests—but not overly so—and in the temperature sense, too, as it came in the pan and the pan came straight from the stove to our table. It was so hot, in fact, that the reason for the table's copper top became obvious. Street & Co. has a reputation for quality—it advertises the freshness of its ingredients, and I can't argue with that—and as a result it fills up quickly even during the week and especially on weekends. Be sure to make a reservation. Pluses: » We've eaten there twice. The food was excellent both times. » The ambiance is relaxed, especially if your seating is in the far room away from the kitchen. » Mirrors on the wall help alleviate a feeling that would seem cramped without them. Minuses: » Like all Old Port establishments, parking is on the street and can be difficult. » The waiter didn't volunteer prices for the specials of the evening. » The men's room, in a dank lower level, had issues. (Eileen said the ladies' room didn't.)
Street & Co.
33 Wharf Street, Portland. 207-775-0887
www.streetandcompany.net

Share this article:
2023 Maine Boat & Home Show

Join Us for the Maine Boat & Home Show!
Art, Artisans, Food, Fun & Boats, Boats, Boats
August 11 - 13, 2023 | On the waterfront, Rockland, Maine
Click here to pre-order your tickets.
Show is produced by Maine Boats, Homes & Harbors magazine.