From Whence We Came - Issue 105
Issue 105
By Peter H. Spectre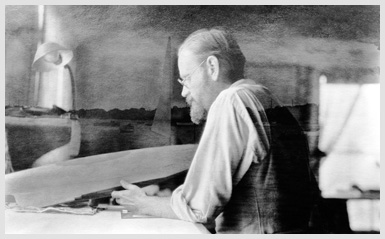 L. Francis Herreshoff at work on a wooden model, circa 1930.
©Mystic Seaport Photography Collection, #1993.120.1.58
Remembering those who influenced how we respond to boats, ships, and the sea—we continue our series of short biographical sketches.
L. Francis Herreshoff
The Yacht Designer as Artist
One of the more outspoken and opinionated yacht designers of the middle decades of the 20th century, L. (Lewis) Francis Herreshoff (1890-1972), was born in Bristol, Rhode Island. The son of the most famous yacht designer of the late-19th and early-20th centuries, Nathanael Herreshoff, he grew up underfoot in the legendary Herreshoff Manufacturing Company yacht yard. His formal education was in agriculture, but boats were in his blood and he soon followed in the footsteps of his father, doing design work for the Navy and later going to work in W. Starling Burgess's design office. Lacking formal training, Herreshoff always referred to himself as a yacht designer, not a naval architect, and as such designed some of the most influential racing and cruising craft of his day, everything from double-paddle canoes to an America's Cup contender. The yachts built to his designs were not only appreciated for their speed and seaworthiness, but also, because he was fundamentally an artist, for their classically inspired beauty—among them
Ticonderoga
,
Rozinante
,
Mobjack
, and
Araminta
. Besides his designs, Herreshoff was known for his writing, especially a famous series of articles beginning in the 1940s that was published in
The Rudder
magazine and which was later collected in several books, all considered classics. The latter include
The Common Sense of Yacht Design, Capt. Nat Herreshoff
(a biography of his father), and
The Writings of L. Francis Herreshoff
L. Francis Herreshoff was a fascinating combination of traditionalist and iconoclast. He saw yachting as a straight-line continuum; he believed that what would come would naturally follow what came before, even though that coming might be revolutionary. He believed that the continuity of tradition maintained standards, and artistry, and sanity within the community of yachting, and that when those who didn't know any better—the arrivistes—started meddling with it, the beauty and pleasure of yachting was diminished. Here is a short rant from LFH that is as true today as when it was written (1948): "I think that ocean racing is a noble and manly sport, but I object to rules that encourage or produce yachts that are too expensive for any but the very wealthy. I believe that our present rules ... are much too complicated and involved to be clearly understood by the average yachtsman, and I believe that this fact is entirely unnecessary. My greatest objection to ocean racers now being produced is that they are not comfortable seagoing craft suitable for cruising but are expensive racing freaks almost good for nothing after they are out-built or outmoded."
Cartoon by Darrell McClure
Darrell McClure
The Sailor as Cartoonist
A tailor, lumberjack, merchant mariner, boatman, and artist, Darrell Craig McClure (1903-1987) was a Californian through and through, though for several years in the middle of his career he lived in Connecticut while he worked in New York City. McClure was formally trained in art at the California School of Fine Arts, but like most artists, his determining technique and subject matter came from his overriding interests and from experience. While McClure enjoyed success as a fine artist—many of his paintings are in museums and private collections—he is best known to the general public for the cartoons he drew for King Features Syndicate, especially Little Annie Rooney, a strip that ran for decades in daily and Sunday newspapers around the country. It is his work in the nautical field, however, that concerns us here. McClure was an avid sailor, and during his New York years he brought that interest to the pages of Yachting, which was the most sophisticated and influential boating magazine of the 1950s and1960s. He illustrated scores of feature articles with drawings that were both clear and technically accurate—he especially had an eye for a sheer—and he created a series of single-panel cartoons that shot an arrow into the very essence of one's lust for boats and pleasure sailing. These cartoons are timeless, and lucky are those who have access to back issues of Yachting or have been able to locate copies of
The Best of Darrell McClure
and
The Gaff Rigged Yachtsman
, two collections of his nautical cartoons.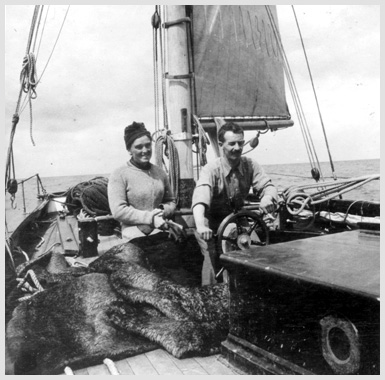 Erskine Childers and his wife at sea in their yacht
Asgard
.
©Hulton Archive/Getty Images.
Erskine Childers
A Gun-Running Small-Boat Man
Robert Erskine Childers (1870-1922), who went by his middle name, had a varied career centered on writing, military service, and politics, but his fame came from a novel about sailing and espionage, and his involvement with the IRA. Childers was born in London, England, of an Irish mother and English father, and was brought up in County Wicklow, Ireland. He was educated at Haileybury College and, later, Trinity College, Cambridge, where he studied law. Following graduation he became a clerk in the British House of Commons. Childers was an avid yachtsman, sailing North Sea and Baltic waters whenever he could get time away from his work. He served in South Africa during the Boer War and wrote a book about his experiences. Shortly afterward he wrote
The Riddle of the Sands
, one of the first espionage novels and a classic small-boat adventuring yarn. The background for the plot, which involved German plans for an invasion of England in the event of war, was based on Childers's extensive cruises along the Frisian Islands in his converted lifeboat
Vixen
. Childers's writing had a rhythm that enhanced the flavor of the sea, as in this short excerpt from
The Riddle
: "I waited on deck and watched the death-throes of the suffocating sands under the relentless onset of the sea. The last strongholds were battered, stormed and overwhelmed; the tumult of sounds sank and steadied and the sea swept victoriously over the whole expanse. The
Dulcibella
, hitherto contemptuously inert, began to shake and tremble under the buffetings she received. Then, with an effort, she jerked herself on to an even keel and bumped and strained fretfully, impatient to vanquish this insolent invader and make him a slave for her own ends. Soon her warp tightened and her nose swung slowly round; only her stern bumped now, and that with decreasing force. Suddenly she was free and drifting broadside to the wind till the anchor checked her and she brought up to leeward of it." Erskine Childers wrote several books on military and historical subjects in the years leading to World War I; during the war he served in the Royal Naval Volunteer Reserve, first on a seaplane carrier and later in the Intelligence Division of the Admiralty. After the war he became heavily involved in the burning issue of Irish Home Rule, serving on delegations to London, and editing and publishing
Poblat na h'Eirann
, a Republican political journal. He joined the Irish Republican Army following the establishment of the Irish Free State and was captured while running guns in his cruising yacht
Asgard
. He was court-martialed by the army of the Irish Free State and executed on November 24, 1922.

Peter H. Spectre is the editor of this magazine. He is himself a small-boat enthusiast and story-teller
par excellence
.
Share this article:
2023 Maine Boat & Home Show

Join Us for the Maine Boat & Home Show!
Art, Artisans, Food, Fun & Boats, Boats, Boats
August 11 - 13, 2023 | On the waterfront, Rockland, Maine
Click here to pre-order your tickets.
Show is produced by Maine Boats, Homes & Harbors magazine.