Mainely Gourmet - Castine: The Pentagoet Inn
The Pentagoet Inn
By Peter H. Spectre
A restful place for a getaway.
Photo by Peter Spectre
We all have had a meal that was so special, so extraordinarily good, that it sticks in the mind as the best we ever had. The principal cause of that impression could be anything or a combination of things—the breaking of a long fast, the taste of the food or its presentation or the person we shared it with, even the decor of the dining room—but we remember.
My most memorable meal came about 25 years ago at a banquet sponsored by a town-gown club at Bowdoin College in Brunswick. At each club gathering one of the members gave a lecture on an assigned topic; the menu for the meal, an elaborate affair, related to the subject of the lecture, in this case one with a nautical theme. I had been invited to attend because I had provided advice to the lecturer. The meal—a feast, really—centered on bouillabaisse, a seafood stew that was so artfully prepared that the memory of its aroma, its texture, its taste, is as powerful now as it was the day after I ate it.
Eileen said that I exaggerate. No stew could be that good. ("How much did you have to drink?" she wanted to know.) After all, bouillabaisse is nothing more than bits and pieces of fish and shellfish in a broth, with French bread on the side to provide a little body. She made her point long before the evening late last summer when we dined at the Pentagöet Inn in Castine.
I say dined, not ate, because while the inn has a decidedly relaxed atmosphere, it is civilized in a way that, say, Moody's Diner in Waldoboro is not. They treat you as a guest, not a customer.
The Pentagöet Inn specializes in seafood, and the choice the night we were there was proof of that. The specials were red snapper and linguini with lobster; the regular menu included Pacific salmon and lobster bouillabaisse.
I know what you're thinking. This boy, given the above yarn, had to have had the latter. Now he's going to tell us that it can't hold a candle to Bowdoin's recipe. But no, he didn't and he won't.
I had the Pacific salmon, and it was as good as any I have ever had. It was a civilized piece of wild fish—firm, with a robust but not overwhelming flavor—nothing like the too-mild farm-raised salmon we usually get in Maine. There was only a hint of garlic in the sauce used in its preparation.
It was the matter of garlic that steered me away from the bouillabaisse and toward the salmon. Too much garlic doesn't agree with me. For too many chefs, garlic in spades seems to be a central ingredient of bouillabaisse. ("You want garlic?" I envision them snarling. "We'll give you garlic!" It's almost like a punishment.) Why take a chance?
Eileen had the bouillabaisse. I don't know if she had a Bowdoinian experience, but after she gave me a taste, I did. Yes, there was garlic, but it was used judiciously. It was one flavor among many other equals, not an overpowering dominant that would turn the various seafood flavors in the stew—especially the lobster—into a monotone. It was a stew, yes, but all the components were identifiable and complementary. This was world class, and (sob) I hadn't ordered it. ("There's always another time...." Eileen said.)
The rest of the meal was as grand. The salad was a work of art, a mixture of texture and color that included haricot verts, beefsteak tomatoes, goat cheese, and arugula, accented with just the right amount of vinaigrette—not too much, not too little; the bread, studded with olives, was delicious. And the dessert: pecan tart with maple ice cream. Profiterole filled with hazelnut gelato, topped with chocolate sauce. And the ambience: Two dining rooms decorated in a comfortable New England take on Victorian style, with a pub-style bar decorated with old photographs, prints, paintings, and posters of everything from ships in the tropics to portraits of Mohandas Ghandi and Fidel Castro.
Generally I'm no big fan of the modern bed-and-breakfast. Too over-the-top cutesy for my taste: frills and fussiness with an almost mythological pretentiousness that makes me want to flee on first sight. While the Pentagöet Inn itself, not the restaurant, flirts with that condition—there are rooms upstairs and in a separate cottage, and a garden in the back—it is less of a caricature and more of a simple, restful place to settle into for a longish vacation or a shortish getaway.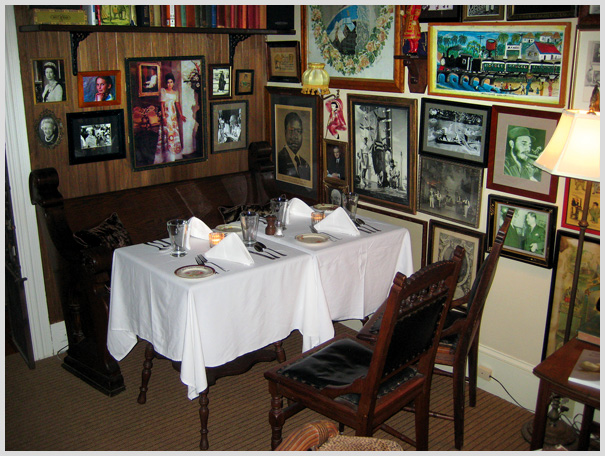 One can dine in the bar area (above) or choose a somewhat more formal dining room.
Photo by Peter Spectre
Pluses:
» The waiter stated the prices of the specials without being asked, and produced the check at the right time without being prodded.
» The owner demonstrated true concern about my garlic issue instead of the usual indifference or sometimes arrogance of other establishments.
» Politeness was second nature.
Minus:
» The restaurant—and the inn—is closed during the winter months.

Pentagöet Inn
26 Main Street, Castine, ME 04421. 800-845-1701 or 207-326-8616
https://www.pentagoet.com
Share this article:
Digital Edition Available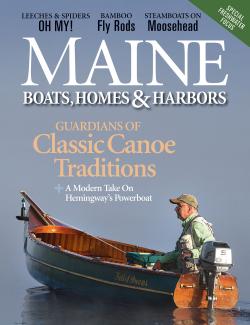 Can't get to the store to buy your magazine? We deliver the stories of Maine's coast right to your inbox. Sign up here for a digital edition.