View from the Porch - Issue 103
Issue 103
By Peter Bass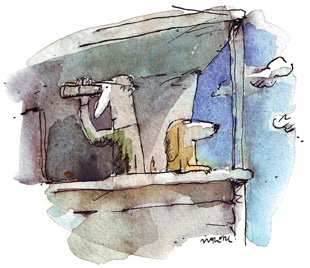 Illustration by Caroline Magerl.
As you read this, the boards on the porch have that crisp creak of mid-winter as we check to make sure that the hibernating cottage has not had any unwanted visitors or squatters of the furred, winged, or two-legged varieties. And welcome back, by the way. If this is now your third "View from the Porch," I count you as a regular reader and bequeath to you a membership in the Porch Regulars Literary Association, with all right and privileges pertaining thereto.
[Note: this column by Peter Bass has replaced Peter Spectre's regular column, which was titled "In the Lee of the Boathouse." In turn, Mr. Spectre, who remains as editor of
Maine Boats, Homes & Harbors
magazine, has a new column of his own, titled "From Whence We Came."] Crumbs to You (Again) It is with great sadness that we belatedly note the second un-coming of the Crown Pilot Cracker, a New England staple often found in, on, or around clam and seafood chowders in New England. I don't recall ever seeing them served with clear (Rhode Island-style) or tomato based (Manhattan-style) chowders, but then again I am never stupid enough to order those inferior concoctions anyway. Nabisco, which had discontinued Pilot Crackers once before in 1996, was embarrassed into reintroducing them in 1997 by fierce commentary in the
New York Times
and by Tim Sample, Charles Kuralt, and Chebeague Islanders. I did check Wikipedia on this one, so please take what I say with a grain of salt, something the Crown Pilot did not have and was one of its charms. Nabisco, on explaining its decision to drop the cracker, claimed that shipments of "just" 241,000 pounds in 2007 dropped it out of the barrel. I may be wrong, but there may be a New England bakery out there that would find 241,000 pounds of crackers an economically viable quantity should Nabisco be willing to sell or license the brand.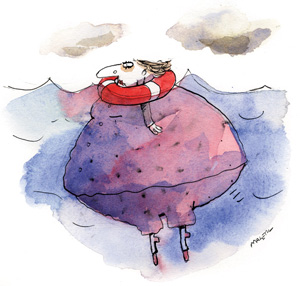 Illustration by Caroline Magerl.
The Sinking of America
From a late-September Bloomberg column, forwarded by the sharp-eyed offspring of one of our editors, we learn that the U.S. Coast Guard proposes an increase in the assumed weight of an adult passenger from 160 to 185 pounds. The average weight of an American has increased 24 pounds from 1960 to 2002. The FAA already assumes that airline passengers weigh 195 pounds in winter and 190 in summer for calculation purposes, although the article did not indicate if this statistic had to do with Capt. Pete's Rule of the Equinoxes or not (more about the rule in a bit). The new weight assumption does have serious implications for boat safety: in a couple of recent accidents, boats properly loaded by passenger number were seriously overloaded by weight. The article also noted that owners are responsible for allowing for other sources of increased weight since construction, such as additional equipment and even more coats of paint. Balancing this, of course, is the dramatic savings in the weight of beer cans since 1960, a phenomenon supported by the decrease in the number of concussions reported by college students attempting to crush beer cans on their foreheads. All kidding aside, the new weight assumption is a sign of the times and the Coast Guard's serious reaction to it. It will decrease the number of passengers allowed and increase the cost of doing business in the passenger trade. Estimates of costs to the industry vary, both initially and annually, as the rule also includes more frequent recalculations.
Bottoms Up
From the
Mainebiz Daily
, we learn yet again what we Mainers love to drink. It is no surprise that the winner in 2007, as reported by the Maine Bureau of Drinking and Betting, is something called Allen's Coffee Flavored Brandy (ACFB), which also has now set a record of selling over a million bottles statewide in a single year. Shedding tears of pride was my reaction too. ACFB has been the No. 1 selling spirit in the state of Maine for 20 years. It is produced by Massachusetts wine, spirits, and cigar wholesaler M.S. Walker, which has been in the spirits business since just after the repeal of Prohibition. They distinguish their coffee-flavored brandy by noting that it contains less sugar than others. Thank God. Brandy is a distilled spirit based on grape wine or any number of other fermented fruits, as opposed to fermented grain spirits, or my current favorite, Cold River Vodka, which is distilled from the Maine State Tuber. Our friends at M.S. Walker do not disclose on their website what delicate blend of fruits forms the basis of ACFB, but they do tell us that they use a Brazilian coffee extract for that special flavor. Makes it that much easier for one to slide right out of breakfast straight into cocktail hour. Clearly with a million bottles per year sold, ACFB drinkers do not observe Capt. Pete's Rule of the Equinoxes: brown liquor only from the Autumnal to the Vernal, clear spirits otherwise. Since brandy that has not been oak aged is colored to be brown, ACFB really messes with Capt. Pete's Rule and sense of order.
Pests be Gone
My family and I have had a multi-decade battle with a variety of rodents in our seasonal cottage. These critters range from the smallest mouse to some pretty aggressive squirrels. The mice, at times, have befouled the kitchen drawers with their tiny droppings, and their larger cousins have made camp in the attics and walls. Our most successful control of late has been a series of high-frequency sound emitters, which appear to be bothersome enough to keep rodents out of the house. Originally dismissed as salesmen's hokum, these devices are now household staples, and avoid the dangers of traps and poisons. An English company, Ultrasonic Antifouling Ltd., is taking this concept to sea. They have developed a system using an in-hull transducer to render a hull inhospitable to marine organisms, whether animal or vegetable or mineral. Well maybe not mineral, but their factory is not that far from Penzance (think "The Pirates of"). Their website contains a number of charming testimonials that read like articles in the Economist and include the English un-punctuated Mr, as in, "Mr Smythe contends without any reservations that he is very satisfied with the results." Is ultrasonic antifouling the green alternative to the poisons we all apply to keep our hull bottoms smooth? May we some day be able to leave those $150 cans of paint sitting on the chandlery shelves? Will it make marine mammals impotent? Perhaps it will have the reverse effect on mammals and create the next baby boom amongst the Breton-red-trousered set. Only time will tell. The ultrasonic antifouling system consists of one or two inside-the-hull transducers and a control unit mounted in a dry spot. The transducers are mounted in rings, which are epoxied to the hull. A single transducer setup draws about 1 amp continuously, so a solar panel would be needed for a mooring-kept vessel. According to the company's brochure, the system functions as follows: "The control box sends a variety of pulsed ultrasonic signals to the transducer, which in turn emits a series of low power, low frequency sound waves which are virtually inaudible to the human ear. They create a wall of moving water molecules over the whole of the submerged hull. The micro-environment which exists as a result, destroys algae and barnacles so they don't attach themselves to your hull. 'The science' is in the differing frequencies and the harmonics set up within, according to boat size." For more information, go to:
www.ultrasonic-antifouling.com
So they loaded up the truck and…
There is a housing movement called "New Urbanism," which is becoming increasingly appealing in the era of uncertain fuel prices and supplies and suburban sprawl. It refers to self-sufficient town centers with housing, employment, and shopping opportunities in close proximity, which minimizes the need to drive. A good natural example is Charleston, South Carolina, where you can live just fine and not exercise the internal combustion engine but a few times a week. Portland and Brunswick, Maine, work pretty well, too, but then there is that eight-month low-temperature problem. There are some new, purpose-built examples, such as Abacoa in Florida, I'On and Daniel Island in South Carolina, and the prototype of them all: Seaside on Florida's Panhandle, which is where The Truman Show movie was filmed. The new villages, however, have a contrived feeling to them, which is a central theme in the movie. The central character believes that he is living in a small town but is actually in an enormous studio set. So where will we go to lose the snow? There are millions of aging baby boomers in the Northeast Corridor, which runs roughly from Washington, D.C., to Portland, Maine. I include the latter due to an ingrained provincialism. Many would end the NE Corridor at Boston, but when you're from Wilton, Maine, Portland is just another suburb of Red Sox Nation. Historically, when denizens of the Northeast Corridor retire, they move down the East Coast, somewhere between Annapolis and Key West. Some move for eternal summer, some seek four seasons without snow, some compromise and become migratory snowbirds trying to balance the tug of two homes. Some one of these days, we hope by the time this is published, real estate prices will begin to rise, the S&P will go on an historic 40% bull run, interest rates will remain low, and the aging boomer will jump to buy a place in the sun. Fun places with historic residential areas where one can walk to nearly everything without slipping and sliding are few and far between. Charleston, South Carolina, is great but very expensive now. The next concentration of similar period homes that has escaped detection so far is Olde Towne in Portsmouth, Virginia, just across the river from Norfolk, which has a nice "New Urbanism" thing going, also. The downtown areas are connected by a $1 ferry ride. These southern New Urbans may be the next Charlestons, snowless havens for the retiring boomer with a diminished portfolio. Plus, the fishing is great in the fall and spring, long before the stripers return to Maine. My wife and I have a self-interest here: we hope to retire to Portsmouth ourselves, at least while the porch is too cold to sit on.
Over the Bar
We note a few passages over the bar of interest to the marine world, beginning with Olin Stephens, perhaps the best-known yacht designer of the 20th century. Stephens was a founding partner in Sparkman & Stephens, designer of some of the most famous racing yachts of the last 50 years, as well as the owner of perhaps the longest design resumé in the
America
's Cup competition. Another name familiar to
America
's Cup followers is John Biddle, an important filmmaker and documentarian for the 12-meter era. His induction into the America's Cup Hall of Fame, which was to take place in fall 2008, will now be observed posthumously in the spring. Nearly reaching Olin Stephens' century of life was marine author Howard Clark Barnes, Jr., who died in Camden at 99. A Maine resident since 1979, Mr. Barnes published two books about his life in boats,
Your Boat, Its Selection and Care
, and
The Backyard Boat Yard
. And just as we went to press, we learned of the passing of Tom Morris, founder of Morris Yachts, of cancer. His lovely vessels and strong family business are a legacy well worth noting.
Fishing the Wind
Companies promoting offshore wind farms have run into opposition from a host of other groups with stakes in the bounty of the seas: fishermen, environmentalists, and summer rusticators on Martha's Vineyard. An interesting development is the entry of commercial fishing interests in New Jersey into this emerging industry as potential players rather than foils. This from their website,
www.fishermensenergy.com: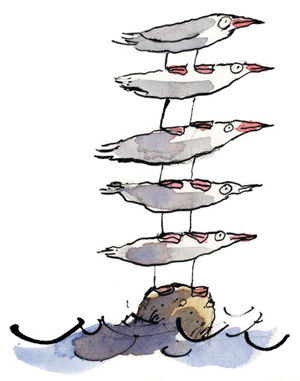 Illustration by Caroline Magerl.
"Fishermen's Energy is a company founded by a core group of East Coast commercial fishermen to respond to the public's need to develop the ocean for renewable wind energy. Wind is a clean and constantly renewable energy resource, and it is Fishermen's Energy's goal to turn the North Atlantic coastal waters into an unmatched source of clean energy. Fishermen's Energy and its core group of respected, well-established, commercial fishing industry founders, have researched offshore wind carefully and have chosen to view offshore wind as an opportunity for us and for our fellow citizens, rather than as a threat to our traditional fishing businesses." In our brave new world of cooperation in lieu of confrontation, this may be one to watch. Congress take note.
The Next Great Thing
MBH&H
gets wonderful press releases on marine products, some of which just must be shared. One of our favorites: Sony Makes Waves at Ibex with New Marine Head Units "Sony today announced its first marine CD receivers that are able to connect directly to compatible iPod®, iPhone™ or other digital music players via a USB connection. "The marine head units (models CDX-H910UI and CDX-M60UI) support new features including MemoryBackup and ZAPPIN™ technology. These features make it easier for boaters to control and find their favorite music on the water. "The company unveiled the marine head units and a Remote Commander® remote control (model RM-X60M) today at the International Boatbuilders' Exhibition and Conference (IBEX)." To us boaty types, this release conjures up all kinds of great images. Instead of grabbing a magazine on your way to the old WC, grab your iPod instead and rock on. Please remain seated for the performance, however. And for those who find a three-quarter inch thick bulkhead no match for some low frequency sounds, just crank up the volume. Think what you could do with the remote. Another most interesting press release comes from a company called Agraria San Francisco (
www.agrariahome.com
), which packages scents in the form of tassels to be hung from a doorknob to infuse one's spaces with the aromas of the world. Their release advocates same to the yachty trade, with scents with such names as Mediterranean Jasmime and Riviera Pear. We would like to add Leaky Diesel and Mediterranean Gigolo, and recommend that they also be packaged with a stick-on patch so the tassels can be used for other purposes once the aroma has dissipated. We also recently learned of the Spanish Albatross Controls System (
www.albatrosscontrol.com
), which is a serious yacht systems management system. I must confess that upon first reading the release I envisioned the Ancient Mariner amusing himself during the calms by flying his radio-controlled albatross through the rigging. As a student of brand names I question the wisdom of naming anything on a boat Albatross. To be fair, the brand managers at the parent Spanish Company EMMI may not be avid readers of Coleridge. Now is the time of year to keep a close watch on the brown liquor bottles so that the last drops will coincide with the Vernal Equinox. No good Mainer likes to hold over too much brown until the Autumnal. Rum, however, since it comes in light and dark varieties, has a special exception to the aforementioned Capt. Pete's Rule and may be stocked year round. Here at the hibernating cottage, the porch rockers are still indoors next to the space heater, but the view is good and there is still plenty to talk about. Feet up, binoculars at the ready.

Long-time
MBH&H
Contributing Editor, freelance writer, and raconteur Peter Bass is an owner of Maine Cottage Furniture.
Click here to read other articles by Peter Bass >>
Submit your comments... newsy tidbits, photos, illustrations, clippings, rants, and raves for possible use the form below. Or mail to "View From the Porch," P.O. Box 758, Camden, ME 04843 or fax to 207-236-0811. Items may be edited for length and clarity; materials become the property of Maine Boats, Homes & Harbors, Inc.
Share this article:
2023 Maine Boat & Home Show

Join Us for the Maine Boat & Home Show!
Art, Artisans, Food, Fun & Boats, Boats, Boats
August 11 - 13, 2023 | On the waterfront, Rockland, Maine
Click here to pre-order your tickets.
Show is produced by Maine Boats, Homes & Harbors magazine.