The Art of Richard Estes
We could use some beauty in these ugly times.
By Carl Little
"Vinalhaven, Maine," 1997, oil on canvas
"We could use some beauty in these ugly times."
The Art of Richard Estes By Carl Little When Maine Coast Artists in Rockport asked Richard Estes if they could borrow a painting for their landmark anniversary exhibition "On the Edge: Forty Years of Maine Painting 1952-1992," curated by art critic Theodore Wolff, Estes had few Maine images to offer, even though he had been living on Mount Desert Island for more than 15 years. He sent a New York painting, but one with a relevant twist: His choice was
Columbus Circle: The Maine Monument
, which shows the famous memorial to the sailors of the battleship Maine as viewed from within a passing city bus. The canvas fit perfectly in a show that featured Fairfield Porter, Lois Dodd, Yvonne Jacquette, and a host of other Maine masters, many of whom had a Big Apple connection as direct as Estes's. Today, if that same institution, now known as the Center for Maine Contemporary Art, made such a request, they would have an outstanding array of paintings from which to choose. Over the past dozen years or so, Estes has become an exceptional painter of the Maine scene.
Known for his paintings of the city, this realist long ago added Maine to his repertoire.
Estes first came to Mount Desert Island in the early 1970s as a guest of Alan Stone, his long-time New York art dealer, and made several return visits over the next several years. These sojourns to the downeast coast proved a relief from a hot summer city. When the former home of American Impressionist painter Carroll Tyson (1878-1956) in Northeast Harbor came on the market in 1975, Estes bought it, wanting to continue his seasonal getaways. Today, he spends at least half the year in Maine. Estes wasted little time becoming familiar, as a painter, with his island surroundings. "I was working right from the start," he recalls. Part of the attraction of the house in Northeast Harbor was a large room that could serve as his painting space in Maine. Compared to cramped New York quarters, this new studio was spacious, though it took him a while to set it up the way he wanted for work.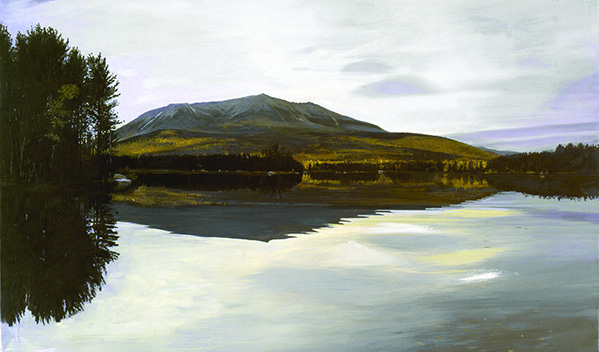 "Mount Katahdin-Maine," 2001, oil on canvas
Today, Estes paints in both Maine and New York about equally. His magnificent painting of the Brooklyn Bridge as well as some of his views of New York and other parts of the world have been completed in Maine. "If I were working like the Impressionists, on the site," he says, "it would be different, but I'm working from photographs and sketches, and frankly it doesn't make any difference where I do it." Estes points to Frederic Edwin Church (1826-1900), the great Luminist painter, who made numerous sketches while visiting Mount Desert Island in the mid-nineteenth century and then translated them into fully realized canvases in his New York studio. One of Estes's favorite perspectives is that from the side of a boat as it moves through water. He has painted Venice, New York Harbor, Izmir, Turkey, Alaska, Lake Champlain, and Maine employing this dramatic sight line, in which the viewer is caught in the dynamic flux of passage and transition. The painter places us at his elbow to take in the wake fanning out behind the vessel as a city or a glacier or a Maine island recedes in the distance. The result is an engaging immediacy.
"Mount Desert III," 1996, oil on paper
Estes uses a similar perspective in his city scenes, often choosing the view of the side of a building or the view from a bus or train as his point of reference. "I've always liked these sharp, deep perspectives," he states. "It's a reaction, I suppose, against all this flatness that I was taught when I was in art school." He will often exaggerate the size of objects in the distance, making them larger than they actually are, so the eye doesn't get stuck in what he calls "the final point." This railing-of-a-boat perspective may have had its genesis in the Staten Island ferry, a subject Estes has painted on many occasions. The great ferry that carries commuters between Battery Park at the southern tip of Manhattan and Staten Island has an aura of other times-a past tied to the poetry of Walt Whitman. To Estes's regret, the recent introduction of newly designed ferry boats has ruined the subject for him. "They sort of look like the old ones," he says, "but you can't get the same views because of the way they're shaped."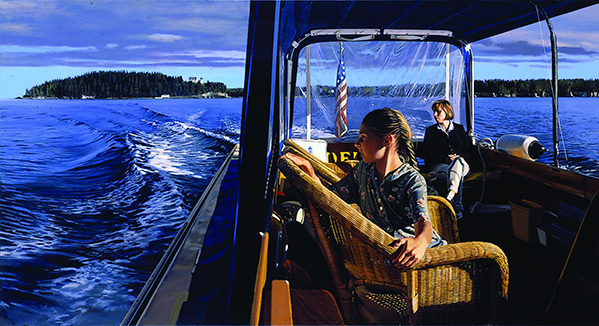 "Water Taxi, Mount Desert (Nancy and Daughter Nina)" 1999
Among Estes's most outstanding boat views is
Water Taxi, Mt. Desert (Nancy and Daughter Nina)
, 1999, in the collection of the Nelson-Atkins Museum of Art in Kansas City, Missouri. Painter Nancy McCormick and her daughter Nina are depicted riding in the back of John Dwelley's water taxi
Delight
as it carries them from the Cranberry Isles to Northeast Harbor. Estes is expert at rendering such details as the wicker furniture and the plastic windbreak, but he also captures the mood of people moving from one world to another.
The viewer is caught in the dynamic flux of passage and transition. The result is an engaging immediacy.
"Alaska III," 2004, oil on board
In 2001, Estes made a pilgrimage to Mount Katahdin, following in the footsteps of Frederic Church, Marsden Hartley, and many other artists drawn to this mighty sentinel of northern Maine. He remembers feeling deceived by the map: "The trail we took looked like the easiest," Estes says, "a gradual hike with no steep places to climb." What the guide didn't show were the rocks-"Like a saw blade," Estes says-that stood between him and the summit. The trek resulted in several oil studies of the mountain and a couple of major canvases.
Mount Katahdin-Maine
is very close to the view Church painted in his canvas
Katahdin from Millinocket Camp
, 1895. In the Estes painting, the broad summit of the mountain rising grandly into the sky is reflected in slightly rippled lake water.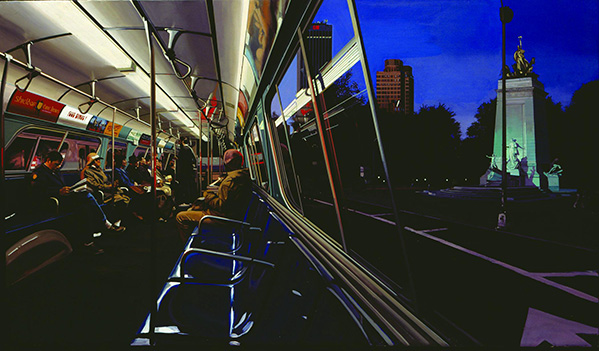 "Columbus Circle, the Maine Monument," oil on canvas
"New York Harbor Study VI," 1996, oil on paper
Estes's paintings of Maine contrast sharply with his city views. There are no signs, no tall buildings, no telephone booths in these views, just pure landscape. This purity is also reflected in studies the painter has made of waves and water along the Mount Desert Island shoreline, another subject favored by Church a century and a half earlier. Several of Estes's rare portraits are set in Maine. In one, the Washington, D.C., art collector Robert Kogod's wife Arlene is shown seated in a corner of the living room of the couple's house in Seal Harbor, the Atlantic stretching to the horizon over her shoulder. In another, Clare Stone, wife of Estes's former art dealer, is seated on a rock near Otter Creek, her striped shirt a bold accent against a view of Cadillac Mountain. In a third portrait, the artist's close friend Jose Saenz, a formidable gardener, stands gripping a three-tined hand hoe before a wall of blooming rhododendron. In the mid-1980s Estes was commissioned by the French Academy to paint a portrait of Marguerite Yourcenar (1903-1987), the famous Belgian-born writer who lived in Northeast Harbor from 1950 until her death. Yourcenar, the author of
Memoirs of Hadrian
and other books, was the first woman inducted into the Academy since Cardinal Richelieu founded it in 1635. Estes already knew Madame Yourcenar. He remembers taking cookies and tea with her at her home, "Petite Plaisance," in Northeast Harbor. "She was very nice, intelligent, and interesting-always very European," he recalls. A documentary film about Yourcenar's life on Mount Desert Island made by Canadian Public Television in the 1980s includes footage of Estes conversing with the writer. For Estes, 2006 was a standout year. A major show of his recent paintings was mounted at the Marlborough Gallery in New York City. In addition to a number of his signature views of the city, including several of subway stations and a marvelous view of the passenger deck of the Staten Island ferry, the show featured a group of spectacular vistas of Alaskan glaciers painted in 2004. The other big event in 2006 was the publication by Rizzoli of a major monograph on Estes's work, with text by art historian John Wilmerding, who also lives on Mount Desert Island when he isn't teaching art history at Princeton University. Wilmerding recounts the artist's life, from his birth in Kewanee, Illinois, in 1932, to his current status as one of this country's most admired and respected painters. In the book Wilmerding also surveys Estes's art, making deft appraisals of a number of pieces, from a 1967 Sargentesque painting of three women lying on the grass taking the sun to wide-angle views of Barcelona, New York's Central Park, Florence, and Paris. Wilmerding doesn't shy away from being provocative: "Hopper may have left us with better known and memorable single works," he writes, "...but Estes is the better painter in the sheer practice of his craft." At the end of Wilmerding's book, Estes is quoted as saying, "We could use some beauty in these ugly times." When asked about this comment, he expands on the blight he sees in his travels, including in Maine. "It is ghastly what we've done in the last 100 years," he says. "Route 1 was probably originally a very lovely drive, with beautiful houses, but now they've become auto outlets or malls." Once in a while, he notes, "you see this poor old house back there behind all these parked cars."
Part of Estes's goal as a painter is to raise awareness of this ugliness. "Times Square used to be bad 20 years ago," he explains, "but now it is unbelievably vulgar and bad." So he keeps painting the overwhelming barrage of signage in the big city, even as he reminds us of the unsullied beauty of the islands and mountains of Maine. Carl Little is the author of
The Watercolors of John Singer Sargent, Beverly Hallam: An Odyssey in Art
, and
Winslow Homer and the Sea
, among other titles. He is a regular contributor to
Art in America
,
Art New England
, and this magazine. Paintings © Richard Estes, courtesy Marlborough Gallery, New York Photograph courtesy Richard Estes
Painter Richard Estes is best known for his intricately detailed paintings of urban scenes, mostly New York City in the 1970s. But did you know that for the past 40 years he has spent a major part of each year in Maine? The Portland Museum of Art is hosting the first major show of Estes' work in two decades. In addition to his well-known streetscapes, the show includes images from Maine, seascapes as well as detailed forest views deep in Acadia National Park. Collaboration with the Smithsonian American Art Museum in Washington, D.C., Richard Estes' Realism is the first comprehensive look at Estates painting career by American museums since 1978. It's an extraordinary look at an amazing collection of work and well worth a visit. The show will be on display in Portland until Sept. 7, 2014, when it moves to the American Art Museum, where it will be on display Oct. 10-Feb. 8. MBHH Contributing Editor Carl Little wrote this feature about Estes several years ago for the magazine. The Portland Museum of Art, Seven Congress Square Portland, Maine. 207-775-6148.
www.portlandmuseum.org
. Hours: Tues-Sun: 10 a.m.-5 p.m.; Friday: 10 a.m.-9 p.m. Admission $12 adults, $10 seniors and students, $6 youth ages 13-17, children under 12 are free; *5 surcharge for special exhibitions. Admission is free on Fridays from 5-9 p.m.
Share this article:
Digital Edition Available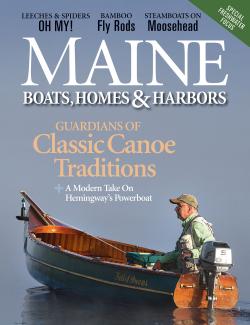 Can't get to the store to buy your magazine? We deliver the stories of Maine's coast right to your inbox. Sign up here for a digital edition.