Maine Events - June 2009

June 6 – 7, 2009: Stonington
World Ocean Day Festival 2009 at Old Quarry
Ocean Day is celebrated around the world every year on June 8th. Old Quarry is proud to be the venue for a World Ocean Day celebration here in Maine at their beautiful oceanfront facility and participate in a weekend, family-oriented, festival of outdoor activities, education and fun to honor our planet's oceans. Old Quarry is committed to helping protect the ocean in our own backyard and raise awareness of how critical a role the ocean plays in all of our lives. Saturday, 10:00 am - 7:30 pm and Sunday, 10:00 am - 5:00 pm. General admission is free.
http://oldquarry.com/shop/world_ocean_day.php
June 3 - 7, 2009: Kennebunkport
Kennebunkport Arts in the Inns
Kennebunkport Pairing Palates and Palettes / Arts in the Inns, an early summer art and food festival in New England's quintessential Southern Maine Coast village by the sea, invites you to celebrate the spectacular creativity and hospitality of Kennebunkport and Southern Maine's artists and art galleries, chefs and fine restaurants, and historic and romantic bed and breakfast inns and hotels. Artists, chefs, innkeepers, gallery owners and musicians share their passions for fine food, fine art, fine wine and fine living. Art shows, cooking demonstrations, live music, inn tours, and food and wine tastings are incorporated into a format in which all types of artists interact, work together, and share their creations with festival guests. For ticket and lodging information, please visit
www.artsintheinns.com
or call 207-423-9868.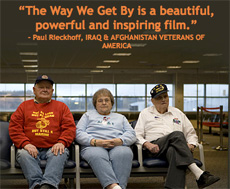 Throughout June, 2009: North Haven, Portland, Ellsworth, Rockland, Belfast & Bar Harbor, Maine, Nantucket, Newport, & Washington DC
"The Way We Get By" SXSW Special Jury Award-winning documentary
"The Way We Get By" is a deeply moving film by Director, Editor, and Co-Director of Photography and Old Town native, Aron Gaudet, about life and how to live it. Beginning as a seemingly idiosyncratic story about troop greeters, a group of senior citizens who gather daily at the small Bangor International Airport to thank American soldiers departing and returning from Iraq, the film quickly turns into a moving, unsettling and compassionate story about aging, loneliness, war and mortality. Seeking out the telling details rather than offering sweeping generalizations, the film carefully builds stories of heartbreak and redemption, reminding us how our culture casts our elders, and too often our soldiers, aside. More important, regardless of your politics, "The Way We Get By" celebrates three unsung heroes who share their love with strangers who need and deserve it.
www.thewaywegetbymovie.com/screenings
June 6, 2009: Rockland
Yard Sale to benefit Station Maine
Every year, Station Maine launches the summer season with a yard sale, starting at 8:00 am, followed at noon by music, games, (including the ever-popular pie eating contest) rowing, and a tour of their newly renovated facility at Sharp's Point South on Mechanic Street in Rockland. Station Maine is an organization of community members dedicated to offering boating opportunities at no cost to youth of all ages in the mid-coast Maine area. For more information, or to donate to the yard sale call 691-2037.
www.stationmaine.org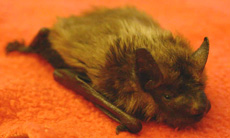 Bats eat mosquitoes. We like bats.
June 6, 2009: Gray
"All About Bats" Night at the Maine Wildlife Park
Join the Chewonki Foundation and the Batmobile to learn about these amazing creatures, "nature's own bug zappers". Meet their live Brown Bat and take a short bat tour, learn bat-facts like: bats nearly eat their weight in mosquitoes before flying back to their roosts each night and more than half of the 44 U.S. species are endangered or in serious decline. Maine Wildlife Park, 56 Game Farm Road. 7:30 pm – 9:30 pm. $5/$7. 207-657-4977;
www.mainewildlifepark.com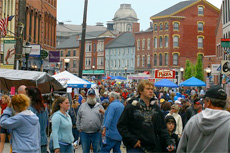 June 7, 2009: Portland
Portland's 36th Annual Old Port Festival
The Old Port Festival in Portland's downtown district is Maine's biggest one-day festival. Always held on the first Sunday in June, enjoy eight areas of live rock, world, acoustic, blues and country music, crafts, activities and fun. Be sure to visit the new, dedicated Maine-made artists and craftspeople area. Enjoy international food as well as festival favorites. Be there at 11:00 am to kick off the festival with a fun and festive foot-powered parade down Exchange Street. 207-772-6828;
www.portlandmaine.com/index.php?sec=15
June 11 - 14, 2009: Mount Desert Island, SW Harbor & Bar Harbor
The 11th Acadia Birding Festival
Acadia's birding community invites you and your family to celebrate the ecological wonders of the birds of the Gulf of Maine while exploring Mount Desert Island and its birds through numerous events and venues. Greet our warblers on early morning birding walks, visit with puffins and pelagic birds at sea, and observe Peregrine Falcons at an active breeding site in Acadia National Park. A combination of lectures, walks, and adventures will connect you to Downeast Maine's many bird species, diverse habitats and local birding experts.
www.acadiabirdingfestival.com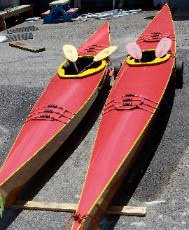 June 13, 2009: Rockport
Ned Kyle Annual Boat Auction to benefit The Penobscot Bay YMCA
Do you have a boat, motor or trailer that is taking up space on your lawn or in your garage? Are you tired of paying winter storage fees for a boat you barely use anymore? Have you replaced an old boat with a newer model? If you have such a boat and would like to support the YMCA as a place that reaches out to teens, where children discover themselves, families gather and is a social center for seniors, consider donating it to the Penobscot Bay YMCA for their Annual Boat Auction. 9:00 am registration, 10:00 am auction begins. Contact: Becky Flanagan at the YMCA at 207-236-3375.
www.penbayymca.net/Giving/Boatauction.html
June 13, 2009: Damariscotta
Pirate Rendezvous
The "Pirate Rendezvous" features the Mystic Pirates of the Damariscotta taking over the town at noon and remaining until 5 p.m., when they will fade back into history, with the dual purpose of finding their lost treasure and helping to avoid the shortage of gifts and food experienced by Lincoln County Family Holiday Wishes this past Christmas season. Events will include the pirates arriving by boat, "rampaging" through a Pirate Bazaar at Schooner Landing, and then "pillaging" the in-town area. Accompanying them will be musicians, re-enactors, story-tellers and other entertainers who will circulate throughout the in-town area. Children will be able to enjoy a variety of games at the Pirate Bazaar and other activities throughout the in-town area beginning at 10:00 am. Damariscotta Waterfront and Main Street. For more information, contact Greg Latimer at 207-380-9912 or
mysticpirates@yahoo.com
.
www.damariscottaregion.com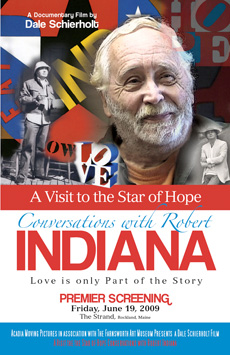 Conversations with Robert Indiana
Screening at The Strand Theater, June 19th
June 18 - 28, 2009: Midcoast Maine
Maine In America Celebration
This June, midcoast Maine is host to a 10-day arts festival celebrating Maine's role in American art. Cellardoor Winery kicks off the 10 days with their second annual Pop the Cork event in support of the Center for Maine Contemporary Art (CMCA) on June 18. The bookend event to the festival is the Farnsworth Art Museum's Maine in America Summer Gala honoring Robert Indiana on June 27, for which Cellardoor Winery has signed on as the lead sponsor. For more information or to join in the celebration, please contact David Troup at
dtroup@farnsworthmuseum.org
or 596-6457 ext. 128.
www.farnsworthmuseum.org/event/maine-america-celebration
June 18, 2009: Rockport
Cellardoor Vineyard Presents 2nd Annual Pop the Cork Celebration
The annual celebration of arts, culture, wine and food, Cellardoor Vineyard's Pop the Cork 2, will take place beginning at 5:30 pm, at multiple venues in Rockport including the Center for Maine Contemporary Art (CMCA). 100% of this event's proceeds will benefit CMCA. Similar to last year, Pop the Cork 2 will be a multi-venue celebration. One ticket price includes access to the music, artwork, food and wine at all venues, provided by Cellardoor Vineyard. Organized and produced by Bettina Doulton, owner of Cellardoor Vineyard, tickets are $75 per person, and are available by calling 207-236-2654 or emailing
tickets@cellardoorvineyard.com
.
http://www.MaineWine.com

June 18, 2009
Maine's Taste of the Nation to benefit the children of Maine
A hugely popular annual food and wine event in southern Maine, Taste of the Nation, presented by Share Our Strength Southern Maine, includes Maine's best chefs and restaurants paired with dozens of wines, spirits and beers. Taste of the Nation is a gourmet grazing event organized by volunteers of Share Our Strength Southern Maine. This is Maine's 4th Annual Taste of the Nation and will be held on the SMCC campus, overlooking Willard Beach, in South Portland. Tickets to Taste of the Nation cost $75 for general admission and $125 for VIP. Prices are inclusive of food, beverages and dancing with DJ Jon. Tickets are available online only at
www.sosportland.org
. All Taste of the Nation ticket revenue stays in Maine to fight childhood hunger. Ticket revenue, donations from guests and other funds raised are awarded to four organizations working with children in Maine.
www.sosportland.org
June 19 - 20, 2009: Old Town
Annual Canoe Hullabaloo Celebration
Canoe races for all skill levels, road races, a canoe regatta, Native American exhibits, nightly entertainment, and more. This fund-raising celebration culminates with a live auction of specially decorated 8' Old Town Canoes and is presented by the River Coalition, a group of concerned persons from the Penobscot River Communities of Alton, Bradley, Greenbush, Indian Island, Milford, and Old Town, who share a vision of positive change. The Coalition's mission is to build partnerships for safe and healthy families within these communities and all proceeds from the Hullaboo go directly towards these efforts. 207-827-8744;
www.rivercoalition.org/canoe_hullabaloo
June 19 - 21, 2009: Boothbay Harbor
Garden Fair & Native Plant Sale at The Coastal Maine Botanical Gardens
The popular Garden Fair will return for a second year as visitors will no doubt delight in a wide variety of high-quality merchandise from more than three dozen vendors in the Gardens Marketplace, renowned speakers each evening, container display gardens, a flower show and competition with entries from children and amateur and professional adult designers, live entertainment, and more. Free education programs are sponsored by Plainview Farm, offering fine perennials in Yarmouth, Maine. The Garden Fair, which takes its inspiration from the finest garden shows, is free with regular Gardens admission. Members are always admitted to the Gardens with no fee. There are, however, fees for the three evening lectures, which require reservations. Featured speakers are Roger Swain, Michael Dirr, and Aurelia C. Scott. See the calendar for each day of Garden Fair to learn more and purchase tickets to these much-anticipated presentations call 207-633-4333 or visit
www.mainegardens.org
.
June 19 – 21, 2009: Deer Isle
Lupine Festival
If you love looking at lupine, then this event is for you. The 7th annual celebration of Island springtime: three days of garden tours, local foods supper, open studios, boat-plane-schooner trips, quilt show, craft fair, and kids activities. Sponsored by the Deer Isle - Stonington Chamber of Commerce. 207-367-2420;
www.deerislemaine.com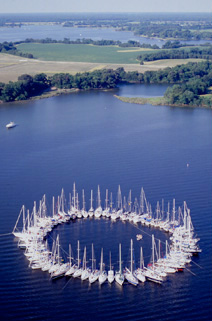 June 20 - 21, 2009: Worldwide
Summer Sailstice 2009 - The Eighth Annual Global Celebration of Sailing
Summer Sailstice is the global holiday celebrating sailing held annually on the summer solstice, the longest sailing days of the year. Last year's Summer Sailstice, united thousands of cruising sailors, yacht racers and pleasure boaters all over the world in celebration of wind, water and sailing. It's easy to participate in this event and it's free. Summer Sailstice participants who register automatically become eligible to win one of over 300 prizes from our sponsors, from yacht charters to sailboats to gift certificates from top sailing retailers. Just sign up on the website and go sailing with the online community at SummerSailstice.com, allowing you to quickly find others to join your crew for a raft up at a favorite sailing destination or create a sailboat party out on the water to celebrate the beginning of the summer sailing season ahead. If you like to relax in the sailing lifestyle, compete in the sport of sailing or cruise the seven seas, Summer Sailstice applauds your desire to be out on the water under sail. Visit
www.summersailstice.com
to see where Sailstice events are happening in your area.

June 21, 2009: Camden
Father's Day Sail from Camden Public Landing
Show Dad how much you appreciate him with a sail on the completely restored, classic Schooner Olad. Dad will receive half off of the regular rate when accompanied by a family member. For more information about this and other sails, contact Aaron Lincoln at 207-236-2323 or email
info@maineschooners.com
.
http://www.maineschooners.com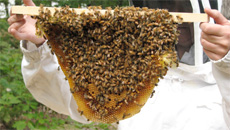 June 21, 2009: Bath
Free Beekeeping Classes hosted by Gold Star Honeybees
Honeybees are a hugely important part of the earth's ecosystems, they pollinate one third of all food crops and are globally showing serious signs of distress from the beekeeping practices of the last century. They're suffering from Colony Collapse Disorder, varroa mite infestation, and other problems that they can no longer fend off successfully due to their abused immune systems. "How and Why to Keep Bees in Top Bar Hives" will be hosted by Gold Star Honeybees with demonstration and discussion of Top Bar beehives and this bee-friendly, sustainable method of raising healthy, happy honeybees and responsible bee stewardship. Sunday afternoon from 12:00-2:00. 150 Whiskeag Road. Please RSVP to confirm your spot. Email
Christy@goldstarhoneybees.com
or call 207-449-1121.
http://www.goldstarhoneybees.com
June 23 - 24, 2009: Boothbay Harbor
47th Annual Windjammer Days
Enjoy two days of family fun, including an antique boat parade, pancake breakfast, shipyard tours, tours of navy vessels and the Coast Guard Station, waterfront concerts, a craft fair, food, street parade, games and activities for kids, and a fireworks finale. Don't miss the unforgettable sight of the majestic and historic ships as they sail into Boothbay Harbor in the parade of sail. Windjammers committed to this year's festival are American Eagle, Heritage, Lazy Jack, Eastwind, Nathan Bowditch, Lewis R. French and Harvey Gamage, thus far. 207-633-2353;
www.boothbayharbor.com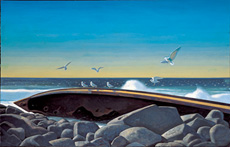 Wreck of the D. T. Sheridan
, circa 1949 by Rockwell Kent
June 25 through October 12, 2009: Portland
"Call of the Coast: Art Colonies of New England" at The Portland Museum of Art
Art colonies in the early 20th century in Cos Cob and Old Lyme, Connecticut, and Ogunquit and Monhegan, Maine, were inspiration for nationally recognized artists including Childe Hassam, Robert Henri, and George Bellows. This exhibition of 74 works will chronicle the development of impressionist Connecticut and modernist Maine as two dominant themes within the visual traditions of the coast of New England. The exhibition will travel to the Florence Griswold Museum in Old Lyme, Connecticut in the fall of 2009.
www.portlandmuseum.org/Content/3773.shtml

The 18th Annual Wooden Boat Show, Mystic Seaport
June 26 - 28, 2009: Mystic, CT
The 18th Annual WoodenBoat Show
The three-day WoodenBoat Show offers something for everyone, from wooden boat enthusiasts, and marine history buffs, to the dreamers who just want to look and listen vicariously to the adventures and experiences of others. One admission price gains access to all the boat show displays and activities of the WoodenBoat Show and Mystic Seaport. The Show presents traditional classics and contemporary wooden boats of every type: cruising yachts, launches, runabouts, fishing boats, performance powerboats, daysailers, dinghies, rowboats, canoes, performance shells, and racing boats of all kinds. Some represent centuries of evolution and traditional application while others have been developed to take advantage of today's technologies in adhesives and coatings. In addition to beautiful boats, this unique celebration of craftsmanship, ingenuity and beauty features more than 150 exhibitors showcasing products and services for all aspects of the marine industry. Additional activities include exhibitor demonstrations, workshops by industry experts, boat trials and interactive family activities. Advanced tickets (until June 12), good for 2-day admission are $19.95 adult, $14.95 children 6-17, children 5 and under admitted free. Mystic Seaport, 75 Greenmanville Avenue.
www.TheWoodenBoatShow.com
--- Events compiled by Nadine Gallagher. To send us details on an event for possible inclusion, e-mail a short description to:
events@maineboats.com
. Submissions may be edited for length and clarity.